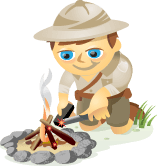 Are you wondering how to add all those cool links below the avatar of your Facebook page? Those links appear when you install an application (or app) on your Facebook page.
If you want to spruce up your page, there's an app for that.
For example, Facebook apps can automatically showcase your YouTube channel, but they can also do much more.
You may have seen the post Top 10 Facebook Apps for Building Custom Pages and Tabs, but let's take a step back and talk about what apps are, where you find them and how you install them on your page.