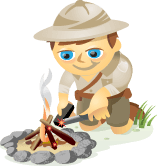 Are you wondering how your Facebook Page compares to competitors?
What can you do to improve your performance?
Insights into how your competitors are using Facebook can help you better understand your audience on Facebook and how they use Facebook.
In this article, I'll review 5 different tools that can be used to help you compare your Facebook Page against competitors and identify tactics to help you improve your Facebook marketing.
#1: Compare Your Statistics With AgoraPulse Barometer
AgoraPulse provides a free tool called the AgoraPulse Barometer, which performs an analysis of your Facebook Page and compares it against other companies' Pages (that also used this tool) that have a similar number of fans.
The Barometer calculates the average percentage for several criteria based on your last 50 posts. The resulting report shows the score for your Page in black compared with the average score in red for other Pages that ran this assessment.
Information provided in the chart above includes:
Fans Reached. This is the average number of fans who receive your content. Facebook generally shares your content with a small percentage of fans unless you have a very engaged community. The key to increasing this figure is having a community that comments, likes or shares your posts.