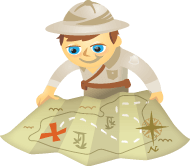 Is your business on Facebook?
Do you need to convince your boss—or a client—that Facebook is a worthy marketing investment?
In this article I'll show you 7 things you can do to convince decision-makers of the value Facebook.
#1: Assess Your Goals
Before you can convince anyone that they need to be on Facebook, you'll need to understand what they want to accomplish.
Remember that not every business needs to be on Facebook.
If you are in a B2B that sells concrete to two or three huge companies, LinkedIn might be a better fit.