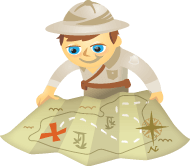 Do you need to raise funds to get your idea off the ground?
You've got a brilliant business idea, but your bank lacks your vision. (Or perhaps you lack the collateral.)
Maybe you reached out to friends and family, but you know they lost their shirts when your brother-in-law's salmon-flavored energy drink flopped. Is this the death of your nascent business?
Not. So. Fast.
Social media is changing more than the way we market and communicate… It's changing the way we raise capital.
Crowdfunding websites are popping up that connect entrepreneurs with investors, producers with patrons, and causes with contributors.