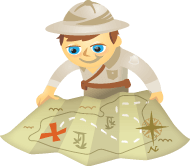 Does your brand have a crisis response plan in place?
Do you know what tactics to use to defend your reputation online?
In this article, you'll discover three examples of reputation crisis response and seven steps for defending your own reputation online.
Why Reputation Matters
A global survey by Deloitte ranks reputation as executives' top strategic risk. The study found most reputation management programs don't support their business strategy well.
It's important to understand the way online conversations roll out.
Here are some key factors to consider:
Anyone's voice in social media can be heard.
Companies can have more difficulties than individuals in avoiding bad news.
Due to online social and web search, kindred spirits can easily become aware of others who share their criticisms.
Bad news travels faster and further than good news.
Keep these factors in mind as we explore three case studies of companies with major reputation management problems and how they handled them.
How Buffer Responded to Crisis

Buffer, the online social media scheduling site, was recently severely hacked.
Buffer became aware of the problem very rapidly and took immediate action to handle the problem. You can see a full account of their actions during the 24 hours immediately following the hack on their blog.
They were quick to inform their customers of the problem and explain what they were doing to fix it before most of their customers were even aware there'd been an attack. Here is just one of the messages they sent via Facebook.