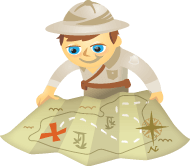 Do you want to increase awareness of your brand online?
Are you ready to take the plunge and use content to connect with your audience on social media?
If you shift your thinking and perception about what makes your brand successful, you can tease out great content that will undoubtedly catch the attention of potential customers.
In this article, I'll show you how to start building an engaging presence on social media in four easy steps.
#1: Build a Targeted Community
The first step is to build a community of people who care about what your brand has to offer.
It doesn't matter if you have a Facebook, Twitter, LinkedIn or Google+ page or all of the above. As long as you have a starting point, you can start building your audience on social media.
Haphazardly trying to build a large community won't be very helpful. Your best bet will be to build a targeted community. How do you build targeted communities? Generally speaking, there are two ways.
Organic Community-Building
To build a community through organic means, you must provide share-worthy and useful content that's relevant specifically to the audience you want to reach. The more your content (on any social network) gets shared, the more eyes see it.