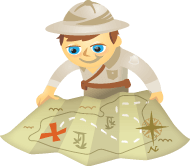 Wondering how to respond to Google's recent algorithm changes (known as Panda)?
Keep reading to find out.
A bit of history
In an interview with Wired Magazine, Udi Manber, Google's head of search, said that Google will make as many as 550 changes to its search algorithm this year. One of the bigger changes happened this past winter in what has been called the Panda or Farmer update.
According to a report by Sistrix.com, within days of the update, a number of very large websites saw their Google rankings take a drastic drop. Sites such as Ezinearticles.com and Suite101.com lost 90% or more of their visibility on Google.