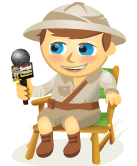 In this video I interview Joe Pulizzi, author of Managing Content Marketing, co-author of Get Content Get Customers and founder of the Content Marketing Institute.
Joe shares the story behind the Content Marketing Institute and explains why content marketing is not a fad and is here to stay.
You'll also learn how a multi-author blog can help your business and what you need to know to develop one.
Be sure to check out the takeaways below after you watch the video.