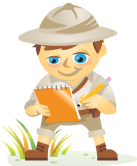 "But whether it be dream or truth, to do well is what matters. If it be truth, for truth's sake. If not, then to gain friends for the time when we awaken."
Sounds like something from one of Shakespeare's plays, doesn't it? Actually, it's a quote from Pedro Calderon de la Barca, a 17th-century Spanish playwright.
You may wonder where I found such an obscure quote. It was a comment by someone named Vigrx on my blog post titled "Using Social Media to Market Your Business." He or she was promoting the site vigrxdeals.org. The fact that the quote had absolutely nothing to do with social media was a sure sign that it was spam.