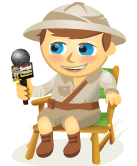 In this video I interview Chris Brogan, author of Google+ for Business: How Google's Social Network Changes Everything.
Chris shares how Google+ can help small businesses and reveals the strategies he uses to get business leads. You'll also learn how to adapt your content strategy on Google+ to select the people you want to work with.
Be sure to check out the takeaways below after you watch the video.