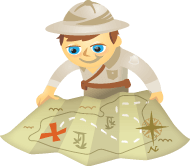 Are you engaging your fans on Pinterest?
Pinterest has been growing at an amazing pace. Recently, comScore reported that Pinterest grew by 4377% since May 2011.
This is because people like to be engaged with images.
The good thing about Pinterest is that every new post is an image around which a lot of engagement can be driven. So there's great potential to drive a lot of engagement on this social media network.
Here are 6 ways to drive more engagement with images on Pinterest.
#1: Run Competitions
People love taking part in competitions, whether it's to win a coupon, money, get their two minutes of fame or just for fun.
On Pinterest, you can run competitions where the winner is the user who pins the best pictures or has the Pinterest board with the best collection of pins. You could also do something creative like Peugeot Panama.
Peugeot Panama takes a picture of one of their cars and divides it into pieces. They pin one of these pieces of the picture onto a Pinterest board and ask their followers to pin the rest of the pieces onto one of their boards and share it with Peugeot Panama.
Their Pinterest followers have to go to Peugeot's Facebook page or website to find the missing pieces of the picture. Usually the first 5 people to complete the picture win a prize.