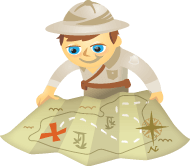 It's been said visibility equals opportunity.
No matter how great your product, service or business is, if your prospective customer can't find you on the web, it's like you don't exist.
As you know, anyone who has access to the Internet (at last count, there were 1.8 billion people), uses it to find solutions to their problems.
Here's a three-step formula to get you started creating a visible presence on the web, resulting in more opportunities for your business: leads, prospects, sales, media queries, speaking gigs and joint ventures.