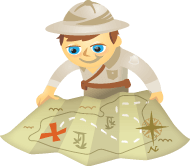 Are you getting traffic from social media? Want to convert some of that traffic into leads?
This article will share six easy ways to turn lurkers into leads.
Some background
A little background starts by evaluating your current lead generation process and whether it's helping or hurting your efforts.
It's important to understand the relationship among your lead generation strategies, your social media channels, your blog and your landing pages. Many times when we think of generating leads in social media, we look at the content we're posting and neglect to look at the surrounding elements that also touch the user.
Every status update about a new blog post has three steps to drive lead generation: the status update, the blog post and the landing page. Each one of these has a different role in the process and offers a unique opportunity to optimize lead conversion. A typical lead conversion process in social media looks like the image below.