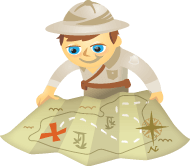 Jason Crawford, president of the Parts and Service division of Block Imaging, was upstaged by his six-year-old daughter.
In her ponytailed debut on the Block Blog, Crawford asked her, "Madeleine, do you know how to fix a laser aimer?", to which she confidently replied, "Yes!"
The pair then demonstrated with charming aplomb a simple troubleshooting tidbit for Block's medical imaging equipment customers.
The video was one of a slew of ideas that came out of a two-day retreat aimed at kickstarting a company-wide commitment to content marketing through their blog.