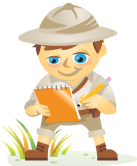 I recently interviewed Andy Sernovitz, founder of the Social Media Business Council, an organization that includes many of the world's largest brands such as Cisco, Coca-Cola, General Motors, Microsoft, Proctor & Gamble and Wells Fargo, just to mention a few.
Andy is also author of the book Word of Mouth Marketing and founder of GasPedal, a group that advises big brands such as TiVo, Dell, Sprint and Kimberly-Clark.
During this interview, you'll gain insight into how large corporations are employing social media and you'll also gain Andy's insight into word-of-mouth marketing.