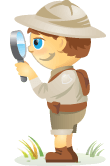 Are you wondering if content marketing can help your business?
If so, look no further.
In this article, I examine a recent study involving 1,416 B2B marketers from North America from the Content Marketing Institute and MarketingProfs.
You'll discover how B2B marketers were leveraging content marketing in 2012 and where their focus will be next year.
#1: Producing Enough Content Is Top Challenge
In years past, the biggest challenge for content marketers has been creating engaging content. But this trend changed in 2012 with 64% of marketers saying that producing enough content was their number-one challenge.