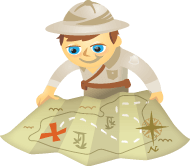 Do you need to learn more about the Audience reports in Google Analytics?
Do you want to know more about your website visitors?
Understanding the demographics, behaviors and interests of your website visitors improves your online marketing.
In this article I'll share what data is found in the Google Analytics' Audience section and how it can apply to your online marketing strategy.
Note: One way to get the most out of any Google Analytics data is to set up conversion goals. If you haven't done this already, set up the easiest goal type by reviewing the first point under the Google Analytics Admin header in this Google Analytics Basics post.