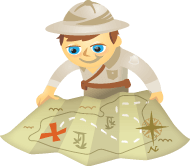 Do you need more leads?
Are you looking for creative ways to use your blog content to improve your conversion process?
In this article, you'll discover how to identify and patch the weaker part of your funnel by writing the right type of content.
How Content Drives Leads
Written content works in many ways.
Some writing pulls your audience toward you, building awareness.
Other content builds trust and compels your audience to take action. In other words, content can be useful at strengthening different parts of the conversion funnel.
The "funnel" is just a metaphor for the path that visitors take on their way to becoming leads, starting with awareness and ending with action. If you're not getting leads, it's because there's a weakness in your funnel.
What follows are many tips to help you generate more leads with your written content.