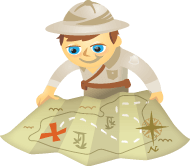 Is humor part of your brand's personality?
Do you wonder if it should be?
When humor fits with your brand's online identity, it can be a powerful social media tool.
In this article I'll show you examples of three ways you can use humor to grab attention.
Define Your Online Tone
Humor is an excellent addition to your social media toolbox. It makes your brand memorable, invites conversation and improves shares, likes or retweets.
If you want to use humor as a social media marketing tactic, you'll find good examples later in this article, but first let's talk about the importance of defining your online voice (or tone). Humor relies on having the right tone.