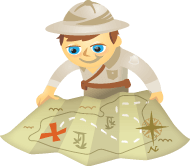 Do you want a new way to engage your Pinterest followers?
Have you used Pinterest Messages?
Pinterest's newest feature lets you communicate directly with your followers via private message.
In this article I'll explore Pinterest Messages and how you can use it to engage your audience.
Why Pinterest Messages?
Pinterest Messages is similar to the messaging and chat options you're used to on other social platforms. You can contact a pinner directly on Pinterest, or unlike other social channels, you can send your message to the pinner's email address.