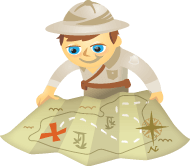 Do you want more email subscribers?
How can you find a targeted audience and encourage them to join your list?
The answer is to leverage the people who already like you: your Facebook fans.
This article shows you three ways brands are using Facebook apps to grab their fans' attentions and encourage them to subscribe to their list.
Why Use Facebook to Find Email Subscribers?
Email converts new customers more effectively than any other digital medium. The key is having the right people on your list—the ones who want to hear what you have to say and are most likely to buy from you. That's where Facebook comes in.
Your Facebook fans are probably fans because they already like your products or services. That's a great start to finding a narrowly targeted audience that's likely to buy from you.
A simple lead funnel gives context to the process. By engaging with your Facebook fans, you build trust. From there, you can ask your fans to sign up for emails that share information they're interested in. With strong email and marketing tactics, you end up with sales and long-term customers.