Become the Beyoncé of Social Strategy
Stop spaghetti testing your strategy and start focusing on what works.
As a strategic social marketer, you're expected to have all the answers.
But, you often find yourself wondering how or where to start because things change so quickly.
It's exhausting!
Don't throw in the towel yet. We've got just the thing to make your job easy peasy.
With a Social Strategy Club membership, you'll discover EXACTLY what you need to know to tackle each challenge, achieve each goal, and get instant buy-in—without getting totally burnt out.
It's like having a big-ticket analyst in your pocket pointing you in the right direction.
Look Like A Strategic Genius Instantly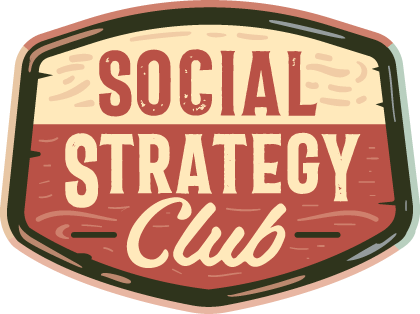 Knowing what you're talking about has never looked (or felt) so good.
Detailed trends analysis and reports inside the Social Strategy Club give you the confidence to make the right decisions. At the right time. Every time.
🔥 Imagine actually being ahead of the trends for once.
🔥 Imagine saving hours a day on industry research.
🔥 Imagine making a well-informed decision on the fly.
🔥 Imagine having the answers to your client's or stakeholder's questions.
🔥 Imagine knowing what to focus on and what to put on the back burner.
🔥 Imagine getting more mileage out of a minimal budget or lean team.
"It made me look smarter than I actually am. It shows that I am on top of things with my clients and that I care about their struggles," said Michelle Scheuermann.
Look like the genius you truly are simply by having the right information at your fingertips.
💥 Boom! 💥 Move over imposter syndrome. You've got this.
Ditch the Shiny Objects for Good
Let's face it; shiny object syndrome is a rite of passage for social marketers.
But it doesn't have to rule your decision-making.
There's an easy way to filter out the noise and shut down resource drains once and for all.
Your membership gives you access to the newest and most relevant trends analysis that experienced social marketers, like you, can use RIGHT NOW.
That means…
✅ A breakdown of what's happening in the industry as a whole.
✅ Which platforms are changing and how it affects you.
✅ How other marketers are using or planning to use platforms.
✅ An analyst's perspective of popular trends or announcements.
No more digging through stacks of jargon-filled, theoretical research to validate the next shiny new thing.
With your membership in the Social Strategy Club, you'll already know which trends are really worth it—before your boss or client brings it up.
"I find all your content extremely valuable. I've already used the information from the Social Strategy Club in a social media meeting, so in my first week, the material has been helpful!" said Corinne Baldassano.
Get Better Results with Less Work (and Budget)
It's no secret that better results come from a better strategy.
But what does that actually look like for an experienced marketer like you?
The Social Strategy Club will help you…
⭐️ Tailor Your Execution: Know where to focus your efforts and your tactical knowledge.
⭐️ Engage Your Audience: Reach the right people with the right content every single time.
⭐️ Increase ROI: Maximize sales and minimize budget by focusing only on ideas that will work.
⭐️ Promote Scalability: Make your marketing so reliable that scaling business growth is easy.
⭐️ Boost Confidence: Improve your confidence AND your boss or client's confidence in you.
It all boils down to getting better results with less work. And budget.
That's the power of smart decisions.
Start Turning Trends Into Revenue like Clockwork
Join the Social Strategy Club today to start turning ideas into legit business opportunities. One trend at a time.
| What You Get: | Social Strategy Club | Traditional Data Firm or Analyst |
| --- | --- | --- |
| Unbiased trends analysis from a master analyst. | ✅ | ✅ |
| Weekly trends analysis reports delivered to your inbox. | ✅ | 🚫 |
| Access to past trends reports. | ✅ | 🚫 |
| Social marketing platform-specific research. | ✅ | 🚫 |
| Future market or industry projections and analysis. | ✅ | ✅ |
| Professional analysis of industry announcements, changes, or new releases. | ✅ | 🚫 |
| Confidence in knowing where to focus your efforts. | ✅ | ✅ |
| | $397/year | $10,000+/report |
TAKE IT FOR A SPIN!
Get ten days for only $1.
Not Your Mother's Marketing Advice
If you're skeptical, we get it. Building a smart strategy isn't a small task.
But the Social Strategy Club is a godsend… just take it from these marketers:
"I do not have time to learn everything important that is happening, so the Club gives me what I need to know FAST!  Then I know what I need to spend time looking into further," said Ann Gray.
"I love everyone at SME. I attended [the conference] in San Diego, and I find all your content extremely valuable. I've already used the information from the Social Strategy Club in a meeting, so in my first week, the material has been helpful!" said Corinne Baldassano.
"I joined and already love the information! It is definitely a game-changer, setting me aside from other people who do what I do. Love the TikTok stats! Very interesting, and I used it to convince one of my clients to start TikTok!" said April Sette.
"I feel the cost is worth having access to quality information which will add considerable value to my coaching clients, not to mention the amount of time it will save me from doing independent research," said Nicole English.
Want Just the Nitty Gritty Details?
Who is the Social Strategy Club geared toward?
The Social Strategy Club is ideal for the small business marketer, consultant, or agency owner who wants to make better, faster marketing decisions and be super confident while doing it.
Where is the data coming from?
The insights you'll receive are compiled from various high-level sources and interpreted by Social Media Examiner's chief analyst and founder, Michael Stelzner.
How will Social Strategy Club help my marketing?
Save time analyzing complex trends and data.

Laser-focus your social strategy and marketing efforts.

Know what will actually work before you try it.

Look like an absolute genius to your boss or clients.

Feel more effective and confident in your abilities.
How often will I get new reports?
New reports are sent each week on Thursday to the email address you signed up with. You can also read all past reports inside your membership account.
I'm a current Social Media Marketing Society Member; how is this different?
The Social Strategy Club helps marketers develop their long-term strategy by providing weekly trends analysis and insights on where the world of marketing is headed. The Social Media Marketing Society trains marketers on how to execute the latest marketing techniques. So, the Club helps you plan your strategy, and the Society helps you execute it.
What if I still have questions?
Send us an email or give us a call at (858) 748-7800 ext. 1 with any questions. We'll get back to you as quickly as we can, usually within one business day.
Disclaimer: Your results may vary. Participating in the Club doesn't guarantee success with your social media marketing.