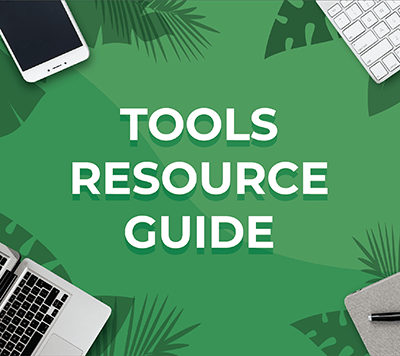 Do you wish more people knew about your software, app, or tool?
Are you looking for more qualified traffic?
If so, keep reading…
This is the solution you've been seeking…
Every day, tens of thousands of people read the marketing content published by Social Media Examiner.
Many are seeking software solutions to their marketing challenges.
Floating within the navigation bar on every article we publish is our Tools resource guide.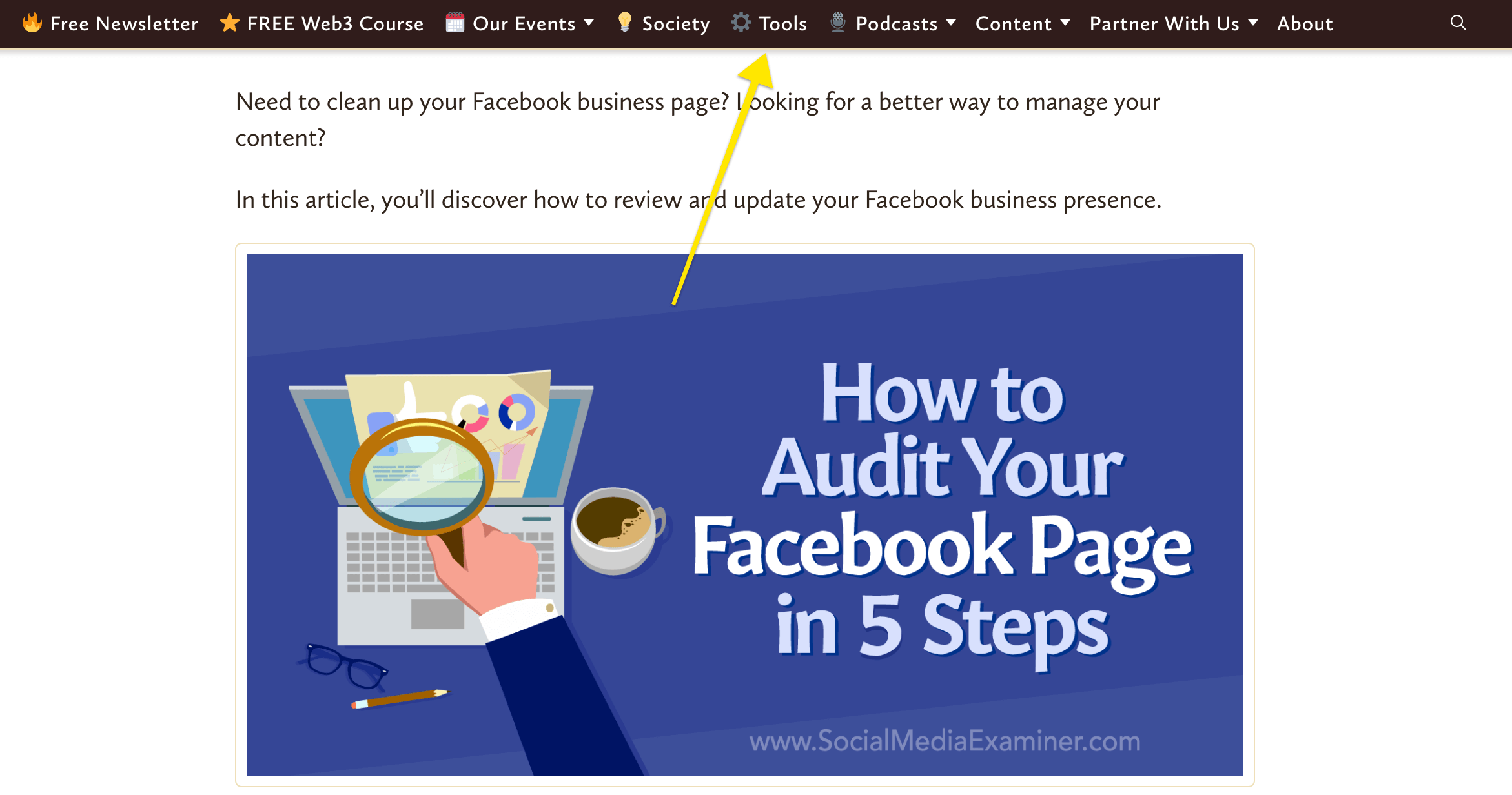 The Tools resource guide is our short list of recommended industry resources. It's where marketers discover useful software to help them simplify their jobs.
When your tool is listed, we not only profile it, we also create a resource page that links back to your website, offering valuable search engine optimization advantages.
Your future customers are readers of Social Media Examiner's marketing content.
Imagine the benefits of having your software listed in this resource.
Why list your software on our Tools resource guide?
#1: Discover warm prospects: Need to fill your lead pipeline?
We can help!
This is not a "run of the mill" directory. Instead, we create a mini resource page for your solution that highlights your value proposition and includes visual media. We'll also link to your best offers.
And here's the cool part. It all lives on Social Media Examiner's website.
#2: The search benefit: Wish your website was more discoverable in search results?
Social Media Examiner not only ranks in search for thousands of marketing search queries, it also has an incredibly high reputation from Google.
That means that when we write about your solution AND link back to your website, you'll see Google search advantages.
#3: Affiliation: Affiliate your brand with Social Media Examiner.
Social Media Examiner is a trusted media brand for millions of marketers and entrepreneurs around the world. If your audience is among the large demographic that Social Media Examiner attracts, maintaining a regular listing on our Tools resource guide is a smart marketing investment.
Who reads Social Media Examiner?
Marketers and entrepreneurs from around the world open and read our email newsletter. The majority work for a small business (with less than 100 people) in a marketing role, targeting business-to-consumer (60%) and business-to-business (40%) audiences.
Here are the topics readers are most interested in:*
✅ Marketing on Instagram, YouTube, Facebook, LinkedIn, TikTok, and Twitter
✅ Content marketing
✅ Email marketing
✅ Search engine optimization
✅ Creating videos (short and long-form)
✅ Analytics
✅ Community development
✅ Copywriting
✅ Visual design
* The above data is based on a study we recently conducted.
What does a Tools resource listing look like?
In our Tools resource guide, we add your software to the appropriate category with a short description.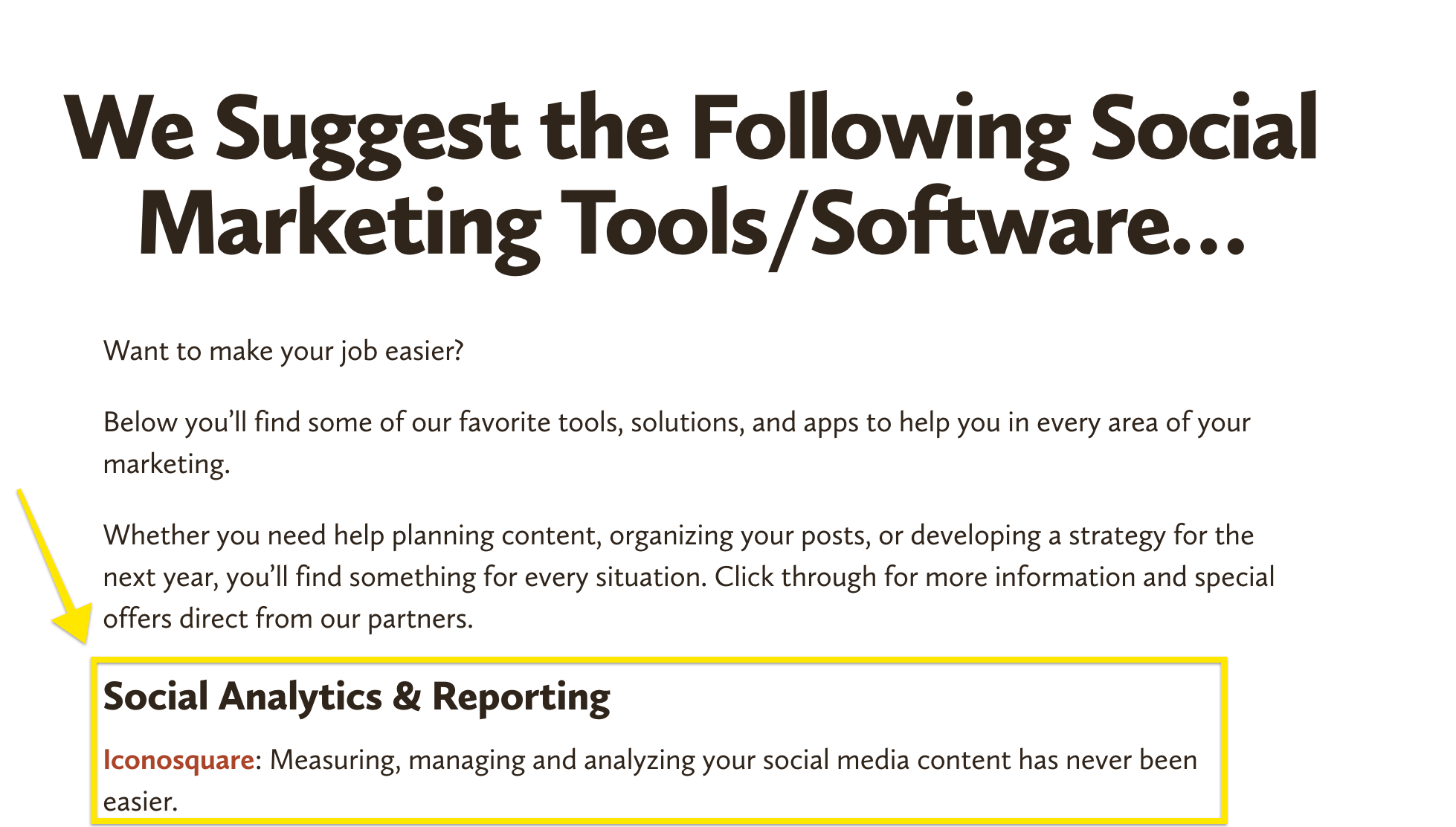 Your company name is linked to an exclusive resource page we create just for you.
Below is an example: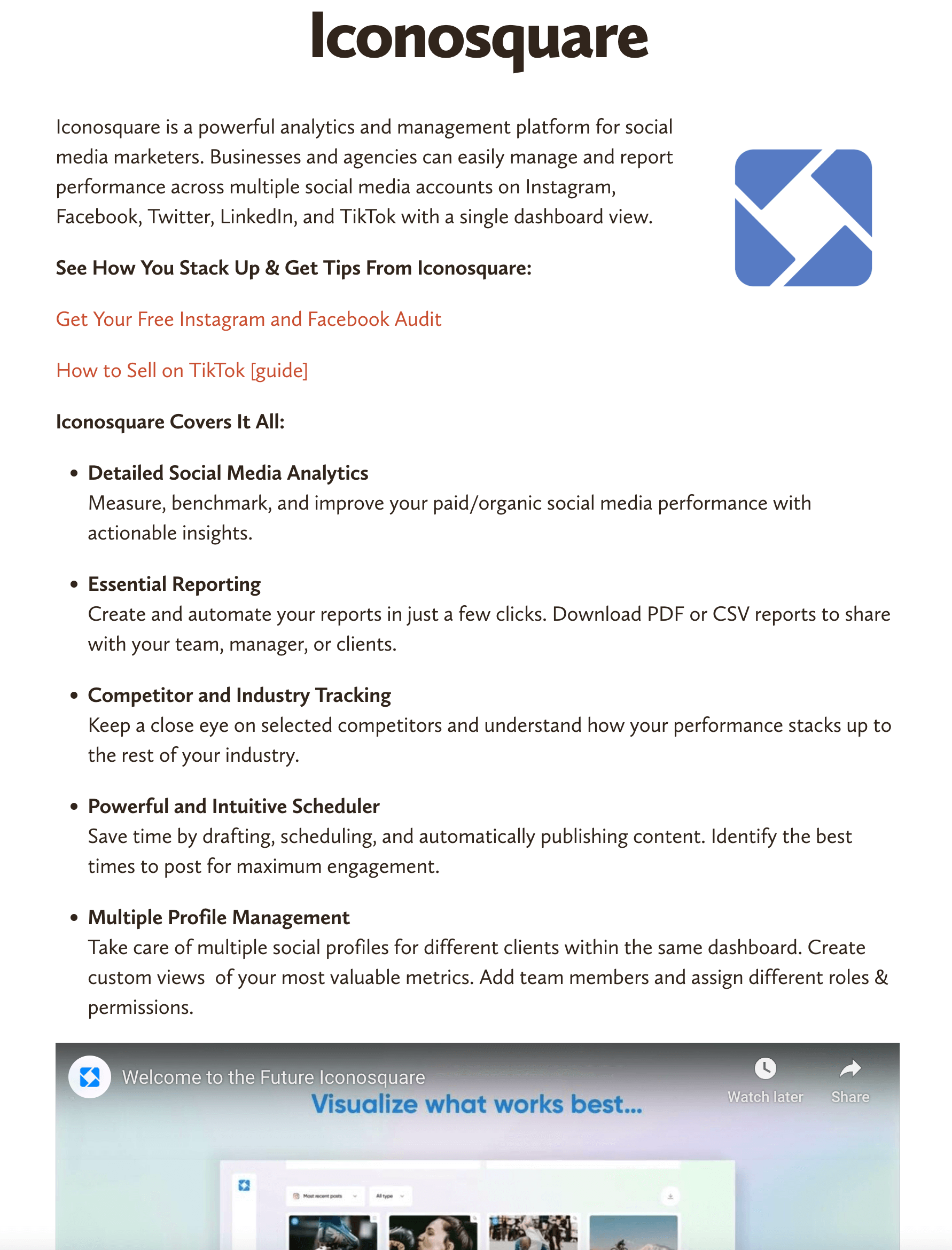 Each dedicated page includes your logo, a description of your solution, links to helpful resources, a list of benefits, an embedded video, and an embedded screenshot or similar visual.
Are you ready to get your product in front of our audience?
Isn't it time you explore this opportunity to be a permanent fixture in one of Social Media Examiner's most valuable media properties?
YES! I'M READY FOR MORE EXPOSURE