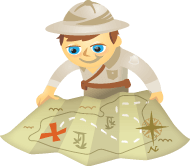 Do your social media accounts get negative comments?
Have social media trolls wreaked havoc for your business?
How you respond to trolls can impact your brand and reputation. A few tactics can help you defuse the negative situation in the best possible way.
In this article I'll share how to respond to social media trolls, as well as how basic guidelines keep your community troll-free.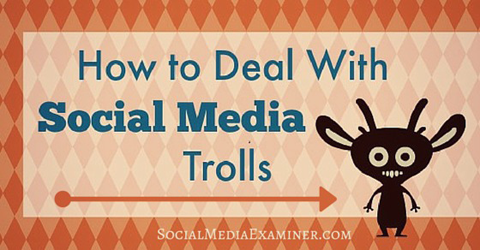 Listen to this article:
Where to subscribe: Apple Podcasts | Google Podcasts | Spotify | YouTube Music | YouTube | Amazon Music | RSS
What Are Trolls?
Trolls are the people online who purposefully stir up trouble in social media communities. It's important for companies to deal effectively with trolls so they don't tarnish your brand and sully your online presence.
#1: Use Humor Tactfully
An effective way to disarm a troll is to use humor.
For example, Sainsbury's, a grocery chain in the United Kingdom, responded to a chicken critic in a lighthearted way with a similar metaphor.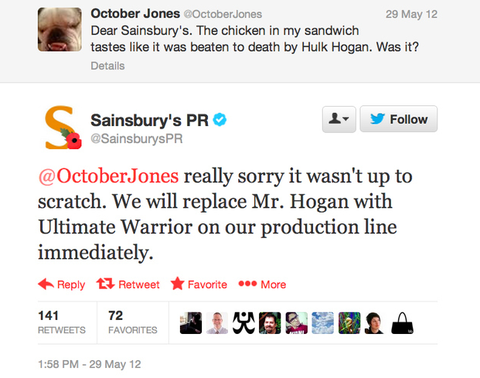 Sainsbury's response is excellent for a few reasons. First and foremost, they didn't ignore this customer's tweet. They recognized the problem (bad chicken), apologized and offered a witty reply on the same level as the criticism. They turned a negative comment into an engagement opportunity. Their reply resulted in 141 retweets and 72 favorites.
A troll blamed O2, a UK SMS system, for a girl not responding to his texts. O2 responded with a humorous recommendation.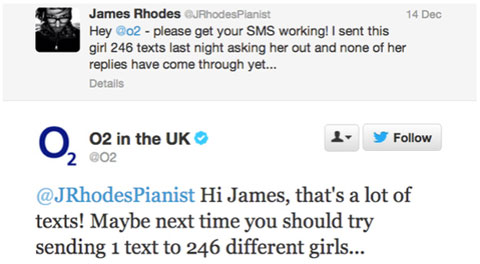 When you make light of a troll's tweet, you simultaneously acknowledge and defuse the situation.
#2: Counter Fiction With Fact
If trolls are spreading rumors, tweeting wrong information or posting inaccuracies, nip it in the bud. The best way to disprove tales told by trolls is with facts.
Remember bendgate? Apple's release of the new iPhone 6 didn't go as smoothly as planned. With rumors that the phone could bend in your pocket came the infamous hashtag #bendgate, and a lot of trolling.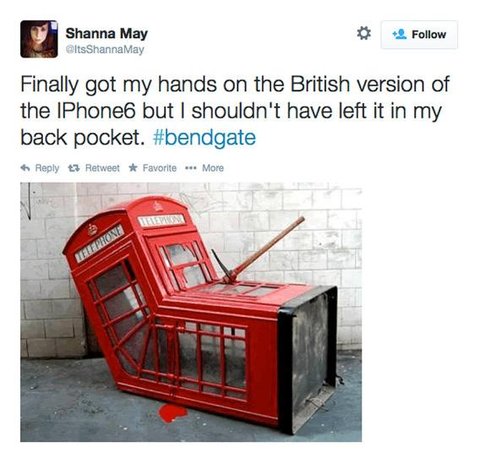 It seems many Internet trolls were creatively inspired by #bendgate rumors.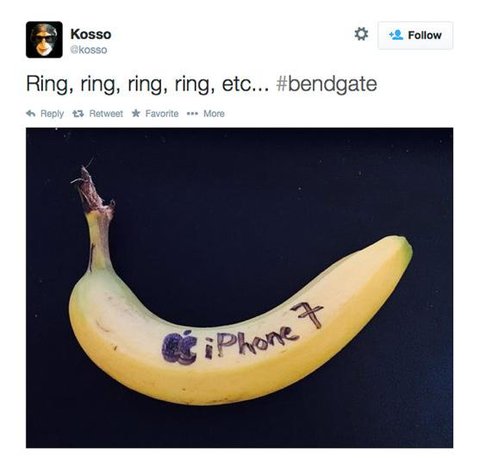 Apple took a stand and responded to this crisis. The company admitted the phones could bend, but said it wouldn't typically happen with normal iPhone use.
Turns out bendgate was much ado about very little. Apple received only nine complaints about bending, and shared that information as well.

Apple chose to address the issue head-on. They admitted there was an issue and that the issue affected very few customers. In doing so, they were able to stop any further controversy.
#3: Don't Join the Trolls
Commenters, followers and fans aren't the only trolls on the Internet. Sometimes brands become the offenders. "Corporate trolling" is when companies troll their fans.
There is a fine line between being fun and engaging and simply being offensive. It's better to err on the side of nice than what could be perceived as nasty.
In its efforts to make its brand more appealing to young people, Tesco Mobile started its #nojoke campaign. Basically, their Twitter admins responded to negative tweets about Tesco Mobile by poking fun at their haters.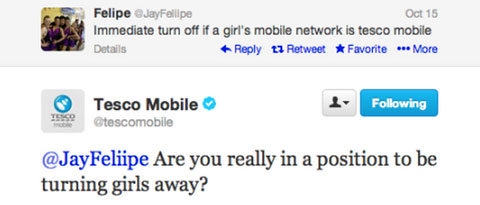 As mentioned above, responding with humor is a good thing. However, it's much better when your jokes are actually funny.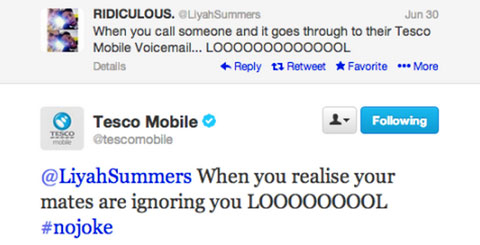 Fans tend to be more forgiving of a large brand than a small one that's still finding its tone and voice.
Until your company hits the "big time," you're better off making a good impression of being kind and likable. Don't become a troll. Instead, focus on dealing with your own trolls.
Conclusion
As tough as it may seem to deal with trolls, there is a way to do it with grace. Just keep your cool. Use humor, facts and kindness in responding to trolls, and you'll make your community a safe and fun place for everyone.
Trolls are people too, and respect is the best policy online. Keep that in mind when interacting with people on the web, and you'll find it's a piece of cake to tame the trolls.
What do you think? Have you had problems with Internet trolls? How did you deal with them? What advice do you have to add? Please share your thoughts in the comments.