Speaker Support Page
We're so excited to have you as part of Social Media Success Summit. This page will help you prepare for your session.
Facebook Event Page
If you haven't already, please RSVP on our Facebook event page. Many attendees are excited to attend your session and this will give them a chance to interact with you before the Summit.
LinkedIn Private Group
You should have already received an invite to our private LinkedIn group. If you have not, please send an email to Joanne Watt <[email protected]aexaminer.com> and she will make sure you get in. Hundreds of attendees have already joined the group. Please jump in on the conversations where you can add value here. You can also ask questions to gain insights for your session.
Your Presentation
By way of reminder, we are asking your presentation be non-promotional and original content created uniquely for this event (scroll down for our PPT template).
Slides Due Date
Please return your finished slide deck to Jessamyn no later than 3 weeks prior to your session so we have time to review, create a PDF and upload the slides to our secure download site for attendees. You are welcome to use a file transfer service such as wetransfer.com, dropbox.com, etc. for large files. Requests for extensions should be coordinated with Jessamyn or Nicole ASAP.
Session Length
All sessions are 45 minutes long, including a suggested 5-10 minutes for Q&A. For most presentations, this means an ideal slide length of 35 slides.
Please plan on logging in for your presentation 15 minutes before your scheduled time.
Slide Template
To create a consistent visual experience, we strongly request you use our template. However, we understand that may be impossible for some of you. If you would like to use your own template or have special requests, please contact Jessamyn at [email protected].
Please download the PPT template here:
Download link (see instructions below)
Note: Exact terms in menus will vary by web browser
A few notes about your slides:
Slide format should be standard 4:3 aspect ratio to fit appropriately on the screens and for recordings
Please make sure all text and images fit within the slide border so they look good in PDF and on screen
Keynote Users: the PPT template can be imported into Keynote.
If you plan on showing a video with sound, please contact Jessamyn to discuss your options.
Other helpful information
Here are a few more things that will help you get ready for your presentation.
#1: Our audience

The typical attendee has been using social media for at least 2 years, feels strongly it is important for their business, spends at least an hour a day on social (78%), finds Facebook most important (52%), followed by LinkedIn (19%) and Twitter, will increase activities in following order: YouTube-1, Instagram-2, Facebook-3, LinkedIn-4, Twitter-5, Pinterest-6, and Snapchat-7. Also has big plans to increase use of videos (85%), visual images (72%), and live video (57%), and needs to understand Facebook-1, Instagram & LinkedIn-tied for 2, YouTube-3, Twitter-4, Pinterest-5, and Snapchat-6 better, in that order. 75% of attendees work for small companies (under 100 employees), with 20% being solo practitioners, split almost evenly between B2C (52.5%) and B2B. This person is more likely female, works in the United States (59%), and is aged 30 or older (87%). 35% are aged 40-49. 83% subscribe to the Social Media Examiner newsletter, 73% read the blog, 68% are our Facebook fans, 50% are Twitter followers, and 44% listen to the podcast.
NOTE: Many of our B2B customers have asked you to provide case studies or examples that are specifically applicable in the B2B world. We hope many of you can help!
#2: Maximizing your session
Because we know you want your session to stand out, our event director, Phil Mershon, has put together a list of tips and resources for maximizing your presentation. 

#3: General flow of the session
Please log into your pre-conference call 15 minutes prior to your session start time (log in/dial in info will be sent a week prior to your session).
At session start time, Jessamyn will introduce the presenter and the presentation should last 35-40 minutes.
After the presenter wraps up Jessamyn will announce Q&A and read attendee questions for the last 5-10 minutes (sessions are 45 minutes total).
#4: Technology reminders
To maximize your online connection we encourage you to use a hardwire internet connection, if possible. Please run a speedtest using the computer and internet connection you plan to use for your presentation and send send Jessamyn a screenshot of your results (2-3 Mbs upload speed is a minimum).
All sessions use an online meeting platform called GoToWebinar. To make sure you can access GoToWebinar before your session, click this link. If you see a message similar to the one below, you've successfully joined the test session.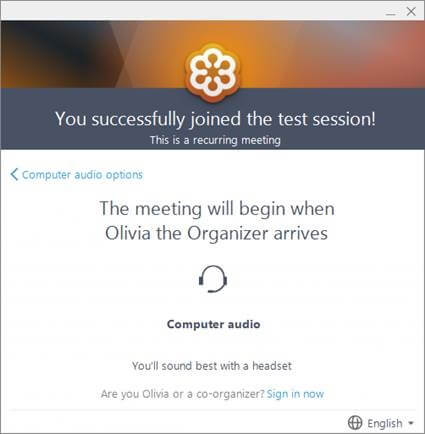 If you have not yet installed the GoToWebinar desktop application, the download will automatically begin. GoToWebinar system requirements can be found here.
If you have any issues when testing GoToWebinar or you would like to set up a test run in GoToWebinar prior to your session please let Jessamyn or Nicole know.
Audio:
GoToWebinar allows you to use VoIP (computer audio) or you may dial in using your telephone.
Connect via computer audio (VoIP)
This is the default setting when joining a meeting.  To ensure you are using computer audio:
Make sure your mic and speakers are not muted.
In the Audio pane, select Computer Audio. You can use the drop-down menus to select the right audio hardware.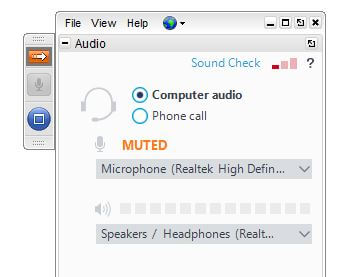 VoIP Audio reminders:
Please use headphones while presenting to prevent the sound from feeding back.
To get the best possible quality sound, we recommend that you do not use your built-in microphone. If possible, use a USB microphone or a headset.
Please use a wired high-speed internet connection as wifi gives variable audio quality.
If using computer audio DO NOT dial in on your telephone or we will hear an echo.  If connecting via telephone, please make sure ONLY the Phone Call radio button is selected. 
Connect via telephone
First, locate the audio information provided by the organizer. You can find this info:

in your GoToWebinar confirmation email OR
While in session, go to the Audio pane and select the Phone Call option.

Use a telephone to dial the provided phone number.
When prompted, enter the Access Code and Audio PIN listed in the session information.
Note: If you are dialing from an international location please let Jessamyn know.
Application Sharing
To share your slides, a web browser, your Desktop, etc in the Screen Sharing pane, use the drop-down menu to select what you'd like to share. Be sure to have applications open on your desktop you wish to share, and close any windows you do not want to share before proceeding.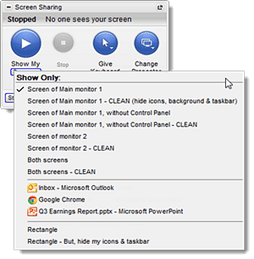 Click the Play button  to begin broadcasting your screen to attendees. You can change which part of your screen to share using the drop-down menu at any time.
"ON AIR – Showing screen" will appear at the top of the Screen Sharing pane, and the Play button  will switch to Pause   Use these controls to pause/restart, or stop sharing.
NOTE: Both Mac and PC users will use the 'Application Share' feature in GoToWebinar to share their slides.  If you wish to share a PowerPoint presentation on a Mac, you must first put the presentation into slide show mode and then select "PowerPoint Slide Show" in the Application window. If you do not, attendees will continue to see the main PowerPoint window instead of the slide show, and they will not see your slides advance.
If you have any questions at all please reach out to Jessamyn: [email protected]