This will convince any boss!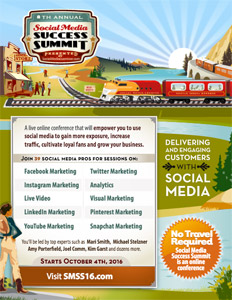 This page contains a flyer (PDF) and letter you can email to your boss.
Download the printable PDF flyer by clicking here (shown at right).
Email to the Boss
Below is a simple email template you can modify to suit your specific needs.
You may want to attach the PDF flyer found above.
NOTE: There are four areas in < > that you'll want to customize. ALSO, if we have a sale going on, you may want to mention that in the email.
SUBJECT LINE: <Insert Your Boss' Name Here>, I'd like to attend Social Media Success Summit
Hi <Insert Your Boss' Name Here>,
As you know, keeping up on the latest social media trends is essential for our team's success. <You may want to customize this first sentence based on your unique needs.>
The folks over at Social Media Examiner are hosting their eighth-annual Social Media Success Summit.
It's an online conference taking place in October of this year. I can watch the sessions live or catch the recordings later.
They expect 4,000 marketers in attendance and the summit is entirely online.
I believe that attending this conference will enable me to discover valuable new ways to market our business and network with industry leaders.
Here's a quick breakdown of the event:
* Sessions cover social media marketing tactics, along with content marketing.
* There are 39 expert-led sessions from nearly all of the biggest names in social media, including Mari Smith, Michael Stelzner, Amy Porterfield, Christoper Penn, Joel Comm and many more.
Here's the cost breakdown:
* Event retail cost: $697
* Venue hotel rate: $0 per night – this event is entirely web-based.
With your permission I'd like to secure our reservation to this event before it sells out. Please reply as soon as possible with your decision.
Thanks for your consideration.
<Insert Your Name Here>
P.S. Here are the event details: https://www.socialmediaexaminer.com/smssummit/
Home | Agenda | Speakers | REGISTER
Networking | Testimonials
Convince Boss | About | FAQ