Why sponsor Social Media Marketing World?
Thinking about sponsoring Social Media Marketing World?
Year after year attendees, speakers, and sponsors alike return to Social Media Marketing World. Why? The content is bursting with value, relationships formed are priceless, and new business opportunities are forged, multiple masterminds are created and so much more.
Here are four strong reasons to sponsor:
#1: Increase brand awareness: Your brand is front and enter among thousands of social media and business marketers who are seeking to take their marketing to the next level.
"I was very impressed by how well-organized the conference was and the thorough communication I received leading up to and during the event," Naomi Blair, Alight Analytics.
#2: Generate better leads: Imagine your ideal prospects, all in one location. No calling, no emailing, you simply smile at the line of people who want to talk to you.
#3: Develop stronger influencer relationships: You'll connect with high profile influencers and deep domain experts who can accelerate your awareness in the industry.
#4: Meet your customers in person: Imagine meeting your best customers, face-to-face.
"What we like most about the conference is the ability to talk to our target audience, clients and industry leaders, plus the overall experience of built-in networking," Kate Skavish, WAVE.video.
Click here for pricing and sponsor options
div
What will Social Media Marketing World do for you?
There's a lot Social Media Marketing World can offer you:
Increase Your Brand's Visibility

Attendees come to Social Media Marketing World looking for solutions. With your sponsorship, your investment puts you top of mind with the world's leading social marketers.
How do we do it?
#1: Sponsor experience designed for maximum visibility and traffic: Sponsors are highly visible and centrally located in the middle of the action. With only a limited number of booths, we've reimagined the sponsor experience. Imagine your activation on the same floor as all the sessions and keynotes enabling you to take advantage of traffic flowing to and fro each day.
The sponsor experience was above average. The vibe and set up was really great. The energy in the place was pretty high," Anthony Margulies, FalconIO.
#2: Added brand exposure: Looking for the most exposure? Sponsor packages include:
Mobile App Listing: Promote your company in the mobile app that every attendee will use to plan their on-site experience. Place your special offer in your sponsor listing to entice and engage with attendees.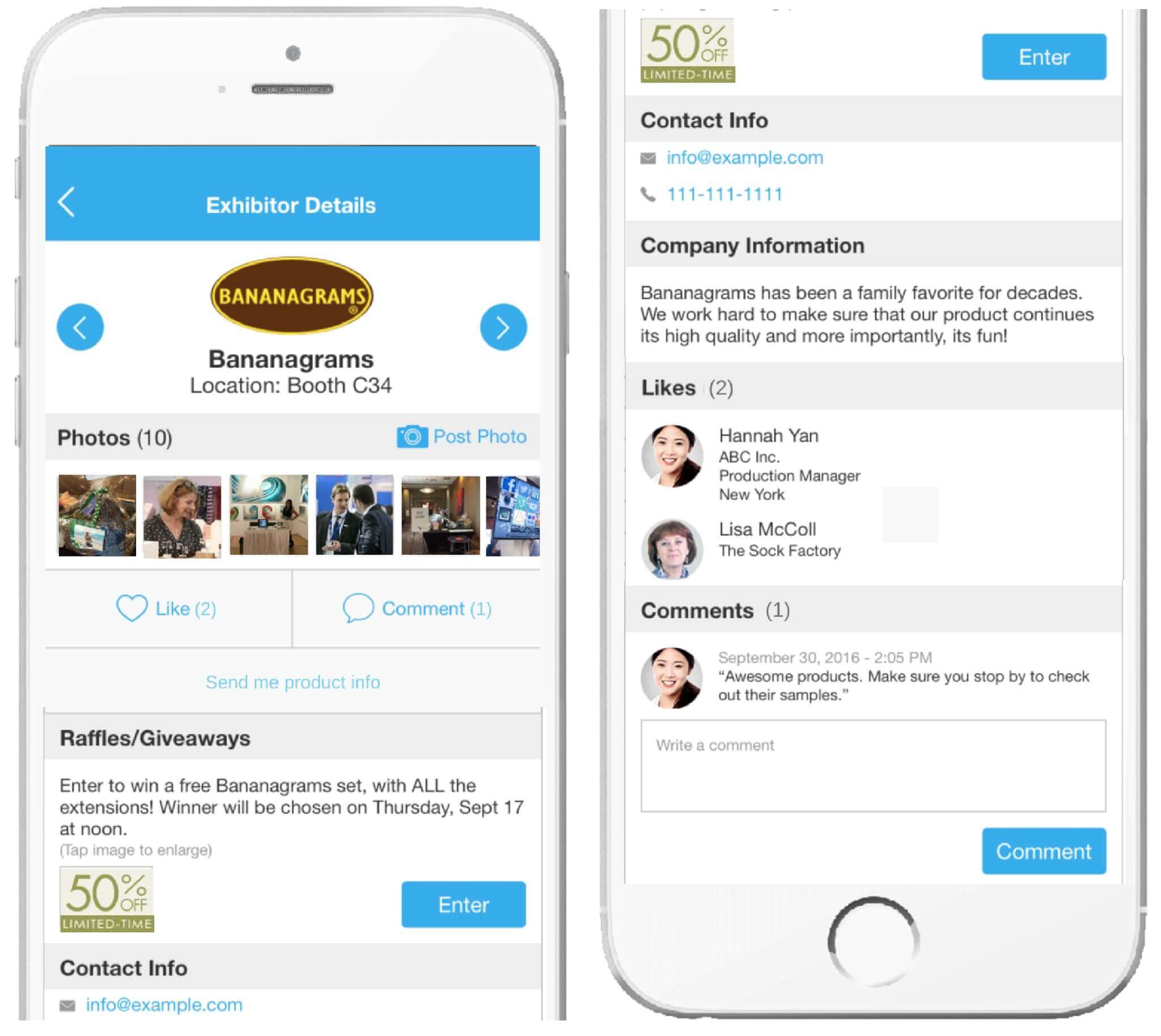 Booth Traffic Driver: Game designed to encourage attendees to stop by your booth for your special offer and view your demo.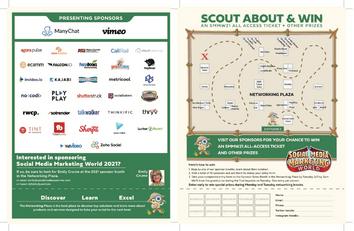 Want to host the opening night networking party or a sunset cocktail? Imagine thousands of attendees socializing and enjoying a frosty beverage and finger-food with your brand as the host. *Ask about our unique party sponsorship options.
Click here for pricing and sponsor options
Collect Quality Leads
If your goal is to directly reach social media and business marketers, you'll find the most qualified audience at Social Media Marketing World.
How can we make this claim?
Attendees are Social Media Examiner fans: Social Media Examiner attracts the industry's largest and most loyal fans via its very large blog (nearly 2 million people a month) and podcast (500,000 monthly downloads).
Quality speakers draw quality attendees: All speakers are carefully recruited based on their expertise and ability to teach. Often called the "Super Bowl" of social media conferences, we draw the largest quantity of deep domain experts.
How do we help you get leads?
#1: Collect leads with the built-in traffic flow around sessions and keynotes: Networking is one of the unique hallmarks of Social Media Marketing World. Our conference is where the magic happens. This is what takes place there:
People gather to eat meals and take breaks throughout the day.

Attendees record podcasts and videos and take lots of photos.

People gather for planned discussions as well as impromptu meetups which ultimately lead to business deals.
With your booth, lounge or content sponsorship, you are in the middle of all the action. This means more demos, more dialogue, and more leads.
"We were very satisfied with our overall experience. The attendees were genuinely interested in learning about and adopting new products. ," Julie Bergstein, Vimeo.
#2: Effortlessly collect leads: With a simple mobile app on your phone, you can scan the badge of any attendee and acquire their contact information. This means you can focus more on showing off your product.
"Not only are we achieving our business goals at Social Media Marketing World, we are smashing expectations," Andrew Kan, TubeBuddy.
#3: Pre- and post-event prospecting: Build relationships with Social Media Marketing World attendees months before the conference in our private networking group and via the mobile app experience.
Strengthen Your Influencer Relationships 

Getting discovered by the right influencer can be an accelerant that fuels your business growth. Among our world-class speakers and attendees, you'll find influencers in every major industry and on every major social platform.
"If you're in the social media field, you owe it to yourself to come here at least once. This is the World Series. The World Cup of social media marketing." Mark Schaefer, globally-recognized author, speaker, podcaster and business consultant.
Want to meet influencers?
Need to connect with top Facebook experts? Check.
Looking for top Instagram experts? Check.
Hoping to learn more about Messenger and Chatbots from experts? Check.
"If you're looking for new, hot ideas on how to build your audience on social media, understand these new platforms, really leverage it the right way, then come here," Lewis Howes, author, podcaster, and former pro athlete.
Developing stronger relationships with influencers will never be easier.
Here's why:
#1: Speakers are highly accessible: We don't have a speaker ready room that speakers can retreat to–by design. This means all speakers network in the same places as attendees.
"Loved that the speakers weren't hiding between sessions, instead they were networking and engaging with everyone," Brian Fanzo, digital catalyst and expert on how to reach millennial and Gen Z consumers.
#2: People gather to network in between sessions and even after hours: Dozens of tables located in the hallways are designed to help bring people together (REMOVE based) to discuss their interests. Examples include social selling, management tools, video marketing, Facebook ads, analytics, virtual reality, social customer service and many more.
"There's really no other conference that you can get this depth of connections and knowledge." Mari Smith, Leading Facebook marketing expert, author and Facebook Partner.
Click here for pricing and sponsor options
div
Who attends and sponsors Social Media Marketing World?
You'll experience a unique event that brings you carefully recruited experts who live and breathe social media marketing every day. Only the best.
Imagine making connections with the world's top social media pros including Mari Smith, Derral Eves, Jay Baer, Judi Fox, Ann Handley, Michael Stelzner, Michael Hyatt, Andrea Vahl, Amy Porterfield, Mark Schaefer, Michaela Alexis, Kim Garst, Tim Schmoyer, Viveka von Rosen, Marcus Sheridan, Molly Mahoney, Joe Pulizzi, Chris Penn, Tara Zirker, Owen Video, Rachel Pedersen, Allie Bloyd, Roberto Blake, Luria Petrucci, Natasha Takahashi and many, many more.
Looking for big brands? Many of the world's most recognized brands attend, including Accenture, Amazon, BMW, Colgate Palmolive, Deloitte, doTERRA, Experian, Ford, GoFundMe, HarperCollins, Hilton, Hyundai, Intel, International Monetary Fund (IMF), IBM, IKEA, Intel, Kellogg's, LegalZoom, Loan Depot, Lockheed Martin, Marriott, NBCUniversal, Nike, New York Life, Novartis, P&G, Robert Half, Sprint, Sam's Club/Walmart, Synchrony Bank, UPS, United Health, Verizon, and many more. Plus, you'll network with people from Facebook, Google, LinkedIn, Pinterest, Twitter, YouTube, and other platforms.
Wondering who sponsors?
If your solution falls into any of these categories, Social Media Marketing World IS for you:
Agencies
Social analytics
Social media management
Social media monitoring
Influencer marketing/management tools
Social advertising apps
Specialty social media apps/tools
Photo/video/audio equipment manufacturers
Visual apps
Video or live video apps
Customer support software
Community management
Marketing automation/email management
Social sharing plug-ins
WordPress plugins
Social Media Marketing World attendees are also interested in:
Business productivity solutions
Communication/workflow solutions
WordPress and hosting companies/domain registries
Financial services/digital payment solutions
Design services
Agencies
Directory listings
Local business apps
Some of our sponsors have included Vimeo, Manychat, Agorapulse, HeyOrca!, Shutterstock, Tint, Kajabi, G2Crowd, Brand24, Cision, LoveHandle, Zoho, Ecamm, Promo, TubeBuddy, Techsmith, Teachable, Shakr, SEMRush, Falcon.IO, Switch Studio's, VidIQ, HeyOrca, HubSpot, StickerYou, Website.WS,  Hootsuite, Adobe, Cision, Brandwatch, Talkwalker, Wave.Video, Dynamic Signal, Cox Business, Pinterest, LinkedIn, Synthesio, AgoraPulse, TapInfluence, Digimind, Shareasale, and Siteground.
div
Click here for pricing and sponsor options
Where does Social Media Marketing World take place?
Social Media Marketing World takes place in "America's Finest City," San Diego, California.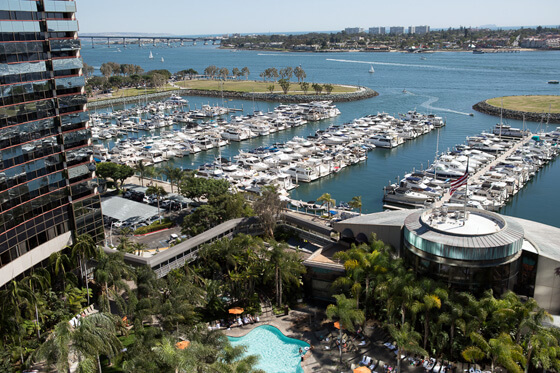 "If you're thinking about becoming a sponsor, highly, highly recommend it. Great atmosphere, great people, great location, beautiful weather, awesome parties," Rudy Ellis, Switchboard Live.
A beautiful city AND an amazing venue. Social Media Marketing World is held at the waterfront San Diego Convention Center–home of Comic-Con International.
With 70 miles of pristine beaches, a dazzling array of world-class family attractions and its idyllic climate, San Diego is a truly remarkable experience for everyone. Local activities include surfing, whale watching, SeaWorld, LEGOLAND, San Diego Safari Park, San Diego Zoo, and more! Extended vacation anyone?
Watch this video to learn more about what to do in San Diego.
San Diego enjoys beautiful weather year-round with an average daily temperature of 70.5° F (21.4° C).
"We love this conference and this is the absolute perfect place for us to be," Tamar Garfunkel, Promo.
Click here for pricing and sponsor options
To add YOUR company to our exclusive sponsor list, contact Emily Crume, Director of Strategy at 949-444-8459 or [email protected].

div