Experience
Social Media Marketing World
Live from Your Desk!
Achieve more wins for your company or clients. World's top pros show you how—live and online!
Has Social Media Marketing World been on your bucket list forever?
Have budget, safety, or travel constraints stopped you from registering?
Our Streaming Ticket is the option for you.
Discover how to next-level your social media marketing for a fraction of the cost of physically attending Social Media Marketing World.
The Best Strategies and None of the Travel 
Are you an experienced marketer who wants to take your social marketing skills to the next level? Then this event is for you!
You'll get to see and experience the conference just like you're there—without traveling thousands of miles. ✈️
Get access to the best social marketing strategies from the world's top experts with your Streaming Ticket to Social Media Marketing World.
Here's what it does for you:
🔥 More new business opportunities: Imagine what it will be like when prospects start lining up to be your clients or customers. Imagine what it will feel like to convert new customers without the "hard sell" tactics used by so many others. You'll experience "zero-resistance selling."
🔥 Become the hero for your company or clients: Imagine more people seeking out your wisdom because you've been empowered with marketing techniques that work. You'll have the insight you need to get better results while reducing your trial and error. Imagine getting a promotion or raising your rates because you're delivering measurable results.
🔥 Gain more confidence: Imagine the satisfaction that comes from being more recognized and accepted for doing the work you love. How good is it going to feel as people begin to acknowledge your expertise and your credibility?
This is why we exist: We help marketers like you gain the confidence you need to succeed—even if you can't join us in San Diego.
Take Your Social Marketing to the Next Level
Your Streaming Ticket gets you access to all of our keynotes and sessions, across four core areas of social marketing:
✅ Social strategy: Are you looking for a master plan to guide your future marketing? Let our expert trainers show you different ways to achieve your objectives.
✅ Organic social marketing: Covering TikTok, Instagram, Facebook, LinkedIn, and beyond, this track will help you create more exposure, engagement, and sales.
✅ Content marketing: Want to embrace content in all its forms? If you want to understand how to use content, including video, to grow and nurture a loyal following, this is the track for you.
✅ Paid social marketing: Want to master paid acquisition from Facebook to YouTube? Let our expert trainers show you precisely how to capitalize on ads across all the major social platforms.
Hop live between sessions to satisfy your professional curiosity.
How the Streaming Ticket Works
Studies show that people who engage in professional development are more successful, reach their business goals faster, enjoy their work more, build better relationships, and earn a higher income!
A Streaming Ticket to Social Media Marketing World helps you get there.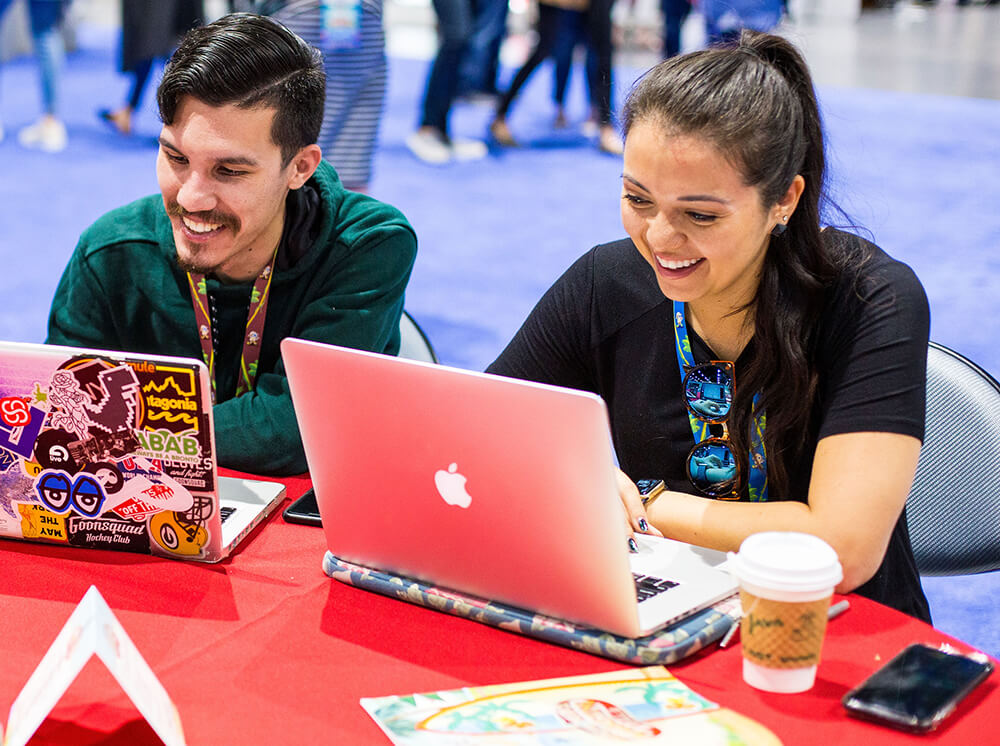 When you complete your registration, a unique ID and password will allow you to watch any of the sessions via live stream as they happen.
Simply log in, enter a virtual room, and experience the live training. You'll get the same session experience as attendees in San Diego, except in the comfort of your home or office.
Wondering if It's Right for You?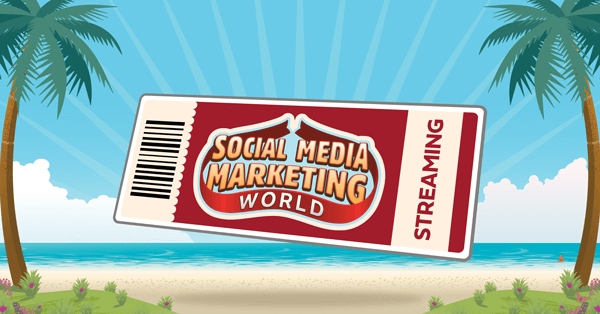 WHO: The Streaming Ticket is ideal for any marketer who wants to better understand the latest social marketing strategies. Note: All-Access ticket holders get this streaming ticket at no added cost!
WHAT: The Social Media Marketing World Streaming Ticket provides full online access to the live stream of ALL sessions and keynotes from the physical conference in San Diego.
WHERE: At your home, office, or on the road! You watch live-streamed sessions using your computer, tablet, or smartphone.
WHEN: The Social Media Marketing World conference takes place from March 14th and March 15th, 2023. With a Streaming Ticket, you get live access to sessions and keynotes as they happen.
WHY: You'll be able to implement effective social media strategies and tactics that will help improve your marketing, grow your following, and build your business. Your ticket will ensure your business is maximizing the full potential of social media, even if you can't attend in person!
HOW: When you purchase your Streaming Ticket, we'll email you instructions for your exclusive live access to the content.
If you were to attend Social Media Marketing World 2023 in person and access all the content led by world-class experts, the cost would be $1,997. And that doesn't include the added costs of travel, hotel, and lost work time!
🏠 With your Streaming Ticket to Social Media Marketing World, you eliminate all those extra costs. Instead, you get access to the same great content from your desk, office, or even your couch! 
"Within minutes, I knew I had made a great decision. The speakers were some of the most distinguished people in social media sharing their knowledge first-hand. The information in the sessions has paid off tenfold for me and my team," said attendee Noah Stanley.
How to Register and Improve Your Marketing Future
Register and invest in yourself. You'll see a return on your investment. You'll be able to improve your skills and convert more people to customers with the strategies you'll discover.

START YOUR JOURNEY TO SOCIAL MARKETING SUCCESS
DATES: Social Media Marketing World takes place Tuesday, March 14, 2023, and Wednesday, March 15, 2023. Doesn't fit with your schedule? Consider our On-Demand ticket.
Got Questions?
Billing or Customer Support: Email [email protected].
Wondering Whether It's Worth It?
Still on the fence? Hear what other marketers have to say about the live sessions: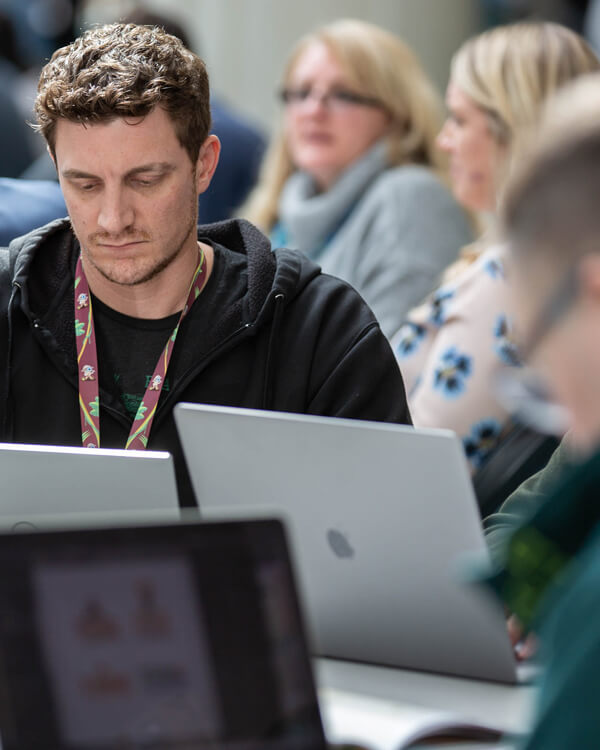 "Thank you SO much! I feel like I won $1M with a $1 ticket because of the quality of presentations." – Andrea Runnels
"This has become my annual education purchase. I love the variety of sessions and speakers. I don't have a ton of extra time on my hands so getting all this content all in one event is amazing!" – Krista Ann Patterson
"I went through most of the content and had huge takeaways." – Tony Christensen
"It's great having access to the top minds in the field at a very reasonable price." – April Thompson
"I love that I was able to take advantage of the content even without being present. I had a scheduling conflict, so I was thrilled to have an option." – Bailey Lefthand
"Best money ever spent!!!" – Jerry Renson
Have Questions About the Streaming Ticket?
Are workshops included in the Streaming Ticket?
No. Workshop live access is only included with an All-Access ticket.
Will recordings be available?
No. This ticket includes live-streamed access only. Recordings are included with the All-Access ticket or On-Demand ticket.
Where is the event located?
At your home or office. Because this is a Streaming Ticket, there is no physical venue and no travel expenses.
How long are the sessions?
Most of the sessions are 45 minutes in duration.
Can I purchase just a single session?
You can watch any or all of the sessions as they happen. A Streaming Ticket is like a Disneyland ticket: you get access to everything.
What if I already purchased a physical ticket to Social Media Marketing World 2023? Do I get a free Streaming Ticket?
That depends. If you registered for an All-Access Ticket, you will receive Streaming access instructions inside your account. However, the Marketer Ticket doesn't include Streaming access.
I'm an attendee. Where do I find all the details about the event?
As an attendee, you can access details about the event happenings, including a detailed agenda, inside the conference app.
What if I still have questions?
You can email [email protected] and we will get back to you right away.
div