Sponsor Support Page
We're excited to have you as part of Social Media Marketing World 2022! This page will help you prepare for your sponsorship and your time in San Diego.
Social Media Marketing World 2022 will be held Monday, March 14, 2022, through Wednesday, March 16, 2022.
Use the quick links below to guide you through the information and due dates. We'll also be sending out friendly reminders as due dates get closer.
---
NEW Updates
Look for recent updates to this page posted here
---
Key Downloads

Quick Reference Guide (coming soon)
Marketing Check List (coming soon)
Exhibitor Quick Facts From Freeman (coming soon)

---
Quick Links/Index
Key Dates
Company Logo & UTM Tracking Link
Track Sponsorship Live Read Copy
Enhance Your Mobile App Profile
10×10 Exhibit Booths – General Information
Furniture
Freeman Services
Shipping Guidelines
Lead Retrieval
Register Your Attendees
Additional Passes – Deadline March 1, 2022
Attendee Event Information – Hotel, Travel, Parking, etc…
Marketing Tips – Get the Most out of Your Sponsorship
---
Key Dates
02/14/22: Freeman accepting created, boxed and skidded material at pre-event warehouse
02/01/22: Booth activation approval deadline
02/01/22: Sponsor attendee names due
02/18/22: Last day to receive advance order discount rates from Freeman
03/04/22: Last day to receive advanced warehouse discount pricing from Freeman
03/09/22: Last day to receive materials at Freeman pre-event warehouse
03/11/22: Late shipments should be sent directly to the event venue to be received by Freeman at 8am. NOTE: Shipping directly to the venue on Saturday 3/12 or Sunday 3/13 is NOT recommended, you will incur additional charges.
03/13/22: Exhibitor Move-In (9:00 AM – 4:00 PM)
03/14/22: Show Day (9:00 AM – 5:30 PM)
03/15/22: Show Day (8:00 AM – 6:30 PM)
03/16/22: Show Day (8:30 AM – 6:15 PM); Move Out (6:15 PM – 8:00 PM)

---
Company Logo and UTM Tracking Link
Please send us your company's high res logo and tracking UTM. We will attach this link with your logo on the conference website sponsor page.
Your logo must meet the following criteria:
File format: .eps or .ai
Logo for this purpose is defined as an "Icon + Company Name" only
No tag lines, please
No secondary products. For example, only Nike or Jordan, not both Nike and Jordan
Must fit within a 190×190 pixel square
Transparent/White Background for website
Specs = .eps format 72 dpi
Logo Examples: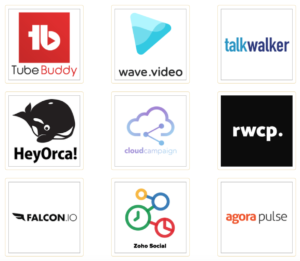 ---
Track Sponsorship Live Read Copy
Track sponsors receive session mentions by the track leader prior to introducing the speakers for each session. Your script may include a special call-to-action. Please send us your live read copy by 2/1/22.
Template Concept: max 70 words
The [Insert Name] Track is brought to you by [Company Name], a provider of [insert description of solutions and/or services.] [Brief statement on who we help an how we do it.]
To learn more and download a special offer only for Social Media Marketing World attendees, go to [companyurl.com/smmw22]
Sample:
"The Content Marketing Track is brought to you by the Social Media Marketing Society, the largest membership community for social media marketers. By joining, you'll receive live original training three times every month, along with access to 100+ on-demand workshops. You can connect with thousands of peers via live online video Q&A with Social Media Examiner staff and access our exclusive Facebook group.
To learn more and sign up, visit https://www.socialmediaexaminer.com/society"
Track Sponsor Signage Example: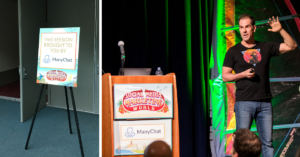 ---
Enhance Your Mobile App Profile
The conference mobile app is Whova. Our attendees will use this app to network and view the conference schedule. As a sponsor, you will be listed with your logo and sponsor name.
ACTION: Maximize your exposure by refining your profile, adding a company description, raffle/giveaway/coupon and your company contact info.
In early January you will be sent a link that will allow you to customize your app listing.
Mobile App Example: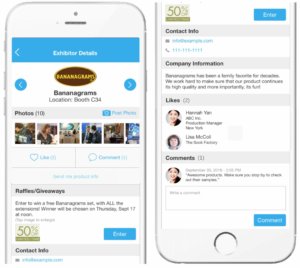 ---
Exhibitor Booths
Exhibitor booths will be located directly outside of our keynote stage and in the main session hallway.
EXHIBITOR HOURS
Exhibitor Move-In
Sunday, March 13, 2022 8:00 AM – 4:00 PM
Exhibit Hours
Monday, March 14, 2022 9:00 AM – 5:30 PM 
Tuesday, March 15, 2022 8:00 AM – 6:30 PM
Wednesday, March 16, 2022 8:30 AM – 5:15 PM
Exhibitor Move-Out
Wednesday, March 16, 2022 5:15 PM – 7:00 PM
EXHIBITOR MAP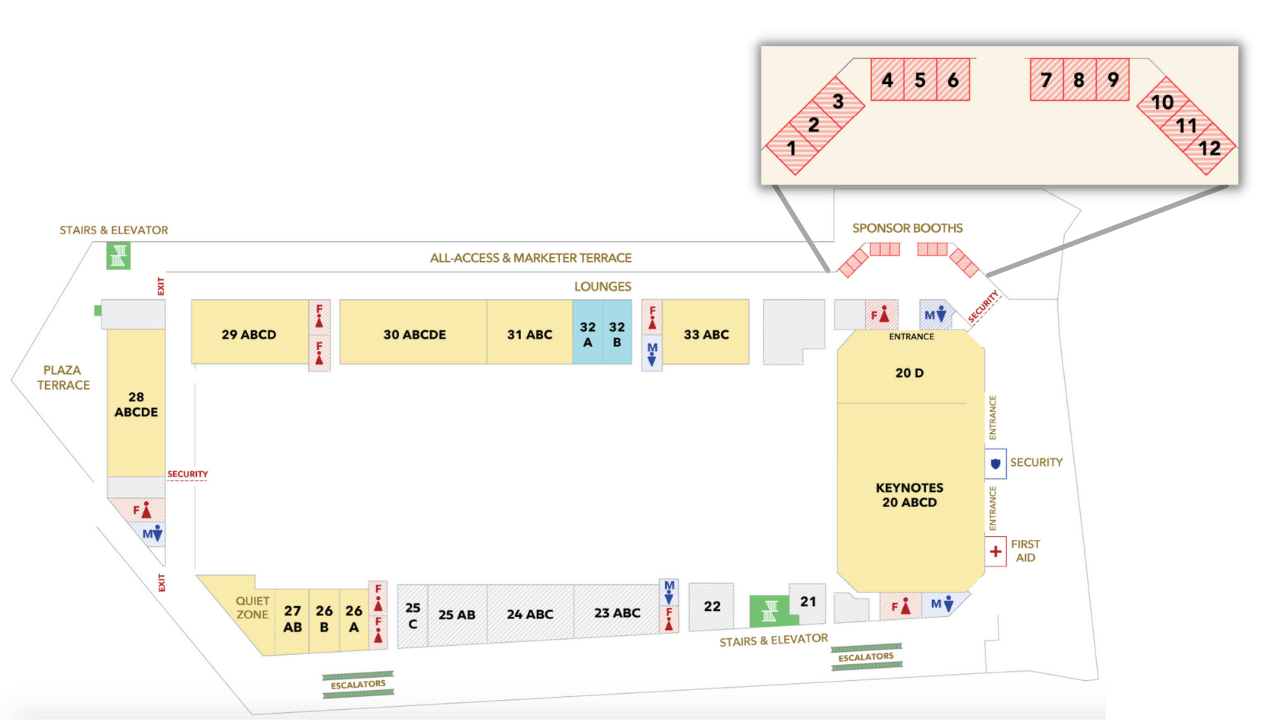 EXHIBITOR BOOTH DETAILS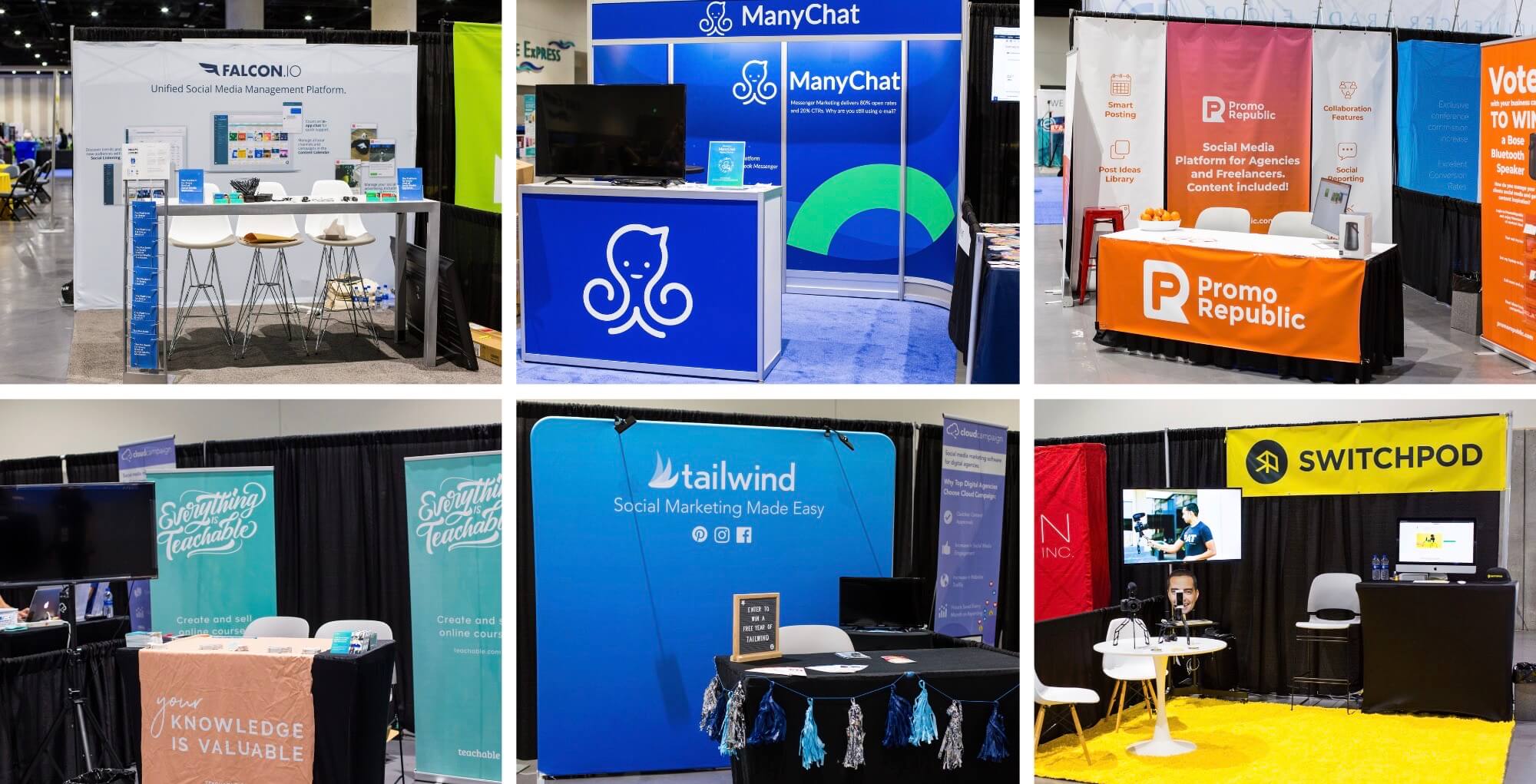 10′ x 10′ BOOTH SPACE:
Each booth will be set with 8′ high black back drape and 3′ high black side dividers and will include the following items:
Choice of Furniture Package:
Package A (6′ x 30″ table draped in black & 1 side chair)
– OR –
Package B (bistro table undraped & 1 stool)
1 – Dedicated 5 AMP power line and power strip
1 – power strip
Sponsor-only Wi-Fi access provided. Hard-line Internet available at an added cost to Sponsor.

---
Reserve Your Furniture Package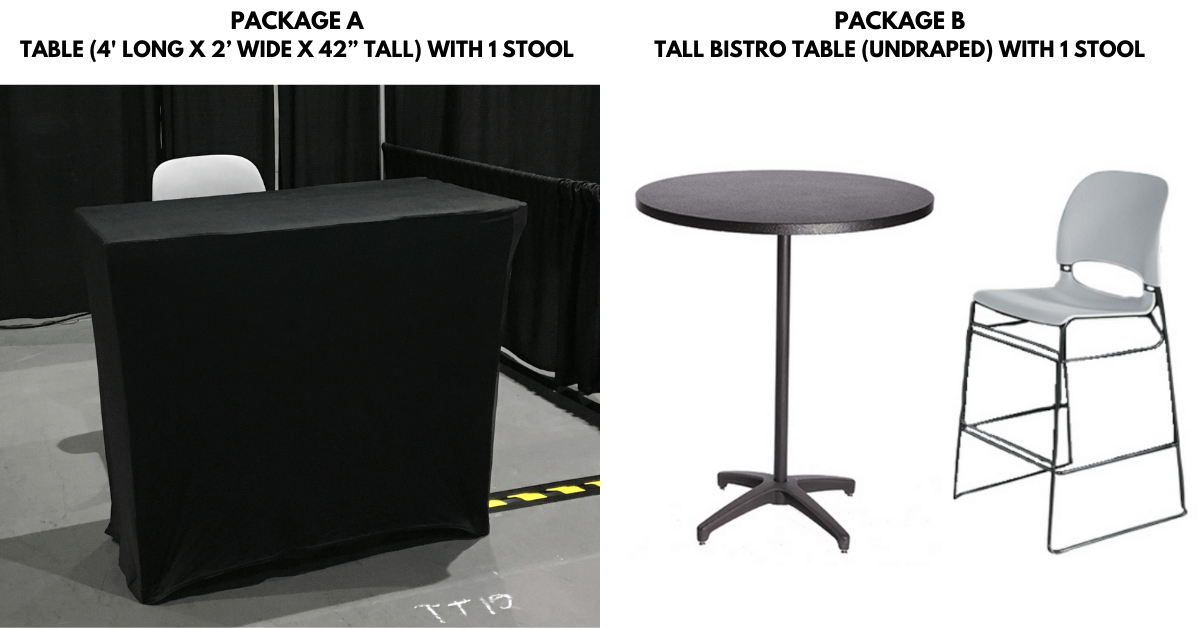 Choose your furniture package: send us your furniture request by 2/1/22.
10×10 BOOTH FURNITURE OPTIONS
Package A (4′ long x 2' wide x 42" tall table draped in black & 1 stool)
– OR –
Package B (bistro table undraped & 1 stool)
BOOTH REMINDERS
Planning a booth activation such as a contest, drawing, food or other activity? We want to help support your promotion. Let us know what you are planning for your booth by sending a description to [email protected] by 2/1/22.
Serving food at your booth? ALL food and beverages MUST be purchased or pre-approved by Centerpoint Catering, the on-site food and beverage catering provider. Sponsors are not permitted to serve food or beverage brought in to the venue without a waiver. Order early to avoid late fees. Click here for the Centerpoint Catering food and beverage selections and order form (coming soon).
Monitors and stands may be rented online from On-Site Audio Vision. Click here for the A/V rental order form (coming soon).
Booth numbers are an internal reference guide and will not be communicated to attendees. If you'd like to reference your booth in promotional material, just say "find us in the session hallway."
Signage is up to each sponsor to provide. There are many options for producing innovative and cost-effective branded signage for tabletops or large booths. We put together a list of sign and booth design resources here.
Security will be on duty Sunday (starting at 4:00 PM) to Wednesday (ending at 5:15 PM). We recommend high-value items, i.e. laptops etc., be taken to your room at the end of each day.
---
Freeman Services
We have contracted with Freeman to handle all of your service requests. Customize your booth with additional furniture, services and more via Freeman Online. You can access Freeman Online here. To receive an additional discount on select items, make sure to place your order online prior to the early deadline. (date to come)
If this is your first time using Freeman Online, you will need to create a new username and password for your company.
Are you a first-time exhibitor and need help understanding the trade show process? Review Freeman's Exhibit Like an Expert for helpful advice.
---
Shipping Guidelines
All exhibitor freight and promotional material (crates and boxes) are to be sent directly to the Freeman pre-event warehouse. Freeman will then deliver your packages to your booth prior to set-up.
All incoming and outgoing packages will be charged a material handling fee. Material handling includes unloading your exhibit material' storing up to 30 days in advance at the warehouse address' delivering to the booth' the handling of empty containers to and from storage' and removing of material from the booth for reloading onto outbound carriers. See the Freeman Exhibitor Kit for details.
For details of material handing fees, please review the rate sheet here. (to come)
To ensure proper delivery, all freight must be labeled "Exhibiting Company Name / Booth #." Please refer to the label below. If required, provide your carrier with this phone number from Freeman: (714) 254-3410
Advance Warehouse Shipping Address and Label for Freight
Exhibiting Company Name / Booth #
Social Media Marketing World 2022
C/O Freeman
6060 Nancy Ridge Drive, Suite C
San Diego, CA 92121
*Label – (coming soon)
Freeman will accept crated, boxed or skidded material beginning 2/14/22, at the above address. Advance warehouse pricing will be extended up until 3/4/22, at 3:30 PM. Materials arriving after this date will be assessed an additional after deadline charge. Warehouse materials are accepted at the warehouse Monday through Friday between the hours of 8:00 AM – 3:30 PM.
Late shipments will be received by Freeman at the exhibit facility beginning 3/11/22 at 8:00 AM. Shipments arriving before this date will most likely be refused by the facility. Any additional charges incurred by the San Diego Convention Center for early freight acceptance will be charged directly to the exhibitor and will be in addition to the material handling charges.
Shipping directly to the venue on Saturday March 12 or Sunday March 13 is NOT recommended. You will incur additional charges.
There is a FedEx Print and Ship center located within San Diego Convention Center. The center is available for your on-site printing needs and assistance in shipping small packages out of the show (example, portable pop-up booth signage). You are not permitted to ship any inbound booth freight to this location. Further details are here.
---
Lead Retrieval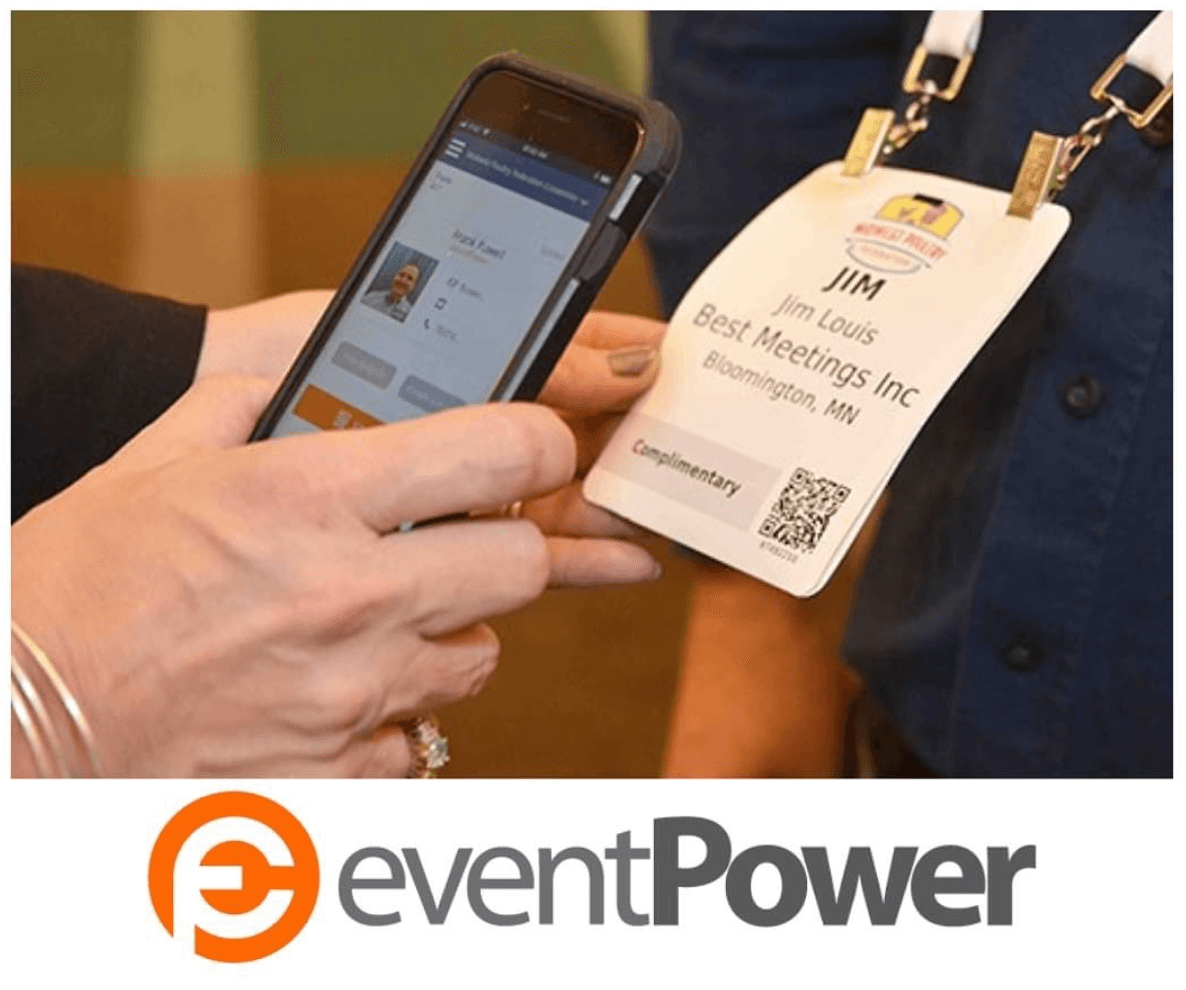 Lead retrieval service by eventPower will be provided for all sponsors. There's no hardware to rent or buy – simply use your iOS or Android phone or tablet with a camera. Scan an attendee's badge and you can access your leads in real time, during or after the show.
More information and instructions will be provided as the event nears.
---
Register Your Attendees
Who will be representing you at Social Media Marketing World? To ensure you and each of your representatives receive all conference updates, please email [email protected] with each attendee name and email address and well as which ticket type they will receive.
Please refer to your Sponsorship Contract for the number of passes included in your sponsorship. Once registered, attendees will receive important attendee emails.
---
Purchase Additional Passes
Need an additional ticket? Additional sponsor passes may be added to your original sponsorship package.
To purchase at a reduced rate, send an email to [email protected] and we will send you more information. Additional tickets must be purchased by 3/1/22.
SPONSOR DISCOUNTED ADDITIONAL TICKETS:
All-Access Ticket: Access to workshops, keynotes, track sessions, session recordings. PRICE $997
---
Attendee Event Information
---
Marketing Tips – Get the Most Out of Your Sponsorship
Maximize your sponsorship by utilizing all of our pre-event networking resources. Connect with our attendees, find out who's attending and what their interests are. Build awareness and meaningful connections prior to the event.
Gain Helpful Tips – Our Compass Page has insights, ideas and tips to help your business succeed at events. Check out Compass: Guiding You to Event Success.
Promote Your Sponsorship – Promote your sponsorship and attendance on your website or social channels. You can find a variety of content for you to use–audio, video, graphics in various sizes, photos, social updates (Instagram/Twitter/Facebook/LinkedIn), an article, email/blog post, blurbs/newsletter updates and more–all available to help you promote Social Media Marketing World on our Promo Page
Create A Sponsor Landing Page – Create a custom landing page to help you connect with attendees. We will link it to your sponsor logo and in the app. Your landing page could include: a free download, schedule booth consultations, enter to win a prize, map to your booth, etc.
Here's one example from a previous year. Here is another example from a previous year.
Join a Table Talk – We provide dedicated tables for attendees to meet for lunch and talk about common topics of interest. Sponsors are welcome to join in the networking. Additional details will be coming. We will also communicate details via email as the event nears.
Interact With Attendees on Social Media – Social media is widely used by our attendees to network long before the event as anticipation builds. Get to know them before you reach the show by reaching out on our Social Media Marketing World 22 event profiles:
Hashtag – 
Twitter –

Follow our official Twitter handle: @smmwconference to keep up with the latest conference news.

Facebook –

Follow our Facebook Event Page (coming soon) to let everyone know you're coming and join in on the conversations and event updates happening there.
---
Questions?
Our sponsor team is here to help you with anything you may need regarding Social Media Marketing World.