Networking Resources
This page is your go-to guide for all things networking related at Social Media Marketing World.
Quick links to other pages: Table Talks | Restaurant Coupons (download) | Offsite Meet Up Reservations | Restaurants | Tips for International Attendees | Info Page
Social links:
Facebook Event Page | Instagram photos | Instagram Wall | Twitter photos | Tweets | Facebook Hashtag search | LinkedIn Private Group | Slack channels | Hashtag: #SMMW17 or if you need help quickly: #SMMW17help
INSTAGRAM WALL: Click here to check out the photos attendees are sharing as they prepare  for #SMMW17. Be sure to use the hastag to see your photos there as well.
TWITTER TRENDS: We are trending on twitter – Check out our stats here
Quick links on this page:
Pre-Event Resources | Networking Tips | During the Event
Pre-Event Resources (top)
PRE-EVENT NETWORKING HOURS: We are hosting three networking hangout sessions to give you some insider tips on how to make the most of the conference. Join Jen Cole and me for any of these online meetups on March 2 at 12pm PT, March 9 at 3pm PT, and March 16 at 9 am PT (click the times for time zone conversions). Recordings will be made available. Here are the links:
Thursday, March 2: noon – 1pm / PT – Register here
Thursday, March 9: 3pm – 4pm / PT – Register here
Thursday, March 16: 9am – 10am / PT – Register here
Networking Survey: To help you make better connections during the event and to help us make the event better, please take this quick survey.
LinkedIn Private Group: This is a great place to find attendees, ask questions and share information on the kind of people you are looking to meet. Go here to join the group and start networking. If you have problems accessing, send an email to our support team and they can help. We encourage you to download the LinkedIn Groups app from the app store as this makes it really easy to stay up to date.
Facebook Event Page: We provide daily tips and updates about the event on the event page; it's also a great place to network with other attendees. Join the page here.
Download the Event Mobile App: –
For iOS: download here.
For Android: download here.
Slack Group: We are using Slack for networking again this year. Our Slack Group provides various "channels" designed to help you focus your networking. Follow these four steps to network with others in Slack:
Use this LINK to sign up for our SMMW17-Group Slack page.
Look for an email invitation from Slack with a link to get started.
Create your profile in Slack.
Once you're all signed up in Slack, join the channels that interest you.
NOTE: If you are new to Slack we created three videos to help. 1) This one explains what is Slack. 2) This shows you how to get started on Slack. 3) Finally, this one explains Slack DM notifications.
Twitter Discussions
>>Click here to tweet that you are attending.
Twitter Chats: Signin to TChat.io using your Twitter account. Use the #SMMW17 hashtag to have chats with fellow Twitter folks attending the summit (kinda like a chat room).
Twitter Speaker List: Follow this Twitter list of our presenters.
Tweet Your Favorite Presenters: Click on the names of your favorite presenters to tweet them that you're looking forward to hearing them speak at Social Media Marketing World.
Aaron Walker , Adam Brown, Adel de Meyer, Aggie Nixon-Kirschner, AJ Wilcox, Alex Khan, Alisa Meredith, Alison Herzog, Amy Locurto, Amy Porterfield, Amy Schmittauer, Ana Hoffman, Andrea Vahl, Andrew & Pete, Andy Crestodina, Anissa Holmes, Ann Handley, Bernie Borges, Beverly Jackson, Bill Riordan, Blake Morgan, Branden Harvey, Brian Best, Brian Clark, Brian Fanzo, Brian Peters, Bryan Kramer, Brooks Thomas,  Carlos Gil, Casey Hall, Cathy Hackl, Chad Israel, Chalene Johnson, Chelsea Crockett, Chris Brogan, Chris Dayley, Chris Ducker, Christian Karasiewicz, Christopher Penn, Cliff Ravenscraft, Dan Gingiss, Dan Miller, Daniel J. Lewis, Daniel Lemin, Darren Rowse, David "Rev" Ciancio, David H. Lawrence, Denise Wakeman. Dennis Yu, Derral Eves, Donna Moritz, Dustin W. Stout, Erica Campbell Byrum, Erik Fisher, Gabby Wallace, Gary Leland, George Thomas, Gini Dietrich, Guy Kawasaki, Heather Heuman, Heidi Cohen, Holly Homer, Ian Anderson Gray, Ian Cleary, Ileane Smith, Ijeoma Eleazu, Jasmine Atherton, Jasmine Star, Jay Acunzo, Jay Baer, Jed Record, Jeff Korhan, Jeff Sieh, Jenn Herman, Jenn Scalia. Jennifer Watson, Jeremy Vest, Jessica Howell, Jessica Kupferman, Jessica Rhodes, Jill Stanton, Jillian Vorce, Joe Pulizzi, Joel Comm, John Jantsch, John Kapos, John Lee Dumas, Jon Loomer, Jonathan Nafarrete, Josh Elledge, Josh Hager, Joshua Machiz, Justin Brown, Justin Levy, Kate Ahl, Kate Erikson, Kathy Klotz-Guest, Katie Lance, Kelly Snyder, Kim Garst, Kimberly Reynolds, Koka Sexton, Konnie Brown, Larry Kim, Laura Rubinstein, Laura Wilson, Laurel Su, Lauren Greutman, Lauren Teague, Lee Odden, Leslie Samuel, Lisa Jenkins, Lou Mongello, Luria Petrucci, Madalyn Sklar, Marc Mawhinney, Marcus Sheridan, Mari Smith, Mark Mason, Mark Schaefer, Meagan Williams, Megan Conley, Melanie Deziel,Melissa Phillips, Michael Hyatt, Michael Delgado, Michael O'Neal, Mike Stelzner, Mike Morrison, Mitch Joel, Natalie Eckdahl, Nathan Chan, Neal Schaffer, Nick Cicero, Owen Hemsath, Park Howell, Pat Flynn, Paul Colligan, Pauline Stockhausen, Peg Fitzpatrick, Phil Mershon, Philip Taylor, Ray Edwards, Rebekah Radice, Renee Teeley, Rich Brooks, Rick Mulready, Rob Walch, Robert Bly, Roberto Blake, Ron Nash, Ryan Bell, Sandy Adam, Sandy Carter, Sarah Moore, Scott Monty, Scott Nickels, Scott Page, Sebrin Elms, Shama Hyder, Shanda Maloney, Shannon Johnson, Shaun Ayala, Shaun Mcbride, Shelita Burke, Shep Hyken, Stephanie Sammons, Stephanie Shkolnik, Steve Chou, Steve Dotto, Sue B. Zimmerman, Sunny Lenarduzzi, Syed Balkhi, Tim Schmoyer, Tim Washer, Turner Roach, Tyler Anderson, Ursula Ringham, Vanessa Sain-Dieguez, Vincent Ng, Vincenzo Landino, Viveka von Rosen, Yaro Starak, Zach King, Zontee Hou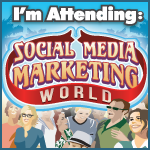 Pre-event Networking Sessions: We are hosting 2 pre-event networkings sessions. Phil Mershon, event director, and Jen Cole, Community Manager will answer your conference and networking questions live. The dates and times are below:
Thursday, March 2: noon – 1 pm / PT
Thursday, March 9: 3 pm – 4 pm / PT
Thursday, March 16: 9 am – 10 am / PT
We will email you the link to the networking sessions soon!
Networking Tips (top)
View all of our networking tips videos on this YouTube channel.
Tips for International Attendees
We've created a page just for you. Go here for tips on networking with other international attendees, plus a bunch of travel tips.
Articles to Help You Prepare
During the Event (top)
Here are some of the many ways you can make the most of the networking opportunities at the conference.
Name Badge Interest Stickers: Add as many of these stickers to your name badge as reflect you and the types of people you'd like to connect with during the conference.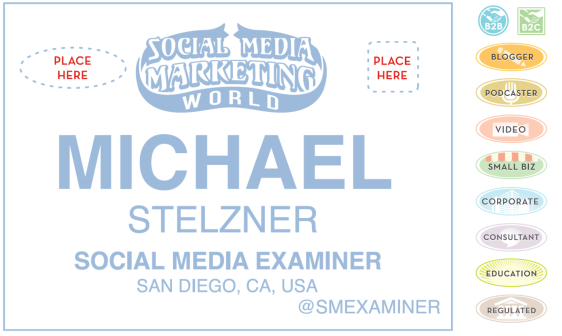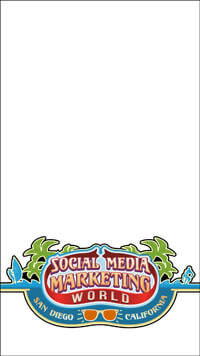 Snapchat GeoFilter: Are you on Snapchat? Then watch for our Geofilters throughout the event.
Conference Networking for Introverts (Workshop): Looking to get the most out of the conference without losing all of your energy? Looking to manage the sea of people so you can find the few you really want to connect with?
Plan to attend Jillian Vorce's workshop – Networking Hacks and Ninja Tips: An Interactive Workshop on Wednesday March 22 at 2:00 pm to learn more about networking.
Non-Event Meal Times (and more): If you're arriving early or staying late, you might like to find a few attendees to share a meal. We've come up with a way to help you to share a meal at one of the different meal times outside of what's provided by the conference. Just go to this sign-up sheet and add your name to a group on any or all of the different tabs. If you have a friend, make sure you go together. If you'd like to play host, slot yourself in and Lindsey Miller Petersen will tell you what to do. Have questions? Send an email to: Lindsey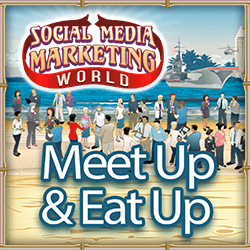 Power Networking Walks and Runs:  On the full days of the conference we will have 6 a.m. walks / runs. This is a great way to get in a little exercise and connect with someone else in a low-stress environment. We'll leave from the main Hyatt lobby at 6 a.m.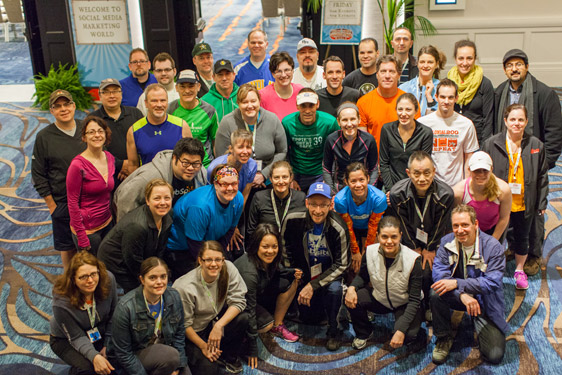 Table Talks (go here for details):
Want to discuss specific social media topics with your peers? We'll be offering Table Talks in the Networking Plaza on both days at lunch. Grab your lunch and find a table of interest and connect with speakers and peers.
Look for a topic that interests you or a type of person you want to meet. We'll have a table layout map and topics listed onsite at the Networking Plaza. Here's a partial list of tables:
Social Strategy

– B2B Marketing, Content Creation, Employee Advocacy, Influencer Marketing, Social Selling, Lead Generation, etc.

Measurement

– Google analytics, ROI, measurement tools

Social Tactics

–

Blogging, engagement, community development, advertising, podcasting, social management tools, mobile, live video, etc.

Social Platforms

–

Facebook, Instagram, SnapChat, Twitter, Pinterest, etc.

Social Future

-Trends, virtual reality/360, artificial intelligence, etc.

Social Care –

Social customer service, reputation management, crisis brand management

Industry – C

orporate, B2B, B2C, small business, government, media & publishing, non-profit, education, etc.

Content Creators –

Podcasters, Bloggers, Video marketers, etc.
Located in Ballroom 20.
Don't see your topic? Go to the Table Talk help desk in the Networking Foyer for help.
Networking Embassy
If you're looking to connect with a specific kind of person, we can help. We have a dedicated staff that's sole focus is to help you make meaningful connections. If the person is attending we will find them and make a connection. Find us in the Networking Plaza on Thursday or Friday.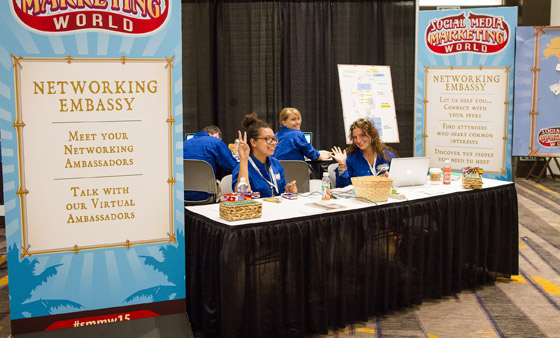 Networking Parties (more details on this page)
While many folks assume that parties are for networking, we take things to the next level by making it easier for your to find new friends, colleagues and (in one case) your future employer or spouse. Sing with the Social Karaoke band during the second night party on March 23. If you need help making connections at the parties, look for one of our party ambassadors wearing a blue button-down shirt like this.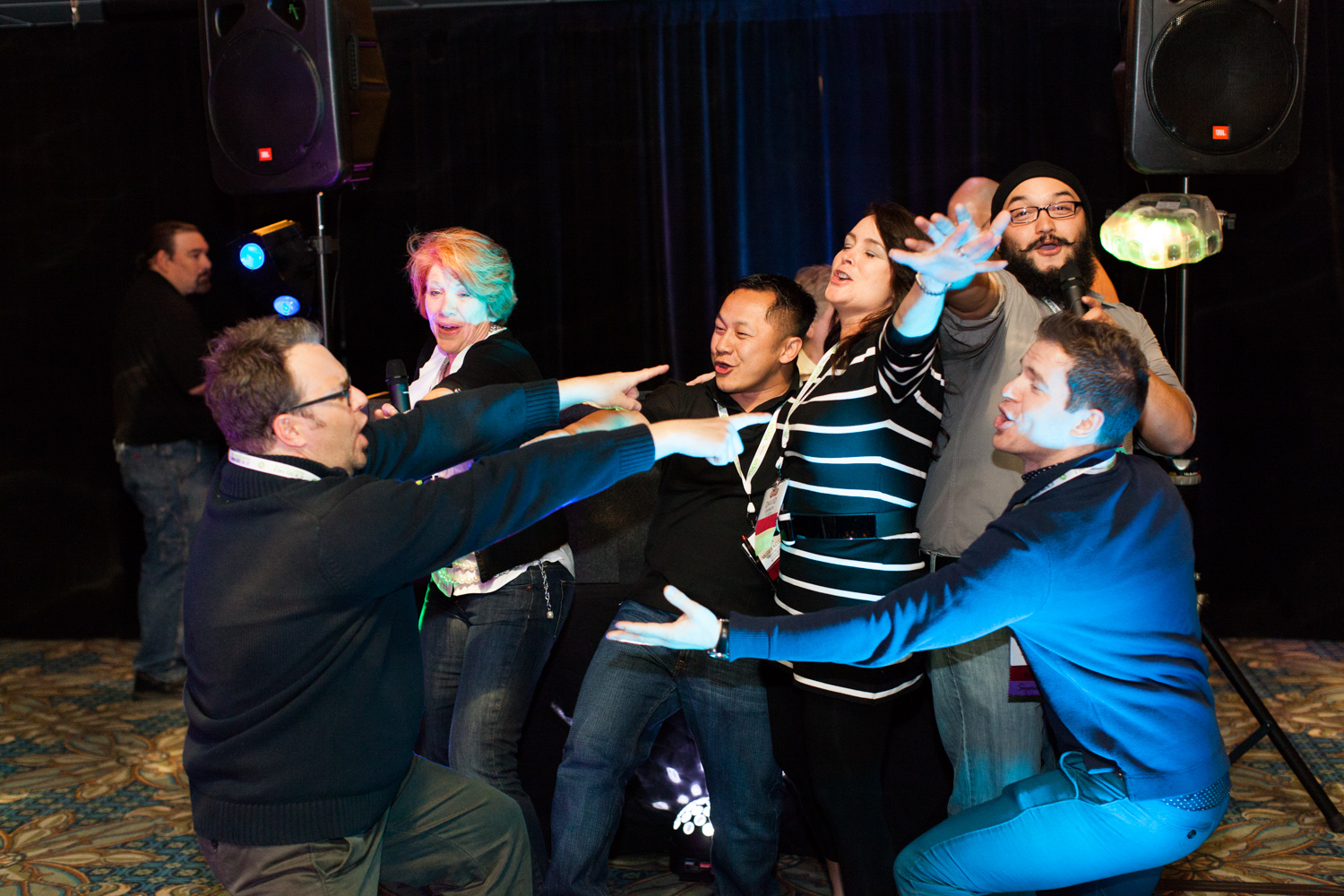 Meet Your Networking Team (top)
Your networking team is here to serve you both before and during the conference. Pre-event, you'll see the team on the Facebook Event page, in the Linkedin Group and hanging out in the Slack Group. At the event, we'll be at the convention center and at the networking parties. Come visit us on Thursday and Friday at the Networking Plaza. We look forward to helping you make meaningful connections.

 Jillian Vorce | [email protected] |

 Deb Mitchell | [email protected] |