Experience Social Media Marketing World on a Budget
Get Your Community Ticket to Social Media Marketing World 2018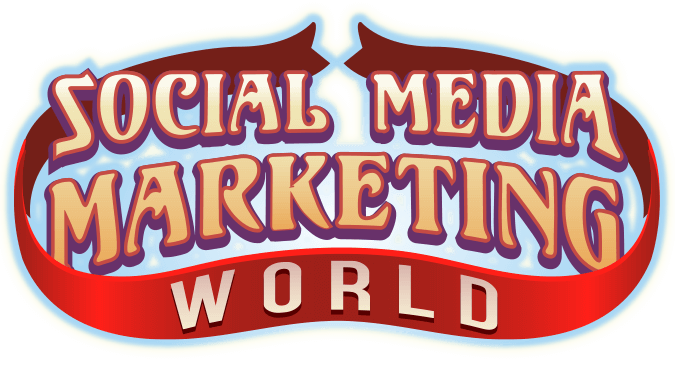 Is an All-Access Ticket to Social Media Marketing World 2018 just not an option for you?
Is networking face-to-face with your peers more valuable to you than attending sessions?
We're happy to announce the Community Ticket to Social Media Marketing World 2018! It's where you can focus on making in-person connections with your peers—other marketers and creators—while also attending four amazing keynotes.
Only 1,000 Tickets Available
For a fraction of the cost of a regular ticket, you'll get full access to our (1) pre-event networking options, (2) our 90,000 square foot Networking Plaza (where you'll connect with marketers and creators), and (3) our four main keynote presentations.
Why Consider a Community Ticket?
Experience Social Media Marketing World at a significant cost savings
Network nonstop with the world's leading social media marketers and creators
Watch four amazing keynote presentations that are sure to inform and inspire you
Connect with people who could become your future business partners, mastermind members, influencers, or customers
"I personally thought that the table talks were genius. So easy to find people who are invested in the same interests. Networking goldmine," said Rebecca Moore.
How the Community Ticket Works
1. Participate in pre-event networking
We work hard to make sure you make connections with people before you even arrive in San Diego. In the months leading up to the event, we'll make networking easy via:
Private LinkedIn Group: You'll gain access to an exclusive LinkedIn group where you can begin making connections with all Social Media Marketing World attendees.
Slack Groups: You'll have the option to access dozens of Slack channels around specialized topics so you can form bonds with people who share your interests. Some of those channels include analytics, agencies, blogging, podcasters, b2b marketers, influencer marketing, live video, content creation, education, and first timers.
Pre-event Live Online Meetups: Our Networking Ambassadors will help you maximize your experience at our event with online meetups and tips for in-person networking.
Network via our Event App: Connect your Linkedin profile and you'll be able to network with similar types of people before and during the event with our conference app.
"The way you used tools to get people connected ahead of time absolutely made the difference in making this a far superior event," said Mark Meyers.
2. Network non-stop in our 90,000 square foot Networking Plaza
Want a place to sit and talk? Thinking about doing interviews? Our Networking Plaza is a large, centrally-located, space where you can do some serious networking—on your schedule.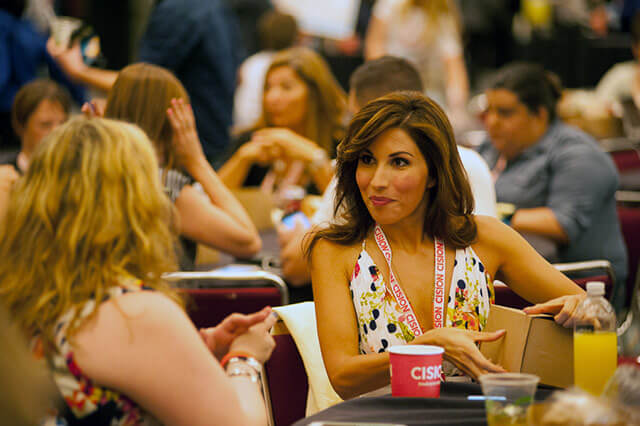 We provide opportunities for: (1) brands and businesses to connect with influencers and creators, (2) marketers to connect with fellow marketers, and (3) bloggers, video creators, and podcasters to connect with each other.
Here's how we do it:
Table Talks: We provide a wide array of "topic-based" tables for you to meet and talk about topics of interest—around-the-clock. During lunch, many tables are moderated by experts.
Networking Embassy: We have dedicated staff to help you make the connections you want to make!

Networking Power Walks (and runs): Join the early-risers for a morning stroll (or run) while you make new connections.
Badge Interest Stickers: We provide interest stickers for your badge to help facilitate networking.
"The chance to meet fellow social media folks was fantastic," said Rebecca Kowalewicz.
3. Access our four main keynote presentations
Each morning and afternoon we bring all of the event attendees together for spectacular entertainment and keynote presentations.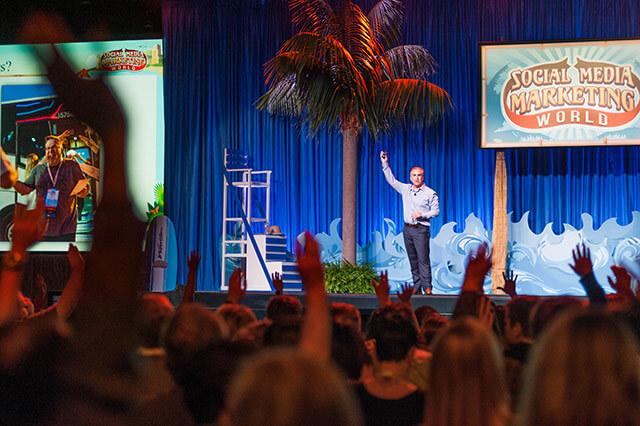 You'll get access to all four of our live keynote sessions.
Just the Facts
WHO: This Community Ticket is ideal for any marketer, business owner, or creator who wants to make valuable in-person connections and experience our main-stage keynote presenters.
WHAT: The Social Media Marketing World Community Ticket provides in-person access to our massive Networking Plaza and four keynote sessions. In addition, a private and exclusive LinkedIn networking group and Slack groups allow participants to network and ask questions.
WHERE: Inside the San Diego Convention Center.
WHEN: Thursday, March 1st and Friday, March 2nd, 2018.
WHY: You'll be able to make the type of connections that simply are not possible online, while also experiencing valuable keynote sessions at a fraction of the cost of other attendees.
HOW: When you purchase your Community Ticket, we'll email you instructions for pre-event activities and on-location experiences.
Get Your Ticket Now

COMMUNITY TICKET: ONLY $297! 
IMPORTANT: Only 1,000 Community Ticket are available. We expect them to sell out quickly.
We accept Visa, MasterCard, American Express, Discover, and PayPal. (Note: PayPal is only accepted for the single payment option.)
If you make just one strategic connection that furthers your success, the investment in your ticket will have paid for itself many times over.
Common Questions Answered
Will I be able to access the evening networking parties?
To keep the costs of this ticket exceptionally low, you won't be provided access to our very costly evening networking parties. Only All-Access Tickets gain access to those special events.
If I purchase a Community Ticket, can I later upgrade to a Creator Ticket or an All-Access Ticket?
Indirectly yes. If you purchase a Creator Ticket or an All-Access Ticket and you had previously purchased a Community Ticket, we will issue you a refund on your Community Ticket.
What is the schedule?
Here is the Community Ticket schedule:
Thursday, March 1, 2018
6am: Power networking walk
6:30am: Check-in opens
7am: Networking Plaza opens
8am: Opening keynote
9:30am to 6pm: Networking
5:15pm: Keynote
Friday, March 2, 2018
6am: Power networking walk
7am: Networking Plaza opens
8:30am: Keynote
9:30am to 6pm: Networking
4:45pm: Keynote
6pm: Event ends
What if I still have questions?
You can email world@socialmediaexaminer.com and we will get back to you right away.
Terms and conditions: You may cancel your participation in Social Media Marketing World 2018 at any time, but please be aware of the following cancellation policy: If you cancel before October 31, 2017, you will receive a full refund. If you cancel between November 1, 2017 and December 15, 2017, you will be refunded 50% of your registration fee. If you cancel after December 15, 2017, you are not eligible for a refund but may send someone in your place. You may resell your ticket. To request a refund or fully grant your access to the event to another person, email register@socialmediaexaminer.com. Only requests made by the original registrant will be honored.