Take in rich sessions and network with the world's top social media marketers
Imagine this: A conference that offers outstanding content infused with a truly social experience.
In a few words, that explains Social Media Marketing World.
You'll experience a unique event that brings you carefully recruited experts who live and breathe social media marketing every day. Only the best.
"This was by far one of the best conferences I've ever attended. All of the sessions I attended were full of specific, useful content," said attendee Lindsay Nyquist.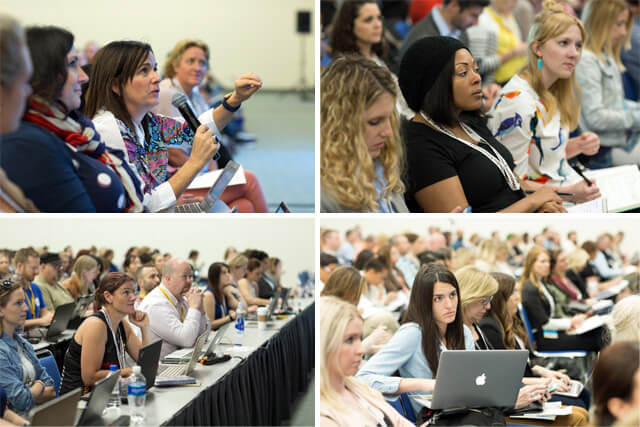 We also appreciate your desire to connect with your peers.
You'll enjoy extensive networking opportunities—from dedicated networking in our Networking Plaza to our opening-night networking party aboard an aircraft carrier (for All-Access ticket holders).
▼ Click to expand our tracks overview ▼

Tracks Overview:

"I learn so much each and every year, I buy my ticket before I leave for the following year," said Aaron Walker.

Workshops: With your All-Access ticket, you get access to our professional development workshops. You'll take in 90-minute workshops focused on marketing, content creation, and business development. You'll refine your written, spoken, visual, and video skills–and pick up ideas to take your business to the next level.

Social Tactics Tracks: Find out the best and newest ways to market your business with social media. Pick up actionable tips to improve your marketing with Facebook, Instagram, LinkedIn, Twitter, Pinterest, and Snapchat.

Measurement and Analytics Track: Discover how leading experts track, measure, and analyze what really works with social media. You'll finally be able to prove your social activities are working and find better ways to measure and calculate ROI!

Social Strategy Track: Discover new strategies that will draw ideal customers to your business. You'll soak in strategy sessions that will help you map out a more successful social media marketing plan.

Corporate Social Track: Pick up actionable ways to deal with crisis management, influencer marketing, and employee advocacy. You'll understand how your peers manage the unique demands of the corporate world while pushing the envelope with social media marketing.

Content Marketing Track: You'll discover how to leverage content to sell, how to move people to action, and tips for creating content that grows your business.

Video Marketing Track: Discover how to create video and live video to help build a following and grow your business.
▼ Click to expand dates and times ▼

Schedule Overview:

"The education and the networking is second to none. Social Media Marketing World is the best social media conference, period, hands down," said Neal Schaffer.

ALL-ACCESS TICKET DATES: Wednesday, March 20 to Friday, March 22, 2019.

MARKETER & COMMUNITY TICKET DATES: Thursday, March 21 and Friday, March 22, 2019.

Here's the high-level schedule (note: all times are Pacific Daylight Time):

Wednesday, March 20, 2019


9am to 8pm: Early check-in
9am to 2pm: Food for purchase
12pm to 1:30pm: Workshops (ALL-ACCESS ONLY)
2pm to 3:30pm: Workshops (ALL-ACCESS ONLY)
4:00pm to 5:30pm: Workshops (ALL-ACCESS ONLY)
7pm to 11pm: Opening-night Networking Party on the USS Midway aircraft carrier (ALL-ACCESS ONLY)

Thursday, March 21, 2019


6am: Power networking walk and yoga
6:30am: Check-in opens
7am to 6pm: Networking Plaza hours
8:00am: Event kickoff and keynote
9:30am: Networking
9:30am to 10:45am: Live stage
10:30am to 11:15am: Sessions
11:35am to 12:20pm: Sessions
12pm to 2:30pm: Live stage
12:20pm to 2pm: Lunch and networking (Food available for purchase)
2pm to 2:45pm: Sessions
3:05pm to 3:50pm: Sessions
4:10pm to 4:55pm: Sessions
5:15pm: Keynote
6:30pm: Evening break
8:30pm to 11:30pm: Second Night Networking Party (ALL-ACCESS ONLY)

Friday, March 22, 2019


6am: Power networking walk and yoga
7am to 5pm: Networking Plaza hours
8:30am: Keynote
9:30am: Networking
9:30am to 10:45am: Live stage
10:15am to 11:00am: Sessions

11:20am to 12:05pm Sessions
12pm to 2:30pm: Live stage
12:05pm to 1:30pm: Lunch and networking (Food available for purchase)
1:30pm to 2:15pm: Sessions
2:35pm to 3:20pm: Sessions
3:40pm to 4:25pm: Sessions
4:45pm: Keynote
6pm: Event ends
Home | Agenda | Networking | Speakers | Travel | Hotel/Venue | About | FAQ | REGISTER