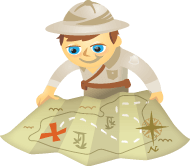 Do you want more leads?
Have you looked into SlideShare?
This article will give you 10 tips to maximize your leads with SlideShare.
Why SlideShare?
The rise of visual content marketing is forcing marketers everywhere to re-evaluate their overall strategy.
No longer can a marketing professional rely solely on white papers and blog posts to get their message to prospective buyers and customers.
It's now vital to include a visual element across all marketing campaigns.
SlideShare is an essential part of any successful content marketing strategy for many businesses. It's much more than just a place to upload your webinar slides, it's a powerful social community with a reported 60 million monthly visitors.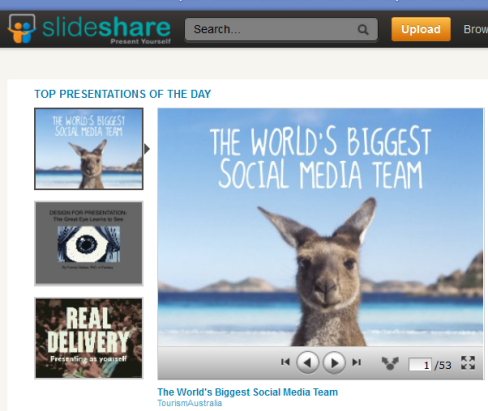 Here are 10 tips that can help you take advantage of this trend in visual marketing and turn SlideShare into a lead generating machine for your business.
#1: Base Your Presentation on a Topic on Which You are an Expert
The goal of content is to establish yourself as an expert in your field. SlideShare empowers the modern marketer to do this using a highly consumable visual element.
The idea here is to focus on creating SlideShare content that is relevant to your target audience.
But you should also try to push the boundaries a bit. Look for new content topics that you can tie back to your expertise. This is a great way to broaden the reach of your content and pull in new prospects on their journey to finding a solution to their problem.
Below is a great example of this from mobile app developer Kinvey.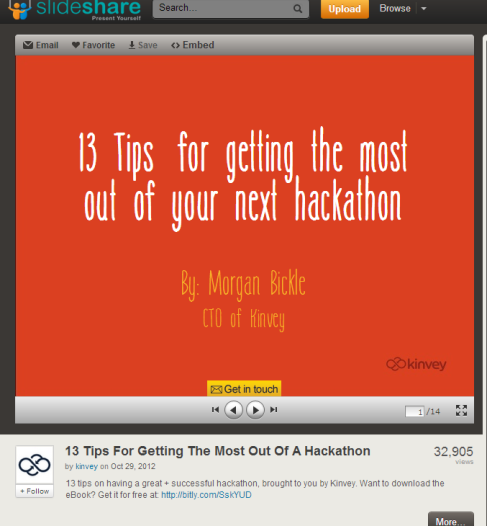 Of course Kinvey has SlideShare content around their core topic of mobile apps. But they also create content that pushes beyond their initial audience, and this greatly expands their overall reach on SlideShare.
🌟 Ready to Supercharge Your Social Marketing Strategy? 🌟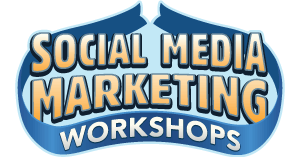 Struggling with your social marketing? You're not alone. The solution? The Social Media Marketing Workshops!

During these live 2 hour deep-dive workshops, you'll discover what's working now on Instagram, Facebook, TikTok, YouTube, and LinkedIn. Skyrocket your engagement, broaden your reach, and amplify your sales.

Become the marketing hero your company and clients need—without leaving your home!
🔥 Save $670 on an All-Access Ticket! Sale Ends Tuesday! 🔥
GET YOUR TICKETS NOW
#2: Your Title Slide is Your Headline
Just as with any form of content marketing, you have only a brief moment to catch someone's attention in the insanely fast-paced world of social.
Make sure the first slide of your presentation is easy to read and well-designed. Doing so will give your SlideShare presentation a much better chance of garnering views, as the topic is now reinforced as your title slide.
Pull in readers with the headline and keep them clicking through with the content.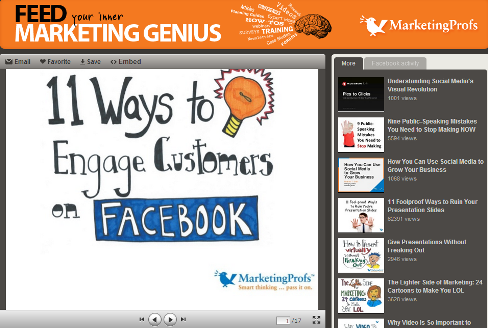 #3: Optimize Each Presentation for Search Engine Optimization
In some cases, creating presentations that rank for certain keywords can be much easier to get than a good ranking for a post on your blog.
It's important to include keyword-rich titles, descriptions and tags to give your presentations a fighting chance in the world of search engines, as well as inside the SlideShare search results.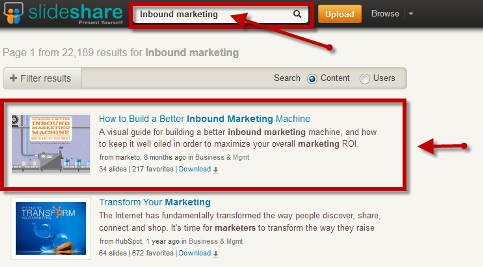 Make sure you spend time writing strong titles and descriptions with these search engine optimization factors in mind.
The fact that your SlideShare presentation is easily embedded into other sites also drives SEO results. Each time someone embeds your presentation it serves as an inbound link.
#4: Integrate Your Presentations Across Multiple Channels
SlideShare is especially useful across the social sphere because it renders easily within a blog, landing page and Twitter. This allows you to keep your audience engaged without having to leave their platform of choice for consuming your content.
One presentation can be the core content piece to an entire campaign as seen below.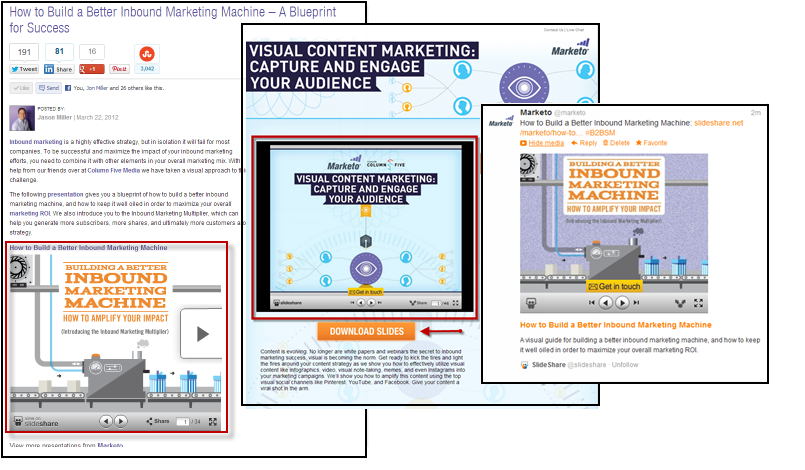 In this example, the SlideShare presentation has been integrated and embedded across a company blog, a specific landing page and social platforms.
You'll want to make sure you embed your SlideShare presentations across multiple platforms to get the most out of your visual marketing.
#5: Create Your Promotion Strategy before Publishing Your Presentation
Making an initial splash and gaining traction with a new presentation on SlideShare can be challenging.
Make sure you have a promotion strategy in place before you upload. Doing so will give you a much better chance for making the coveted front page of SlideShare and gaining "Hot on…" status.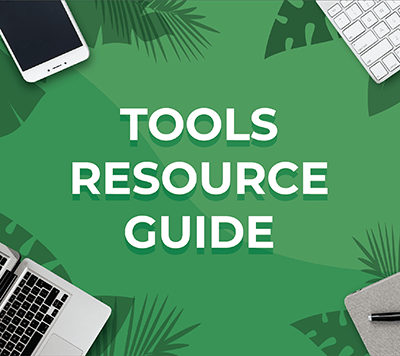 Looking for something to make your life easier?
Discover the tools we recommend to drive engagement, save you time, and boost sales across your entire marketing funnel or business.
Whether you need help planning content, organizing social posts, or developing your strategy, you'll find something for every situation.
FIND YOUR NEXT FAVORITE TOOL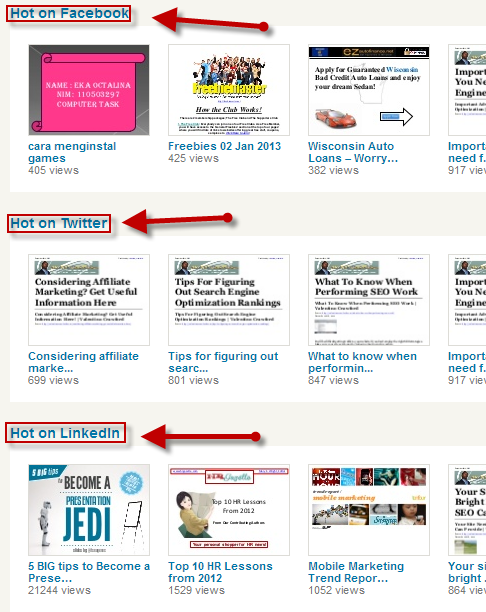 Before you push that Publish button, check with the rest of your marketing team to see if there is any way they can utilize your presentation in their campaigns. Look for all of the opportunities available to you to promote your SlideShare presentation as it publishes.
Then make sure you have a social plan to drive shares and likes in order to make the biggest impact possible upon posting.
#6: Continue to Drive Viewers to Your SlideShare Presentation
As with any solid piece of content you create, it's important to have a plan in place to make sure you get the most out of your content. This is especially important with SlideShare, since there are many opportunities to use your presentation and draw visibility to it, both on- and offline.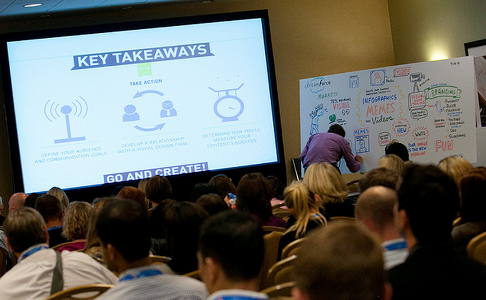 One great SlideShare presentation can be the star attraction in more places than one. Make your presentation part of something bigger by showcasing it at company meetings, user groups, social meetups, industry conferences and use it in a webinar or two.
#7: Repurpose, and then Repurpose Some More
Chances are you already have white papers and/or case studies that can be repurposed into visual presentations. This is a great opportunity to turn this content into a visual SlideShare presentation.
In the example below, Jay Baer turned a static white paper into an interactive SlideShare presentation.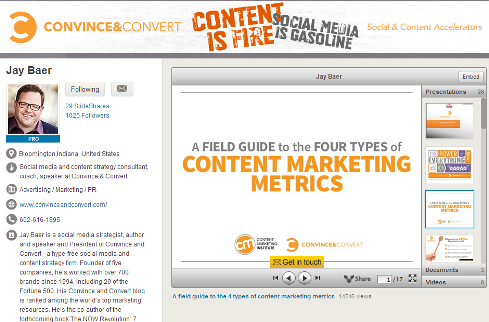 This is a fantastic way to repurpose content and now have it hosted in multiple formats. Jay offers this content as an eBook and a SlideShare presentation, giving his audience a choice on how they prefer to consume the content. In addition, the SlideShare presentation is easily shared and embedded across the web for extra SEO juice.
You can look at your existing content to repurpose into SlideShare presentations, and also remember to consider repurposing your SlideShare presentations into other forms of content.
#8: Check the Analytics
SlideShare has a fantastic analytics dashboard for its pro customers that shows some very helpful stats for each presentation you publish. If you're planning on using SlideShare as part of your overall content marketing strategy, then a pro account is a great investment.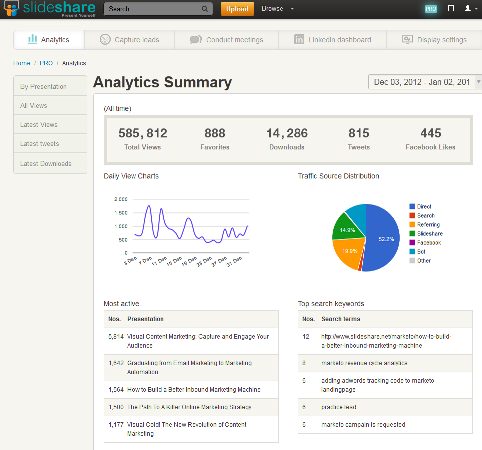 It's essential to measure the key metrics around your presentations to see which ones are performing well. You can view the referring traffic, a breakdown of where the audience is coming from and much more.
This type of info is vital for guiding the decision-making on what type of content to produce more of in the future.
#9: Turn on the Forms Option
SlideShare has the ability to embed a lead generation form at the end of your presentation. This is where SlideShare shines for lead generation.
You have the option to have a form pop up after your presentation is complete into which users can enter their information to download the presentation and/or learn more about your company.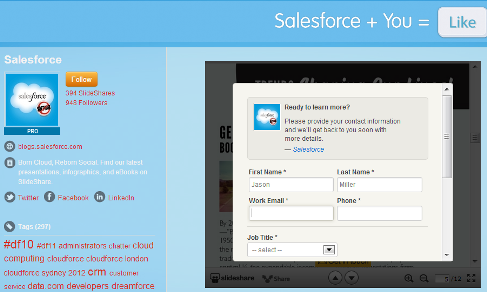 You can then export these names and follow up accordingly. If you use a marketing automation platform, you can sync these names directly into your database and trigger alerts based on keywords that indicate the user is interested in buying.
#10: Add Your Presentations to Your Personal LinkedIn Profile
LinkedIn's purchase of SlideShare last year was a brilliant move. In 2013, we will likely see many more integrated features.
For now, you can easily embed your presentations on your personal LinkedIn profile for additional views and credibility.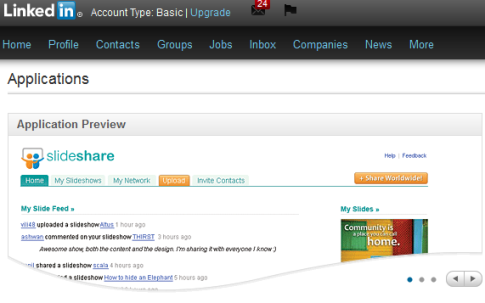 Add SlideShare to Your Visual Marketing Plan
With a bit of careful planning and cross-functional alignment of your goals, the results are tremendous.
Visual is vital for breaking through the noise and reaching prospects and customers in today's "attention economy." Use SlideShare and implement the tactics mentioned above to both complement your static content and offer yet another way for your content to be consumed in a much more interactive and visually stimulating way.
When you consider the rich analytics and SlideShare's overall flexibility, you'll understand why it's a fantastic channel to pull in new leads, while nurturing the ones you already have.
What do you think? Are you using SlideShare in your lead generation efforts? Do you have any tactics to share? Please join the conversation in the comment section below.
Get Your FREE Course: Web3 for Beginners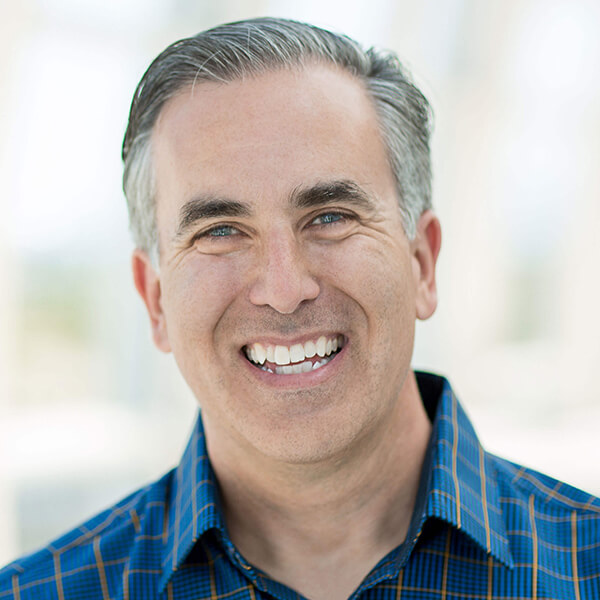 Curious about Web3, but don't know where to start or who to trust?

Introducing Web3 for Beginners, a course taught by Michael Stelzner, the founder of Social Media Examiner.

Learn the basics of Web3 and apply it to your business with this FREE comprehensive course.
CLICK HERE TO GET FREE ACCESS