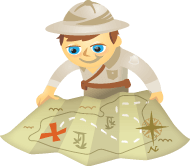 Is Instagram part of your social media marketing?
Do you want to run contests on Instagram?
Adding Instagram contests to your social media mix can quickly expand your reach.
In this article I'll explain the different types, as well as how to create and run a successful Instagram contest for your brand or business.
Types of Instagram Contests
There are many kinds of Instagram contests. Here is a rundown of the top three: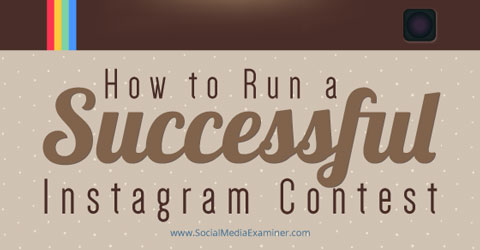 1. Like to Win Contests
In a "like to win" contest, simply ask for an Instagram user to like an update. All those who do so will be entered into the contest.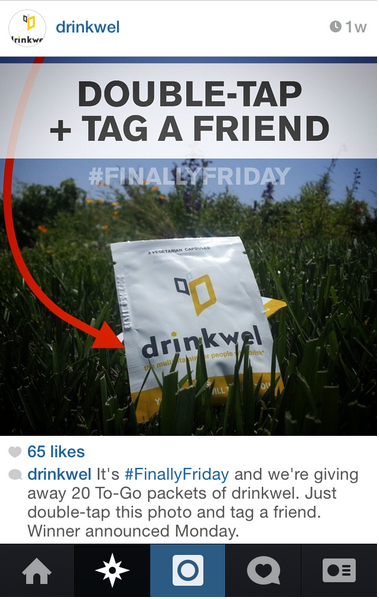 Pros
With a very low barrier to entry (participants just have to follow you and then like a post to enter), "like to win" contests are a simple way to increase your Instagram reach.
They are very easy to set up. Simply post an image and update on Instagram, which announces your double tap (or like) contest.
Cons
"Like to win" contests have both low engagement and low consumer connection levels.
Participants don't have to spend much effort to enter, but they're also not that invested in the brand.
Do a "like to win" contest as a one-off to test it out. Or come up with a weekly concept like Drinkwel did. Add a tagging request for a little more engagement.
2. Hashtag User-Generated Content Contests
For a hashtag user-generated content (UCG) contest, create a contest-specific hashtag and ask participants to share a photo or video using that hashtag to enter.
For example, Esprit hosts Instagram hashtag contests to generate engagement with their followers. All images tagged with #everydayamazing are shown in one stream. This brings a lifestyle feel to their brand through UGC.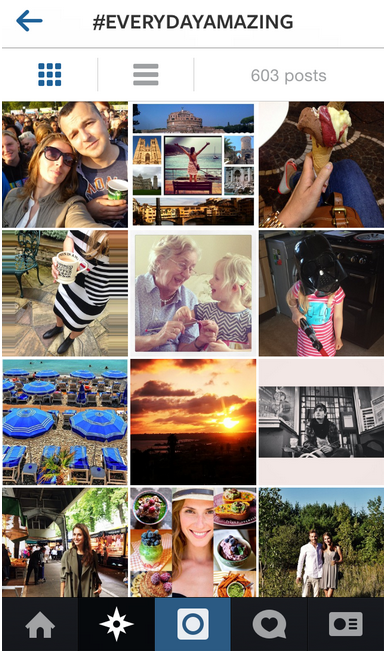 Pros
A photo or video contest that engages your market by asking for content deepens the emotional connection between consumers and the brand.
A contest-specific hashtag spreads the campaign's reach because when Instagram users post their entries, their friends and followers see it too.
The hashtag additionally provides a common place for viewing entries. Anyone who searches for the hashtag will see the UGC contest stream.
By creating a branded hashtag for your contest, you can effectively generate real, authentic marketing images created by and for your consumer.
Cons
Asking for users' content increases the barrier to entry.
If the request is too detailed (take and upload a pic, use the hashtag AND tag friends) or the hashtag is too long, it may be even harder to get willing participants.
Add a sharable element like "vote to select a winner" to increase your promotion's reach.
3. Email-Gated Contests
To run an email-gated Instagram contest, ask participants for their email address to enter. An email-gated contest can ask for a follow or UGC in addition to the email lead.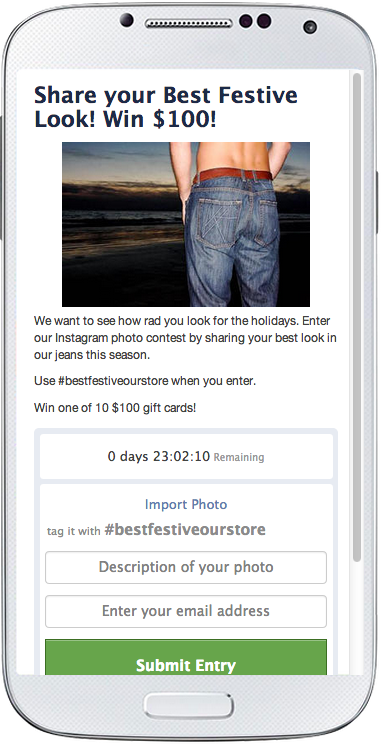 Pros
This is an excellent way to build your email list.
If you ask for a photo or video, you'll get UGC too.
Cons
But asking for an email is a barrier to entry and many Instagram users want a quick and seamless entry method.
A successful email-gated contest usually needs an enticing prize (such as an expensive trip, product or shopping spree).
Again, the main benefit of an email-gated contest is that you generate email leads. This enables you and your brand to keep in touch with your readers for future campaigns and promotions. Be sure to get permission to send ongoing emails. Just use an opt-in checkbox on your email form.
How to Create an Instagram Contest
It's not difficult to create an Instagram contest. However, if you want one that meets or exceeds expectations, you must include proper planning, smart execution and follow-up. Follow these tips to create a remarkable Instagram contest.
#1: Plan Your Contest
Put in the time and effort to strategically plan your contest before it starts.
Set objectives. Before launching any social marketing campaign, write out your goals. The clearer they are, the better your chance of success. Your objective—whether it's to increase Instagram followers by 15%, generate at least 200 @mentions of your Instagram handle or create a hashtag stream with more than 200 UCG photos—will influence your contest choice.
Do your homework. Before you fully commit to a plan of action, check out your competition and find related contests. Browse other current Instagram contests through sites like Iconosquare and search common contest hashtags like #contest, #win and #photocontest on Instagram.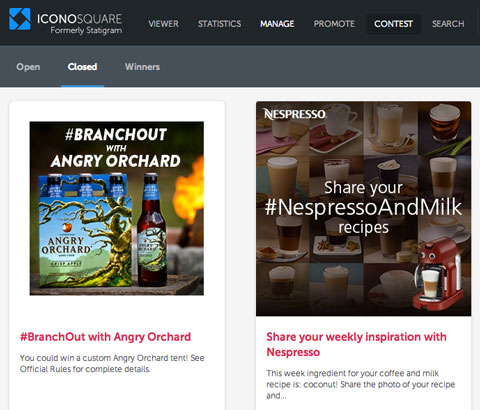 Define your target market. There are more than 35 million active Instagram users in the U.S., 69% of whom are within the age range of 18 to 44. Know what appeals to your market to best engage with them.
Choose the contest type. Decide if a "like to win," hashtag UGC or email-gated contest will best achieve your objectives.
Create a theme. Your contest needs a theme, especially if you are hosting a photo or video promotion. This creates a collection of complementary UGC. The theme will tie into the hashtag, as demonstrated by the National Geographic #viewfromabove theme below.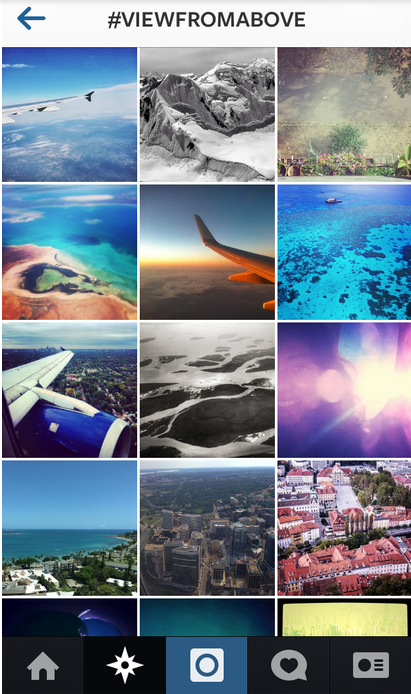 Choose your contest hashtag. Hashtags are a major part of Instagram marketing. Choose and use a unique hashtag for your contest to create community and brand awareness. Research hashtags for free on sites like Websta, FindGram and Iconosquare.
Decide on a prize. Your prize is a key factor in what motivates a person to participate in your contest. Of course, there are other factors like 'Instagram fame' or sharing cool photos (if your theme connects extremely well with your particular market). But the prize you offer often teeters your demographic into taking the action you want: contest participation.Your prize should be about marketing your brand, whether it's as overt as a product you sell, a gift card, exotic travel or even a more subtle experience you can't get anywhere else (such as a job at your company or an introduction to a celebrity).
Determine if you'll run on Instagram only or on multiple social platforms. Limiting your contest to Instagram only increases the exclusive feel for your followers. But expanding your contest to multiple platforms (like Smucker's did in the following example) raises your reach and promotes your Instagram handle to your other social followers.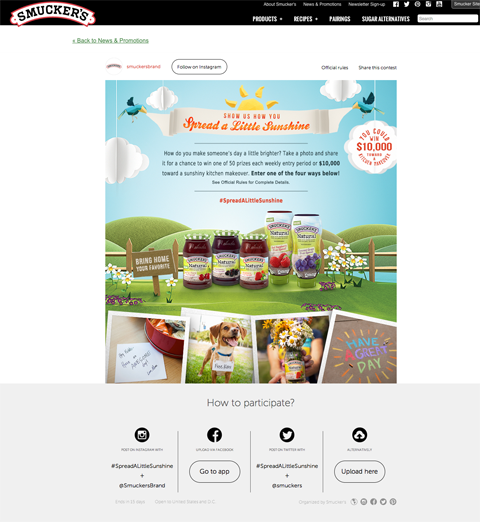 Decide if you will need a third-party app. If you plan to run a simple "like to win" campaign and have the staff resources to keep track of your metrics manually, you don't need a third-party app. If, however, you are running a more complex campaign, it's best to get the technical support of easy-to-use software to help you out. Votigo, Piqora and Wishpond (the company I work for) are all tools that make it easy to run Instagram contests.
Sort out your logistics. Plan out the contest details, like your contest duration and frequency (some of the most successful Instagram contests are run on a weekly basis or have a weekly vote). Set your budget. Determine how many winners you will have, the rules and regulations and also the logistics of shipping or sending your prize(s). For example, decide if you'll ship overseas or give an online prize.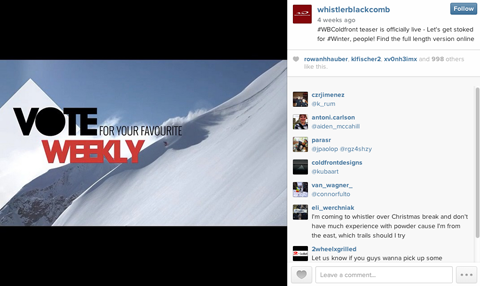 #2: Build Your Contest
Once you have a solid plan, turn your ideas into a contest.
Come up with an attention-grabbing title. Keep your contest title short, witty and related to your promotion, market and business objectives.
Create appealing visuals. Instagram is all about visual marketing. The better you can present your contest elements, including the prize and promotional materials, the better it will succeed. Gather inspired photographs and/or videos to use in your promotion.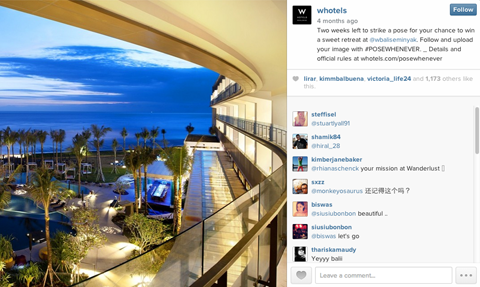 Use an app. If you decide to run a contest through a social contest application, follow the steps of the platform.
#3: Launch and Promote Your Contest
Once the contest is planned and built, just go for it. Post it on Instagram, as well as your website or blog, and then follow through with marketing in other ways. Here's what you need to know to promote your contest.
Update your website and/or blog. Spread the word to your audience. Post about the contest on the company website and/or write an article on the blog. Include direct links to the contest to make it easy and enticing to enter.
Cross-promote to other social sites. Engage your brand's audience from other social platforms like Facebook, Twitter and Pinterest. Post contest updates and information to get followers to interact with your brand on multiple platforms. For example, Buffalo Wings & Rings created a Facebook event to cross-promote their Instagram contest.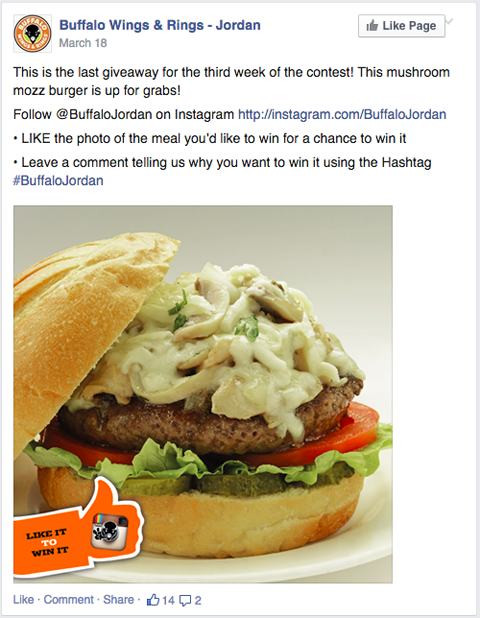 Use Facebook ads. Facebook ads can be a targeted and inexpensive method of reaching new markets and expanding awareness of your Instagram contest.
Do email blasts. Send out personalized messages to targeted segments of your email list. Write concise subject lines that clearly indicate that you are inviting recipients to your Instagram contest. Include visuals of your contest banner and prizes.
Pitch guest blog posts. Reach out to influential bloggers in your industry or niche. Pitch them an article about your Instagram contest. Many niche bloggers have a lot of influence within a small network. They're also often looking for good content to share with their readers.
Get earned media through a press release. Many businesses miss opportunities to potentially gain free promotion with a press release. Write a short release and pitch it to media sources read by your target market. If you have a strong local customer base (such as a restaurant), pitch your Instagram contest to your local print or online publication. Note: You can also send a press release after you announce the winner.
Promote in-store. If you have a brick-and-mortar store, go old-school. Make promotional material to post in your store that includes your contest details, hashtag, Instagram handle and a visual of your contest or prize. Instagram is a fully mobile site, so your customers can easily enter your contest while they are still in your shop. Use QR codes to make it easy to scan directly.
#4: Follow-up After the Contest Ends
A social marketing campaign shouldn't stop when the Instagram contest closes. Here are post-contest musts so you can continue to build and nurture relationships with your audience.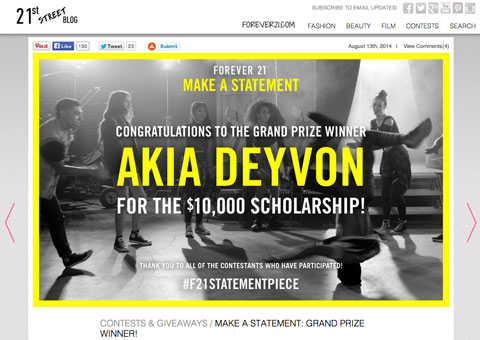 Choose and notify the winner. After the contest has closed, choose the winner, whether selected through public voting, random draws or a panel of judges. Notify the winner via email (if you can) and directly on Instagram with an @mention. Explain how to collect the prize.
Share the winning entry on Instagram. Give Instagram fame to the winner by sharing the winning photo or video on your company Instagram feed. Be sure to tag and give credit to the entrant.
Promote the grand-prize winner on your blog and social sites. Write a blog article about the lucky entrant and share the award-winning photo or video. Above is an example from Forever 21. Note: Make sure you have permission to share the entries; this is a disclaimer you can include in the contest's official rules. Share a link to the contest rules in the post on Facebook, Twitter and other social sites.
Email all participants. If you email-gated your contest, send out an email to everyone who took part. Thank them for their efforts and talents in engaging, tell them who won and invite them to stay tuned for your next Instagram contest.
The best time to work on your next Instagram promotion is just before or right after your current contest ends. Put together a report of what did and didn't work for your contest, and using that information, decide what to do next. Use the momentum from your contest to get your audience excited about the next one.
Over to You
Instagram contests add engagement and consumer interaction to your Instagram content. Choose your contest type, and then plan, build and execute it for optimal results.
Half of the world's top 100 brands are on Instagram, 16 billion photos have been shared on the site and more than 200 million people are active users.
So if you haven't done it already, jump on the Instagram bandwagon and launch a contest.
What do you think? Have you run an Instagram contest? What type did you try? What tips do you have for others who want to run Instagram contests? Please share your advice in the comments.