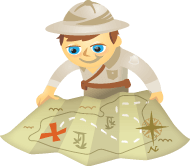 Are you rewarding your top Facebook fans?
Have you examined Facebook Offers?
Facebook Offers are a simple way to reward your loyal fans and customers, as well as increase awareness and sales.
In this article I'll share how to create Facebook Offers your fans and customers really want.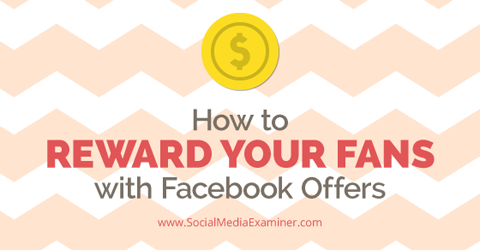 #1: Ask Fans What They Value
Before you create your Facebook offer, make sure you're giving people what they want. Ask your fans what kinds of exclusive "fan-only" deals they're most likely to participate in.
The most obvious way to get feedback is to post a Facebook update asking them. You can ask fans to comment with their feedback and ideas or let them choose from a list you provide.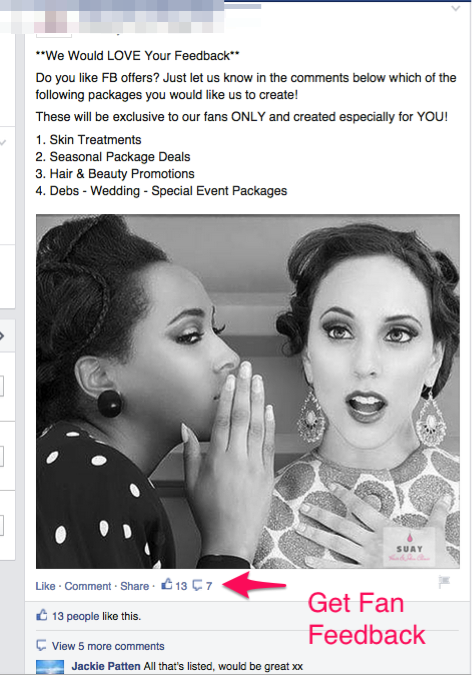 Do you have an email list? Include a section about your Facebook Offers in your next newsletter and ask subscribers to weigh in with their thoughts and ideas.
If you want to get your in-store customers to participate, ask them to fill out a suggestion slip at your business. Be sure to tell them about any current Facebook Offers so they can see how easy it is to claim and use them. They may be more inclined to claim future offers!
Regardless of how you ask your fans to contribute offer ideas, make sure your ask is relevant to your goals, and choose fan answers that help you complete those goals.
For example, you may want to clear out current stock. In that case give your fans a list of the products you want to clear and ask them which ones they'd like a special deal on.
#2: Plan Your Offer Campaign in Advance
Planning is the key to a successful claim rate on Facebook Offers. While you can certainly create an offer on a whim, planning and packaging them in advance ensures you create attractive offers tailored to your fans.
If you're leaning toward creating offers regularly, a simple spreadsheet is all you need to plan out an entire series.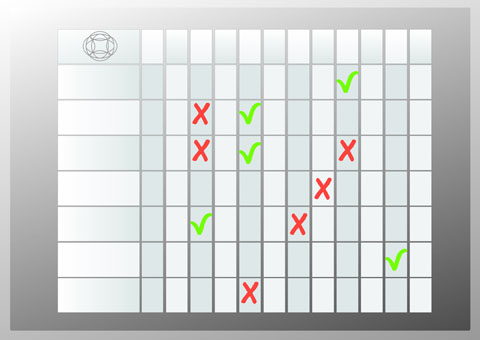 Brainstorm with your team and come up with specific, branded Facebook Offers. Give each one a catchy name that fits with the type or theme of the offer or even the time of year. If you're creating an offer around a holiday, include it in your design.
Your Guide to the Future of Business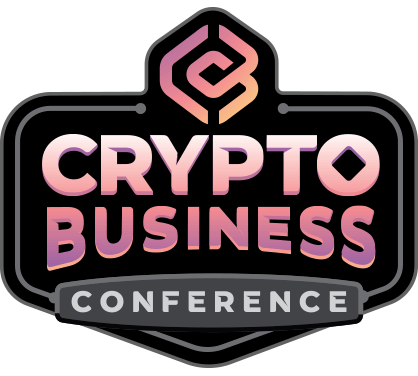 The Web3 renaissance opens up new opportunities for entrepreneurs, creators, and marketers who are ready to embrace the changes. But, who can you trust?

Introducing the Crypto Business Conference; a premium event for anyone who wants to learn how to put Web3 to work for their business.

Join us in sunny San Diego, California, for the first-ever crypto conference for business pioneers…not finance and tech nerds. You'll get actionable, business-building ideas from proven innovators—without all the techie jargon.
CLAIM YOUR SEAT
#3: Remember to Promote Current Facebook Offers
Most businesses post an offer once and hope that there will be a huge influx of claims and redemptions. That isn't always the case. If people aren't claiming your Facebook Offers, you may need to promote them.
To promote your offer, you can use the same outlets (newsletters, in-store conversations, etc.) you used to ask fans what kinds of offers they'd like to see. Or you could partner with another business to expose both to a larger audience.
Launch Social Projects Faster and Easier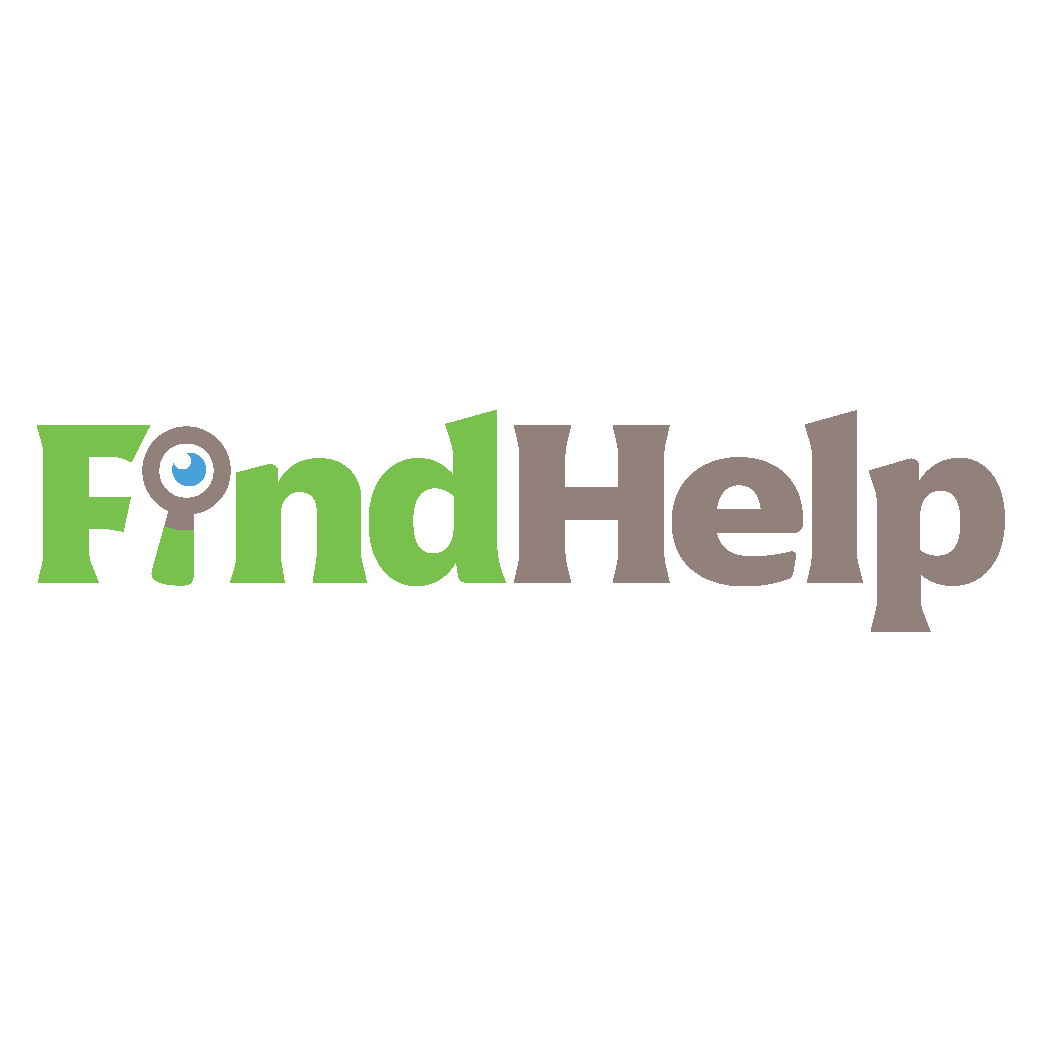 Looking for a content creator, campaign manager, or strategist for your social channels or a special project?

Find the right expert for even the most complicated project or campaign in just a few clicks with our new FindHelp marketplace. You'll have more time to focus on other areas of your business without sacrificing your social presence. Browse highly qualified Facebook and Instagram experts today.
FIND HELP TODAY
And, of course, you can use Facebook ads to reach your target audience. Facebook ads are a really effective way to promote your Facebook Offers. If you use a combination of Facebook ads and the ideas above, you'll see your offer claims and redemptions increase.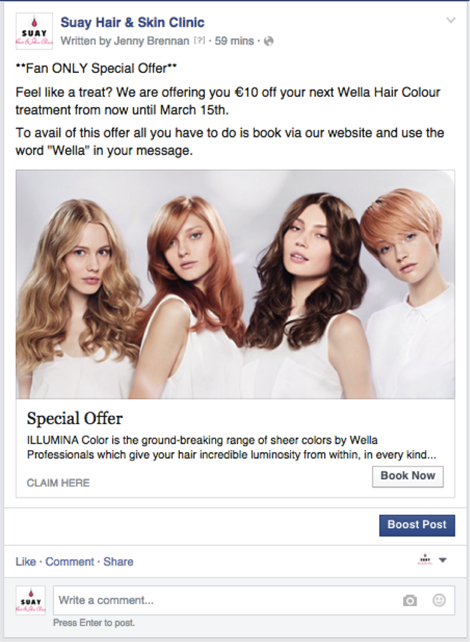 One tip I like to recommend is to use dark posts to promote Facebook Offers. This ad type lets you set up a promotional post that includes a call-to-action (CTA) button (like the Book Now button in the image above).
One of the best tactics you can use to increase claims is to make it easy to book or buy immediately. This is where a dark post CTA button can come in really handy. Another advantage of dark posts is that you don't need to update your timeline and you can target your Facebook fans in secret, which adds to the excitement and exclusivity of the offer.
Dark posts also give you lots of space to include copy and an attractive visual.
As you design your images and whip up copy, be sure you're adhering to Facebook's rules about text in advertising—text cannot make up more than 20% of promotional images.
This is important if you plan to promote your offer via Facebook ads. If you exceed the 20% rule (which includes logos and slogans), Facebook won't approve your ad.

To see if your image meets the guidelines, use Facebook's Grid tool. The image above wasn't approved as an ad because it didn't adhere to the rules—the text took up 24% of the image.
Bonus Tips to Boost Offer Claims
You may find that you have trouble tracking follow-through and actual sales from your offers. It's not uncommon for people to claim offers and never use them.
To help you keep better track of whether your offers are meeting your goals, craft them carefully. During the planning phase, decide whether you'll give fans a promotional code to use in-store or create a trackable landing page on your website for immediate buying.
Then be sure to include a clear call to action telling fans how they can claim the offer.
Over to You
Facebook offers are often underutilized due to lack of planning and inspiration for ideas that generate sales.
As Facebook continues to change and users get savvier, they're looking for brands that stand out from the crowd. Use cost-effective ways to promote your offers across all of your marketing channels and leverage the customers you already have.
What do you think? Have you used Facebook Offers as a marketing tactic? How did they work out? Do you have a tip for others on how to create a successful offer? Please leave your ideas, tips and comments below.
Curious about NFTs, DAOs, and Web3?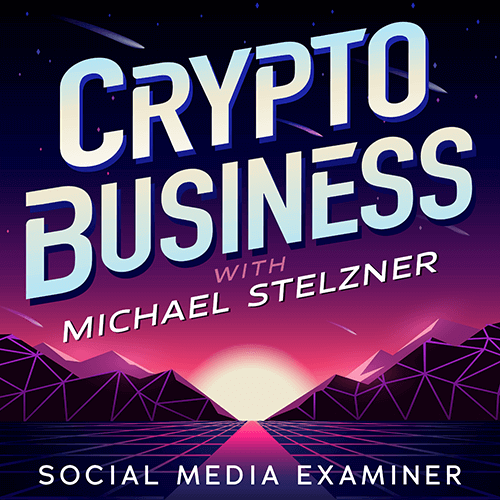 Follow the Crypto Business podcast to find out how NFTs, social tokens, DAOs (and so much more) will affect your business in the near future.

Every Friday, host Michael Stelzner interviews leading industry experts about what works right now in Web3 and what to expect in the future, so you can prepare your business for the shift, even if you're a total newbie.
FOLLOW THE SHOW