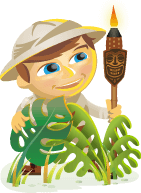 Do you want to grow better relationships with market influencers?
Are you wondering if interviewing people can help your business?
To learn how interviewing people can help build power relationships for your business, I interview John Lee Dumas for this episode of the Social Media Marketing podcast.
More About This Show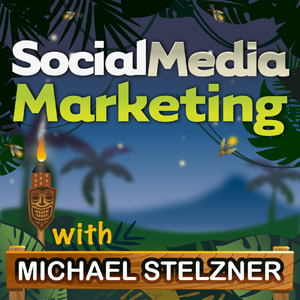 The Social Media Marketing podcast is a show from Social Media Examiner.
It's designed to help busy marketers and business owners discover what works with social media marketing.
The show format is on-demand talk radio (also known as podcasting).
In this episode, I interview John Lee Dumas, author of the book Podcast Launch and host of the EntrepreneurOnFire podcast—a top-ranked business podcast. John's podcast is a daily show and he has interviewed more than 600 business owners!
John shares how he got started with his podcast, how he attracts so many top guests and why he chose his format and niche.
You'll discover the benefits that come from the relationships you build through podcasts before, during and after the show is released.
Share your feedback, read the show notes and get the links mentioned in this episode below!
Listen Now
Where to subscribe: Apple Podcast | Google Podcasts | Spotify | RSS
Here are some of the things you'll discover in this show:
Relationship Marketing
John's interview technique when he first started out
John explains that he had to work at his interview technique every single day. The very first interviews he ever did were for the EntrepreneurOnFire podcast.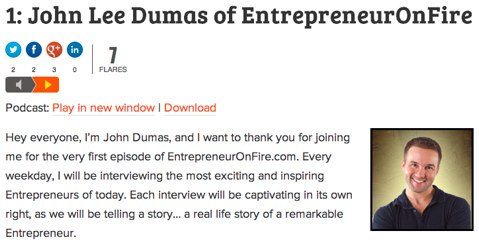 He says that if you listen to his first 50 episodes, it's obvious that he was new to it.
Before John started his own podcast, he loved listening to the likes of Andrew Warner of Mixergy, Pat Flynn of Smart Passive Income and David Siteman Garland of Rise To The Top. He noticed that nobody was doing a 7-day-a-week show, and decided to give it a go.
Although he knew he wouldn't be great in the beginning, he knew he had to start somewhere. So he reached out to people in the space to see if they would talk to him.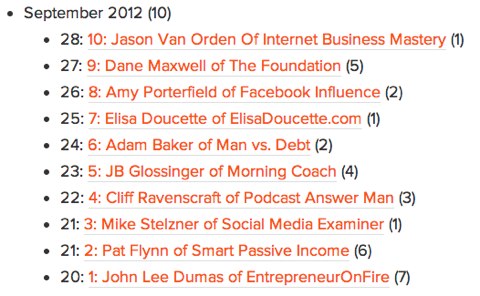 You'll hear why John batch-processes his interviews for the week ahead, and how many episodes he did before he felt like he had settled in. John is now around the 608th episode mark.
When you host a podcast, you need to come across as authentic. John advises anyone who is hesitant to host a show to just start talking into a microphone and have some fun.
Listen to the show to find out why you don't have to edit out every imperfection when you first start out.
The underlying premise to the strategy for EntrepreneurOnFire
John says that he truly wanted to build a lifestyle business that he could be passionate about. To be able to do this, he knew he had to grow an audience. He had to become a leader in a particular area, industry and niche.
When John listened to podcasts, he connected with them straightaway. He felt like he was having close relationships with the hosts and their guests—people he had never met. He says it's like being the third person in a conversation when you listen to these shows.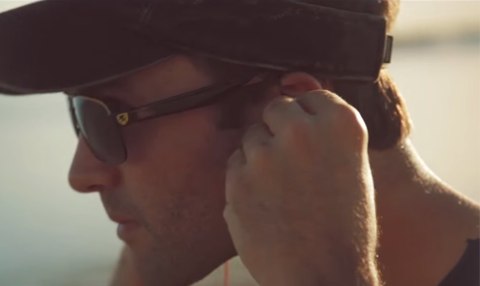 For John to be able to do a show, he knew he had to be a little bit different and come up with a unique selling proposition. This is when he had his "Ah-ha" moment for a 7-day-a-week podcast. He realized that if he could interview the likes of Amy Porterfield and Adam Baker, and get them to share their journey on his platform, then he could potentially build his audience.
You'll hear what John did to help him overcome his fear of rejection so he could build his platform from day one.
Listen to the show to hear the story behind how John and I first connected.
How interviewing the pros has helped John's business
John's goal from the very beginning has been to interview people who not only talk about what they are successful with right now, but also share their failings along the way. John really wanted to break it down so it would connect with his listeners in an intimate way.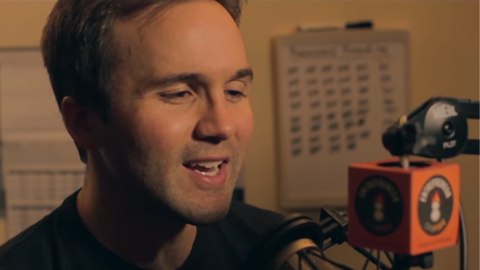 Many of his guests realize at the end of the interview that they have never shared their journey before with their own audience.
You'll hear why John's guests are one of the main reasons why his podcast became a top 10 business podcast and was awarded Best in iTunes in 2013.
Listen to the show to discover how John helps his guests spread the word about his show.
Why the EntrepreneurOnFire Monthly Income Report is shared with the public
John explains how he has always admired Pat Flynn, and that one of the things Pat does is share his monthly income on his Smart Passive Income blog. John was amazed by this and loved how Pat was so transparent with what works and what doesn't work for his business.
So back in September 2013, John and Kate (the content creator and community manager for EntrepreneurOnFire) made the decision to do the same thing.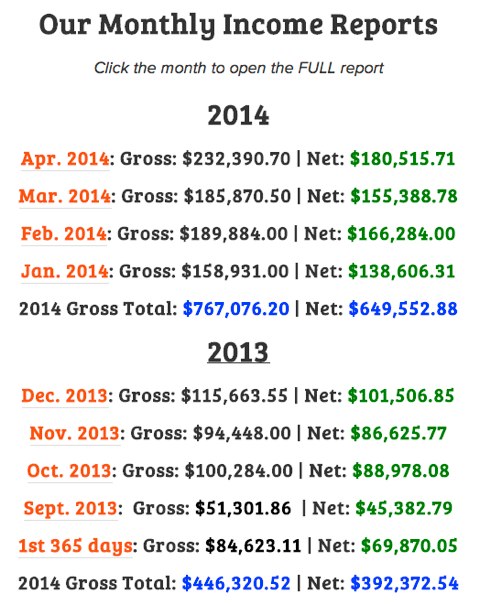 These reports include every single way that they monetize all of their different income streams and also break down every dollar amount they spend. This information is then published every month. This allows people to see what works for John, with the hope that they can emulate his successes.
You'll find out how this information can further help other entrepreneurs build their own businesses, and at the same time attract more business for John.
Listen to the show to find out the number-one question most people asked John when he started out with podcasting as a business.
Some of the unrealized benefits of interviewing people 
John says that the relationships he built with the people he interviewed have been incredible. Giving them a platform to share their experiences has led John to speak at conferences.
You'll hear all of the high-profile conferences where John has been invited to speak because of the relationships that have blossomed from his show.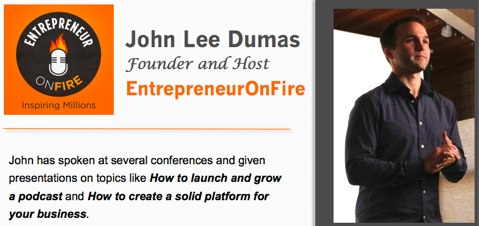 John explains that when he first started out, he received major feedback from people like Cliff Ravenscraft and Jamie Tardy. He was able to apply this feedback to his business to make it a success.
The main thing that both Cliff and Jamie were concerned about was how John would find enough guests for his show.
You'll hear at what point John didn't have to worry about lining up guests for his show anymore.
Listen to the show to find out how many entrepreneurs a month on average contact John to be on his show.
How John got people on his show in the beginning
John explains how it all began at BlogWorld New York in 2012. It was the first conference he ever attended, and an opportunity to engage with other attendees in the online entrepreneurial world.
It was when he sat in the front row listening to some amazing speakers that he realized he wanted them on a show. So he waited around after the sessions finished and approached them to ask questions and start that initial contact.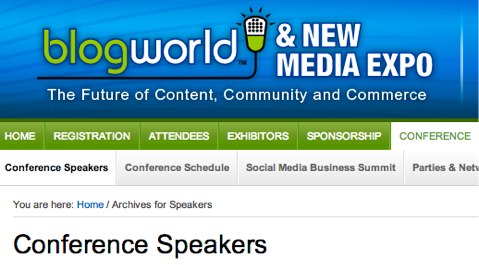 You'll hear how he got the initial "yes" out of most of them face to face, and what he did to follow up with others he didn't manage to connect with.
Today, John doesn't attend as many conferences, but he still manages to fit in four to six per year. He still likes to attend a few, as it's a great way to meet industry leaders and make those connections.
Listen to the show to find out one of the ways John loves to pay it forward.
How to build key alliances after you interview guests
A great example of how a key alliance has benefitted John in a very powerful way is the relationship he has developed with Lewis Howes.
John explains that he has always admired Lewis from afar for a very long time. He's a guy who pursues his dream and has achieved so much in life so far.

So John reached out to Lewis on multiple occasions to try to track him down for an interview. Once he got a confirmed booking, John prepared like crazy for the interview. It was after the interview that John suggested to Lewis that he should get his voice out there too and start his own podcast.
John helped him come up with the launch for the School of Greatness podcast, and Lewis then mentored John one-on-one for 6 months.
The relationship between them not only led to them dominating the iTunes chart, but iTunes contacted them to say that they could start a network together, which they called the Integrity Network. It has given them both incredible additional exposure.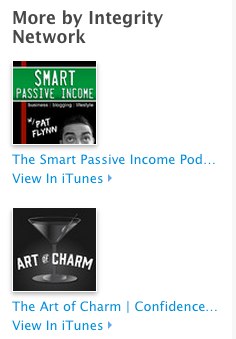 You never know what can come from these interviews, even before, during or after the release. Be strategic about it and amazing things will happen.
Listen to the show to discover how John got my attention after I had been on his show.
Advice when going after high-profile people
John says that the first thing you must do is launch your podcast and get it out there. Initially get some people on the show you can practice with and just have a fun time. This will help you get more comfortable with your interview technique.
You have to build some momentum and traction before you can even consider having any high-profile guests on your show.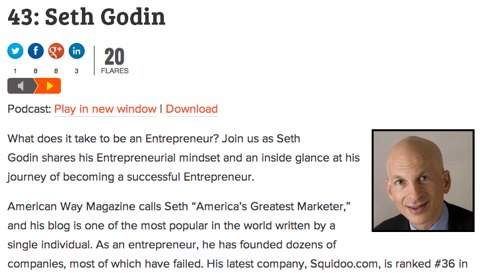 Cliff Ravenscraft has a great stat that he likes to share—"90% of podcasts never make it past episode 7."
Many high-level entrepreneurs are approached a lot to be on shows, and when they see that you are in pre-launch or you don't have 10 episodes under your belt, they will start to question if you are the 10% who will make it past episode 7. The answer is probably not.
John advises that once you are comfortable and settled in, you should then keep your eyes open. You'll find out how John was able to attract Seth Godin and Tim Ferris onto his show, and why it helped for him to have nearly 50 episodes already launched at that point.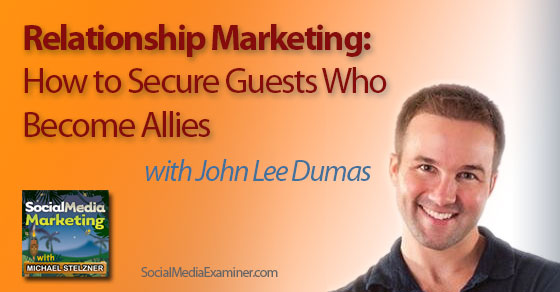 Listen to the show to find why it's important to put yourself in the position of the person you want on your show.
Take a Picture: Win Time With Mike!
For the first time ever on the Social Media Marketing podcast, I've decided to run a fun contest.
I would love it if you would take a picture of where you are when you listen to the show, and share it with me below in the comment area.
The person I will pick as the winner will receive an autographed copy of my book Launch AND will get 30 minutes with me on Skype to talk about ANYTHING related to their business.
Here's how:
1. Take a pic of yourself listening to my show using your smartphone.
2. Scroll to the comments section and click on the little picture of a mountain under the words "Join the discussion…" (this works on a mobile phone) and upload the pic and leave a comment.

I will look at all of these pictures and will pick a winner within 7 days of the launch of this podcast episode.
If you're late to the show, then still drop a photo in there for the fun of it, as I would love to see your picture. It helps me to understand where in the world people are listening to this show and I think it'll be a lot of fun. It's something that I have never tried before, and it would be really cool if you'd consider doing something like that.
So go ahead and leave your comment and photo below.
Key takeaways mentioned in this episode:
Ways to subscribe to the Social Media Marketing podcast:

What do you think? What are your thoughts on building relationships through interviews? Please leave your comments below.