Are you wondering how to replace the avatar dragonfly with your photo?  Does your picture appear distorted?  If so, keep reading.
If you used a social network to register, our system will try to pull in your profile photo from that network.
If you signed up using your email address and don't have a profile on Gravatar, your profile picture will be the little dragonfly you have seen around the Clubs.
Or you may have logged in with a social site and your picture appears distorted.  If this is the case, you are better off using Gravatar to pull in a profile picture.  We will cover the steps to change your profile picture.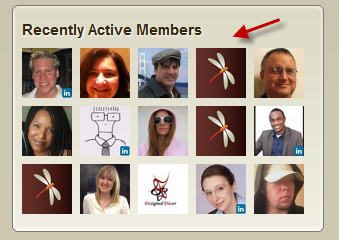 There is no place on the Networking Clubs to "upload" your picture.  You can link to a picture that is already uploaded elsewhere on the web.  Or you can associate your email address with a Gravatar profile.  Let's walk through the process.
Edit Your Profile
If you aren't completely sure how you are linked to the Networking Clubs account, follow these steps:
Go to your Profile page (first page when you log in or click on your name near the Welcome banner).

Click on your name to access your profile.
Click Settings.

Click Settings to confirm what settings are configured for your profile.
Notice how you are logged in and the email address you are using.

Check your account email address.((Remove hyphen in bubble above. L.))
Notice if you have logged in from another social site—the Settings area will indicate this as shown on Dea's profile.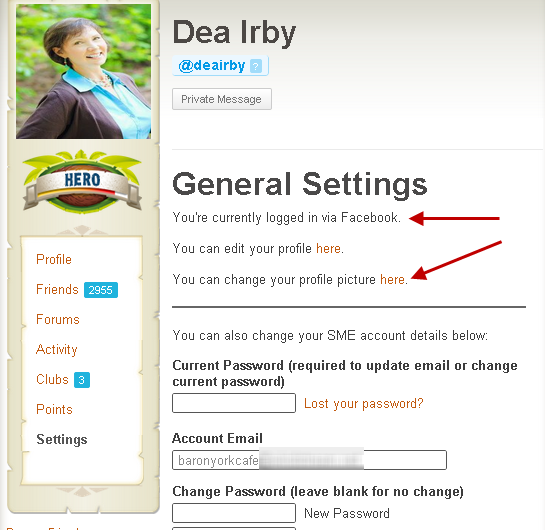 If you want to change your profile picture from the one on your social account or if your photo is distorted from one of the sites, click on the "You can change your profile picture here" link.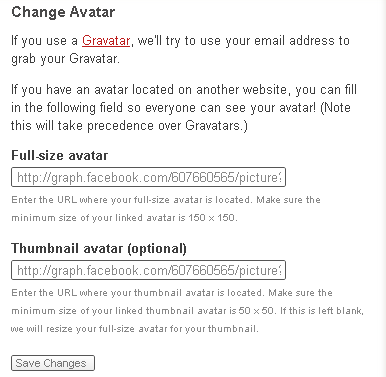 Now delete the URLs listed under Change Avatar, click Save Changes and then follow the directions below to sign up for a Gravatar profile.
Sign Up for Gravatar
The easiest way to fix the profile picture issue is to register your email address with Gravatar here (it's free) and add your photo to your profile there.
When you sign up for Gravatar, use the same email address as in your profile, or it won't pull your image into the Clubs.
Gravatar is a universal service that auto-populates your photo based on your email address.

The Gravatar signup is very straightforward, just click where you want your image pulled from and follow the steps.

If you already have a Gravatar account with a different email address, you can just add the address associated with your Networking Clubs profile to your Gravatar account.  If you already have an account, just log into that account, click My Account and click Manage Gravatars.  Then click add a new email as shown in the image below.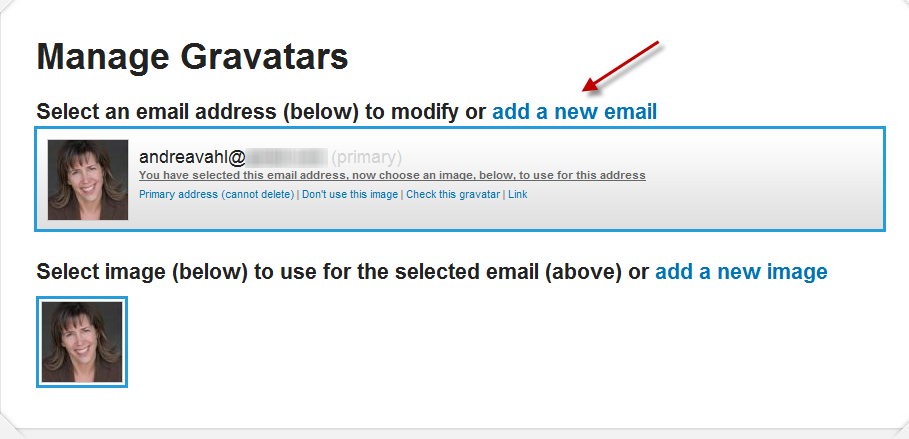 Note that you may have to wait a few minutes for the profile picture to be pulled into the Clubs from Gravatar.  But that should be all you need to do to get that dragonfly image off your profile and let us see your smiling face!
If things are still not working for you, contact me at [email protected] and I can help further!