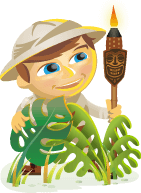 Do you post on Pinterest?
Want to shake up your strategy?
To discover what, how, and when to post on Pinterest, I interview Jeff Sieh.
More About This Show
The Social Media Marketing podcast is an on-demand talk radio show from Social Media Examiner. It's designed to help busy marketers and business owners discover what works with social media marketing.
In this episode I interview Jeff Sieh, founder of ManlyPinterestTips.com and host of the Manly Pinterest Tips podcast. Jeff also oversees Social Media Examiner's Pinterest account.
Jeff will explore proven tactics to grow your following and your website traffic with Pinterest.
You'll discover what's new with Pinterest, including promoted pins.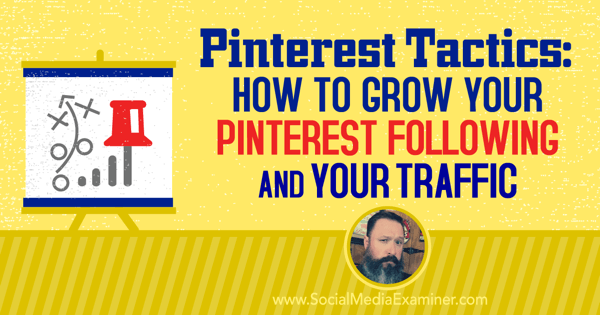 Share your feedback, read the show notes and get the links mentioned in this episode below.
Listen Now
Where to subscribe: Apple Podcasts | Google Podcasts | Spotify | YouTube Music | YouTube | Amazon Music | RSS
Here are some of the things you'll discover in this show:
Pinterest Tactics
What's new with Pinterest
After about a year and a half of testing, the do-it-yourself option for promoted pins (Pinterest's ad product) is now available to all small businesses in the United States. Features include a bulk editor, so you can add a lot of pins at once, and more forms of targeting.
For example, there were only 30 possible interests to target when promoting a pin, and now there are 420; instead of targeting someone interested in men's clothing, you can be as specific as men's shoes.
Pinterest also added keyword targeting, so you can combine interest and keyword targeting. It's a great way to find a specific audience when you promote a product or blog post.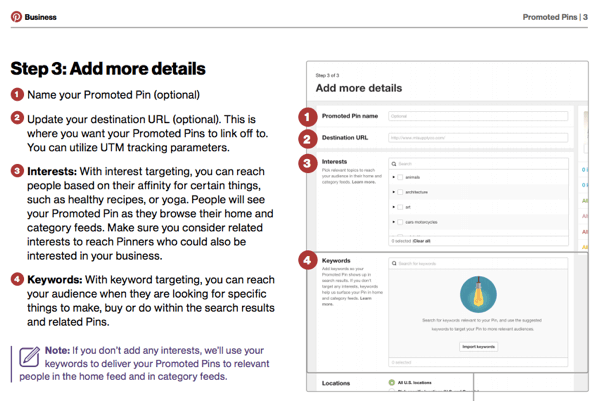 Promoted pins are just like regular pins, only you pay to have them seen by more people. They perform just as well as, if not better than, organic pins.
The promoted pins in your feed are based on your interests and activity on Pinterest. They also take some off-site data, collected for Pinterest's ad partners. In your home feed, you will see suggested for you or sponsored by pins. If you don't want to see something, tap the X beside it and click on Hide this Pin. Pinterest uses that feedback to make sure you see relevant, promoted pins in the future.
More people see your promoted pins. Plus, you get an extra 20% boost, because you only pay for the first click. For instance, let's say Jeff promotes a pin that points back to his website, and you click on it and repin it. Then, someone else pins it from your board to their account. Jeff does not pay for the secondary repins. He only pays for that first one.
When I asked Jeff about entry level price points, he says he thinks you have to start with at least $1 a day. Jeff has seen results by spending $5 a day, and believes it's worth testing, especially with the new targeting features, to see how much traffic you can get to your website.
Pinterest also has customer targeting, which allows you to upload your email addresses. This is called matching, and is currently only available to Pinterest's Developer Partners. If you have a store with a newsletter that's already driving traffic, you'll be able to upload that list to Pinterest and send promoted pins to that specific audience. They are rolling it out, along with the promoted pins, now.
Listen to the show to learn when they opened up promoted pins for everyone in the United States.
Social Media Examiner's Pinterest plan for third-party content
Jeff explains how on Social Media Examiner he starts by finding good, third-party content (posts that we don't publish on our website) on marketing and social media to share with our audience. He uses Feedly to gather articles on Facebook's breaking news and other top websites, and goes there once a day to review the posts.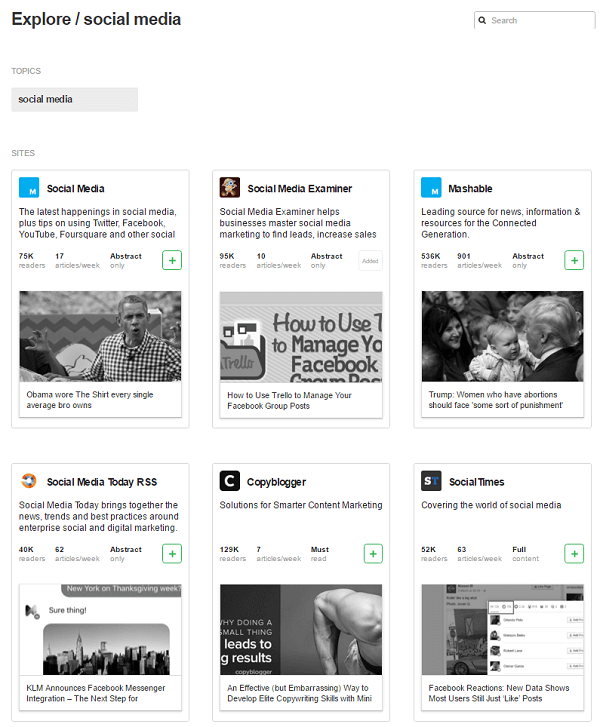 When Jeff finds an interesting article, he clicks the link to make sure it's quality content and a fit for our audience. He then checks for a good, pinnable image; one that is engaging and also has a text overlay that tells what the article's about. If it doesn't have a good image for Pinterest, he'll share the link with the Social Media Examiner social team, so they can use it on other channels.
Jeff says 80% of all Pinterest are repins, so in addition to your company's content, you want to share posts you know your audience will find useful. Jeff also tries to share content from our Social Media Marketing World speakers, like Peg Fitzpatrick, Rebecca Radice, Donna Moritz, and Jay Baer. If he knows someone will have good pinnable images, he'll hit their sites every day.
One other place Jeff finds content is the home feed on Pinterest. He clicks through to double-check those, as well, to make sure the content is relevant and less than a year old (unless it's really good, evergreen content).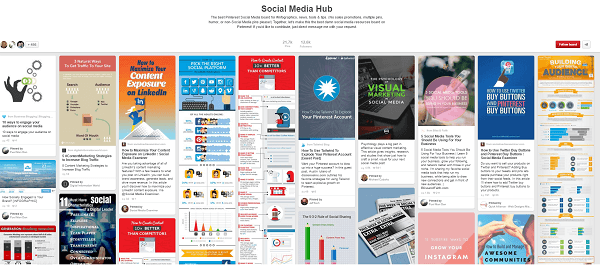 While Jeff shares quite a bit of third-party content as he finds it, he'll also save some pins for a rainy day when there is less good content out. When he can, Jeff tries to pin organically from a site, since he feels Pinterest may give preferential visibility to accounts that add content from outside sources.
Listen to the show to discover Jeff's goal for Social Media Examiner when he started working with us.
Pinning Social Media Examiner content
Jeff explains his content-pinning process for Social Media Examiner, using the article "Four Ways Your Business Can Get Started on Instagram" as an example.
First, Jeff gets the UTM (Urchin Traffic Monitor) code from our UTM library to track the activity, and pastes it into his browser. He then copies the opening couple of lines from the article to his notepad, since they'll be used for the Pinterest description. He also adds our Pinterest handle, SMExaminer, so anyway who sees a repin of the article on another board can find Social Media Examiner.
Then he scrolls down to the bottom of the article, clicks on the Pinterest optimized image (size is 735 x 1102 pixels) to pin it, and sees the list of Social Media Examiner Pinterest boards. Since this article is about Instagram, he copies and pastes the description and then pins it to our Instagram for Business board.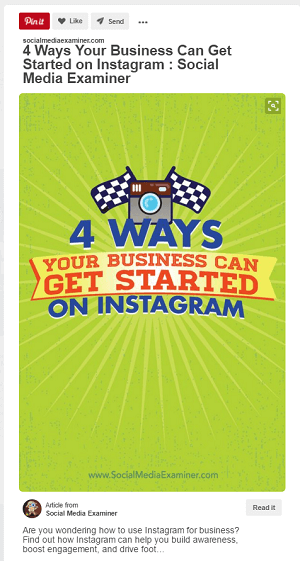 At Social Media Examiner, we use Tailwind for scheduling. With the Tailwind browser plug-in, Jeff schedules the pin to go out the same night (around 11pm) to a group social media marketing board, which has more than 12,000 followers. He also schedules it to be pinned to the Social Media Examiner Articles board the next day at 6am, to our Social Media Marketing board in the next two weeks, and to our Visual Social Media Marketing board.
We created these boards to have multiple places to pin and schedule our articles throughout the week.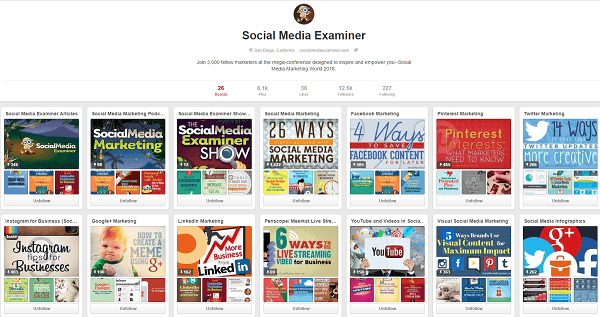 All articles get a new UTM code for two weeks after the publish date. Anything after that uses the evergreen code. On the same day, Jeff takes the evergreen code and schedules to post the same pin 30, 60, and 90 days out. He'll post it to the Instagram board and rotate it with the Social Media Marketing board. With this method at least four or five additional pins are scheduled to post almost every day.
Listen to the show to discover which posts Jeff doesn't schedule to repin and why.
Growing our following
When we share Social Media Examiner and third-party content, people see it. Those whose content gets shared will likely repin Social Media Examiner content, which helps our account continue to grow.
Pinterest doesn't have that much interaction by way of comments. However, when comments come up, Jeff responds quickly. He answers questions and replies to comments in a way that continues the conversation.
Listen to the show to learn more about Tailwind.
How to know if Pinterest is working
Jeff checks Google Analytics to make sure Pinterest is driving traffic to Social Media Examiner.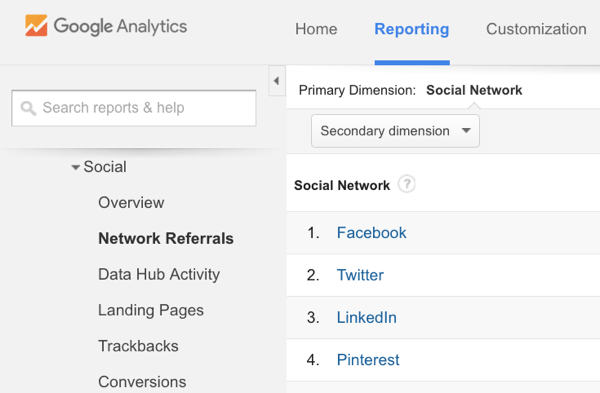 He also uses Tailwind's analytics to regularly check follower growth, since that tells him people like our account, find value, and click to follow the boards. He also looks at repins to see how many people take our content and pin them to their own or group boards. When repins go up, it's another method of driving traffic back to the site.
One way to make sure you get repinned (and the visibility and growth that goes along with it) is to have good, pinnable graphics. Although Social Media Examiner's Pinterest graphics tell exactly what an article is about, there seems to be a trend where a lot of the big website sites don't include a pinnable graphic. Sometimes there will be a graphic that doesn't have a text overlay.
Jeff says you can't pin an image without text, because it doesn't describe the article. Social Media Examiner's graphics are vivid, they show up nicely in the stream, and have great text. Plus, Greg from our team includes an icon with a hidden meaning for the article.
Jeff says if you are going to take the time to create great content, take a couple more steps and create an image to use on all of the social networks. People scroll so fast. If you don't have a good image, chances are they won't stop and look at your article or product.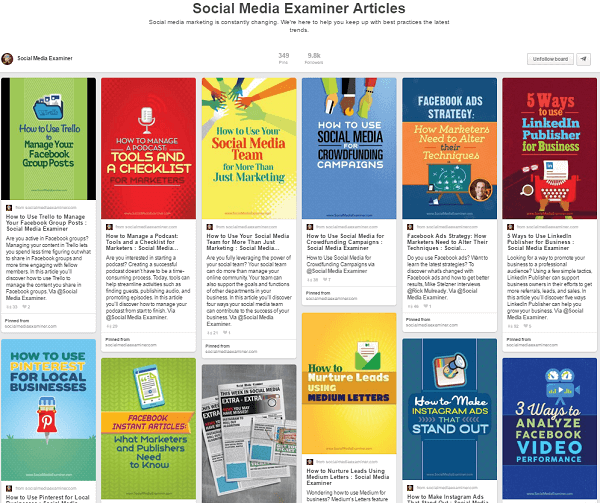 Keep an eye on your metrics with a third party tool or, if you have a Pinterest Business Account, you get access to Pinterest internal analytics. Use it to track activity, make sure you are get followers on your repins, see what people are interested in, and more. To get a Pinterest business account, start a new account or click a button to upgrade. You also need a business account in order to use promoted pins.
Jeff summarizes what it takes to be successful on Pinterest. You need to know who your audience is and share content that's right for them, he explains. Then, set up scheduling to go to different group boards. Note: if you use a scheduling tool, use one that's an official Pinterest partner, so it's always compliant.
Then track your activity. Find out what does and doesn't work. If something isn't working and you are not getting repins, try to figure out why. Constantly look to see what to optimize to make your account perform better.
Listen to the show to discover how Pinterest ranks in terms of driving traffic to SocialMediaExaminer.com.
Discovery of the Week
Smartmockups is a site that lets designers and marketers present something they created in context on a device, such as a desktop, laptop, or smartphone. For example, if you want to illustrate to your readers how one of your digital products looks on a smartphone, take a screenshot from your phone and then insert it onto a stock image of a phone on Smartmockups.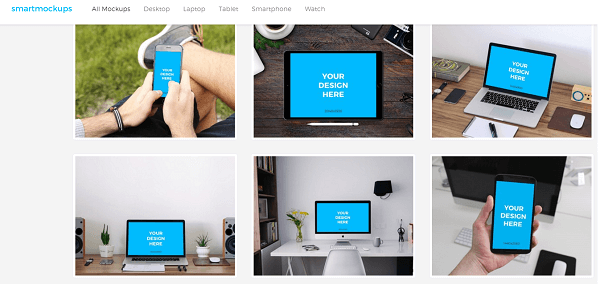 Smartmockups is similar to Placeit.net, and is free. It is owned and created by Behance, which is owned by Adobe. Scroll through the different options they have for their mockups. Then, upload your image. You may download the final image in small, medium, large, or original size.
All of the images on Smartmockups are royalty free for use in personal and commercial projects. Bloggers and marketers can use Smartmockups to make their work look more professional.
Listen to the show to learn more and let us know how Smartmockups works for you.
Listen to the show!

Key takeaways mentioned in this episode: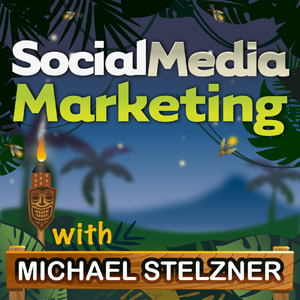 Ways to subscribe to the Social Media Marketing podcast:
What do you think? What are your thoughts on storytelling for business? Please leave your comments below.