Do you want to diversify your ad spend beyond Facebook and Instagram? Have you thought about Pinterest ads?
In this article, you'll learn which types of products work best with Pinterest ads and how to create your first Pinterest ad campaign.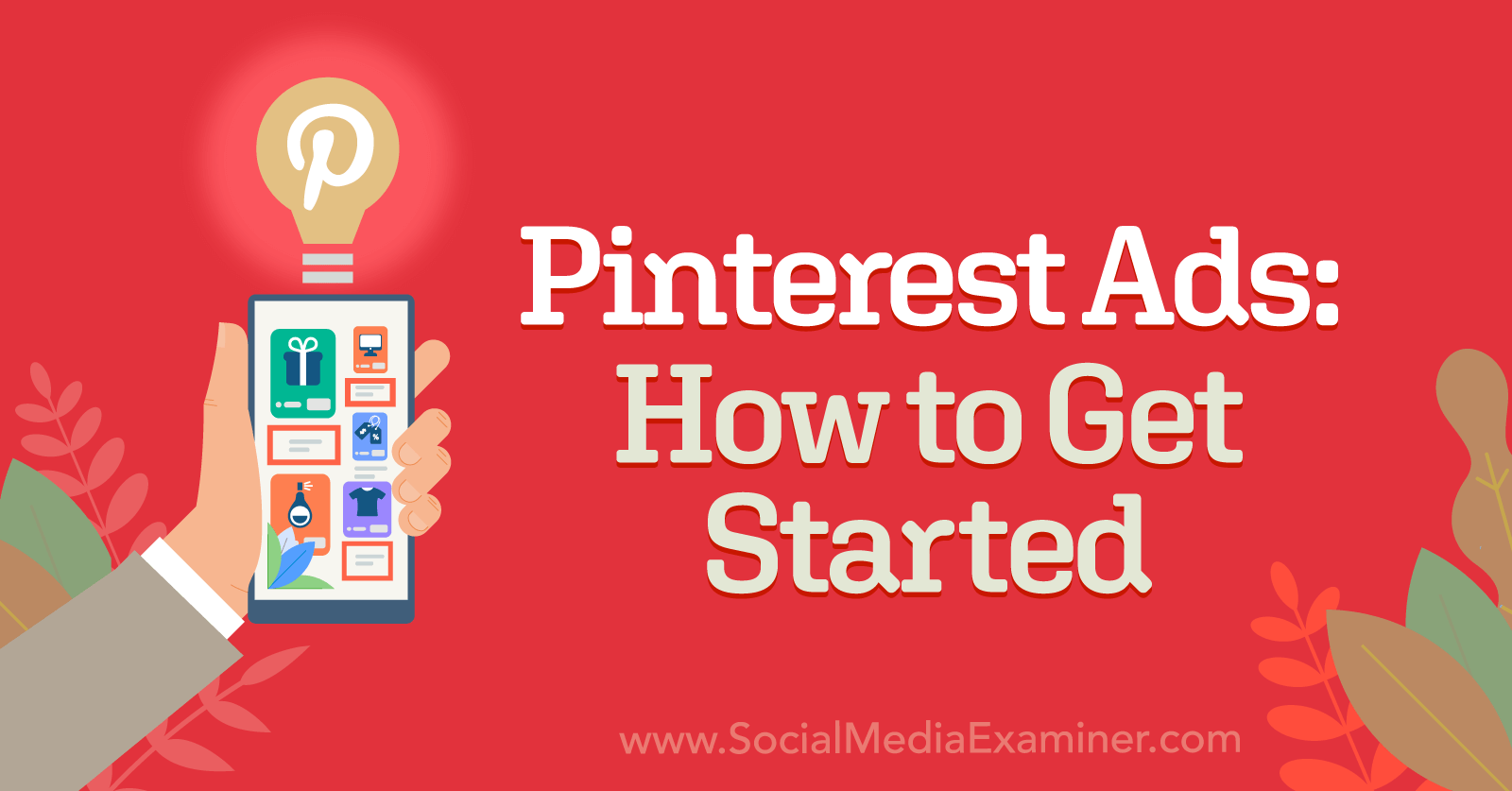 Why Marketers Should Consider Pinterest Ads
Let's start with the basics: Why should marketers consider Pinterest ads? Especially at a time when paid advertising is becoming increasingly expensive thanks to emerging privacy and data handling laws that make tracking user activity online more and more difficult. Is it really worth it to dive into another paid advertising platform?
For one thing, although Pinterest is grouped with other social media channels and even contains some social aspects, people use Pinterest much more like a search engine than they do a social platform.
For example, when someone's getting ready to buy a new house and they're looking for ideas on how to decorate it, they're more likely to head over to Pinterest. Not only that, they're heading over to Pinterest intending to find something to purchase, even if that purchase is going to be made sometime in the future.
So there's an element of intent to buy behind Pinterest users.

Additionally, the quality of users searching Pinterest for things to buy tends to be a little higher, with the average user making six figures. This means Pinterest has millions of users, all using the platform to look for something to purchase, and many of whom have the means to make that purchase.
And while Pinterest had gained a bit of a reputation for skewing primarily toward a female audience, over the years, their user base has diversified quite a bit. Today, nearly 40% of the users on Pinterest are men. In fact, you can target just about anybody on Pinterest using its targeting tools for your paid advertising campaign.
All of this combined makes Pinterest a sophisticated addition to your paid marketing strategy.
What Types of Products Work on Pinterest
One of the great things about Pinterest is that because people use it as a search engine, any product will work on Pinterest as long as people are searching for it. This includes retail products like jewelry, makeup, and skincare. But it also includes material products and ingredients such as recipes and various crafting materials.
And it's not limited to B2C businesses. Even B2B businesses can leverage Pinterest if they offer services or products people are searching for, such as information products, guides, and courses. This makes Pinterest a robust marketing platform for any business or brand, regardless of industry or niche.
Here's how to set up a Pinterest ad campaign to start promoting your own products and services.
#1: Choose a Pinterest Ad Format for Your Campaign
Like other platforms, Pinterest offers a variety of ad types or formats that marketers can choose from, depending on their goals for the campaign.

Consideration ads, formerly called traffic ads, have been optimized for driving traffic to a landing page or offer. The ad creative itself uses a mix of visually attractive graphics or videos and keyword-optimized captioning to help place the ad in front of people interested in that product or service, or related products or services. For example, someone who's searching for products related to pregnancy may also be served up ads related to having a newborn.
Conversion ads have been optimized for driving qualified traffic to a landing page or offer. More specifically, conversion ads are designed to put the ad in front of someone who has more than a vested interest in that product or service, and are geared toward people more likely to convert, either by adding a product to their cart, checking out, or signing up for a free offer.
And finally, shopping ads are dynamically rendered ads that retarget users on Pinterest who've already shown interest in that specific product or service, not just something related to it. Shopping ads are the only ones that currently can't use video creative. And in fact, shopping ad images are pulled from the website, which doesn't give the marketer a chance to create or upload new images when placing the ad.
Instead, marketers must go to their website or offer page and upload any images they want to use for their ads directly onto their website. Once they do that, they can go into Pinterest Ads Manager to create their shopping ads, and the Pinterest Ads Manager will pull their images from their site.
For all other ad types and formats, marketers can create and upload their graphic or video ads into the Pinterest Ads Manager when they create their ad. And while Pinterest's optimization configurations vary, most of the performance is measured via pay per click.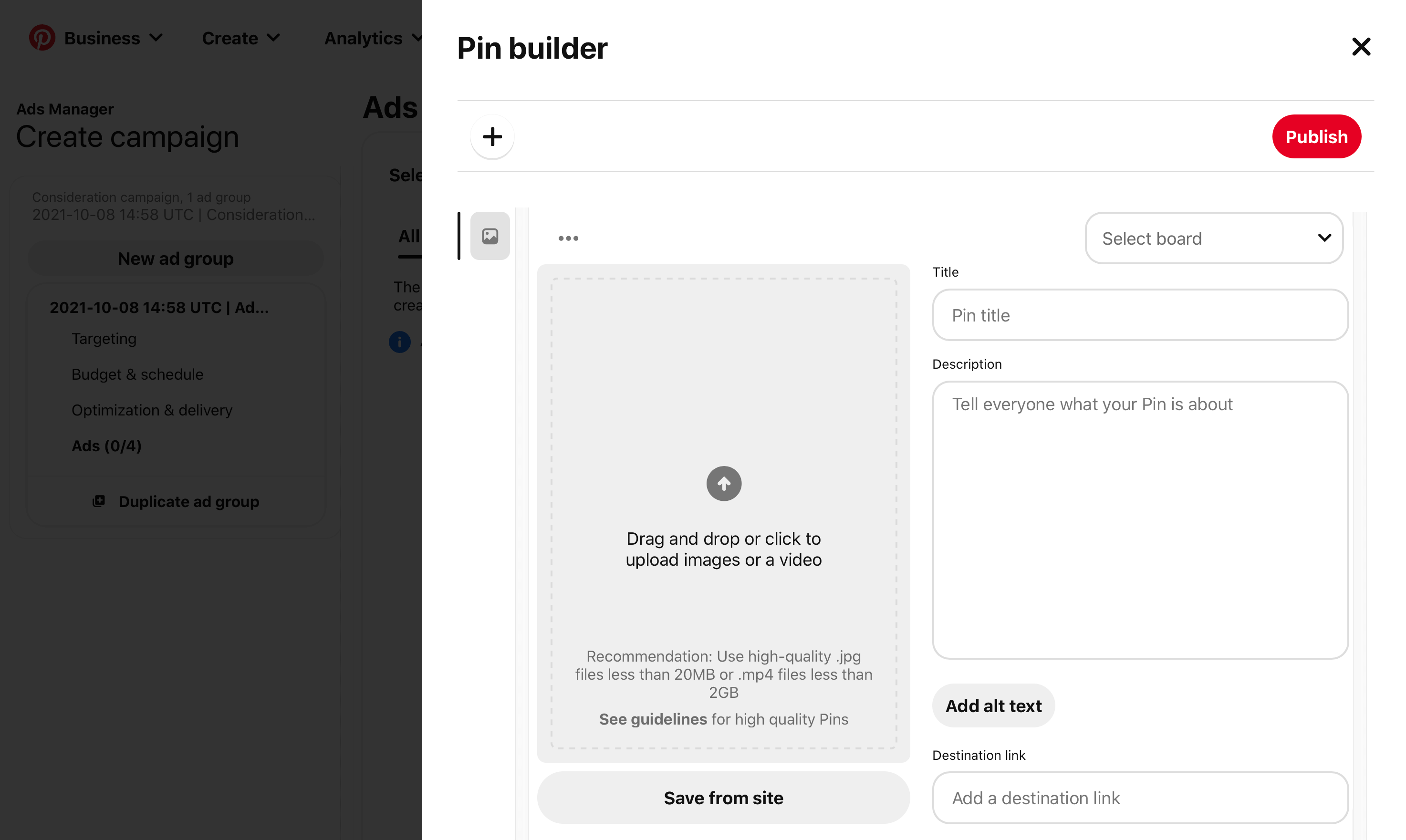 #2: Set Up Targeting for Your Pinterest Ad
Pinterest has its own code that you can embed on your site to help track and target visitors. One of the minor inconveniences of the Pinterest tracking code is that it can easily get removed during routine site updates. So if you update your site at all, you'll want to ensure that you didn't accidentally remove the Pinterest tracking code.
Pinterest also uses a keyword-based targeting system, allowing you to build an audience based on their search terms and interests.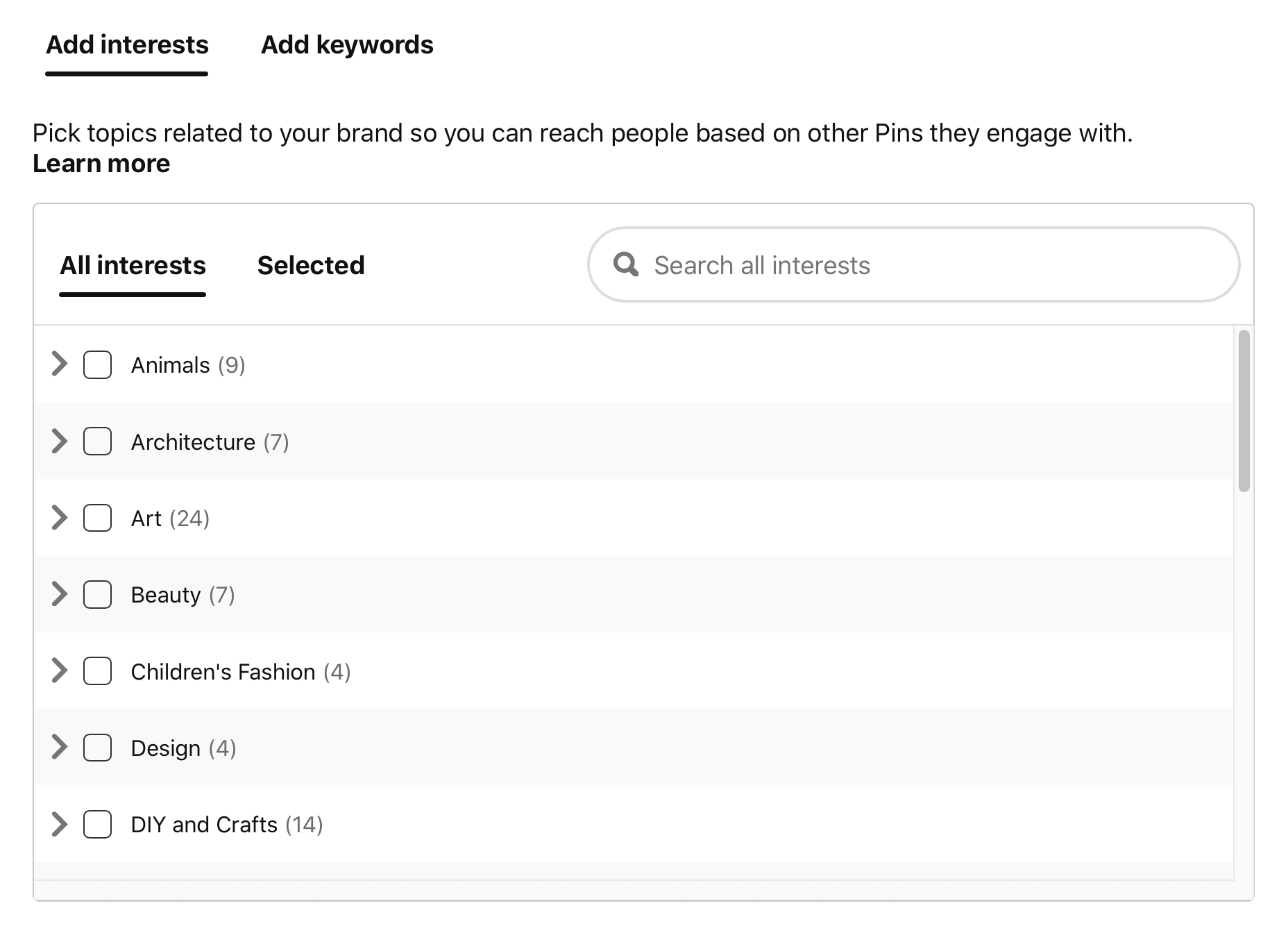 You can also use Pinterest's on-site targeting tools such as targeting people who've engaged with your pins or creating a lookalike audience based on the people who engage with your pins.
#3: Design Your Pinterest Ad Creative
As with any other paid advertising platform, you'll need to test and learn which strategy and creative works best for you and your products, and serves your goals.
When creating Pinterest video ads, there's no limit to how long the ad can be, but the sweet spot seems to be somewhere between 7 and 15 seconds. And, like Facebook and Instagram, most people on Pinterest are scrolling with their sound off. This means if you're talking in the video, you'll want to embed captions into the video itself.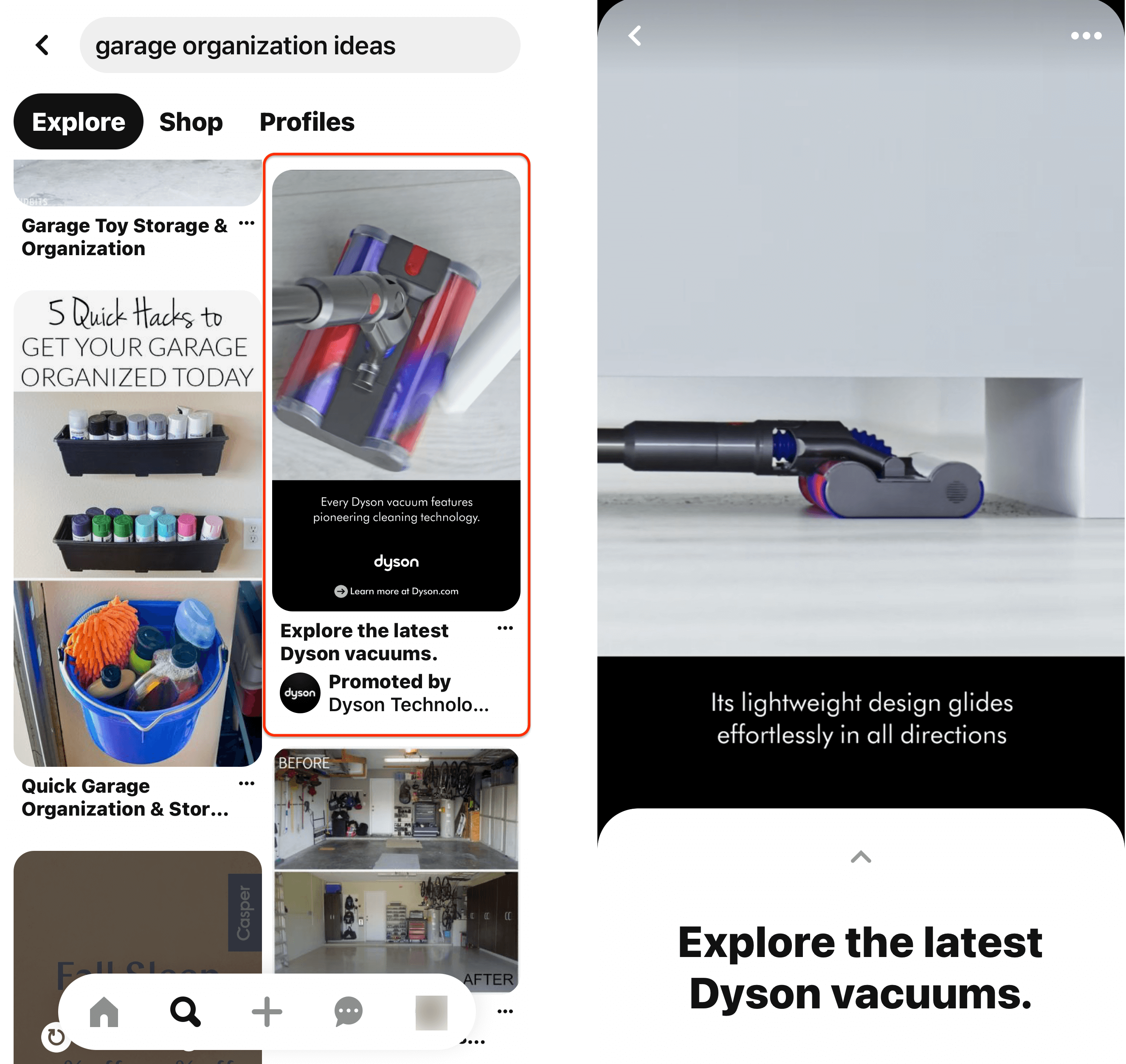 Even when someone is scrolling through Pinterest with the sound on, Pinterest mutes videos by default. This means the person will need to tap or click on the video after it starts playing to be able to hear it, which is something to keep in mind when it comes to video ads.
Additionally, because image ads tend to perform better on Pinterest, video ads are still a little more expensive to run. If you're just getting started with Pinterest ads, then you probably want to start with some organic campaign-building and test images before trying to launch a video ad campaign.
An organic Pinterest strategy is just what it sounds like: creating and posting pins on Pinterest to build an organic following or audience. Inside Pinterest Ads Manager, as you're putting together your paid ads, you can choose any of your original organic pins to turn into an ad.
Although many users on Pinterest are scrolling on their phones, a surprisingly large number of people are also using Pinterest on their computer, which gives a little bit more real estate when it comes to graphic creation. So while you do want to embed a headline, caption, or call to action as text inside your graphic, keep in mind that it needs to be easy to see and read that text on mobile.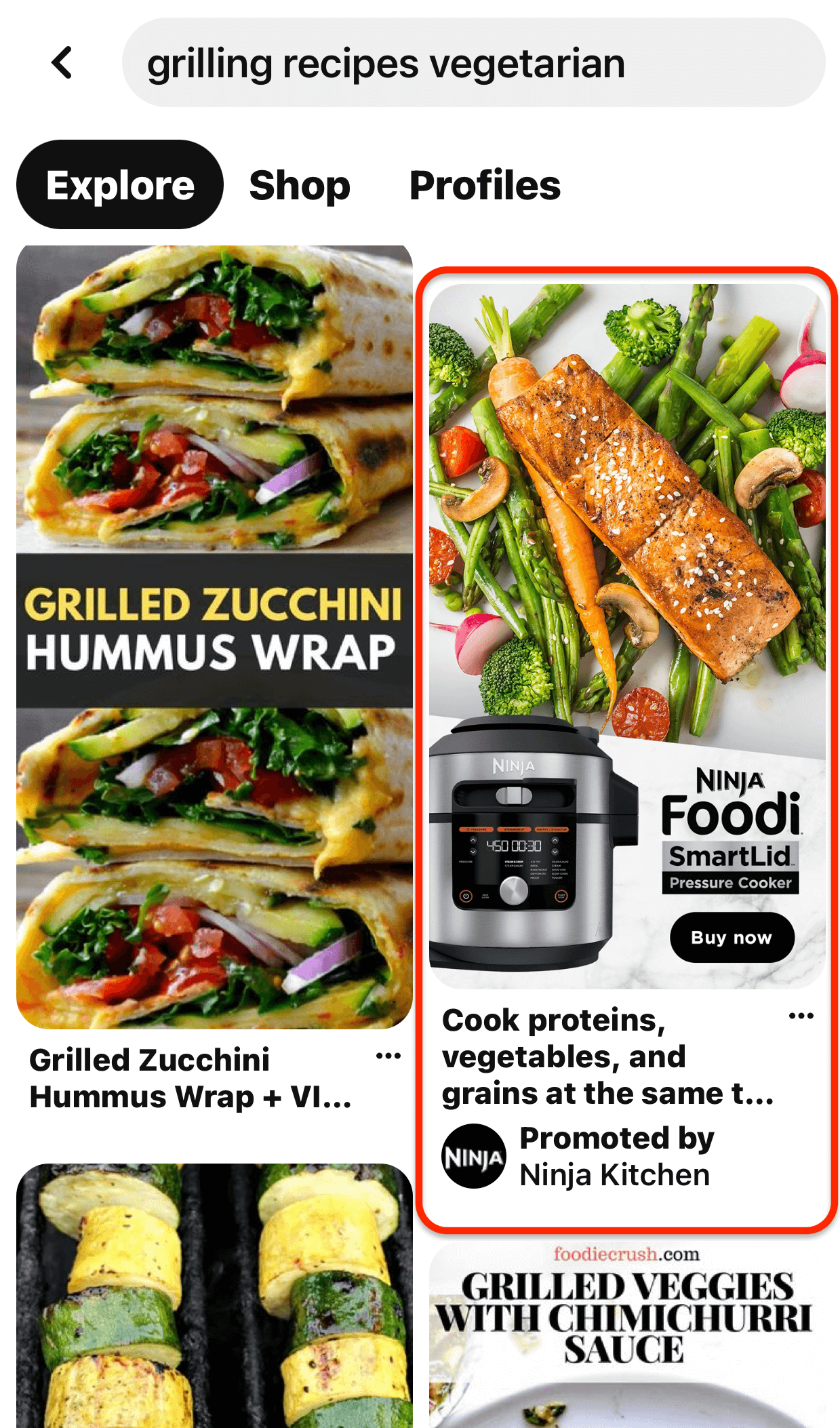 No matter which creative type you choose to make—graphic or a video—the 2 x 3 pin size or longer still outperforms square or horizontal graphics. Here are other points to keep in mind when designing your ad creative:
Use bright imagery; that is, the video or the ad graphic should speak to your ideal audience and invite them to learn more about the pin. Test whether the ad should look and feel like an ad or if it should look and feel a bit more native, as you can see success with both.
Include a logo. It can be an animated logo to help the pin stand out a little more.
Add a headline or call to action in bold text on the pin image itself. In the case of a video, you'll want to have a thumbnail at the beginning and again at the end of the video that contains your headline or call to action.
Add a description of up to 160 characters to describe your pin.
And as always, make sure to include a solid call to action that will compel your audience to click on the ad and see what you have to offer.
Pro Tip: Of course, just as you would with Facebook, YouTube, or Google ads, make sure you're always testing everything. Test your ad creative, headline, and description, and use Pinterest Analytics to help you make the best decisions for your company's ad spend.
Because of the way Pinterest ads interact, it can be a little difficult to get Google Analytics to measure your Pinterest ad performance accurately. If you find Google Analytics lacking, you may consider a third-party analytics option such as Wicked Reports.
Other Notes From This Episode