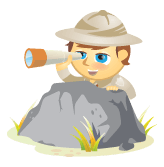 Did you know new changes are coming to Facebook as of January 1, 2015?
Want to know what it all means to marketers?
If you're like most people, you won't want to sit down and compare line-by-line to find out the exact changes. That's why we've done it for you.
In this article I'll share the information you need to know about Facebook's new terms and how the changes may impact how you use Facebook.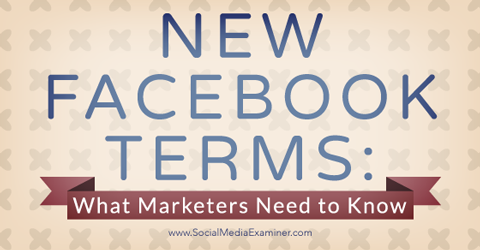 Listen to this article:
Where to subscribe: Apple Podcasts | Google Podcasts | Spotify | YouTube Music | YouTube | Amazon Music | RSS
You can also subscribe via RSS, Stitcher and iTunes. How to subscribe/review on iPhone.
Changes Again! Why?
There are some misconceptions about what has actually changed with these updates when Facebook released their initial announcement in late November. Many people thought Facebook would be getting more invasive with their tracking and data collection, but I don't see that reflected in the new terms.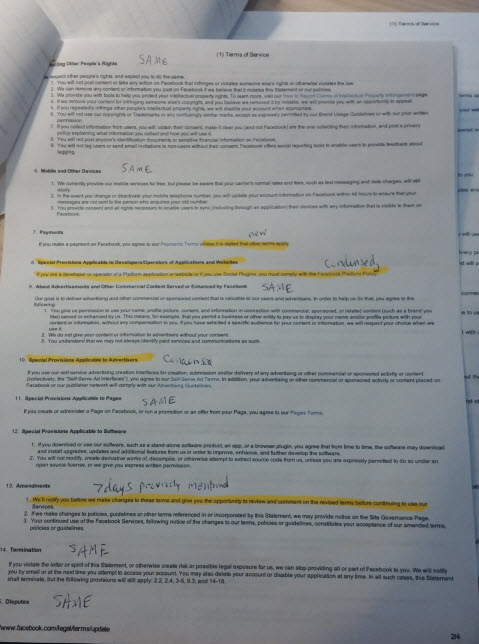 Make sure you know what's relevant to you and review the terms yourself. This article is not intended to be legal advice; it's a summary of the changes as we have researched them. It's always a good idea to review your all of your social media privacy settings regularly.
What Hasn't Changed
Most of the policies are still the same. Looking at the terms of service line by line, some of the notable things that are staying exactly the same include:
Sharing Your Content and Information
Safety
Registration and Account Security
Protecting Other People's Rights
Page Terms
Advertising Terms
The Terms of Service policy is much shorter than it used to be. Some sections have been condensed into other areas such as the terms for app developers.
Summary of the Biggest Changes
1. Privacy Basics help you understand your privacy better 
The biggest change I see is the attempt by Facebook to make their terms easier to understand and clearer. They have rolled out Privacy Basics to show you what others see about you, how others interact with you and what you see.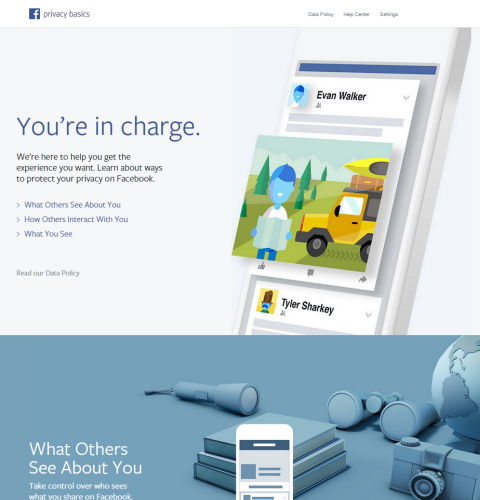 2. Facebook services are now explicitly covered by the terms
Services include the mobile app, Messenger app, Paper, Rooms, Page Manager, Audience Insights and other Facebook products. They may have supplemental terms or their own separate privacy policies (like Atlas and Instagram). The cross-connection with their services will also allow you to use your Facebook information to recover your password for Instagram, as an example.
3. In the Cookies Policy section Facebook has changed the description
Facebook may use cookies to include the mention of enabling service providers to help you buy things using Facebook on your mobile phone.
So the provider may use a pixel to collect information about your phone so if you choose, it can help Facebook bill you through your regular phone bill. This is a change to the tracking cookies, but you're only affected if you choose to buy things with your phone.
4. In the new Data Policy Facebook explicitly mentions that they are collecting device location information about you by using GPS, Bluetooth or WiFi signals
This change has seemingly caused the biggest stir. People are interpreting this to be a big change, but it really isn't.
This is really not a new policy. Facebook was doing this with the previous policy as well, but they didn't spell out "Bluetooth" or "WiFi" explicitly. They only mention GPS or "other location information." Facebook collects this information so they can show location-based advertising or let you know about nearby friends. Facebook rolled out the opt in–only Nearby Friends feature in April 2014.
Remember that you can turn off GPS, Bluetooth and WiFi on your device.
Recent Changes You May Have Missed
You may have missed some of the recent privacy and term changes that are being implemented by Facebook. One of the most exciting is the added control over the Facebook ads you're served.
1. More control over Facebook ads

Facebook makes their money through advertising, which keeps the service free for users. Remember the old saying, "If you're not paying for the product, you are the product." So while you can't opt out of all advertisements, you can control what you see to make it more relevant for you.
When you see an ad in your news feed, you have the option to hide all ads from that advertiser. Again, you can't opt out of all advertisements, but if you find some ads extra-annoying, this is a step you can take.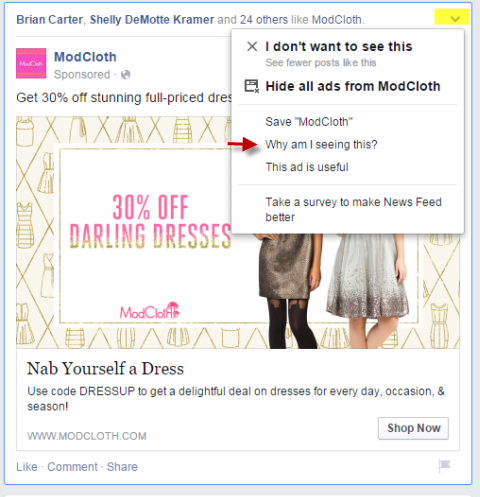 If you select Why am I seeing this?, you get a pop-up box that explains why you might be seeing it and gives you a chance to modify your ad preferences.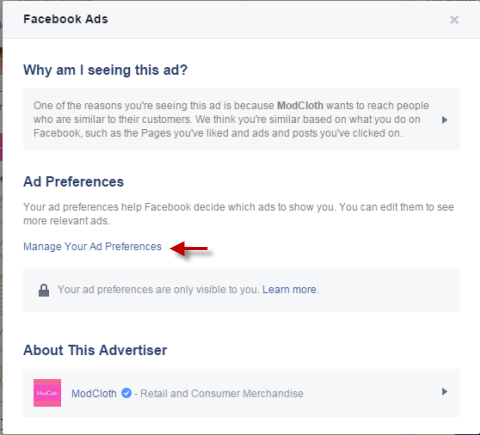 Interestingly enough, there is no way to get to your Facebook ad preferences directly; you must do it from an ad. Once you select Manage Ad Preferences, you see a list of all of the interests and page likes that contribute to Facebook's ad targeting. Select the category and see what types of interests are there for you.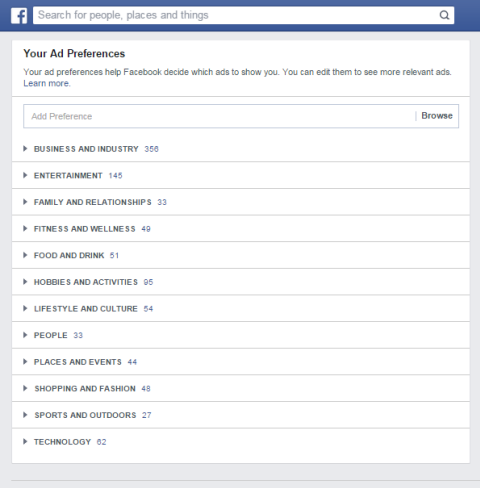 When you open up each category, the interests get more specific. Some show up because of specific page likes and others are more general.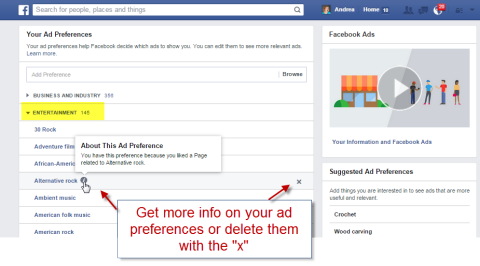 If you were to delete all of these ad preferences (which would be a lot of work in my opinion), you would still have your basic demographics that Facebook would use for advertising: age, gender, location, etc.
Facebook specifically mentions in their video in the top right corner of this page that removing these preferences will not reduce the number of ads you see. You'd likely rather see ads that were at least a little more relevant to your interests anyway.
If you're interested in learning more about Facebook tracking, take a look at What You Can Do About Facebook Tracking, which is a great overview of some other steps you can take.
2. Opt out of having ads targeted to you based on your activity off of Facebook
Another more recent change is the ability to opt out of having Facebook or other companies collect or use information based on your activity on websites or apps.
You can opt out of all participating companies through the Digital Advertising Alliance (USA), the Digital Advertising Alliance of Canada or the European Interactive Digital Advertising Alliance. You can also opt out using your mobile device settings.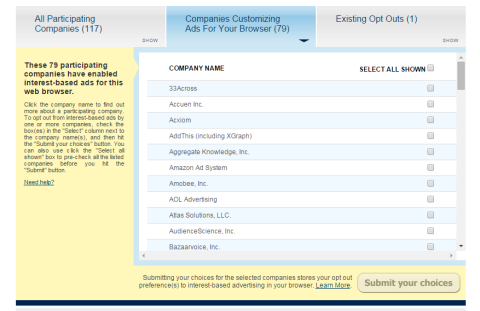 A couple of important things to remember if you do this: the preferences are browser-specific so if you use multiple browsers, you need to opt out for each browser. And if you delete browser cookies, you may remove your preferences, so you may need to repeat the process.
3. Facebook Privacy Checkup
I haven't seen this feature yet on my own Facebook account, but it was announced in May 2014 and Facebook began rollout in September 2014. The idea is to give you quick reviews to make sure you understand how you're sharing things on Facebook.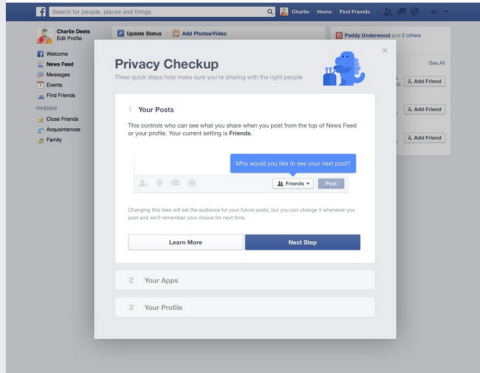 One of my favorite ways to control how I share things is to use Facebook's Friends Lists feature.
4. Facebook Messenger app privacy requirements
One of the recent hullabaloos was over the Facebook Messenger app and the privacy requirements you had to accept to use Messenger. The most notable requirements were things like "call phone numbers without your permission" and "use the microphone to record audio." The issue is in the language the Android iOS requires. Facebook directly responded to these issues in a Help article about their Messenger App permissions for Android.
One of the new benefits of the Messenger app is that you can call any of your Facebook friends for free anywhere in the world (data rates apply), as we noted in a recent Hot Tip on Social Media Examiner's page.
This feature sparked some of the language in the Android permissions.
Conclusion
The changes in Facebook's Terms and Privacy Policies are not major. Facebook is doing a better job at communicating these changes and increasing the transparency of how they use your data.
What do you think about Facebook's terms? Do you regularly review your privacy settings? Share your thoughts with us in the comments below.