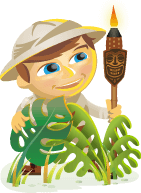 Do you struggle when it comes to marketing yourself?
Are you wondering what your unique strengths are?
To learn how to promote yourself based on these strengths, I interview Sally Hogshead for this episode of the Social Media Marketing podcast.
Keep reading to discover more.
More About This Show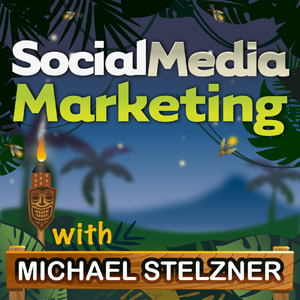 The Social Media Marketing podcast is a show from Social Media Examiner.
It's designed to help busy marketers and business owners discover what works with social media marketing.
The show format is on-demand talk radio (also known as podcasting).
In this episode, I interview Sally Hogshead, author of Fascinate and How the World Sees You. She was an award-winning copywriter at the age of 23 and worked with brands such as Nike, Target and BMW. She's one of the few women in the Speaker Hall of Fame and a popular keynote speaker (Sally keynoted Social Media Marketing World) and a simply fascinating woman.
Sally shares how you can be successful and fascinating in your work and your life.
You'll discover how fascination can increase your value, put you at an advantage and enable you to get more satisfaction out of your work.
Share your feedback, read the show notes and get the links mentioned in this episode below!
Listen Now
Where to subscribe: Apple Podcast | Google Podcasts | Spotify | RSS
Here are some of the things you'll discover in this show:
Marketing You
The journey from Fascinate to How the World Sees You
Sally explains that the hardest part for her when writing a book is when it goes into the print stage.
When her last book Fascinate was ready to be shipped to stores, she felt at a loss and didn't know what to do with herself. She started to think about doing a personality assessment, which was based on the same system that she had created for brands. So instead of it being about how consumers see a brand, it's about how the world sees you.
Once the test was ready, it was put out on social media for free and it became a huge part of her business. It surpassed Fascinate.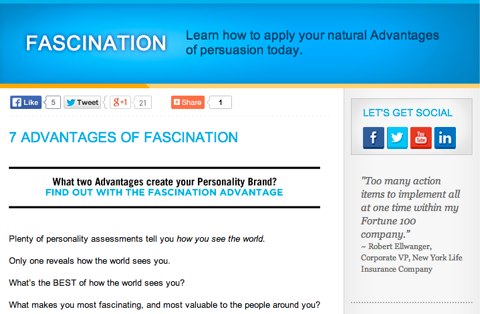 Sally soon realized that people really wanted to know how to make themselves—not their brand—fascinating. She pivoted her entire company and started to study more about it and go deep into what makes one person perceived as valuable, and someone else perceived as a commodity.
Once you have done the assessment, it becomes clear why certain people like, respect and admire you, and why you turn others off.
The key here is that you don't have to change who you are; you have to become more of who you are.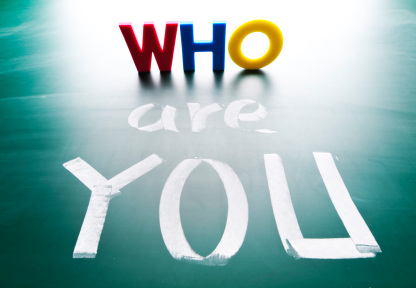 Listen to the show to find out why it helps to see the patterns among your work colleagues, and how it can help you communicate more effectively with them.
How social media has played a part in the development of this entire concept
Before the days of social media, our average attention span used to be 20 minutes. Now with social media, it's around 9 seconds. People can now form an opinion of you instantly on social media.
With that in mind, you now have to find a way to front-load your value. It's your opportunity to make the most accurate and authentic first impression.
You'll hear what Sally and her team discovered when they ran a one-year free beta test for about 30,000 people, and why it led them to turn it into a paid model.
At present, the Fascination Advantage Assessment costs $37. However, you can get free access to an in-depth, custom report, which identifies your personality advantages. Check out the key takeaways at the end of this article to find out how to enter.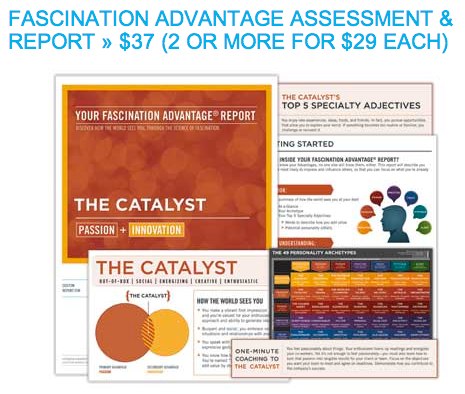 Listen to the show to hear the two main things that people who took the initial assessment wanted to know.
Fascination and the research behind it 
Sally states that fascination is a state of intense focus. When you're fascinated by something, you are totally focused on that one particular thing. It can be a person, an idea, a movie, a book or a product.
As part of the initial market research that Sally carried out a few years ago, she measured how much more people are willing to pay for a product or service that fascinates them. Sally and her team discovered that people will pay 400% more, even when there isn't any appreciable difference in the utility.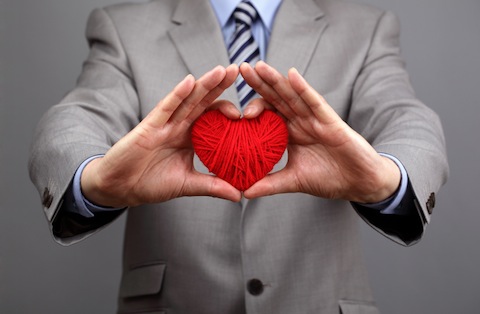 As they began to expand this and look at high performing employees within companies and entrepreneurs, they found that the same is true of people.
If you can immediately communicate what makes you valuable, then people perceive you as more worthy, even if you offer a lower-quality product at a higher price.
You'll find out what happens once you understand how to fascinate your listener.
Listen to the show to discover why Sally's assessment is totally different from the ones done by StrengthsFinders and Myers & Briggs.
How to be fascinating
Sally explains that first of all, you have to understand that it's not about identifying and leaning on your strengths. She says that when you focus on your strengths, then they become a commodity. Instead, you need to focus on your differences.
Sally measures differences in the way that a brand would want to be able to stand out in a distinctive way. When she went to companies and looked at what makes certain people more valuable than others, she found that it directly links to how fascinating an individual is.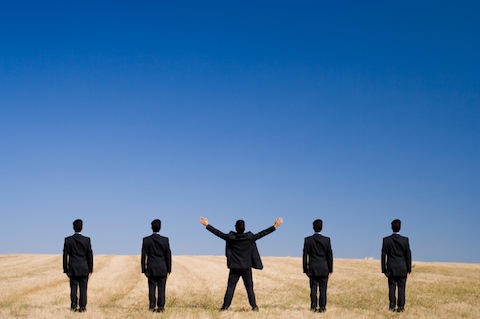 People who are fascinating are valuable because they are admired for a specific ability. It sets them apart and immediately differentiates them from others. They cease to become a commodity. This is why people are willing to pay more for them.
Listen to the show to find out why it doesn't pay to be the same as everybody else in your workplace.
Examples of different archetypes and their advantages
Sally first shares her unique difference. Her archetype is called the Catalyst and her primary advantage is innovation, the secondary is passion.

At Social Media Marketing World 2013, out of all of the attendees who did the assessment, the Catalyst was one of the more prevalent archetypes. This is because people in social media tend to be creative, like to think outside the box and are highly engaged.
A Catalyst will succeed through three different adjectives. These are outgoing, social and out of the box. These people love to connect, create new ideas and brainstorm. One of their downsides is that they aren't good at follow-through.
You'll discover why Sally is at a disadvantage if she is asked to create an intricate spreadsheet; whereas Corey, who's Sally's content manager, would excel at spreadsheets. Corey's archetype is the Detective. The primary advantage is Alert and the secondary is Mystique.

The three adjectives that describe the Detective are clear cut, accurate and meticulous. This means that Sally needs Corey on her team and vice versa.
Once you find out what your archetype is, then you can write your anthem. This is the tagline for your personality. You'll discover what both Sally and Corey's anthems are.
My archetype is the Intrigue. You'll hear Sally dissect this archetype in full detail.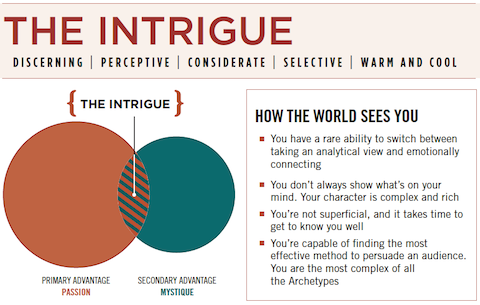 Listen to the show to find out why it's important to know your qualities and how it can make life easier for you.
The concept behind the phrase, "your highest distinct value" 
Sally describes it like a pyramid and at the top is your highest distinct value. This is when you're at your most irreplaceable value and you can charge the most money. You're the only one who does what you do.
The bottom of the pyramid is where you are the same as everybody else. For example, replaceable, can't charge a lot of money. This is a bad place to be. You're unlikely to rise in your career.
You'll hear when Sally is both at her most valuable, and her lowest distinct value.
There are certain traits that define what makes you most valuable. Once you identify these, then you can base your entire career around it.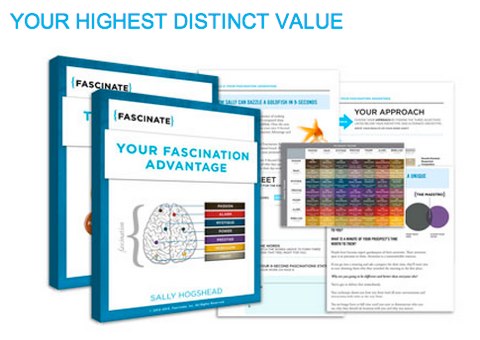 A lot of people feel uncomfortable when they have to write their bio on LinkedIn or Twitter, but once you take the assessment, Sally says that it literally gives the five adjectives for you.
When Sally and her team did their pilot program, one of their clients was AT&T. When employees found their anthem and were able to write their two- or three-word phrase, they were 200% more confident in understanding their own natural advantages.
When they looked at each of their team members, they knew that they all had a different anthem and understood how each team member contributed differently. They were then able to function better as a team.
Listen to the show to discover how it helped employees at Unilever feel more confident when it came to introducing themselves.
What you should do with the results of the assessment
Sally explains how a lot of CEOs and business leaders tend to hire people who replicate themselves, rather than optimize themselves. This leads to lopsided companies or teams, where you have a bunch of people who are really good at certain things, but nobody is good at something else.
First, you need to make sure that you understand what you're good at, and then identify what types of traits you need to bring into your team, to make sure you get the best results.
The real magic happens when everybody on your team understands each other's anthems.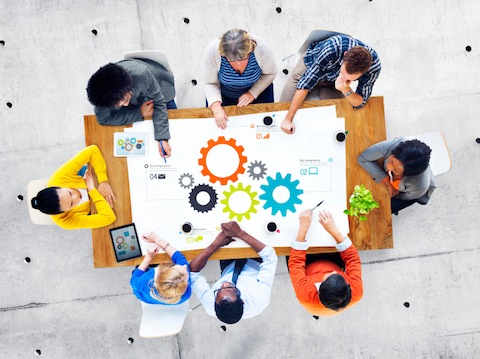 You'll hear why Sally and her team are in the process of doing a year-long training program with Hyatt, and why the hospitality industry is a tough category.
If you find that you have team members you don't click with, and you don't understand what value they add, then you need to realize that what they deliver is exactly what you don't deliver. Sally states that teams become better through diversity, not through similarities.
You want to have people on your team who complement you, but are not the same as you. Sally deconstructs how high-performing teams create the recipe for success.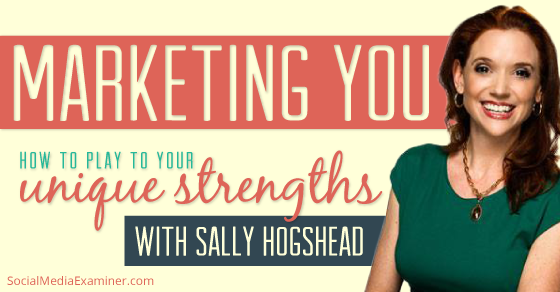 Listen to the show to find out what you should do when you have two people with the same archetype on your executive team.
Discovery of the Week
I've recently discovered a really cool tool called Placeit.net. It allows you to create professional-looking photos of your website running on various devices.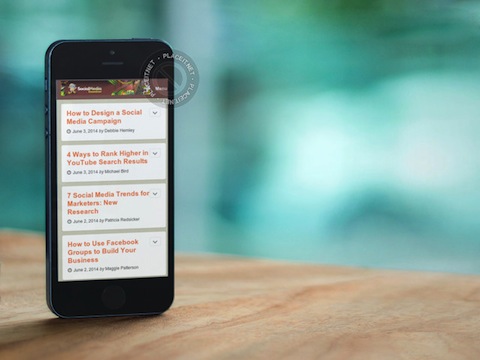 When you visit the website, you'll notice that there are hundreds of different shots to choose from. You also have the option of which electronic device you want your website or image to be displayed on.
Once you have chosen your shot, all you have to do is either upload an image or paste in your URL. Within a few seconds you get a beautiful photograph.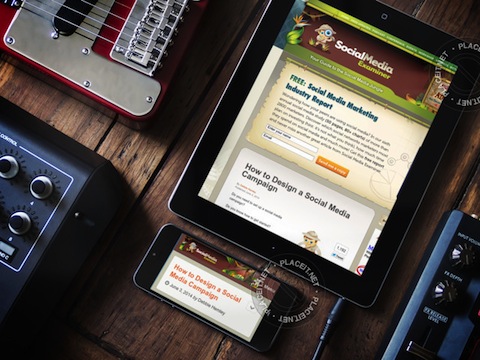 I think you'll agree that the visuals look extremely high-end. The only downside with the free version is the tiny watermark over the image. To have it without a watermark it's around $8 per shot.
I strongly recommend that you check it out.
Listen to the show to learn more and let us know how this works for you.
Key takeaways mentioned in this episode:
Ways to subscribe to the Social Media Marketing podcast:

What do you think? What are your thoughts on marketing you? Please leave your comments below.