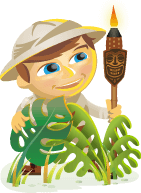 Do you create great content other businesses might find interesting?
Have you considered collaborating with other brands?
To learn how to create marketing partnerships with content, I interview Andrew Davis.
More About This Show
The Social Media Marketing podcast is an on-demand talk radio show from Social Media Examiner. It's designed to help busy marketers and business owners discover what works with social media marketing.
In this episode I interview Andrew Davis, author of Brandscaping: Unleashing the Power of Partnerships. He's also a popular speaker.
Andrew explores the why and how of marketing partnerships with content.
You'll discover the importance of creating marketing partnerships, as well as how to find the best partners and the keys to a successful collaboration.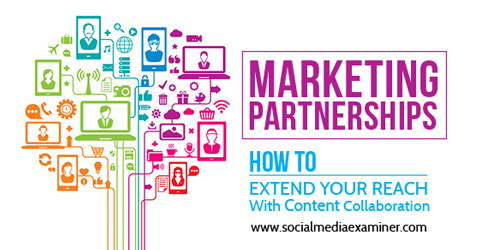 Share your feedback, read the show notes and get the links mentioned in this episode below.
Listen Now
Where to subscribe: Apple Podcasts | Google Podcasts | Spotify | YouTube Music | YouTube | Amazon Music | RSS
Here are some of the things you'll discover in this show:
Marketing Partnerships
What led Andrew to write a book on marketing partnerships
Andrew studied TV and film at Boston University, and got a job right out of school producing two public affairs programs. From there he freelanced as a producer for programs, such as the Today Show and Weekend Today. After the first dot-com boom, Andrew followed the path of some of his friends into the marketing world.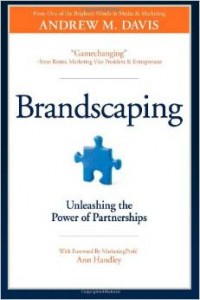 While working at startups, Andrew realized that if you created great content, like television producers did, you actually would inspire people to buy stuff. He figured if he could apply those principles in the marketing world, he could really be successful.
He then partnered with James Cosco, a journalist, who also went to BU. They started an agency called Tippingpoint Labs, and grew it until 2012, when Andrew sold his share in the business and wrote Brandscaping. Andrew has since been traveling the world, speaking and helping people find the right kinds of partnerships and rethink marketing.
Listen to the show to hear about Andrew's background as a producer, and how the skills he developed prepared him for work in marketing.
The meaning of brandscaping
Andrew says that brandscaping is leveraging the audiences of others for the benefit of both partners.
In the digital age everybody has an audience, whether it's on social media or through email. If you partner with other brands and create valuable content that they would want to proactively send to their audience, then there is no need to buy access to the media.
Listen to the show to find out how our podcast is a brandscape. 
The benefits of partnering
Andrew explains that there are three simple benefits to partnering: it's better, faster and cheaper.
It's better. As marketers, we can create better content if we're willing to partner with others who know the audience perhaps even better than we do.
It's faster. Most content marketing is a slow-grow strategy. But brands that partner with other brands see much more rapid success with the content they create.
It's cheaper. It's much less expensive to share with other audiences than it is to advertise.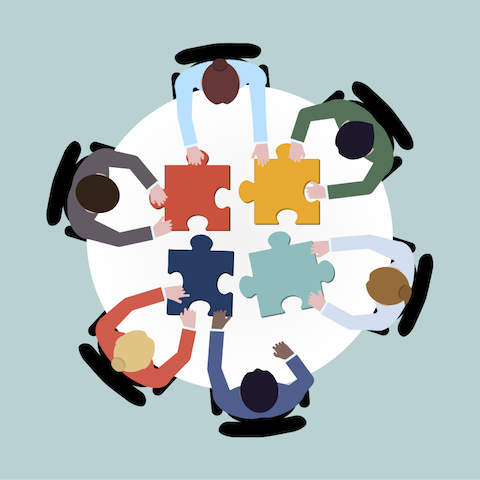 If you're nervous about partnering with a brand, Andrew suggests you find a person who is a known talent and who already has access to your audience.
Listen to the show to discover how to partner with talent.
Examples of content collaborations
Andrew shares examples of some great marketing partnerships.
When Converse (the athletic shoe company) was trying to rebuild their brand, their CMO Geoff Cottrill realized they got the most traction when celebrities wore their shoes and they ended up in a magazine. Since it was too expensive to buy access to celebs, Geoff figured they should look for the next big thing. So he partnered with Guitar Center, because they have access to wanna-be musicians.
They built a studio in Brooklyn, tricked it out and hired an engineer to record music for free. Musicians also received free Converse SWAG. Converse and Guitar Center started creating a series of YouTube videos about the musicians who record every week. This content serves both audiences. Converse is in front of musicians and Guitar Center has access to Converse-wearers who love music.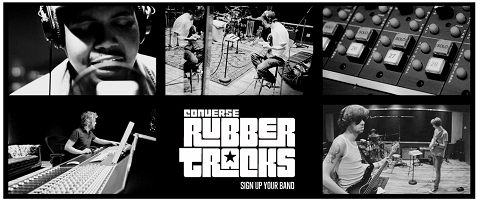 On the B2B side, Andrew talks about Trish Witkowski, a woman who started a company called Fold Factory. Her target audience is print designers who need fold-templates (that she provides) to create direct mail pieces.
To grow her business and get in front of these print designers, Trish started creating a video every week called the 60-Second Super-Cool Fold of the Week. She partnered with the United States Postal Service, which needed content for their weekly email, and suddenly her business was through the roof. USPS needs great content, Fold Factory needs access to customers. So they are both filling their need.
The US Postal Service sends out Fold Factory's Fold-of-the-Week videos to their mailing list.
Andrew's third example fits into the talent-collaboration category. Lauren Luke was a taxicab dispatcher in London who was (unsuccessfully) trying to make money selling surplus makeup supplies on eBay.
She figured her customers were 16-year-old girls who liked to change their makeup often, so she created a YouTube channel and started a weekly show called Lauren Luke's Looks.
She put celebrity-inspired makeup tutorials up on YouTube. She built an audience very quickly: 500,000 subscribers in just a couple of months. She wasn't selling her products on eBay. However, makeup retailer Sephora approached her to create a Lauren Luke brand of makeup. Today, Lauren Luke's brand is worth $100 million.
Listen to the show to hear more about how partnerships create products.
The basics you need in place before you reach out for a collaboration 
Before you start a partnership, you must have a clear understanding of who your audience is and what other brands they already like.
Andrew explains that you need to ask yourself, "Who has your next customer as their current customer?" Go into your database and see who or what your customers bought before they bought from you. For example, if you sell accounting software, your customer probably bought office supplies first. Therefore, a good partnership in that scenario might be with an office supply store.
Next, make sure you have a clear core value statement for your audience and see that any potential partner shares your values.
Finally, come up with a revenue goal. Discover what access to 10% of the partner's customers would mean to your bottom line and see if it's worth it.
For a partnership to work, both brands must benefit. The goal is high-quality content and a high-quality audience.
Listen to the show to learn how talent can approach a brand.
Common mistakes marketers make with collaboration
Andrew says there are a lot of mistakes you can make when forming partnerships. However, if you keep the following ideas in mind, you'll be more successful than most.
Don't think short-term. You have to imagine your partnerships will last a long time. Be clear you are making a commitment and that the partnership will have a long-term benefit.
Don't think about sponsorships. Think about collaboration. Sponsorship is buying access to the audience by putting up a sign. You can let someone put up a sign, but a long-term collaboration allows for bigger opportunities.
Don't think in campaigns. Think in commitments. Make a commitment to each other's audiences, not a product you are trying to push.
Listen to the show to discover how to avoid getting into a bad partnership or how to get out of one. 
Andrew's next project
Andrew is working on a book called Town Inc: Grow Your Business, Save Your Town, Leave Your Legacy.
Over the last three years, he visited about 50 small towns and cities around the United States. He wondered why some towns boom and others bust, and discovered the ones that were successful have "staked their claim."
Andrew says to use the phrase, "My town is the ____ capital of the world." If you can fill in the blank, then it's likely your town is doing better than others.
The trick to generating interest in your town, Andrew explains, is to find success stories and create location envy.
Listen to the show to find out how Andrew's upcoming book can help town visionaries.
Discovery of the Week
Are you looking for the best email app for your smartphone? Want to answer emails quickly and keep conversations simple? Check out MailTime.
MailTime is an email app for your smartphone that works across iOS and Android. It turns conversation threads in your email into what looks like a text message conversation.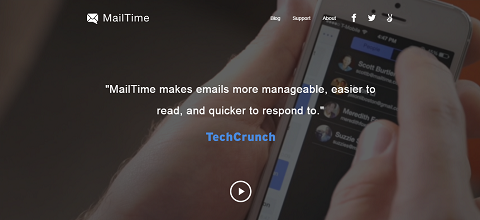 In MailTime, you receive a list of your emails just like simple text messages.
It brings up a philosophy I call the four-sentence rule. Whenever possible, try to say what you need to in an email in four sentences or fewer. I also tell people to never combine more than two requests in one email. Instead, send separate emails that are focused and simple so things get accomplished.
MailTime trains you to quickly reply to your emails with a simple subject conversation. And it's free.
Listen to the show to learn more and let us know how MailTime works for you.
Other Show Mentions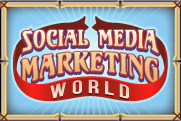 Today's show is sponsored by Social Media Marketing World 2015.
We are super-excited about Social Media Marketing World 2015. It's the world's largest social media marketing conference. By attending, you'll make connections with 100+ of the world's top social media pros (plus 2,500 of your fellow marketers) and you'll discover amazing ideas that'll transform your social media marketing.
Hear testimonials from our 2014 conference speakers.
This is just a sample of industry experts talking about their experience at Social Media Marketing World.
In the show, you'll hear from Mari Smith, one of this year's presenters, about her session: "Facebook Marketing for a New Reality: How to Consistently Get Real Results as Facebook (and the World) Evolves." Mari's session will include a blend of new tactics, as well as evergreen strategies, on how to find and engage your ideal customers on Facebook.
Social Media Marketing World 2015 has a lot going for it with the great content, excellent presenters and valuable networking opportunities.
Another reason people come is for the great weather. If you are somewhere that's a little cold right now, visualize nice, sunny beaches and walking outside with a t-shirt, shorts and flip flops. That's the kind of weather we have in San Diego—70° year-round.
Take your social media marketing to the next level and join us in warm, sunny, beautiful San Diego, California on March 25, 26 and 27, 2015. Hundreds of people have already secured their tickets. Click here to check out all of the speakers and the agenda, watch our video and grab your tickets today.
Listen to the show!


.
Key takeaways mentioned in this episode: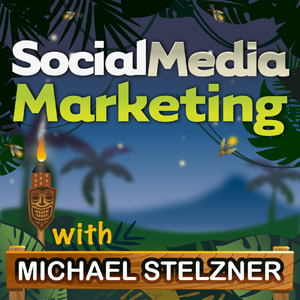 Ways to subscribe to the Social Media Marketing podcast:
How to Subscribe to this Podcast on an iPhone
Watch this quick video to learn how to subscribe on your iPhone:
.
What do you think? What are your thoughts on forming partnerships? Please leave your comments below.