Want to improve results from your ads without breaking the bank? Looking for ad strategies you can implement today?
In this article, you'll discover five low-cost ad strategies that convert on Facebook and YouTube.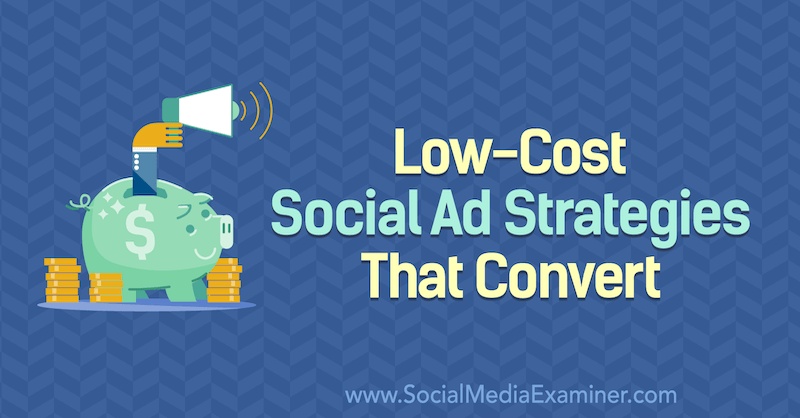 Storytelling Is the Key to Smart Marketing
Before we dig into low-cost paid advertising strategies, let's take a minute to go over one of the key components of effective marketing: storytelling. You already know that storytelling can increase the efficacy of your organic marketing efforts. Storytelling helps you build brand awareness by letting your audience get to know and connect with the people behind your brand.
It also creates a connection with people as they get to know your history and values through your stories. The more your audience knows about you and your story, the more they're able to build their trust in you as a brand and the more likely they are to do business with you.
But storytelling doesn't end with organic marketing. Storytelling is also a powerful way to boost your paid advertising efforts. By creating an emotional connection with your audience, paid ads can convert at higher rates and increase your overall revenue while decreasing your cost per click.
One of the hallmarks of storytelling in marketing is remembering to talk to one person, even if you're talking to millions. Whether you're putting together an organic or paid advertising campaign, you're building an intimate relationship with everyone who views your content. This means each person in your audience needs to feel as if you're speaking to them, sharing your story with them, and building a relationship with them personally, rather than feeling as though you're talking to the masses.
Facebook vs. YouTube Video Ads
Now let's talk a bit about the pros and cons of YouTube video ads and Facebook video ads.
Facebook has a place for other tools to accompany your video, such as post copy, that can help your video ad perform better. This grants you the added benefit of being able to capture your audience's attention in other ways, rather than depending on the first couple of seconds of your video. If video isn't your strength, this allows you to rely on something that might be your strength to capture their attention or close the sale.
YouTube video ads have to hit just right within the first couple of seconds and you don't have the added benefit of written copy.
But the truth is, outside of your own strategies and what serves your goals best, you never know what's going to work on Facebook versus what's going to work on YouTube. Sometimes an ad that performs very well on Facebook might also perform very well on YouTube, and sometimes an ad can perform very well on one platform and not perform at all on the other.
When it comes down to it, Facebook and YouTube ads work well together. And the sweet spot is when you can get the same ad to perform well on both.
Focus on the Factors You Can Control
The new Apple iOS changes regarding privacy have been a hot topic for many businesses and marketers over the past several months. And chances are, these changes are going to affect your business and your ad spend. But that doesn't mean the effects have to be negative.
First and foremost, remember to focus on what you can control. You can't control whether Apple will retract these privacy changes any more than you can control whether Facebook will create new tools.
Social media continues to change and evolve every day. The rules change all the time as new features roll out and are then taken away without warning. But if you can maintain your focus on the aspects you can control, such as your storytelling, your copy, and the quality of your visual components and videos, then everything that's outside of your control won't have such a detrimental impact on your marketing.
Another thing to keep in mind is that every change that happens outside of Facebook's control that affects Facebook users—and the businesses and marketers who spend money on the platform—is going to force Facebook to innovate what they can control.
As a public company, Facebook has a responsibility to shareholders, and anytime something appears to interfere with that responsibility, Facebook will need to address it. Typically, Facebook addresses such things through innovation, which means we could be looking at the advent of their best retargeting tool sometime in the near future.
In the meantime, marketers need to embrace these new privacy changes because they're going to be the new norm of advertising moving forward.
Now we're going to look at five low-cost ad strategies you can set up within just a couple of minutes to have high-converting ads running without relying on offsite tracking.
#1: Target People Who Have an Upcoming Birthday
Facebook Ads Manager allows you to filter your target audience down to life events, including upcoming birthdays. This means you can narrow down your audience and then select a targeting option that will allow you to reach people within your audience who have a birthday coming up in the next week or two.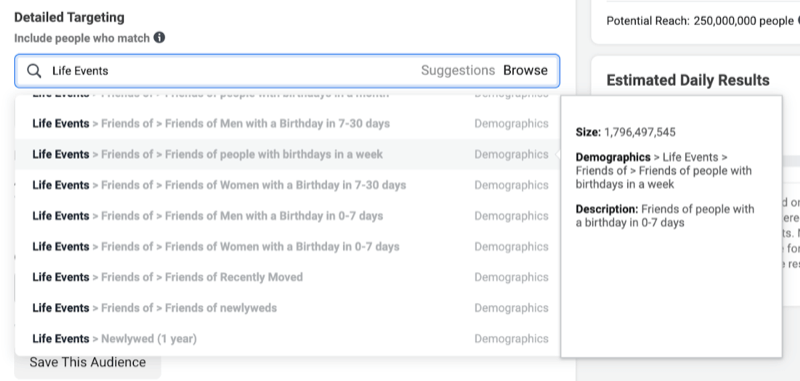 For eCommerce stores, this means you can run ads that directly reference someone's birthday. For example:
"You have a birthday coming up soon, I have the perfect gift! Click here to get a birthday discount on my product."
"Are you ready to celebrate your birthday? Click here and use the code birthday to get 20% off your order."
But the use of a birthday ad campaign doesn't have to be limited to eCommerce. Service providers and marketers, consultants, and coaches can also make use of this type of campaign. For example:
"Your birthday is coming up. Are you really going to let one more go by without chasing your dream of [desired outcome]? Click here to schedule a consultation with me today."
This type of campaign gives you an evergreen ad with just a one-time setup. Once it's up and running, you can move forward with regular updates and tweaks.
Tips for Creating Effective Video Ads
If you have a unique product or service that needs to be explained in a little more detail, consider using a video in your ad. Video gives you an opportunity not only to sell the item but also to sell yourself.
When it comes to creating effective video ads, remember that proximity matters. By leaning into the camera, you can create an engaging and emotional connection to viewers within the first couple of seconds. You can also create mystery and pique their interest by using a prop in your video such as a wrapped present for the birthday ads.
Remember, on Facebook, the sound is usually muted so use text or motion to tell viewers to turn on their sound. You can also use the accompanying copy to tell viewers what to do after they've watched your video.
Don't feel as if you need to record an epic tale. If you can boil your story down to just a couple of minutes, your video ad can perform effectively and you may even see your view count increase. Videos anywhere from 30 seconds to 2 minutes in length tend to perform well.
#2: Target People Who Have an Upcoming Anniversary
Similar to the birthday campaign, the anniversary campaign runs by selecting the life event Anniversary in the audience targeting area of Facebook Ads Manager. The anniversary campaign lets you go out a little bit further, about a month instead of a couple of weeks. And some of the same use cases also apply. For example:
"You have an anniversary coming up soon, and I have the perfect gift. Click here to get an anniversary discount on my product!"
"Did you forget your anniversary? It's not too late to take your partner out for a special night. Use this code for a discount!"
And, just as with the birthday ad campaign, the anniversary campaign can also be used for service providers and marketers:
"Your anniversary is coming up! What better way to spend an anniversary with your significant other than by finally getting that task off your honey-do list."
As you've probably determined, the anniversary campaign can also be run as an evergreen advertising campaign. After you set it up in Facebook Ads Manager, you'll want to revisit it from time to time to ensure it's still performing and run A/B tests on the video and copy to optimize it.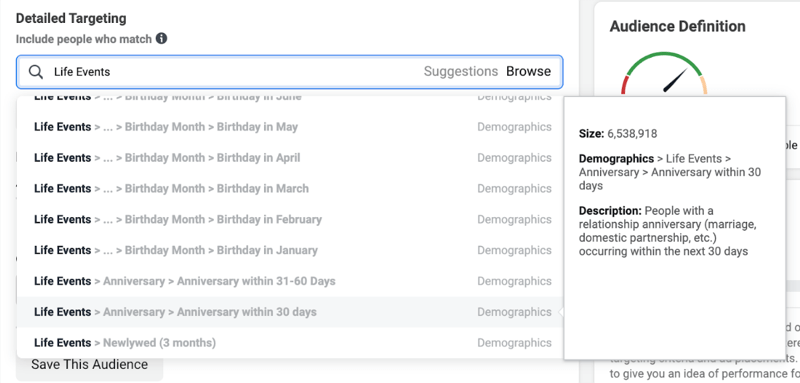 #3: Target People Visiting Your Area
Local businesses already know the power of using the location filter inside Facebook Ads Manager, but very few use it to target people coming into the area. Most of the time, businesses use the location filter to target people living in their area, not people visiting their area.
As the world begins opening up and people start to travel again, targeting visitors to your local area can be a new audience for you. And your targeting doesn't have to be restricted to just people who are traveling for vacation during the warmer months; you can also target people who are traveling during the holidays, for work, or for school.
For example:
"New in town? Check out my restaurant with the best cuisine in the state."
"Why not grab a souvenir to remember this state? Head over to my shop and use this code to grab a special discount before you go home."
Of course, the location filter will only work to track those who have enabled location services on their phone but it's still a large portion of people.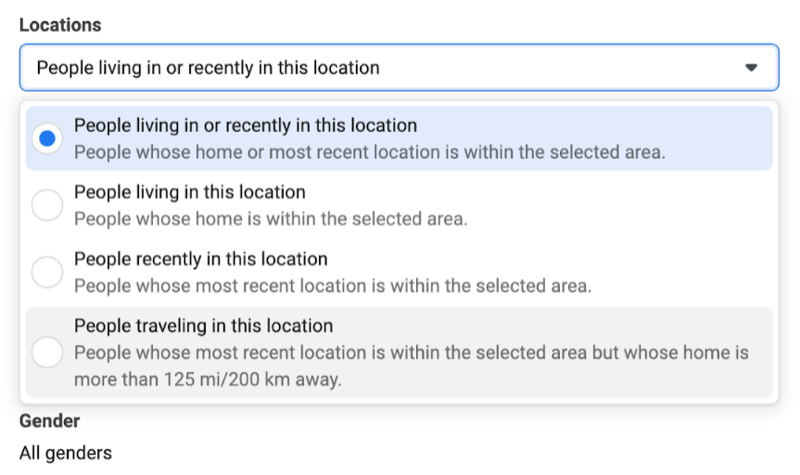 #4: Invite Your Audience to Ask You a Question
Chances are, you have piles of advice saved up somewhere in your brain or a spreadsheet that you use as a content bank because you give out that same advice so often to your audience. And yet no matter how often you share your tips and advice, people continue to ask the same questions. So why not use your community's tendencies to create a high-converting Messenger ad?
For example:
"If you're thinking about [outcome], then you're probably wondering about [problem]. Click the Send Message button and let's chat. Ask me anything."
You can also add a PS at the end with credentials to build authority and tie your name and brand into the ad.
An ad like this prompts your community to start a conversation with you, allowing you not only to qualify your leads before sending them that link to your landing page but also to prove to your community that you can help them by actually helping them. Because of the high-touch, personal feel behind this type of ad, the conversion rate on your next step will be much higher than if you just sent out a graphic with a link.
If you're worried about how much time you'll end up spending inside your Facebook page's message inbox, you can enlist help. Facebook page admins can all handle the messages, and well-designed chatbots can take up the slack if you still need help. Just remember, the idea behind a Messenger ad like this is to open the door to conversation and connect with your community. This means you don't want to use this ad as a "set it and forget it" advertisement run solely on bots.
#5: Tie Trending Topics to Your Offerings
Finally, although they may come and go with the wind, when a trend is on top and is all anyone wants to talk about, that could be the perfect time to introduce yourself to someone within your community.
Obviously, you want to take care when choosing your trend and tie it back to your brand or your business in an authentic way. Hopping onto a trend that has nothing to do with your business for the sake of finding new followers won't help them connect with you or your brand.
And while talking trends isn't exactly evergreen, that doesn't mean that once a trend is over, you have to throw away the ad or copy. Just like bell-bottoms, trends have a tendency to come back over and over again. Once a trend has ended, feel free to turn off the ad but save it to your library to be used again at a later time should the opportunity arise.
Other Notes From This Episode