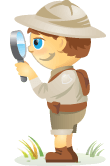 Welcome to our weekly edition of what's hot in social media news.
To help you stay up to date with social media, here are some of the news items that caught our attention.
What's New This Week
LinkedIn Launches Conversion Tracking: LinkedIn introduced conversion tracking, which offers "a set of capabilities built directly into LinkedIn Campaign Manager that lets you easily measure how many leads, sign-ups, content downloads, purchases and other specific results you're getting from your Sponsored Content and Text Ads campaigns." This new tool will help marketers "understand more about the specific ads and even the unique LinkedIn audiences that are driving your campaign conversions" and generate "high-quality leads, acquire new customers, and raise brand engagement among LinkedIn's global audience of 450 million professionals."
https://www.youtube.com/watch?v=5sPGr_OyVlQ
Facebook Announcing New Features for Cross-posting Video: Facebook recently granted publishers the ability to cross-post videos on Facebook to pages under the same Business Manager account. This week, Facebook expanded this capability by allowing users "to crosspost videos between Pages with different owners, including Pages that are under different Business Managers." According to the Facebook Media Blog, publishers can now "reach new, relevant audiences, avoid sending and re-uploading video and see aggregated insights for posts across all Pages." The ability to cross-post under different Business Manager accounts is currently available for regular and 360 videos and "will be available soon" for videos that were previously live.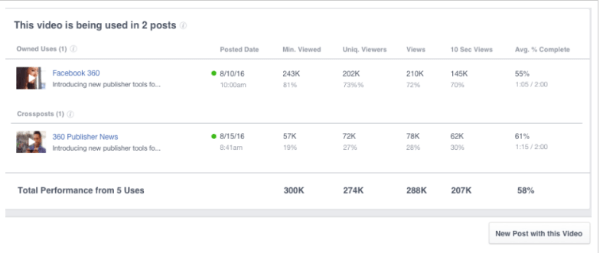 LinkedIn Updates Publisher Experience: LinkedIn rolled out "a new publishing experience" that makes it "even easier for you to reach and engage with your audience on LinkedIn." The new and enhanced desktop publishing experience on LinkedIn includes "a sleek intuitive interface, more text and font options and a beautiful new reading view that removes distractions and noise from the page." According to the LinkedIn Official Blog, the new desktop publishing experience is currently only available in the U.S. and "will be available to international [publishers] soon."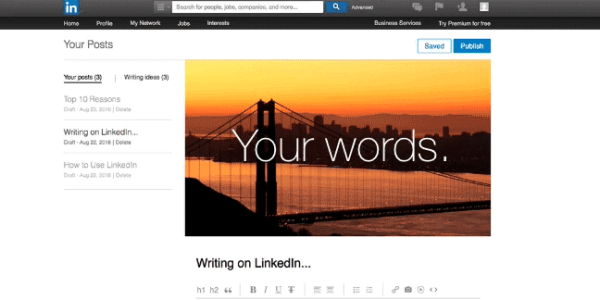 Facebook Introduces New Tools and Resources for Global Businesses: Facebook introduced "new resources and solutions to help [businesses] expand across the globe, from wherever they are." These new tools include "a new feature in the Lookalike Audiences tool to reach customers in new countries who are similar to their existing ones" and the ability to "[extend] location targeting capabilities by selecting a worldwide region or trade zone… and then optimize delivery to the countries with the greatest return." Facebook also offers "solutions to help businesses optimize their global campaign strategy, including webinars on international marketing with Facebook and a handbook on finding the right customers in new countries."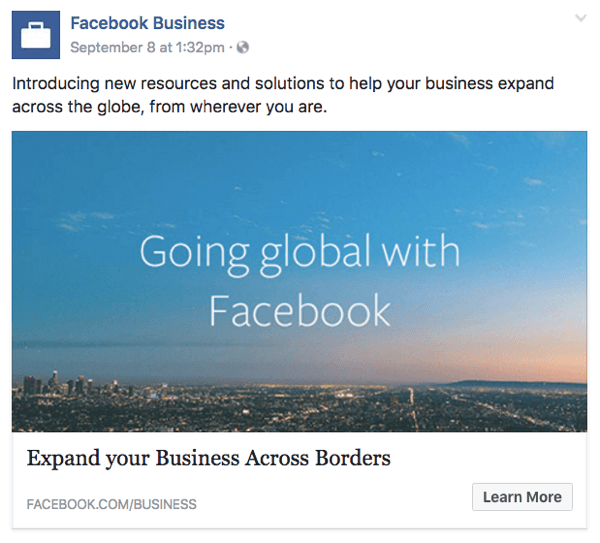 Twitter Rolls Out New Features for Direct Messages: Twitter announced that "Direct Messages are more dynamic than ever with read receipts, typing indicators and web link previews." According to TechCrunch, these new features "[aim] to make [Twitter] more competitive with mobile messaging clients, including the recently upgraded iMessage arriving in iOS 10" and Facebook Messenger. These new features are now available to all users.
New! Direct Messages are more dynamic than ever with read receipts, typing indicators, and web link previews. pic.twitter.com/VEU92V5Gqj

— Twitter (@twitter) September 8, 2016
Our Take on Top News This Week
In this week's show from Friday, September 9, 2016, Erik Fisher and guests discuss the top news in social media. Topics include updates to LinkedIn publishing and conversion tracking, the end of local stories on Snapchat, and future updates to Pinterest. Subscribe to future shows here.
More News to Note
Snapchat Removes Local Stories Coverage: Bloomberg reports that Snapchat "is ending its daily local stories for cities feature, which pulled together videos of everyday activities… shot by users in locales such as New York." Snapchat discovered that "local stories weren't as consistently popular as other features" and plans to focus instead "on so-called live moments… [and] specific events, like Fourth of July celebrations and the Super Bowl" and "deals for content, like video series, that can supplement its network for sharing 'snaps'."
Facebook Moments App Now Features Joinable Moments: The Facebook Moments app "now features joinable moments, so you can easily create a moment and send it to anyone you want to join and add photos – those who don't have the Moments app can see the photos on the web, making it easier to instantly share a moment with more people." AdWeek reports that users can now send and receive full-resolution photos to anyone at an event, whether they're friends on Facebook or not.
Twitter Releases New Hashtag-triggered Emojis for the Paralympics and the NFL: Twitter launched a series of hashtags for the 2016 Paralympics that "automatically unlock a special emoji." These hashtags are available in seven languages: Portuguese, English, Spanish, French, Japanese, Korean, and Arabic. Twitter also released new hashtag-triggered emojis for every NFL team to kick off its streaming partnership with the NFL.
Put Google Analytics to Work for Your Business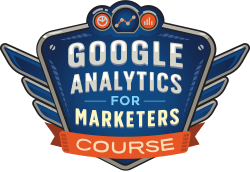 Ever thought, "there's got to be a better way" when it comes to tracking your marketing activities? Are you forced to make decisions based on limited data? With the right training, you can use Google Analytics to measure all of your marketing efforts with certainty. You'll stop the leaks in your ad spending, justify your marketing spend, gain the confidence you need to make better marketing decisions, and know what's working at every step of the customer journey. Let the world's leading analytics pro show you the way. Check out our new Google Analytics for Marketers course from your friends at Social Media Examiner.
LEARN MORE - SALE ENDS DECEMBER 1ST!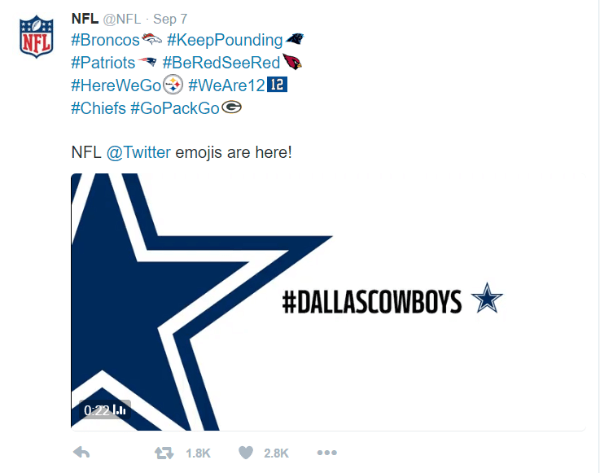 Google Updates Transparency Report for Copyright Removals: As part of Google's efforts "to increase transparency around the flow of information online," the company now discloses information regarding the requests it receives from copyright owners to remove infringing content from its search results. This week, Google released a new version of its Transparency Report "that makes it easier for [users] to understand the data" and provides more details on removal requests, the decisions made in response, and how takedowns were applied. Google will continue "exploring new ways to explain legal policies and processes and… add new examples and new data to [its] reports."
Instagram Rolls Out Low-light Button to iOS: Adweek reports that "Instagram released an update for its iOS application, which adds a 'low-light button' to its Instagram Stories feature." This new feature automatically adjusts the camera settings "to take better photos and videos in low-light conditions." The Low-light button is only available when taking photos and videos to share on Instagram Stories, but not when using the app's regular camera feature. It's also only available on Instagram for iOS.
Instagram Retires Photo Map: Instagram is gradually removing photo maps from its service, citing lack of use and popularity among regular users. For this reason, Instagram will no longer support this feature and plans to "focus on other priorities" instead. Instagram confirms that users "will still be able to see location tags on individual posts… and view [their] own map for now, but the ability to look at other people's maps has disappeared with the latest update to the app."
Upcoming Social Media News Worth Following
Facebook Tests New Feature That Highlights Recent Posts From Friends: The Next Web reports that "Facebook is currently testing an experimental feature called 'What friends are talking about' that aims to get you and your friends engaging in conversations more often." A handful of recent posts from your friends are collected and shared with you in a dedicated section at the top of your news feed. The feature is being tested with a "limited number of users" and a wider rollout has not yet been confirmed.
Tumblr Will Add Affiliate Codes to Links: Tumblr announced plans to "start adding something called 'affiliate codes' to links on Tumblr that don't already have one" in a couple of weeks. According to the Tumblr Staff blog, these new affiliate codes will "tell a merchant that a customer came from Tumblr" and could allow Tumblr to receive a commission for the referral. The platform confirms that "links will look and function exactly as they do now" and "even personal affiliate codes… will keep working normally."
Instagram Builds New Zoom, Filter, and GIF Features for iPhone 7: TechCrunch reports that Instagram is "building new zoom, filter and GIF features" to support the "powerful new camera features" on the upcoming iPhone 7. These new iOS-inspired upgrades to the app were announced at the iPhone 7 launch event this week.
News From a Partner, IBM Marketing Cloud
2016 Email Marketing Metrics Benchmark Study: To build a world-class marketing program, it's crucial to compare yourself to the best performers. Discover how you measure up on 25 open, click-through, list churn, and mobile metrics – broken out by industry and geography – and get tips for improving your email program. Get your copy today!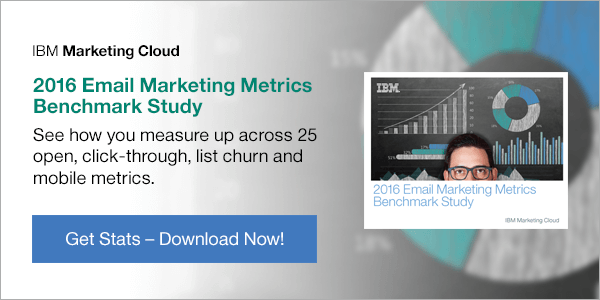 Some Interesting Studies to Note:
The State of Content and Social Strategy 2016: According to the new study on content and social media strategy, NewsWhip examined which social media platforms are driving the most traffic, gaining importance, and creating impact, and which ones are no longer seen as effective or relevant. For this study, NewsWhip surveyed over 260 media professionals in publishing, news, marketing, PR, advertising, government, and other industries on how they use social media and where they're focusing their efforts. Facebook tops the list in terms of importance and is expected to continue to dominate the social-first publishing cycle. Most respondents identified Twitter as becoming less important to their marketing strategy in the future.
Advertising Index Q2 2016 Report: Salesforce released a new study on global ad benchmarks for Facebook, Instagram, Twitter, and LinkedIn. The findings show that Facebook's CPM in 2Q 2016 soared to 173% when compared with 2Q 2015 and its global click-through rate was 1.29%. The global CPMs for Instagram and LinkedIn also increased in 2Q 2016. However, Twitter dropped by 18% year over year. This report also examines trends and performance by country and industry.
Sponsored Content and Engagement Rates: New research from Markerly reveals that non-sponsored posts on social media have nearly identical engagement rates to sponsored posts, which suggests that fans and followers may not be nearly as put off by sponsored content as marketers may believe. The study analyzed approximately 86,000 influencers and discovered that people tend to engage more with sponsored content than non-sponsored content across most audience sizes. The findings suggest that sponsored content, "when done the right way," provides value to the audience and is more likely to be shared, liked, and enjoyed. Content that is executed poorly or low-quality won't resonate and will draw little or no engagement.
Don't Miss This Event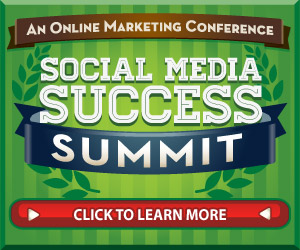 Join 4,000 fellow marketers at the ONLINE mega-conference designed to inspire and empower you — Social Media Success Summit 2016, brought to you by Social Media Examiner.
You'll soak in 39 social media marketing sessions taught by the top social media pros, including Mari Smith (co-author, Facebook Marketing: An Hour a Day), Michael Stelzner (founder, Social Media Examiner), Kim Garst (author, Will the Real You Please Stand Up), Joel Comm (co-author, Twitter Power 3.0), and Amy Porterfield (co-author, Facebook Marketing All-in-One for Dummies) — just to name a few. They'll share their latest social media marketing tactics with you.
Discover the best and newest ways to market your business on Facebook, Instagram, LinkedIn, YouTube, Twitter, Pinterest, and Snapchat.
Find new ways to improve your content and measure your results with sessions on video, live video, visual marketing, analytics, and marketing tools — all from the comfort of your home or office.
Register now for Social Media Success Summit 2016.
What do you think of LinkedIn's new Conversion Tracking tool? Have you tried the newly enhanced publishing experience on LinkedIn? Please share your comments below.