Want more people to see your LinkedIn content? Wondering which signals the LinkedIn algorithm uses to assess and rank your content in the feed?
In this article, you'll discover how to take advantage of the LinkedIn algorithm to maximize your exposure.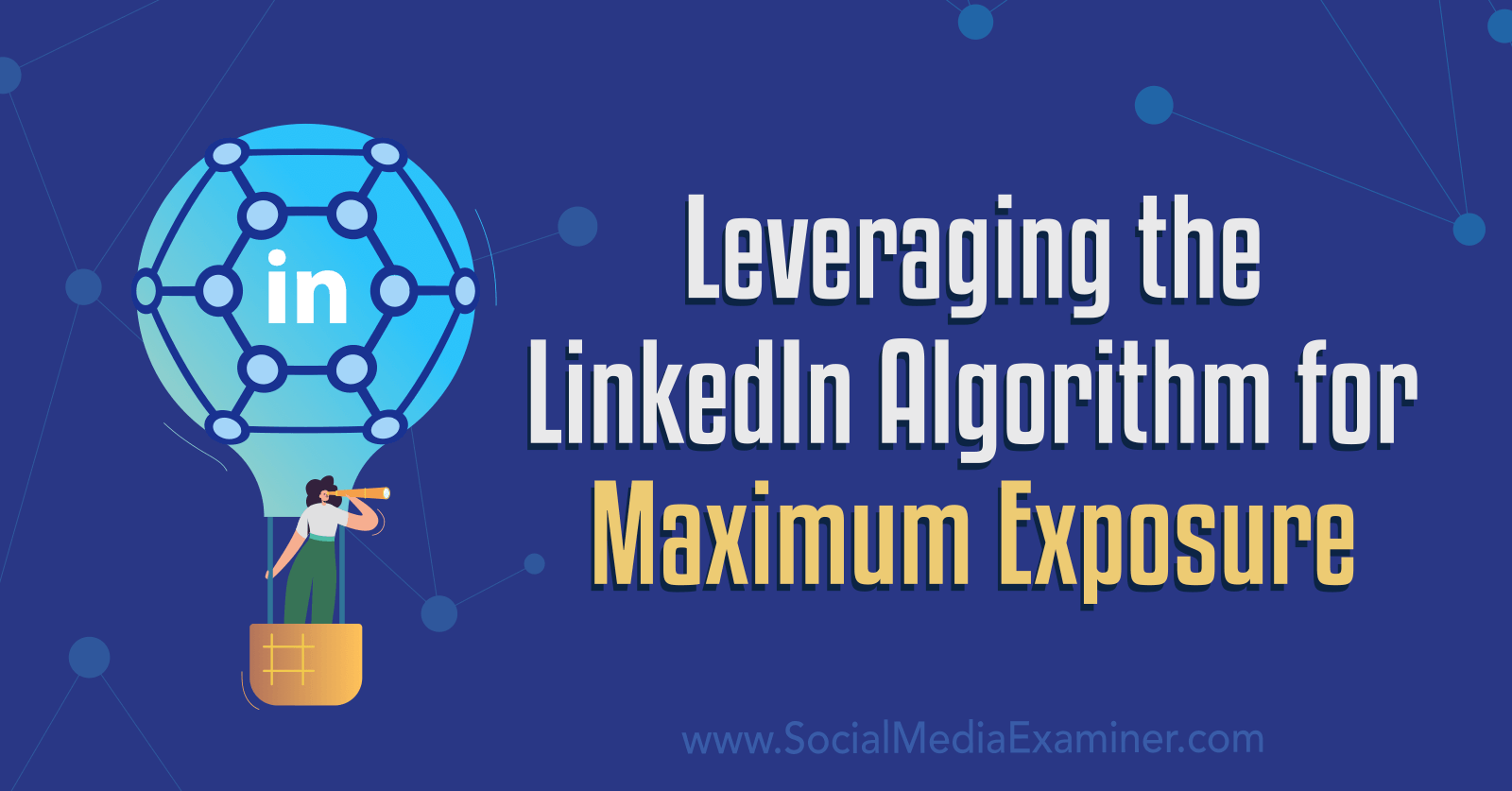 Why Is LinkedIn So Important for Business?
For a lot of people, LinkedIn is "just a job board," or it's a job board that became a business platform.
Those ideas are wrong. From the very beginning, LinkedIn has always been about meaningful connections. Now it's the one-stop shop where people come to meet contacts, make sales, find leads, advance their careers, grow their personal brand, and introduce their business to the world. It's the essential social network for B2B marketers, B2B salespeople, and thought leaders.
LinkedIn boasts over 1 billion users. Unlike other social networks, it's never stopped growing. Facebook, Instagram, Snapchat, Twitter/X… all of them reached a peak in user numbers and then stopped growing. LinkedIn just keeps going.
Of course, the platform has changed over time. Around 2017-2019, LinkedIn was full of more corporate content. Microsoft, the social network's new owner, was focused on pushing new products such as the revolutionary Sales Navigator.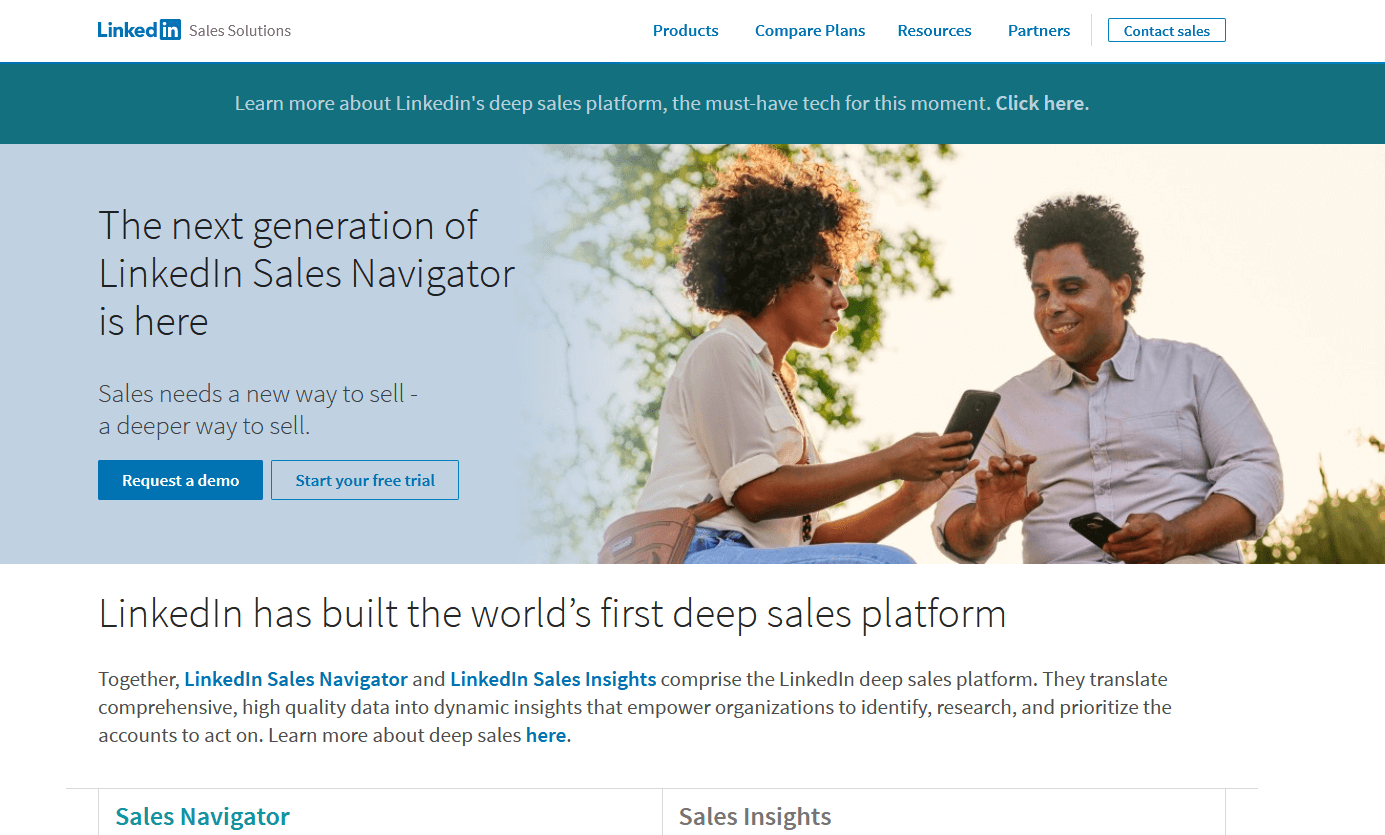 Now that those changes have settled in (and the pandemic has changed the way a lot of people do business), LinkedIn looks different again. People have become more confident sharing personal content and storytelling.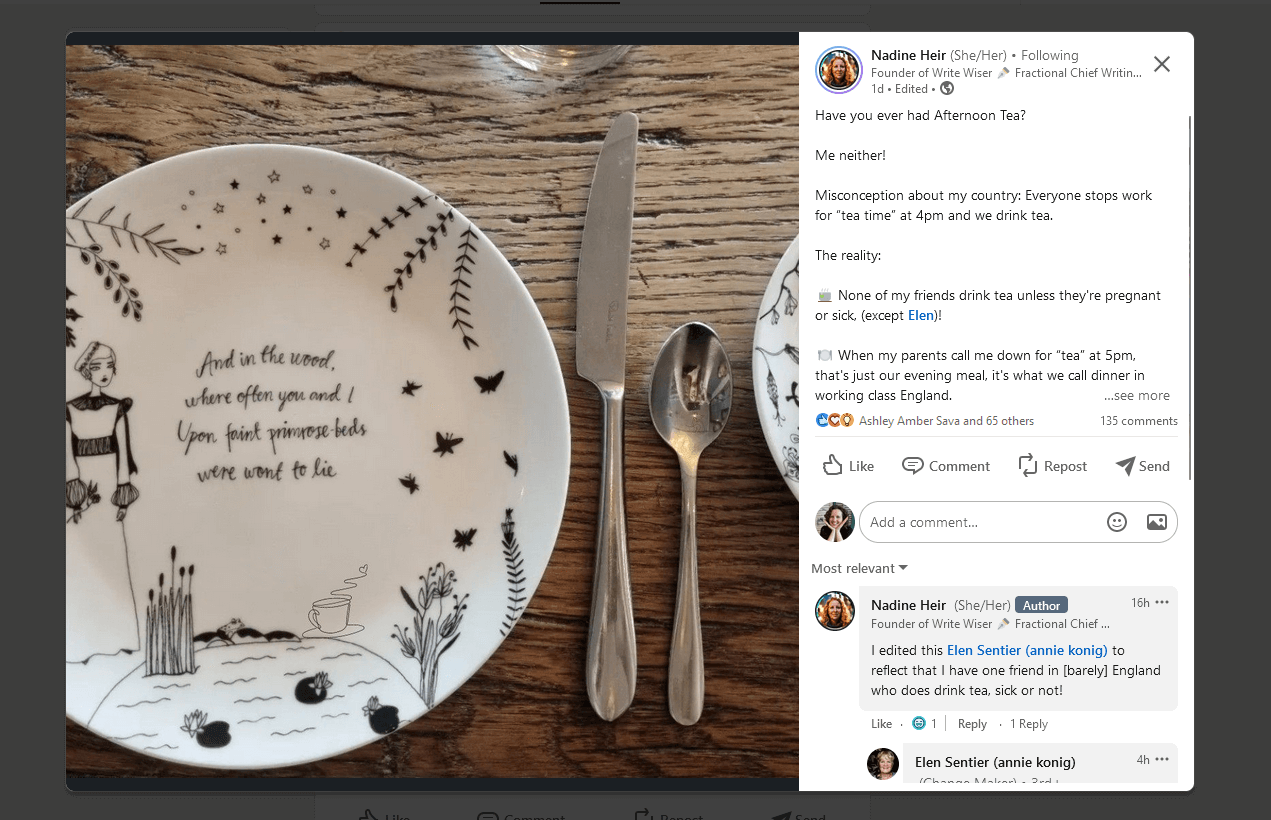 That shift in content is another reason to use LinkedIn. If you focus on personal storytelling rather than dry corporate messaging, you can get extreme levels of organic reach in a short time.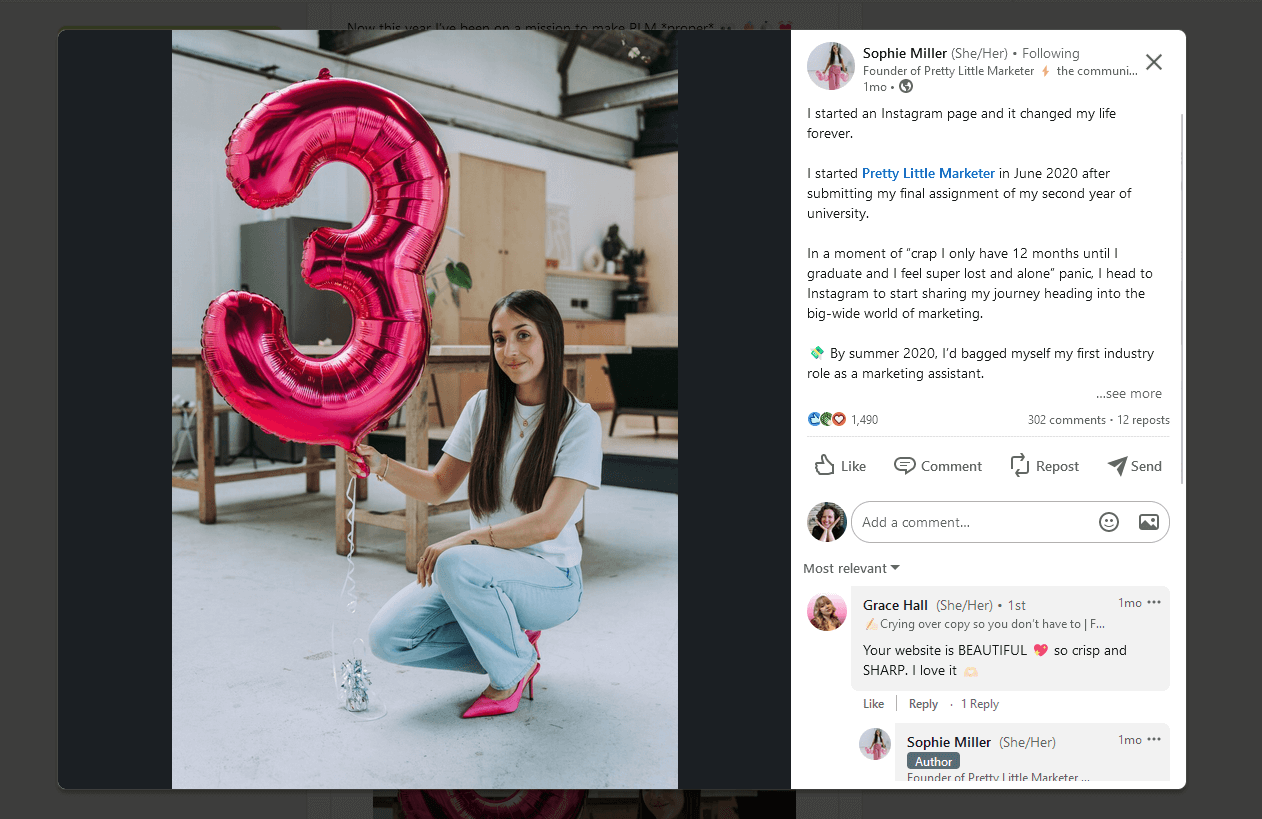 Maybe the most powerful point is that LinkedIn is also a platform that people trust. It's rare to see content on the platform that isn't backed up with statistics, facts, or research.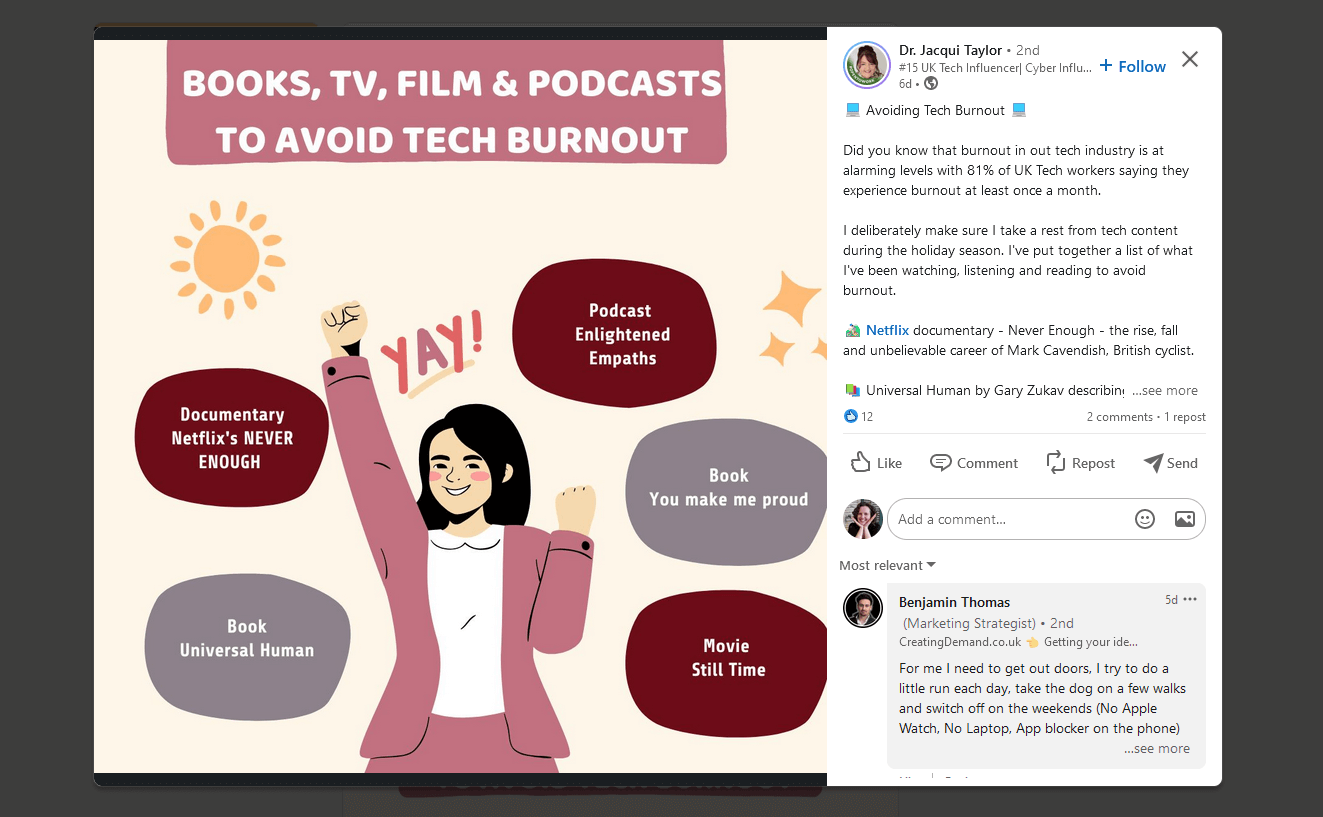 Surveys show that 87% of people consider LinkedIn a trustworthy source of information and contacts. Once again, other social media platforms just don't come close, with Facebook hovering at trust levels of around 40%.
#1: What Are the Most Common Mistakes That Marketers Make on LinkedIn?
So why isn't every LinkedIn user a successful entrepreneur earning millions?
We can't pretend to know the answers for everyone's business but there are three mistakes that people make on LinkedIn repeatedly. If any of the following three mistakes describe your approach to LinkedIn, then you're probably not getting the reach you deserve.
Treating All Social Networks the Same
If you post the same content on LinkedIn that you post on Facebook, Instagram, and X, stop. Your posts won't get any traction.
LinkedIn uses a different algorithm than other social networks. The algorithm responds to different signals when it decides what to prioritize, looking at quality of interactions rather than basic engagement signals.
You need a tailor-made LinkedIn content strategy. Read on to find out what that looks like.
Relying on Corporate Content and Ads
Maybe you already create content especially for LinkedIn. But does it sound like it was written by a person or does it sound like it was written by AI that was exclusively trained on expense reports?
If you rely on corporate messaging and ads, you'll struggle to get reach, interaction, and conversions on LinkedIn. Some of the biggest brands in the world have this problem, including Microsoft—LinkedIn's owner!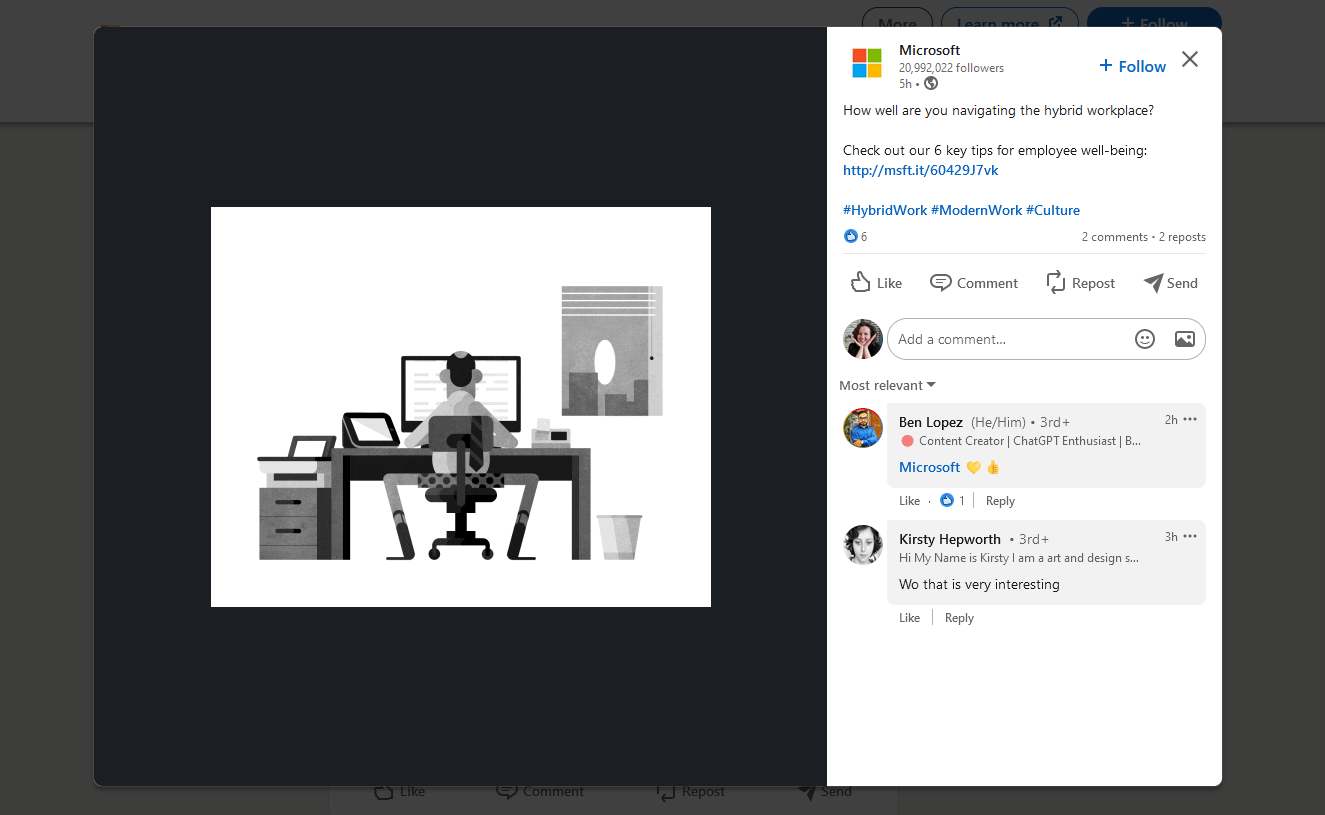 To reach users, you need to share stories and show the human side of your brand. Instead of making corporate announcements, sales pitches, and sharing lead magnets, you need to spend time building a relationship with potential leads.
The key to a successful LinkedIn content strategy is creative, genuine, and human-led content.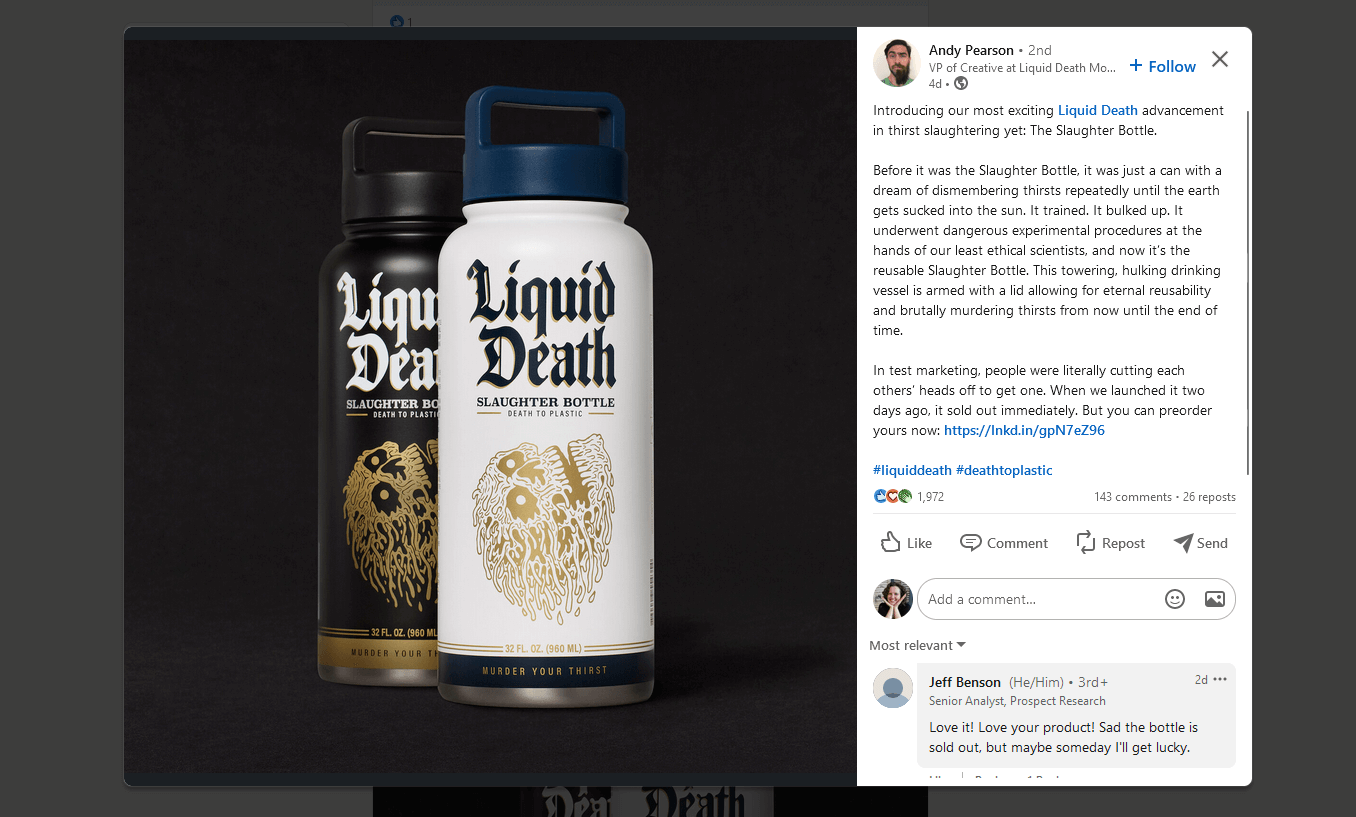 Focusing on the Wrong Goals
Why does your business have a LinkedIn page? Or put another way, what are your goals on LinkedIn?
If you chase the wrong key performance indicators (KPIs), then your views, engagement, and conversions will shrink over time, guaranteed.
Stop thinking about:
Start thinking about:
In 2023, it is almost impossible to generate leads on LinkedIn. LinkedIn ads have low rates of conversion and lead generation. Only 2% of posts in the LinkedIn feed come from organic company content. Leads shouldn't be the goal for your marketing team.
Instead, you want your marketers to focus on brand awareness. Then once your name, products, and ethos are in front of as many people as possible, the sales team can follow up with individual sales prospects to build relationships and convert them into leads.
Your marketing team needs to orient its strategy around the LinkedIn algorithm—understanding, playing to, and using it to build brand awareness.
#2: How Does the LinkedIn Algorithm Work?
Organic reach works differently on LinkedIn than on other platforms. The watchword of the algorithm is interaction. Not likes, shares, or number of followers or comments but the value of individual comments, messages, and interactions.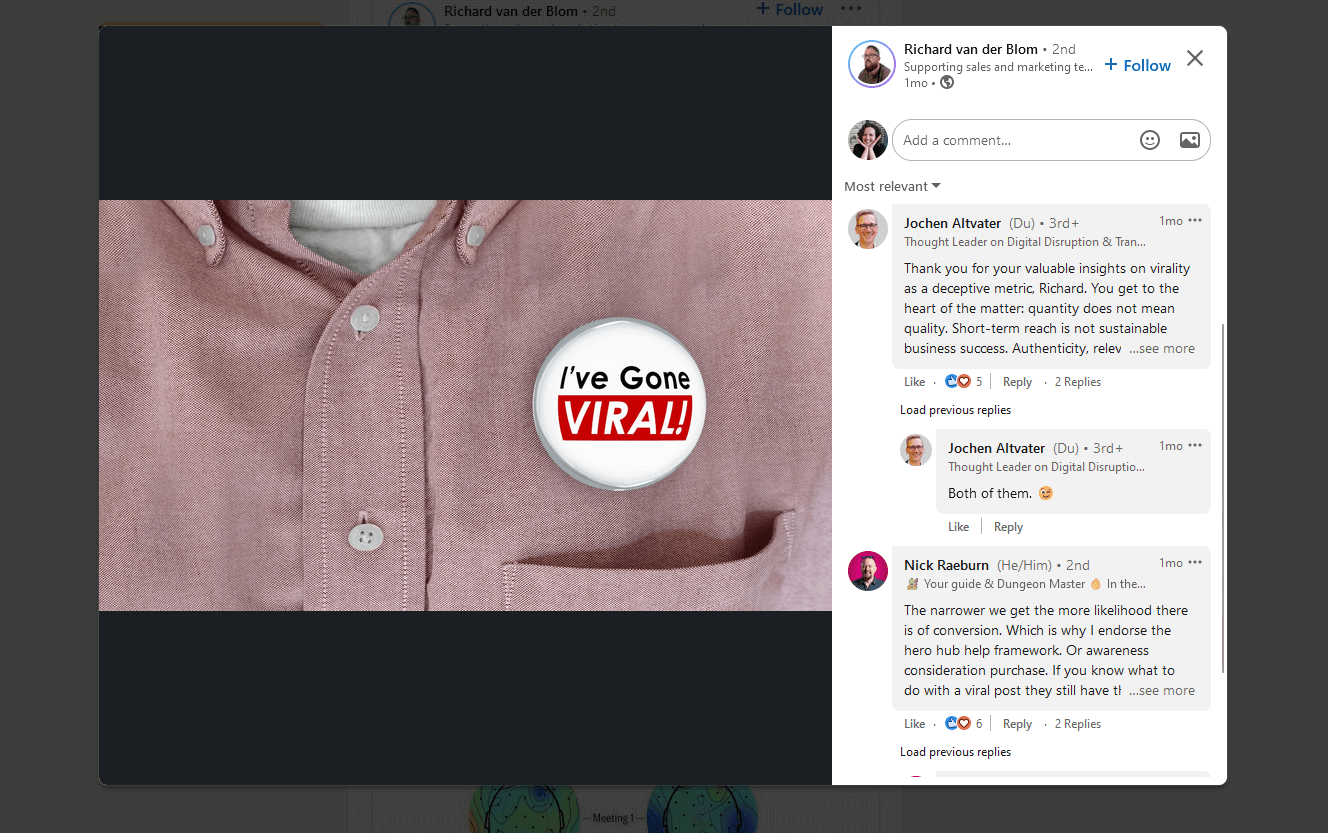 This is partly because LinkedIn has a unique user profile. Its almost 1 billion members fall into four categories:
The power users. Less than 1% of LinkedIn users publish on the platform at least once a month.
The content creators. LinkedIn counts users as content creators if they've published at least one post in the last 3 months. That's still barely 5% of users and it's a low bar to meet.
The content ambassadors. This 15% of users engage with your content. They don't want to post themselves but they'll share, like, or comment on your content.
The silent community. These users are the vast majority. They scroll through the feed and consume your content but they choose not to interact. It takes long-term, consistent posting to convert them into active leads or followers.
No other social network has this set of users. The silent community is a unique feature of the platform.
So LinkedIn developed an algorithm that takes the silent community into account. Instead of looking at posts and reach, it focuses on:
Dwell time
Early post performance
Negative engagement signals
Internal and external links
Calls to action
Dwell Time
Dwell time is an essential metric on LinkedIn. It refers to how much time a user spends looking at your content or how long it stays on their screen. Do they stop scrolling? Do they read a post or watch a video all the way through?
The platform itself is designed to increase dwell time. For example, LinkedIn only shows the first few lines of a post before adding a See More link. That's designed to collect useful signals for the algorithm from the silent community.
You can boost your LinkedIn performance by creating posts that demand more dwell time. Aim to write longer posts of at least eight lines. You can add lines and white space to your posts to enhance the effect.
Early Post Performance
When you hit Publish on a LinkedIn post, your content doesn't get shown to just anyone. The LinkedIn algorithm has a specific way to test its performance and potential reach.
In the first 60-90 minutes after posting, LinkedIn tests your new post with the closest members of your network or about 7% of your total following. These are the people who reliably read and respond to your best content.
If those core users react well to your post, then the algorithm will give it further reach. If they don't seem interested in the post, then its reach will start to fall.
Negative Engagement Signals
The silent community on LinkedIn doesn't send many positive signals. Dwell time and clicking See More are some of the only active ways that the algorithm can detect their behavior.
However, LinkedIn also uses negative engagement signals to round out its data. These are signals that people are choosing to ignore or navigate away from your content such as pausing a video, unfollowing you, or removing themselves from a tagged post.
Negative signals can also include signs that you're using an engagement pod or engagement network. You're probably familiar with engagement pods from Instagram and other social networks. They're groups of people who agree to like and make short comments on each other's posts. However, the LinkedIn algorithm is smart enough to spot this kind of artificial activity and use it as a signal to downgrade your content in the feed.
Internal and External Links
Most marketers have heard that sharing external links in your LinkedIn posts can limit your reach. Unfortunately, this is completely true. A post with links to content—whether it's from external websites or simply to a different LinkedIn page—will barely get 50% of normal reach.
There are two main reasons for this.
First, like all social networks, LinkedIn is jealous. It doesn't want users leaving the platform to visit other websites.
Second, there's LinkedIn's official reason for limiting reach. LinkedIn says that users visit the platform to stay up to date with their personal network. Leading them to other pages and sites isn't the experience users want.
Regardless of the reasoning behind it, marketers still need to share links sometimes. So how can you share links without being penalized by the LinkedIn algorithm?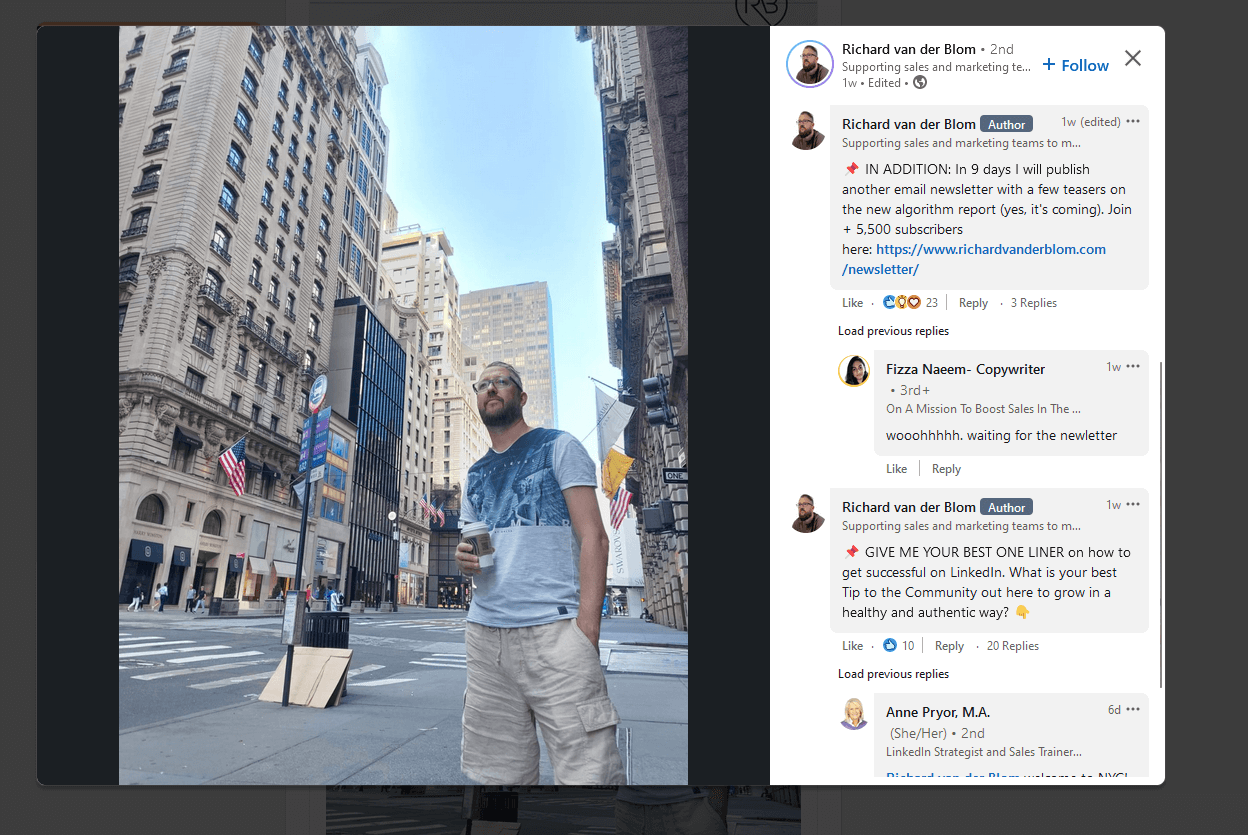 There are two options, based on your goals for each post.
Share the link anyway. If conversion is the main goal of your post—for example, registering users for a webinar—then go ahead and share the link anyway. Your audience will be smaller but you should aim for quality leads anyway.
Share the link in the comments. If the link isn't absolutely essential, then you can share it in the comments on the post. Just be sure to direct people to the comments in the main post so they don't miss the link.
It's also worth noting that LinkedIn doesn't offer the option to pin comments to the top of a post. If you do share a link in the comments, you can't guarantee that it'll remain the top comment on your post. If you're unlucky, you may miss out on reach anyway.
Calls to Action
You have to be cautious when you share a call to action on LinkedIn posts.
Several months ago, the social network announced that posts asking for engagement would be penalized by the algorithm. If you ask for shares, likes, or even invite people to comment a key phrase, then your post will be downgraded in the feed.
This policy isn't always effective. If a post gets very high levels of interaction, then it can balance out any reach limitation and still become successful.
However, you can avoid the problem by taking a different approach. Instead of thinking about a call to action, try to give your followers a call to think or a call to feel.
For example, you could ask them to think about how an issue affects their business or how they might solve a problem. You could ask them how they feel about a news story, change in their industry, or economic challenge.
While these options are less direct than a call to action, they still help start a conversation and position you as an expert guide and thought leader.
#3: Is the LinkedIn Algorithm the Same for Personal Profiles and Company Pages?
The LinkedIn algorithm works very similarly for personal profiles and company pages; however, there are some small but significant differences.
If you have a personal profile, then you can nurture content while it's still in that all-important early testing phase. Respond to any comments right away or maybe even make some comments to clarify and expand your own post. Those interactions will send positive signals to the algorithm and help grow your reach.
You can also win the algorithm's favor by interacting with relevant content from other pages and profiles before and after your own post goes live. You're creating an image of an active, engaged user who'll help to increase dwell time and LinkedIn will reward you.
Boosting your engagement levels like this isn't really worth doing for a company page, though. Company pages are more static and their content takes longer to have an effect.
#4: How to Create Content That the LinkedIn Algorithm Loves
Let's put all of this together. Now that we understand LinkedIn's algorithm, how do we create content that appeals to it? How do we increase dwell time and quality interactions while avoiding corporate-speak, negative engagement, and direct calls to action?
There are six types of organic content that almost always perform well on LinkedIn.
Personal stories. Storytelling content from a personal perspective is always popular on the social network. People love hearing the real story behind your brand, business, and journey.
Thought leadership. Share insights and expert content to build an audience that hangs on your every word. But be advised: this content appeals most to the silent community. You won't see much active engagement on these posts. However, if you keep posting with consistent frequency and quality, then the conversions will eventually follow.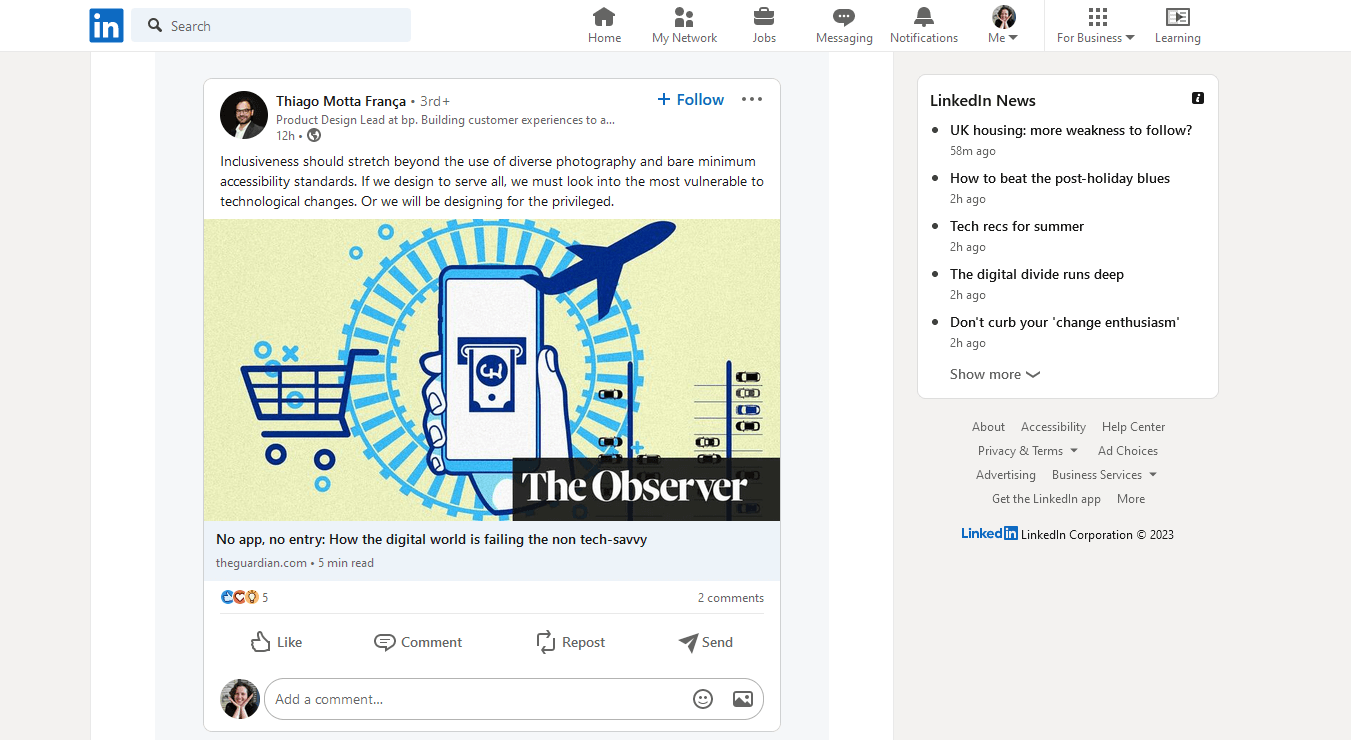 Events. Talk about events you're attending, hosting, or where you're speaking. Post about them before, during, and after! Each event can be a goldmine of content that gets an extra boost of interaction from everyone else involved in the event.
User-generated content. UGC isn't just for B2C brands on Instagram. Having other people talk about your brand, products, or services is always powerful. Post case studies, client testimonials, and interviews.
Third-party content. You don't have to create something original for every post. You can also build an expert image by becoming a content curator. This is best done on a personal page since company pages will want to avoid the risk of sharing content from a competitor.
Employee advocacy. Sharing posts from your employees is a great way to humanize your brand and demonstrate your values as a company. This is especially key if you're hiring. In a competitive labor market, a business that can show content from happy, engaged employees has a serious advantage.
Other Notes From This Episode
Where to subscribe: Apple Podcasts | Google Podcasts | Spotify | YouTube Music | YouTube | Amazon Music | RSS
✋🏽 If you enjoyed this episode of the Social Media Marketing podcast, please head over to Apple Podcasts, leave a rating, write a review, and subscribe.
---
Stay Up-to-Date: Get New Marketing Articles Delivered to You!
Don't miss out on upcoming social media marketing insights and strategies! Sign up to receive notifications when we publish new articles on Social Media Examiner. Our expertly crafted content will help you stay ahead of the curve and drive results for your business. Click the link below to sign up now and receive our annual report!