Open Positions
We currently do not have any open positions.
COMPANY BACKGROUND
Social Media Examiner is an online media company that helps millions of marketers discover how to best use social media. Our main products include a membership organization, online courses and events, and a large conference.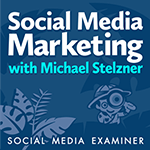 Our content: Our blog was established in 2009 and remains one of the largest in the marketing world. Our Social Media Marketing podcast (launched in 2012) is ranked in the top 3 in Apple's marketing category. We also produce a weekly live show and regular YouTube content.
Our products: We partner with the world's top marketers and share access to their knowledge in three ways: (1) a physical conference, (2) a professional organization, and (3) online training. 
Our annual conference, Social Media Marketing World

, was launched in 2013 and takes place in San Diego, California. It is the world's largest social media marketing-focused conference with 4,700 marketers attending in 2020 from all around the world. 

Our membership organization, the Social Media Marketing Society, was launched in 2015. It provides online professional development and a community to thousands of marketers. 
We also host online training events, including our Facebook Marketing Summit and our newest course Becoming Well Known.
Take the virtual tour of our event:
WHAT ARE THE BENEFITS?
🔥 You'll join the team of a respected and growing company. You'll work directly with all departments to help take the company to the next level. 
🔥🔥 You'll have frequent opportunities to innovate, improve, implement, and oversee projects.
🔥🔥🔥 You'll be involved with the launch of new products and the implementation of new ideas.

🔥🔥🔥🔥 You'll receive all the other benefits you'd expect—competitive compensation, a 401(k) with matching, full health benefits, and bonus opportunities.