Open Position: Full-Time Copywriter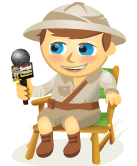 Seeking a word savant who eats persuasion for breakfast and split tests for lunch. You know words have power and use them with elegance.
Conversions make your adrenaline rush. Inspiring others to act comes easy for you.
Am I describing you?
Yes? See that door? It's opening and a bright light is calling you forward. The change you've been seeking is waiting on the other side… Will you step forward?
Does this describe your background?
You've written hundreds of persuasive emails and know how to get them opened.
You've crafted dozens of successful sales pages that sell information products.
You've performed hundreds of split tests across sales pages and email.
You can craft enticing headlines for anything, from articles to acknowledgement pages.
You understand the customer journey for information product sales.
You have extensive experience writing copy aimed at marketers.
Are you checking all the metaphorical boxes?
If so, let me introduce myself. I'm Michael Stelzner, the founder and CEO of Social Media Examiner. We're an online media company that helps millions of marketers navigate the fast changing social marketing industry.
In addition to being the CEO, I'm the chief copywriter. I'm looking to pass the copywriting baton to someone who's better at it than I am. You'll work hand in glove with my marketing team.
This job can be remote or in our corporate headquarters in San Diego, California. We are seeking candidates residing in the United States.
COMPANY BACKGROUND
Here's what you need to know about Social Media Examiner:
Our creed: We believe that smart marketing helps any business compete with the largest players in their industry.
Who we serve: We help marketers become superstars for their businesses or clients.
We produce lots of content! Our articles, videos, and podcasts are the gold standard in the marketing industry. Millions of marketers find us indispensable.
Our products: We're in the business of training and insight. We produce the largest marketing conference in the social media industry: Social Media Marketing World. We also have the largest membership organization, the Social Media Marketing Society. We continuously innovate our offerings.
WHAT ARE THE BENEFITS?
Were you made for a job like this? If so, here's what's in it for you:
🔥 Your work will make a lasting impact on marketers all around the world.
🔥 🔥 You'll join the team of a respected and growing company.
🔥 🔥 🔥 You'll become recognizable to our community across several platforms and channels.
🔥 🔥 🔥 🔥 Salary $65,000 to $80,000 depending on experience and location. You'll receive all the other benefits you'd expect—a 401(K) with matching and full health benefits.
Application deadline: May 13, 2022.