Project Manager
We are looking for a full-time Project Manager to work in our Poway, California headquarters. We are accepting applications until Wednesday, June 24th, 2020.
COMPANY BACKGROUND
Social Media Examiner is an online media company that helps millions of marketers discover how to best use social media. Our main products include a membership organization, online courses and events, and a large conference.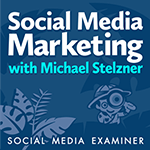 Our content: Our blog was established in 2009 and remains one of the largest in the marketing world. Our Social Media Marketing podcast (launched in 2012) is ranked in the top 3 in Apple's marketing category. We also produce a weekly live show and regular YouTube content.
Our products: We partner with the world's top marketers and share access to their knowledge in three ways: (1) a physical conference, (2) a professional organization, and (3) online training. 
Our annual conference, Social Media Marketing World

, was launched in 2013 and takes place in San Diego, California. It is the world's largest social media marketing-focused conference with 4,700 marketers attending in 2020 from all around the world. 

Our membership organization, the Social Media Marketing Society, was launched in 2015. It provides online professional development and a community to thousands of marketers. 
We also host online training events, including our Facebook Marketing Summit and our newest course Becoming Well Known.
JOB DESCRIPTION
Social Media Examiner is looking for a full-time Project Manager to work in our Poway, California headquarters (in San Diego County). This is an in-house role.
We are seeking an individual with five or more years of project management experience. This individual will help plan, coordinate, and move many simultaneous operational tasks forward—including marketing and event-related tasks — while working with multiple employees and contractors. The ideal candidate is known for getting things done, thrives under pressure, is very organized, is a strong people person, understands marketing, and enjoys seeing projects through to completion.
Take the virtual tour of our event:

RESPONSIBILITIES
Assist the operations team by planning, managing, and making sure tasks are completed across internal departments

Effectively ensure projects and tasks move forward 

Prioritize tasks based on human resource availability

Develop and manage project documentation including timeline, project plan, and budget tracking

Track projects progress

Facilitate meetings with team members as needed

Establish strong relationships with internal team 

Collaborate and manage workflows between internal and external team members to ensure all deliverables are completed on time and within budget

Monitor project status and proactively identify problems before and as they arise

Document and track project deliverables using Asana

Assist in developing process improvements
REQUIREMENTS
Bachelor's degree in marketing, business, or related field

Minimum of five years experience coordinating marketing, event, and operational activities

Very organized with strong follow-through skills

Proven success in a fast paced environment

Ability to prioritize and manage multiple projects

Works well with others

Is able to multi-task and adapt to change

Strong written and verbal communication skills

Ability to handle frequent interruptions and adapt to changes in workload and work schedules

Willingness to help others even when it's not your responsibility

Experience with events—working with vendors, projects, and event related tasks

Tech savvy, can fully utilize technology to increase efficiency and productivity
SKILLS
Experience in Asana (or similar project management tools)

Proficient in Google Docs/Sheets 

Email is important: Inbox Zero mentality, quick response times

Marketing experience helpful

Proofreading/editing experience a plus

WordPress experience a plus
WHAT ARE THE BENEFITS?
🔥 You'll join the team of a respected and growing company. You'll work directly with all departments to help take the company to the next level. 
🔥🔥 You'll have frequent opportunities to innovate, improve, implement, and oversee projects.
🔥🔥🔥 You'll be involved with the launch of new products and the implementation of new ideas.

🔥🔥🔥🔥 You'll receive all the other benefits you'd expect—competitive compensation, a 401(k) with matching, full health benefits, and bonus opportunities.