Director of Operations
We are looking for a full-time Director of Operations to work in our Poway, California headquarters. We are accepting applications until Tuesday, November 12th, 2019.
COMPANY BACKGROUND
Social Media Examiner is a 10-year-old online media company that helps millions of marketers discover how to best use social media.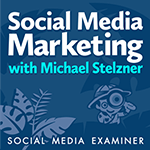 Our content: Our blog was established in 2009 and remains one of the largest in the marketing world. Our Social Media Marketing podcast (launched in 2012) is ranked in the top 3 in Apple's marketing category. We also produce a weekly live show and regular YouTube content.
Our products: We partner with the world's top marketers and share access to their knowledge in three ways: (1) a physical conference, (2) a professional organization, and (3) online training. 
Our annual conference, Social Media Marketing World

, was launched in 2013 and takes place in San Diego, California. It is the world's largest social media marketing-focused conference with 4,700 marketers attending in 2019 from all around the world. 

Our membership organization, the Social Media Marketing Society, was launched in 2015. It provides online professional development and a community to thousands of marketers. 
We also host online training events, including our Facebook Ads Summit, Video Marketing Summit, and Google Analytics for Marketers.
JOB DESCRIPTION
Social Media Examiner is looking for a full-time Director of Operations to work in our Poway, California headquarters (in San Diego County). This is an executive role inside of our company.
We are seeking an experienced individual with at least 15 years of experience directing the operations of an online marketing-centric business that specializes in selling knowledge. 
This person innately understands how to move projects from ideation to execution, loves creating sustainable processes, and enjoys regularly measuring progress (and adjusting accordingly). We are looking for a project ninja who has a track record for making things happen.
RESPONSIBILITIES
S

treamline all operational aspects of the company, including marketing strategy, sales strategy, and online product development. 

Work closely with the CEO and founder, Michael Stelzner, to execute his ideas and realize his vision.

Collaborate with and serve any departments that can benefit from operational excellence.

Implement new internal and public-facing projects.
REQUIREMENTS
You have extensive knowledge of online media and online marketing.

You are an excellent communicator.

You enjoy figuring out how resources can be arranged for maximum productivity.

Faced with any given scenario, you can quickly spot the relevant patterns and issues.

You have the gift of determining how different people can work together productively.

You take ownership. What you say, you do. You hold others accountable for their actions and outcomes. 

You have experience managing and leading diverse teams. 

You are highly organized and pay attention to details.

You have solid decision-making abilities.

You have strong business skills (

an MBA is a big plus).
Criteria #1: You are a people person: You must be someone who really understands how to work with people, will capitalize on their strengths, motivate them to work against aggressive timelines, and encourage them when change is needed.
Criteria #2: You are calm under pressure: We want someone who can clearly create and communicate a plan, and who motivates people to follow it. You're not easily rattled by tight deadlines and juggling multiple tasks.
Is this you? 
Criteria #3: You are a very hard worker: We want someone who is willing to do whatever it takes to make sure we are successful. You're are always willing to dig in and help. 
Criteria #4: You are analytical: We want someone who will establish measurable goals and KPI's and helps people know if things are working. And if things are not working, you're willing to make changes.
Bonus: You're not willing to cut corners. You demand excellence, but you also know how to get things done in a timely manner.
WHAT ARE THE BENEFITS?
🔥 You'll join the executive team of a respected and growing company. You'll work directly with the CEO and all departments to take the company to the next level. 
🔥🔥 You'll have frequent opportunities to innovate, improve operations, implement strategic plans, and oversee projects.
🔥🔥🔥 You'll be involved with the launch of new products and the implementation of new ideas.

🔥🔥🔥🔥 You'll receive all the other benefits you'd expect—competitive compensation, a 401(k) with matching, full health benefits, and bonus opportunities. We are willing to relocate the right candidate. 
A note from our CEO: Watch this video…