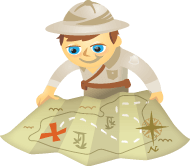 There's a new buzzword marketers are using and, unlike some buzzwords, this is one that you should probably learn.
The term is SoLoMo and it stands for "social, local and mobile."
What it describes is the convergence of social, location-based and mobile marketing into a new category of tools that many businesses are using to acquire new customers.
The odds are you're already familiar with some SoLoMo tools such as Yelp, Foursquare and Groupon. But you may not be familiar with how to use these tools to attract new customers. That's what we're going to talk about here. But first, let's take a look at how SoLoMo works.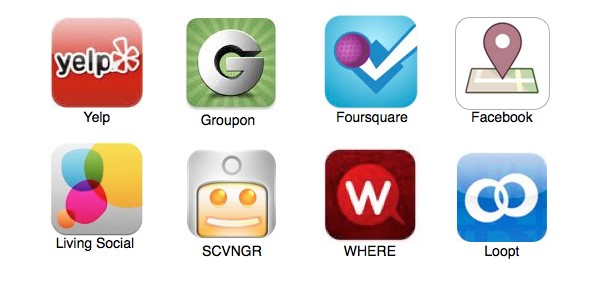 Wrapping Your Mind Around SoLoMo
You already know about the social part of SoLoMo. These are social media tools that generally allow the participants to have a dialogue with a business or to share thoughts, opinions and comments with other users. They include well-known entities such as Facebook, Twitter and Google+.
The location-based part of SoLoMo happens through something called geo-targeting, which is when businesses target their messages to people in a specific geographic location.
Geo-targeting can be accomplished when customers provide their address or, more commonly, when they let a company know their location based on their smartphone or tablet computer use.
For example, if you own a restaurant and want to offer a special discount to people within a 5-mile radius of your location, you can do that using location-based marketing. These location-based marketing "hotspots" are a perfect way for retailers to attract prospects who are in close proximity to their stores.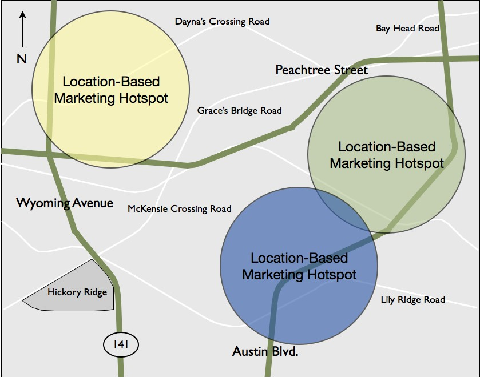 The mobile side of SoLoMo simply means that, in addition to being able to use these tools on your desktop, you can use them on a smartphone or tablet computer as well.
For example, you might get emails from Groupon each morning at your office, but you might also use the Groupon mobile app when you're out for dinner. If that's the case, then you're experiencing the mobile side of SoLoMo.
For more information on the convergence of social and mobile, be sure to check out "How Mobile Is Changing Social Media," where Social Media Examiner founder Michael Stelzner interviews blogger and author Jason Falls about the impact mobile is having on social media.
All this leads to the question, "How can I use SoLoMo to attract new customers to my business?" Surprisingly, getting started in the world of SoLoMo is actually pretty simple.
Here are three things you should do to get started right away.
🌟 Ready to Supercharge Your Social Marketing Strategy? 🌟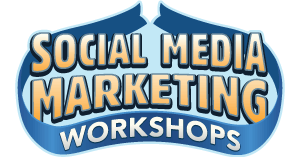 Struggling with your social marketing? You're not alone. The solution? The Social Media Marketing Workshops!

During these live 2 hour deep-dive workshops, you'll discover what's working now on Instagram, Facebook, TikTok, YouTube, and LinkedIn. Skyrocket your engagement, broaden your reach, and amplify your sales.

Become the marketing hero your company and clients need—without leaving your home!
🔥 Save $670 on an All-Access Ticket! Sale Ends Tuesday! 🔥
GET YOUR TICKETS NOW
#1: Decide if SoLoMo is Right for Your Business
SoLoMo isn't right for every business. If you're a manufacturer of heavy equipment or a public utility, you can probably move right past this whole SoLoMo thing without skipping a beat. But if you run a business like a restaurant, a bookstore or a hardware store, then SoLoMo is right up your alley.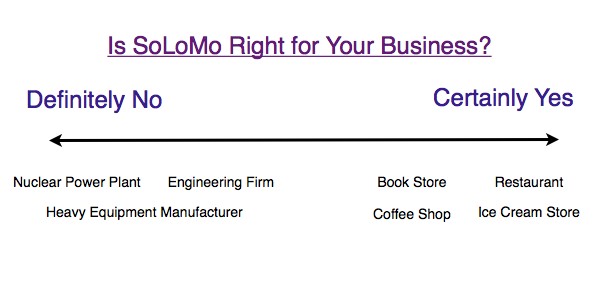 #2: Register Your Business with Location-Based Services
Registering your business is no more complex than visiting the websites for each of the SoLoMo services that are most relevant to your business.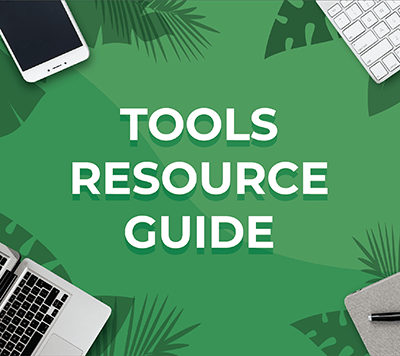 Looking for something to make your life easier?
Discover the tools we recommend to drive engagement, save you time, and boost sales across your entire marketing funnel or business.
Whether you need help planning content, organizing social posts, or developing your strategy, you'll find something for every situation.
FIND YOUR NEXT FAVORITE TOOL
You might start with the best-known services such as Yelp, Foursquare and Facebook Places (which, by the way, isn't getting the love it deserves from the gang at Facebook headquarters).
Then, you'll want to move on to services such as SCVNGR, WHERE and Loopt. And, if you're interested in using deal-of-the-day services, then you'll want to investigate Groupon, Google Offers and LivingSocial.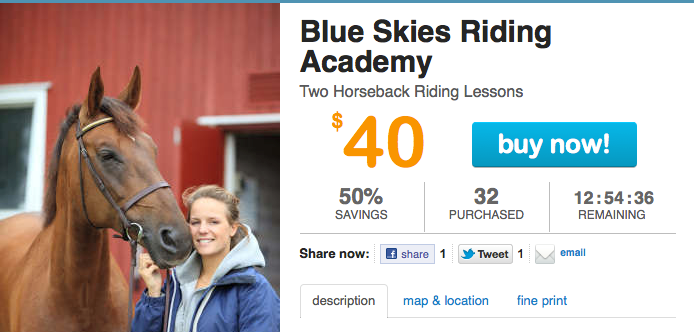 Some of these services, such as Yelp, Foursquare and Facebook Places, allow your customers to "check in" as soon as you've registered your business on their website. Other services, such as Groupon, Google Offers or LivingSocial, will require you to provide a special "deal-of-the-day" discount to visitors who use their services.
#3: Create Promotions that Appeal to Your Target Market
Once you've done the first two steps, it's time to develop promotions that will appeal to your target market.
The key here is to develop promotions that have a sense of urgency to them. If you always give a 25% discount to your prospects, then there's no need for them to visit your location now. But if the 25% off coupon is good for a limited time, then people will have a sense of urgency and are more likely to visit your business.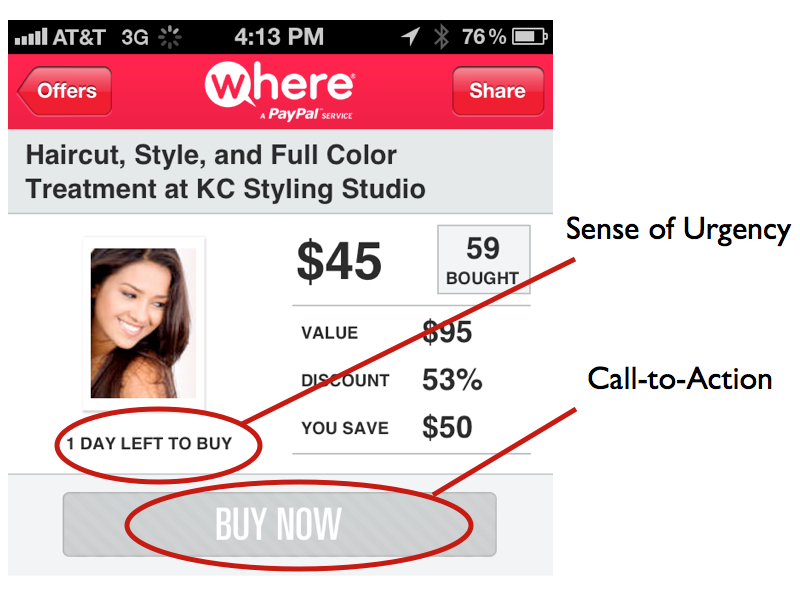 Okay, now that we've taken the first three steps into SoLoMo, what are some of the best practices for moving ahead? Glad you asked.
Address consumer confusion: Many customers will have a tendency to shy away from SoLoMo campaigns because they don't understand how to use them. It's your job to explain the nature of the campaign and to assure them that it's a safe way to engage with your business.
Provide clear opt-in instructions: Be sure to explain how to opt into your SoLoMo program. Sometimes, opting in happens when they download the app (as in the case of Yelp, Foursquare or Facebook Places). Other times, they have to provide an email address to opt in (such as with Groupon, Google Offers or LivingSocial). Be sure to remind people that they can opt out at any time. By doing so, you'll gain their trust and increase the number of people who adopt your program.
Explain what to expect: People don't mind getting marketing messages they've opted-in to receive, but they do mind being overwhelmed by too many messages and/or confusing offers. Explain to consumers what they can expect after they've opted into your program. That way, you'll avoid unpleasant surprises for your audience.
Make it worth their while: You're asking people to opt into your SoLoMo marketing campaign, so reward them for their trouble. There's nothing more frustrating than opting into a program only to find a better discount in a print ad or direct mail program the next day. If people go to the trouble to be part of your program, be sure to reward them for their efforts by providing them special discounts.
A Few Final Words
SoLoMo isn't right for everyone, but if your business needs local traffic to survive, then SoLoMo is one of your best options. Good luck with your program.
What do you think? Let us know how it goes. Leave your questions and comments in the box below.
Get Your FREE Course: Web3 for Beginners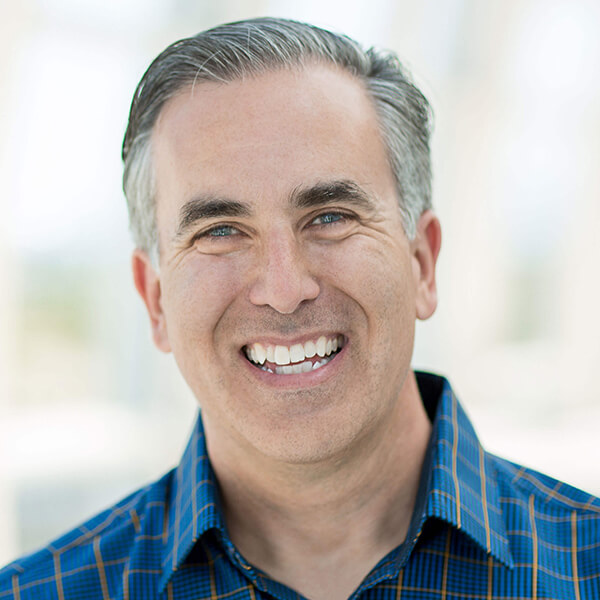 Curious about Web3, but don't know where to start or who to trust?

Introducing Web3 for Beginners, a course taught by Michael Stelzner, the founder of Social Media Examiner.

Learn the basics of Web3 and apply it to your business with this FREE comprehensive course.
CLICK HERE TO GET FREE ACCESS