Do you want to generate more sales on Instagram? Wondering how Instagram Live video can help?
In this article, you'll learn how to use Instagram Live to promote and sell your business.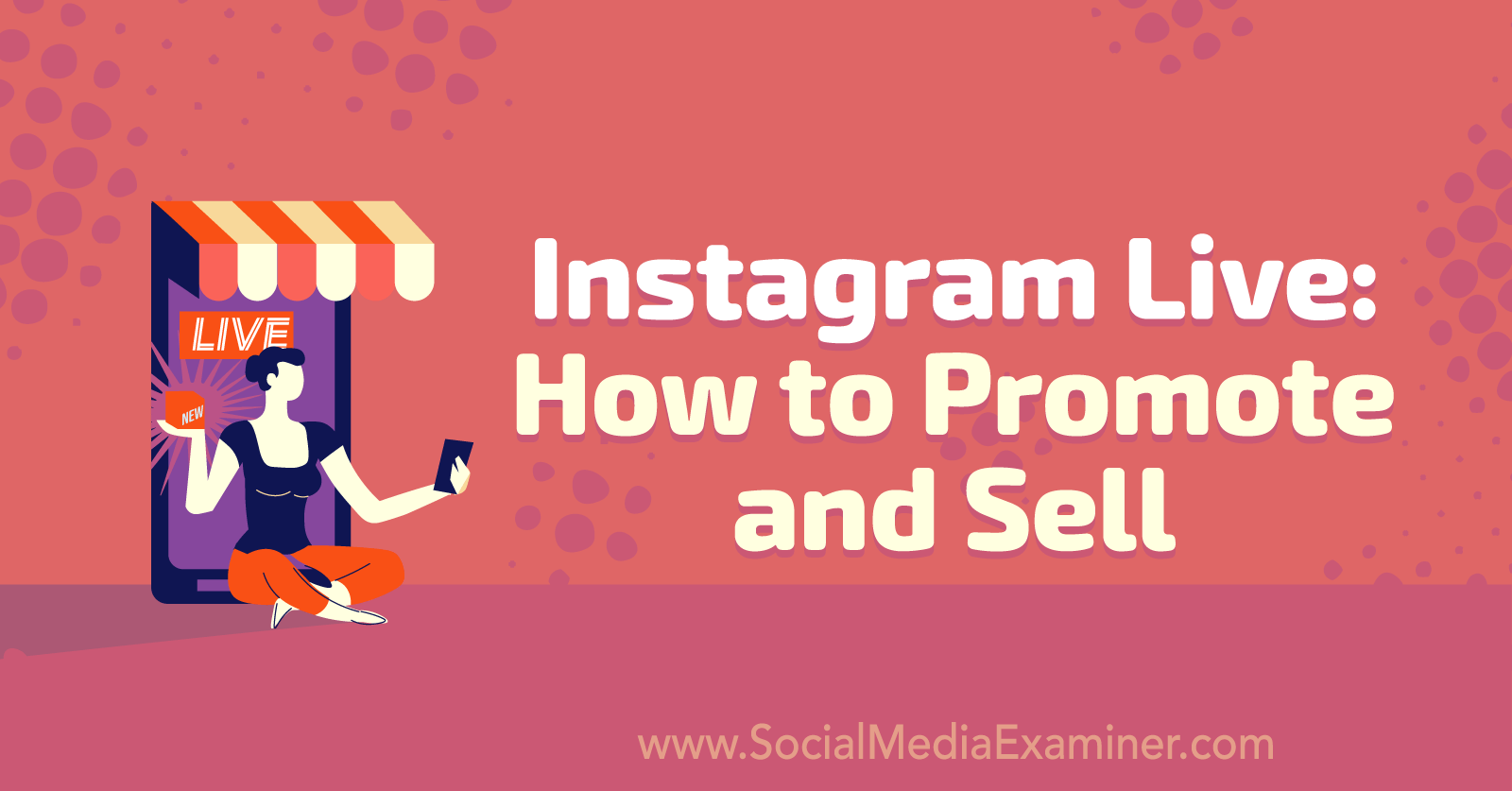 Why Use Instagram Live to Sell?
In 2021, with all of the different social media platforms out there, why is Instagram Live the place to be when it comes to your live selling strategy?
First of all, Instagram makes it extremely easy for your audience to find your Instagram Live. Every time someone logs into Instagram, one of the first things they see is a snapshot of everyone they're following who's currently live. This means that going live regularly on Instagram helps keep you top of mind for your audience because your profile will be highlighted more often.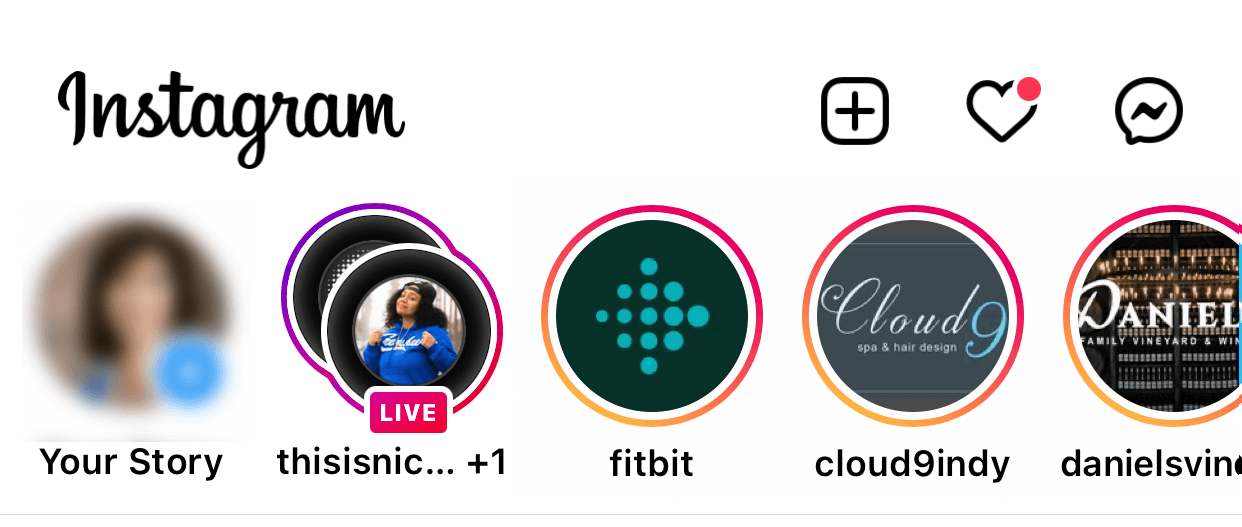 Additionally, Instagram Live allows you to break the virtual barrier between you and your audience. For a lot of people, the idea of shopping online with a business they've never bought from before without the ability to see or test the product in person can be intimidating. With Instagram Live, you have an opportunity to humanize your brand. You can look your customer in the proverbial eye, build trust, and demonstrate your products to help guide them to the sale.
Not only that but you can also take it a step further by bringing volunteers with you live to help you with the demonstration. And they don't have to be in the same room or even in the same building. You can send them a sample of your product and ask them to go live with you as they unbox and try the sample, which allows you to show off a live reaction to your product.
And finally, Instagram Live is the perfect place to nurture and engage with your audience even after they've found or purchased from you. It's not just about discovering and connecting with new people; it's about furthering the relationship between your brand and customers in a way that fosters customer loyalty and keeps them coming back day after day.
Thankfully, going live on Instagram doesn't require a lot of preparation and effort. But there are a few things you can do to create a more positive Instagram Live experience for your audience, improve the performance of your lives, and guide people to purchase from you.
#1: Choose a Topic for Your Instagram Live Stream
Although you can go live on a whim and speak on just about any topic extemporaneously without issue, having a process you follow with each live stream helps create that trust with your audience by providing a solid experience every time. They know what to expect from your lives and they'll come back over and over again to feel the same experience.
Just as with other channels for social media, a lot of your Instagram Live content is going to depend on leading with service and value for your audience. Think about your audience's experience and what your fans or customers want to see from you. By putting that customer experience first, you're more likely to create content that'll keep your audience coming back.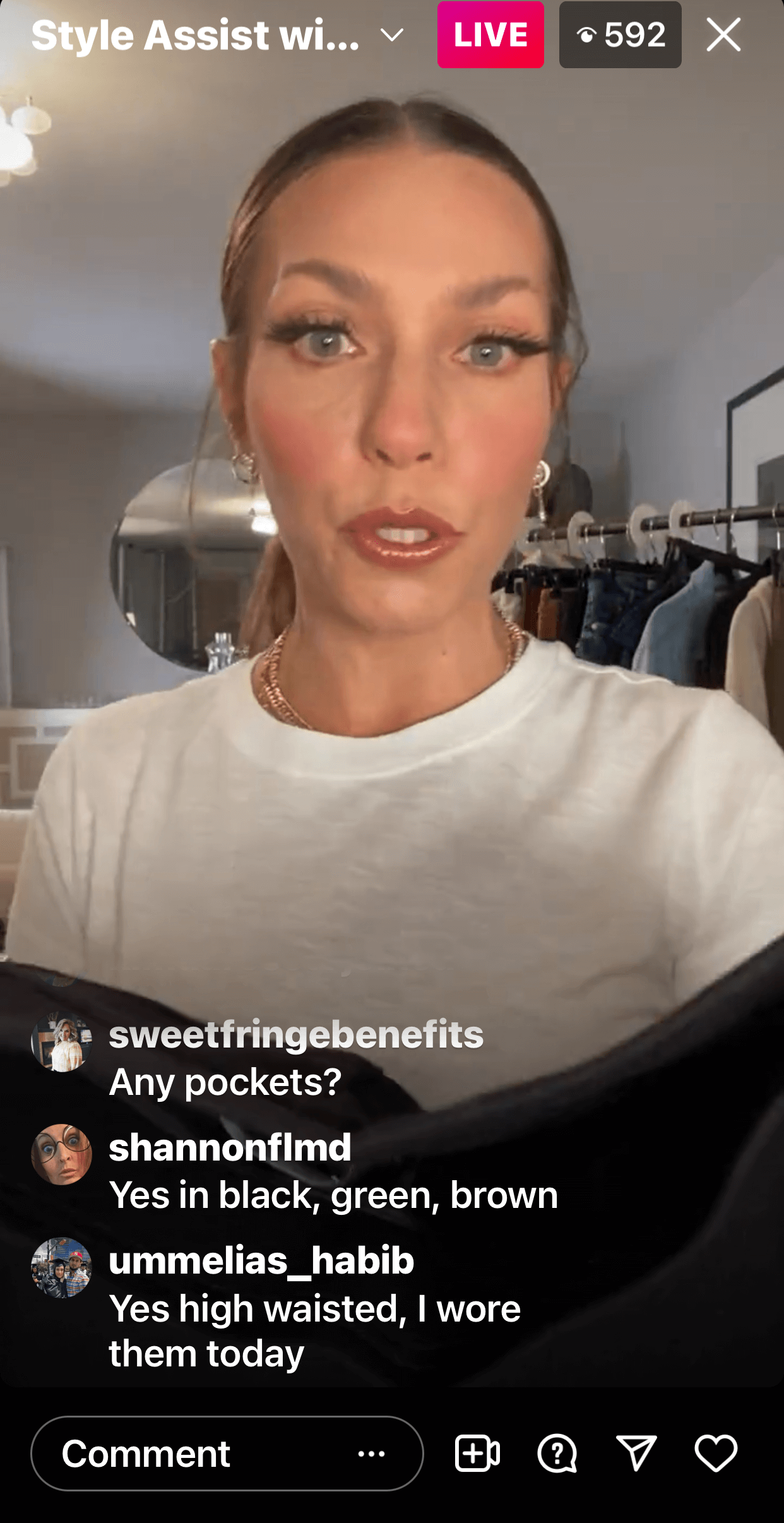 Some examples of this might include:
Three tips on how to use this product
Five creative uses for this product you never thought of before
How to choose the right version of this product
The value-oriented content that your audience is already after will be displayed right at the top of their Instagram screen when they log in. It's one of the best ways to increase your sales and grow your following.
And of course, creating a simple outline about your discussion topic is helpful as well. This outline will help you stay on topic. It helps you organize your thoughts into a flow that works and make sure you don't forget anything.
Pro Tip: Create a background graphic to upload and display during your live stream. These graphics are easy to create in an image editor and can provide key information to your audience such as the title, discussion points, or even your email address to give people an idea of what the discussion is about right away.
#2: Promote Your Instagram Live
It's important to promote your Instagram live before it starts to let people know when to be there. For example, you could publish a feed post to let your audience know and create a story that includes the countdown sticker, which allows people to tap to get a reminder about your live.
One of Instagram Live's superpowers is that you don't have to rely on the initial notification that Instagram sends out once you go live. Yes, Instagram will also display your profile at the top of the Instagram home screen when people log in. But there are also a couple of other ways you can get Instagram to send out another notification about your live.
For example, if you bring a co-host up with you during your Instagram live, Instagram will send a new notification to all of your followers that you're going live with this co-host. Instagram will also send a notification out to all of your co-host's followers that you're going live with them. So this can be a great way to get a second or even a third notification about your live sent out to people across Instagram and bring them in to watch.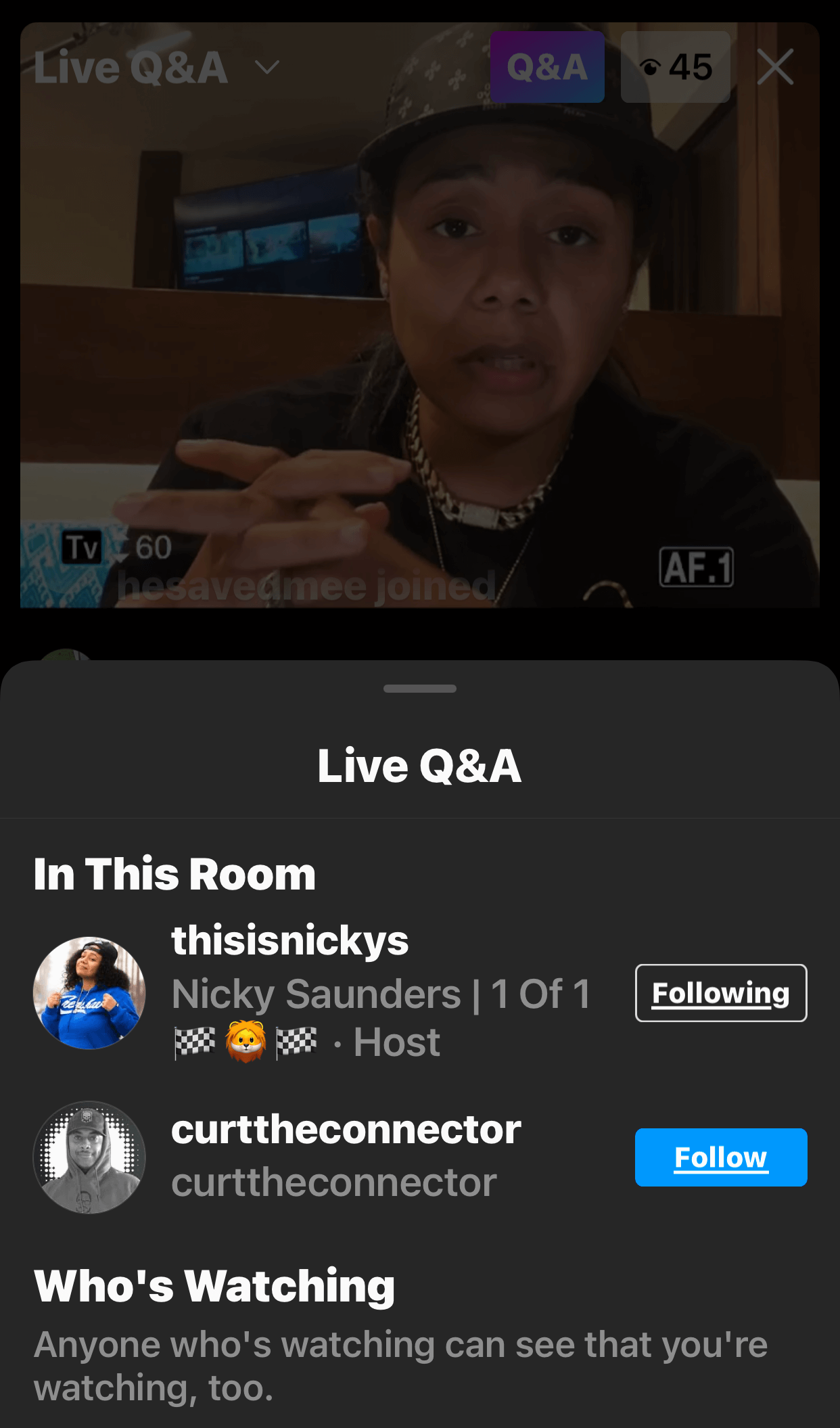 You can also use the built-in Q&A feature to allow viewers to send you a question while you're live. You can display that question on the screen so everyone can see it while you provide your answer. You can also sift through all of the questions submitted and choose the ones you want to answer. But the biggest benefit of this is that once you turn on the Q&A feature, Instagram sends out another notification to your followers that you're doing a Q&A.
#3: Give a Short Introduction When You Go Live
Create a succinct introduction to use in your live streams. It doesn't have to be professionally recorded, contain music, or even be edited. Instead, it can be something you recite at the beginning of each of your lives that introduces you, your business, and the topic of discussion or your reason for going live.
This introduction provides a few seconds of filler content so there's no dead air during which Instagram will be notifying your followers. It also gives your followers a chance to log in and catch your live without missing anything.
It also makes repurposing your Instagram live much easier by cutting out all of the fluff that people don't like to watch during a replay. Your replay audience doesn't have to sit through statements such as, "I'm just going to wait a minute before we start to give people a chance to come in." Your intro could be something as quick as, "Hello, my name is ______, welcome to all my replay warriors. Today, we're going to be discussing ______…"
#4: Pin a Post and Inspire People to Share It to Their Stories
During your Instagram live, it's helpful to have a post pinned on your profile so it's easy to find. Then you can call on your audience and ask them to share that post to their stories. Not only will this increase reach by creating a mention in their stories but it also keeps them interacting with you and your live.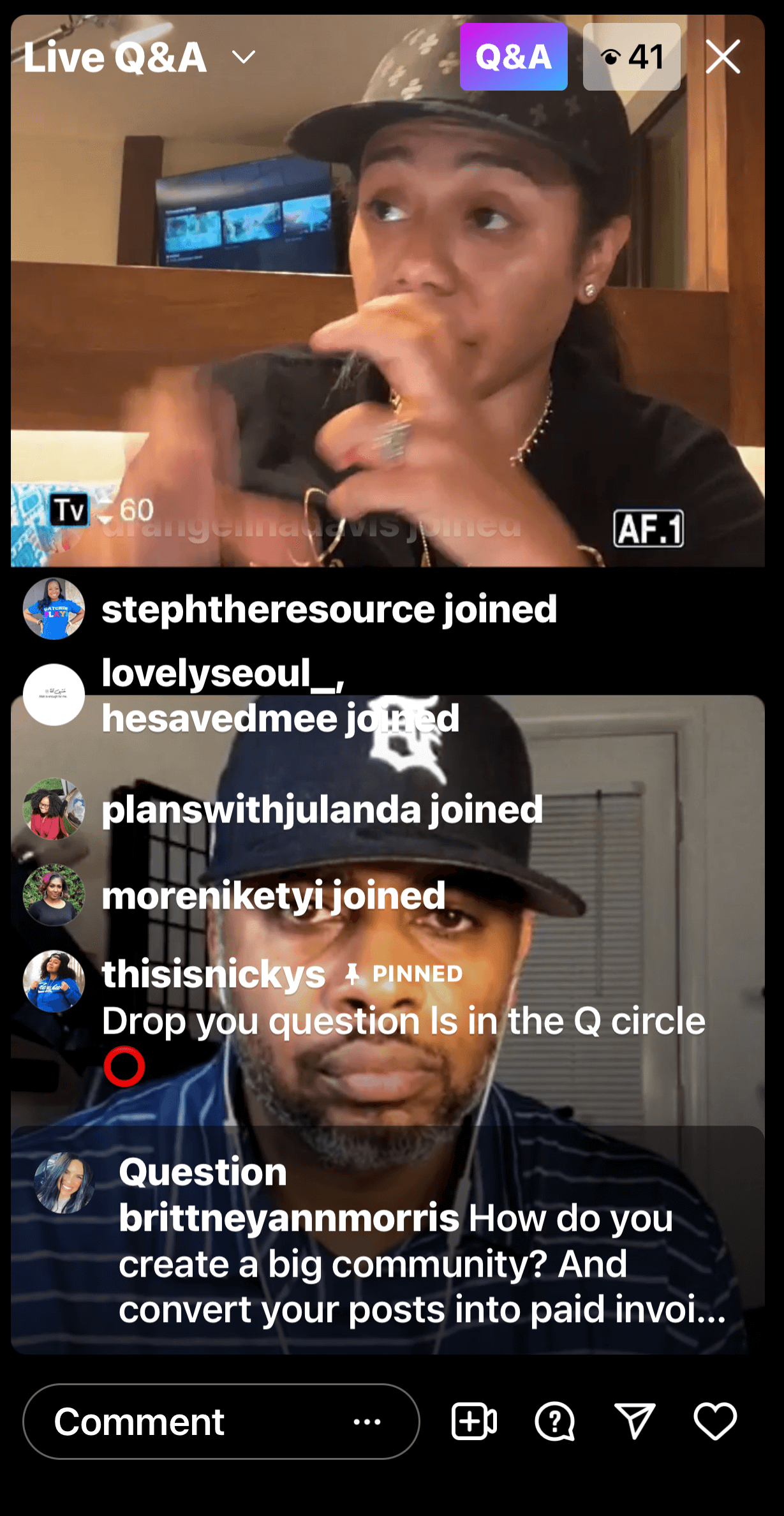 #5: Change Your Pinned Post and CTA Mid-Stream
Sometime in the middle of your Instagram live, you may consider changing your pinned post and updating your call to action (CTA) to something that will take your audience to the next step with you. They've already shown up at your live, interacted with you, and followed through on one of your calls to action. Now it might just be easy for them to take the next step.
For example, you could display your website or link and then let them know that you're going to pause so they can take a screenshot of that website or link. Do a short countdown and then smile while they take their screenshots.
Because your links aren't clickable during the live, giving your audience a chance to take that screenshot not only trains them to do this but it also gives them a reference to make it easier to remember and find that link and type it in later. It also gives them an image of your live to share to their stories, if you want to include that as another CTA to help promote your Instagram lives.
#6: Break Down Your Final CTA and Preview Your Next Instagram Live
Finally, you can close out your Instagram live by offering your audience a short preview of what's coming up on your next live. This might include letting them in on a big announcement, telling them what next week's interview guest or topic will be, or even introducing something fun like a game or giveaway.
Be sure to let them know when your next live will be on Instagram. You may also consider changing the pinned post on your profile so it shows that next live and send everyone to your profile so they can like and comment on that post and share it to their own stories to get a reminder.
You can also take it a step further and invite your audience to connect with you through your direct messages, a form on your site, or via email after your live is finished.
Other Notes From This Episode