Do you want more tools to connect with your audience on Instagram? Have you heard about Instagram creator accounts?
In this article, you'll learn how switching to an Instagram creator account can help you better achieve your Instagram marketing goals.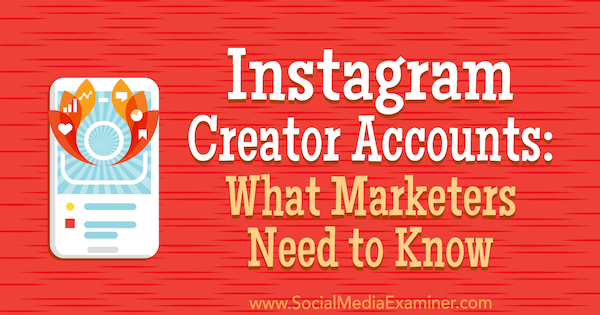 What Is an Instagram Creator Account?
When Instagram first launched, everyone had a personal account. As the platform evolved, Instagram introduced business profiles to give brands more access to tools like Insights, profile action buttons, and better direct message features. Many bigger brands and influencers have continued to ask for more insights and details on their audiences along with other features.
As a result, Instagram introduced creator accounts. This account type is currently limited to accounts with more than 10,000 followers that are also connected to a Facebook business page. As of this writing, Creator Studio is also limited to a beta testing phase, which means it's not available to everyone.
How to Switch to a Creator Account on Instagram
Switching from a personal account or business profile to a creator account is relatively easy to do.
To convert, open your Instagram profile and tap on the three-line button in the top-right corner. Then tap the Settings gear icon at the bottom of the screen.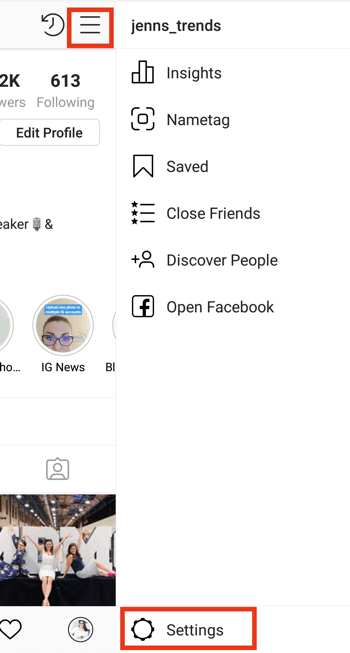 From the Settings menu, select the Account option and then tap on the Switch to Creator Account option.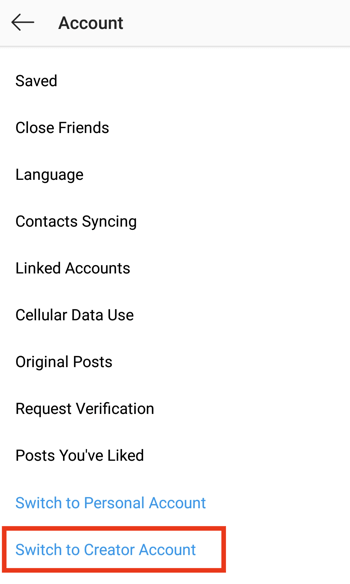 The setup process will take you through a few screens to confirm the features of your creator account, select a category, and turn your contact options on or off.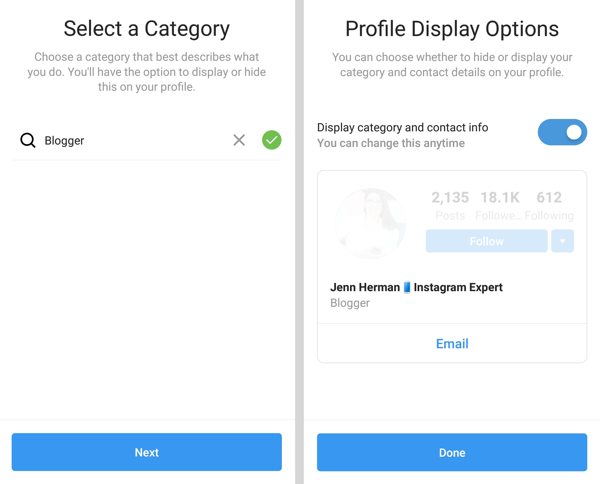 Once complete, your creator account is ready to use! You'll start seeing new insights and direct message features immediately. Additionally, there's no negative impact on the algorithm or your reach when switching over to the creator profile.
Now let's look at four significant differences that set Instagram creator accounts apart from business accounts.
#1: Instagram Creator Accounts Offer In-Depth Follower Growth Insights
Instagram touted creator accounts as offering more insights and information about audience growth and decline. They're meant to give influencers and brands more details about how or why their audience has shifted. Currently, business profiles can only see their overall growth from week to week. Creator accounts, however, provide more details on daily growth and loss.
Get Your FREE Course: Web3 for Beginners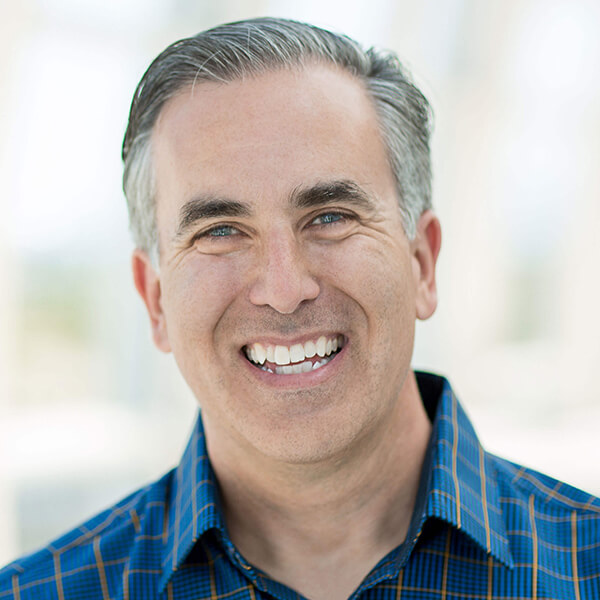 Curious about Web3, but don't know where to start or who to trust?

Introducing Web3 for Beginners, a course taught by Michael Stelzner, the founder of Social Media Examiner.

Learn the basics of Web3 and apply it to your business with this FREE comprehensive course.
CLICK HERE TO GET FREE ACCESS
If your creator account has a significant surge or loss of followers, you'll be able to determine on which days those fluctuations happened. You can then review any posts or content shared on those days that might have contributed to those changes.
If you select any day on the Growth graph and tap See Posts (above the graph), you'll see all of the stories and feed posts you shared on that day. This information will help you determine which content contributed to those gains or losses.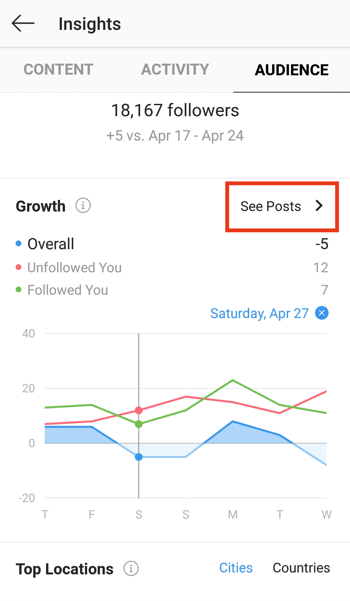 Other than this new data set, nothing in Instagram Insights is any different for creator accounts than what you'd see for a business profile.
#2: Instagram Creator Accounts Have Access to a Filtered Inbox for Direct Messages
Another big difference with creator accounts is the addition of a new tab in your Instagram direct messages inbox. Business profiles have a single inbox and the Requests tab for potentially spam-related messages, but creator accounts have both Primary and General tabs, in addition to the Requests tab.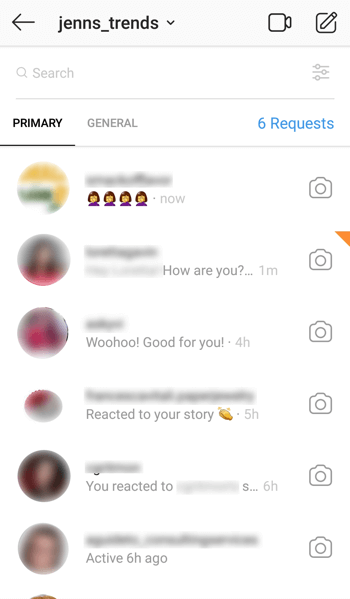 The purpose behind the addition of another tab is to better segment the messages that mean the most to a large brand. Instagram assumes that bigger accounts regularly receive large volumes of messages, which may mean that important messages get lost in a sea of less-important messages.
For example, messages from your friends, family, brand partners, and colleagues may be a higher priority than messages from followers you don't know personally or who are reaching out for the first time.
When you first switch to a creator account, all of your existing messages will remain in the Primary inbox. Additionally, if you go to the General tab, you'll notice that notifications are turned off for this tab, regardless of whether you have notifications turned on for direct messages. You can easily turn these notifications on by navigating to your inbox settings.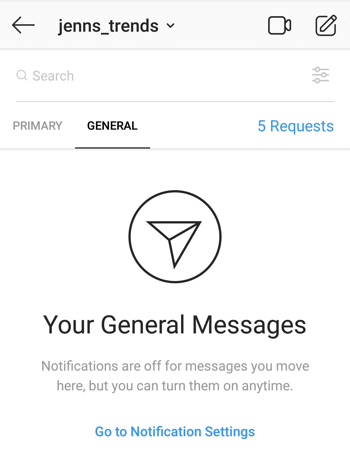 When you access your existing messages, you can easily move individual messages between inbox tabs—from Primary to General or vice versa.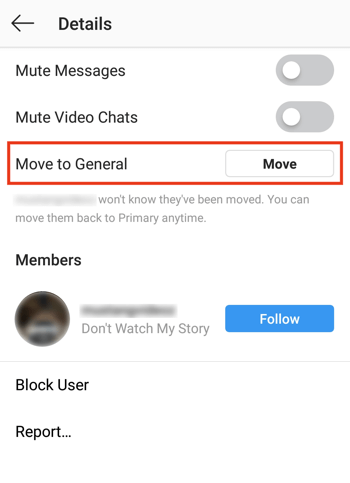 However, the task of going through your existing list of messages and moving them all to the General tab could be time-consuming. It may be easier to simply keep the messages as they are on the Primary tab and sort new content going forward into the appropriate tabs.
Similarly, when you get a request message and allow it, you have the choice of which tab to move it to.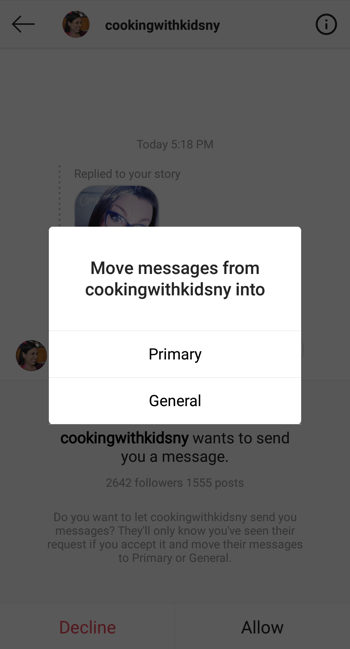 This filtered inbox may not work as well for brands looking to collaborate with influencers and other brands. It could hinder those conversations and relationships by relegating those messages to the General tab where they may get slower responses or be ignored altogether.
#3: Instagram Creator Profiles Can Display Category and Contact Info
On Instagram business profiles, you're assigned a category on your profile based on the category label from the connected Facebook page. Instagram creator accounts, however, have the option to choose a new category and decide whether to include it in their Instagram profile.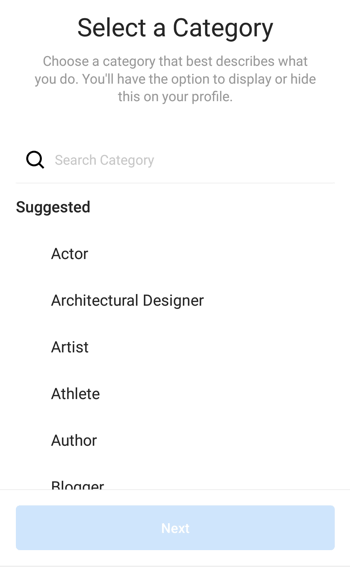 You'll notice most of these categories better align with personal brands and influencers than business categories. Choose the category that best fits your brand and what your audience recognizes you for.
In addition to the new category options, creator accounts have the option to turn their contact info on or off. Business profiles automatically include the different action buttons for Call, Text, Email, and Directions based on the contact info included. Creator accounts can choose to turn this off, however.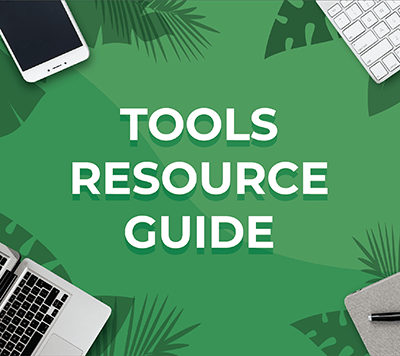 Looking for something to make your life easier?
Discover the tools we recommend to drive engagement, save you time, and boost sales across your entire marketing funnel or business.
Whether you need help planning content, organizing social posts, or developing your strategy, you'll find something for every situation.
FIND YOUR NEXT FAVORITE TOOL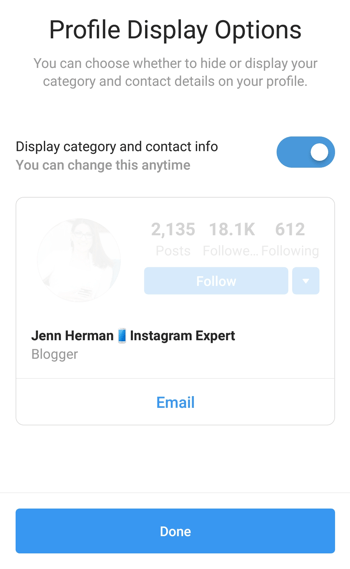 If you don't want to receive unsolicited emails or cold calls from various companies or individuals, turning off these contact options could be useful. However, if your action buttons receive a lot of clicks (your insights will reveal this), you may want to keep these buttons enabled to ensure you still receive those requests and opportunities to connect with your audience.
A disadvantage of creator accounts is that you don't have the option to include additional action buttons like Book Now, Reserve, and other options available to business profiles. If users regularly use these action buttons for your brand, you may want to reconsider switching to a creator account.
#4: Instagram Creator Accounts Have Desktop Access to Analytics With Creator Studio
In addition to the new features within the Instagram app, switching to an Instagram creator account gives you access to Creator Studio for desktop use. This is tied directly to Creator Studio for Facebook that recently rolled out. You can find out how to access and set up your Creator Studio here.
Creator Studio acts as a desktop dashboard management tool to view all of your Instagram content and insights. The information isn't any different from what you see in the app Insights, but it does give you access to everything on the desktop without requiring a third-party tool.
Once you've opened Creator Studio on desktop, you can connect your Facebook profile, associated Facebook pages, and your Instagram account. Creator Studio will default to the Facebook page when you log in but you can click the Instagram icon at the top of the page to connect to your Instagram profile.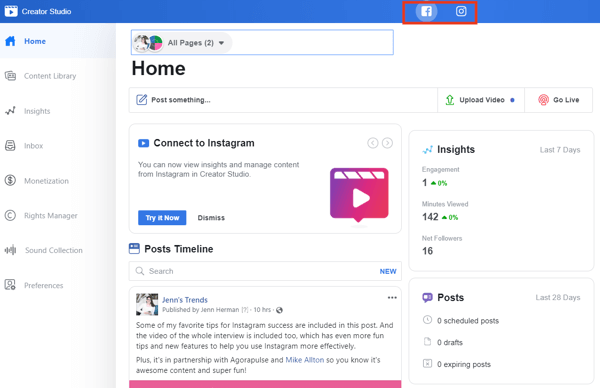 Once connected to your Instagram profile, you'll be able to see all of your post content information. You can sort by all types of content or by individual types of content: videos, photos, carousels, stories, and IGTV.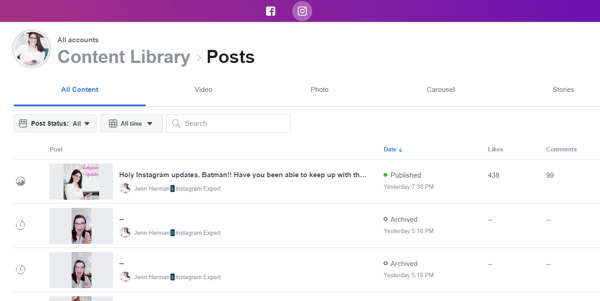 In the Content Library, you can see basic details for your individual posts, including likes and comments, as well as the date published. If you navigate to the Stories tab, the data shows the reach of each Instagram story post.
You can also rely on the Content Library to sort your content by date range or use the search navigation bar to find specific content related to any keyword or phrase.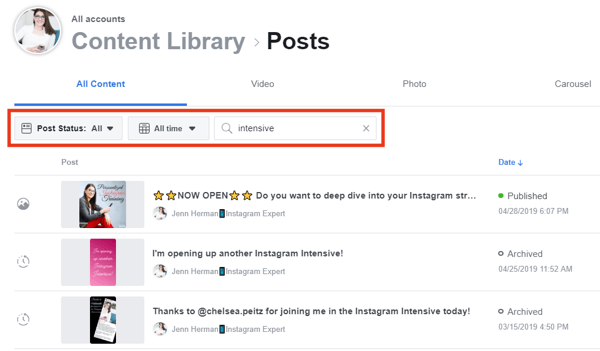 The Insights tab in the left sidebar menu has two sub-pages for Activity and Audience. The Activity tab breaks down all of your website visits, action button responses, and profile visits, in addition to your profile reach for the last week. As with the analytics in the Instagram app, all of these details are available only for the last 7 days.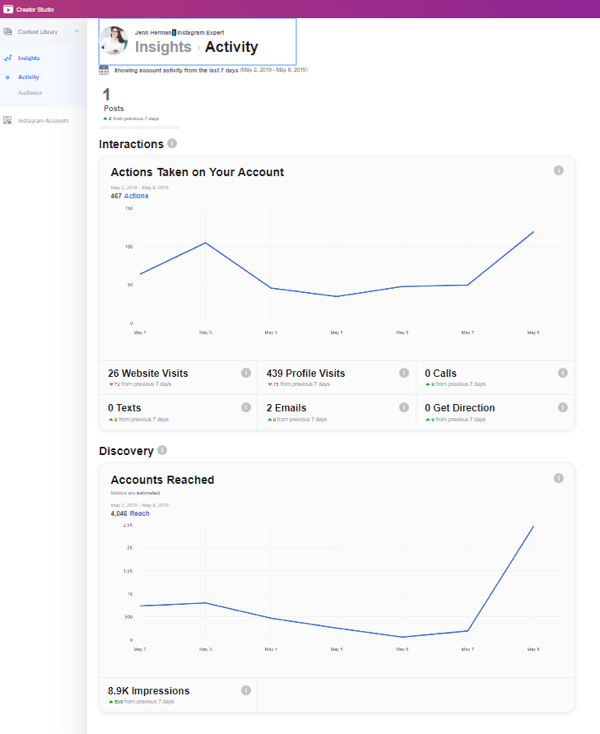 The Audience Insights tab, again, gives you the same data you would see in your insights in the Instagram app. In addition, it provides the age and gender demographic details for your audience, as well as when they're most active on the platform.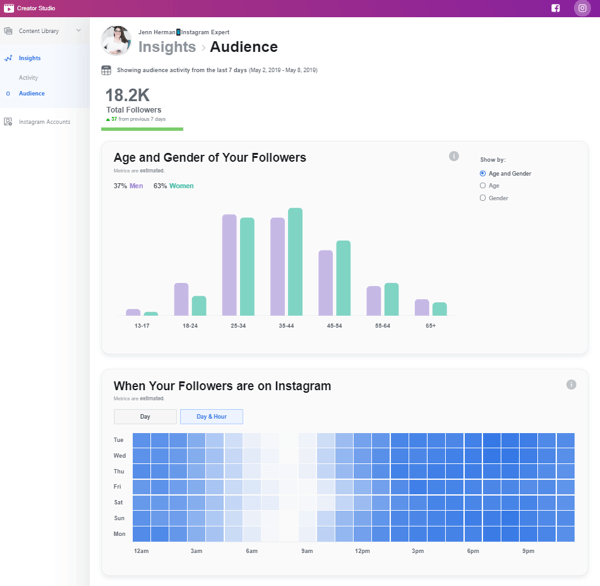 #5: Instagram Creator Accounts Can Create Shoppable Posts With Brand Partners
One of the biggest incentives for brands and influencers to switch to a creator account is the opportunity to create shoppable posts with the brands they love. Creators can tag products from brands they partner with, creating shoppable posts that their followers can purchase from.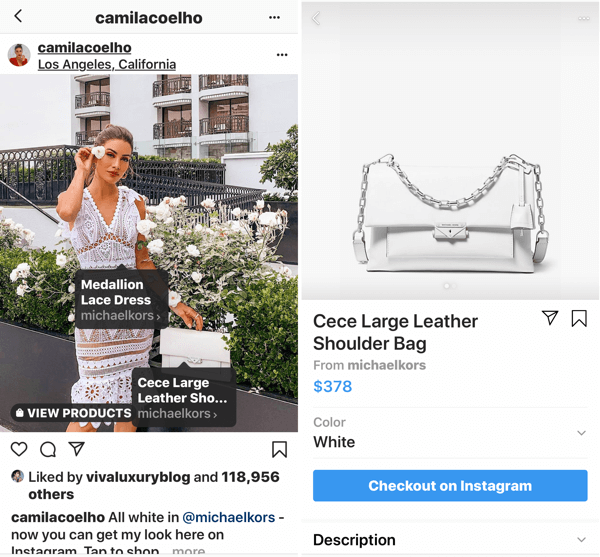 This feature is currently limited to a small, select group of large influencers. As the program expands, more creators are expected to receive access to the feature. This will be an advantage to both creators and brands for driving more sales.
Conclusion
While there are some fun new features for creator accounts, there are also some downsides to be aware of.
Creator accounts have no API connection for third-party tools. The Instagram API only supports business profiles for third-party tools. This means any scheduling tools, analytics tools, or other apps require a business profile. By switching to a creator account, you'll lose that connectivity and no longer be able to rely on a scheduling tool, auto-publishing, or content creation dashboard to post your content from the desktop.
You'll have to compose all of your posts from within the Instagram app itself and publish immediately. Even if Instagram opens up the API to creator accounts, those tools will still have to recode their apps to accept and process those extra account formats. There's no guarantee that all tools will include Instagram creator accounts in their support.
Another point to keep in mind is that Creator Studio doesn't allow posting to Instagram. Creator Studio is a nice feature for accessing Instagram from the desktop. But it still doesn't support posting content for Instagram. By losing your dashboard management tool's functionality, you'll have no options to post to Instagram from the desktop.
Is switching to a creator account worth it? Honestly, at this point, a creator account is most likely not that valuable to most businesses. Some brands and influencers will see value in the additional in-app insights for audience growth and loss. And as long as those brands don't rely on scheduling tools or third-party apps, they'll see the benefits of this new account option. Most businesses, however, won't see enough value with the creator format to make the switch.
Additionally, creator accounts are likely to remain accessible only to those that meet the threshold of 10,000 followers or more. Instagram designed this profile format for influencers and heavy-hitters and it's unlikely they'll open up this option to smaller accounts.
When shoppable posts for branded partners roll out to more creator accounts in the future, a bigger group of brands will find real value in these new profiles. And hopefully, at that time, Instagram will have included creator accounts in the API access to allow scheduling and metrics access, making the switch much more valuable to those accounts.
It's also safe to assume that Instagram will continue to roll out more features exclusively for creator accounts, just as they've consistently added more features to business profiles. As these new features roll out, businesses may see more value in switching to creator accounts.
What do you think? Have you made the switch to an Instagram creator account? Are you going to give it a try after reading this? Please share your thoughts or tips in the comments below.
More articles on Instagram marketing:
Get Your FREE Course: Web3 for Beginners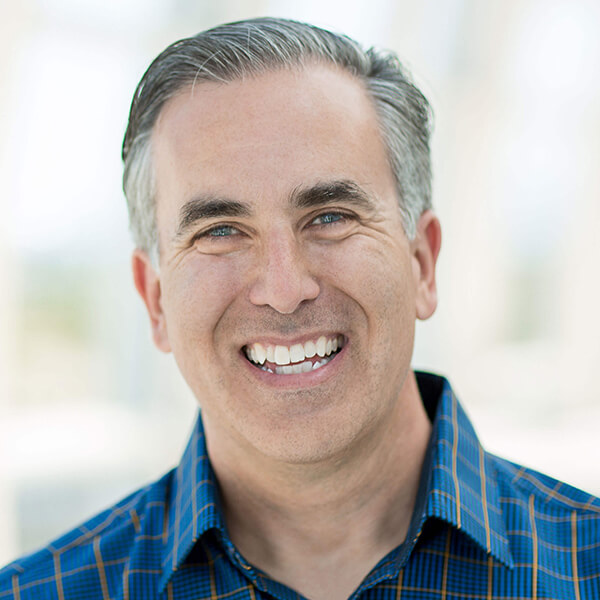 Curious about Web3, but don't know where to start or who to trust?

Introducing Web3 for Beginners, a course taught by Michael Stelzner, the founder of Social Media Examiner.

Learn the basics of Web3 and apply it to your business with this FREE comprehensive course.
CLICK HERE TO GET FREE ACCESS