Want to create engaging content on Instagram? Looking for a content strategy to create conversion-focused content?
To explore how to create Instagram content that attracts your ideal clients, I interview Alex Tooby on the Social Media Marketing podcast.
Alex is an Instagram strategist who specializes in helping female entrepreneurs promote their businesses using Instagram. Her course is called The Instagram Ivy League.
You'll learn Alex's threefold content strategy, discover how to develop Instagram captions that work, and find tips for posting frequency and audience engagement.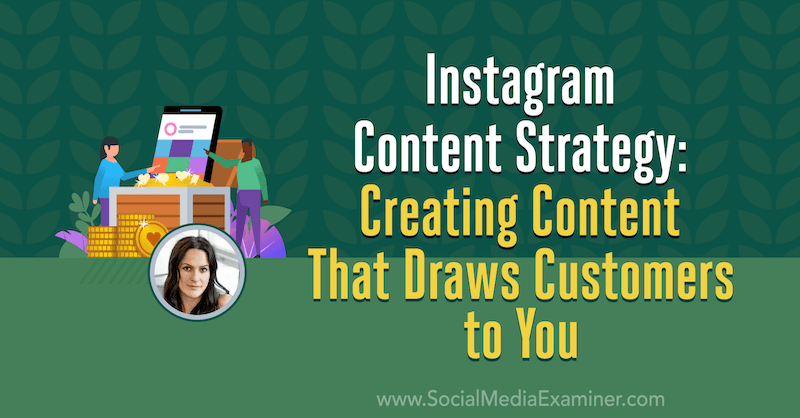 In 2014, Alex left the 9-to-5 world to start a solo social media consultancy. She helped clients plan their posts and improve their overall social media presence.
When she realized she was spending all of her time building others' social media and businesses rather than her own, she decided to focus specifically on Instagram.
That decision took her from being a generalist to being a specialist, and catapulted the growth of her business.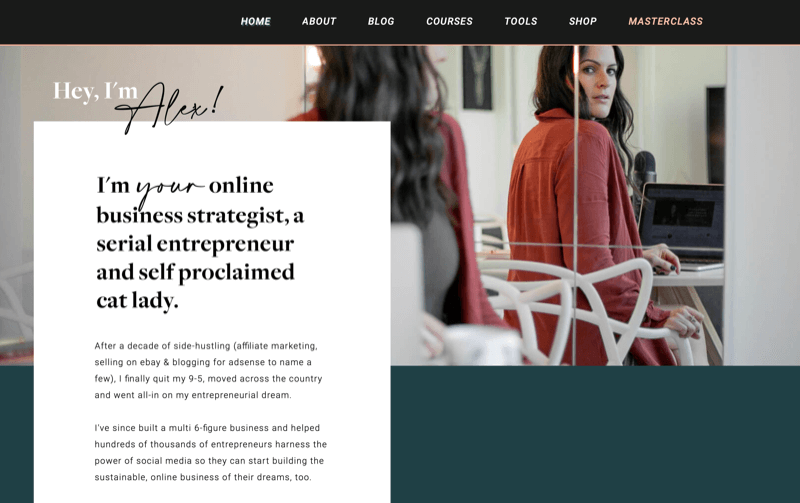 For the past 6 years, she's done only Instagram-focused marketing. Today, she's moving into course creation with The Instagram Ivy League, because while working with clients one-on-one is great, she only has so many hours in the day.
A Threefold Instagram Content Strategy
Alex believes that Instagram content, ultimately, is what makes people want to buy from you.
When you do it right, it actually helps build your know, like, and trust factor which is important for any consumer deciding whether they want to spend their money with you.
🌟 Ready to Supercharge Your Social Marketing Strategy? 🌟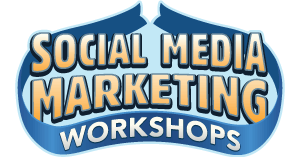 Struggling with your social marketing? You're not alone. The solution? The Social Media Marketing Workshops!

During these live 2 hour deep-dive workshops, you'll discover what's working now on Instagram, Facebook, TikTok, YouTube, and LinkedIn. Skyrocket your engagement, broaden your reach, and amplify your sales.

Become the marketing hero your company and clients need—without leaving your home!
🔥 Save $670 on an All-Access Ticket! Sale Ends Tuesday! 🔥
GET YOUR TICKETS NOW
If you've got bad content, you're doing your business a disservice.
Her content strategy makes sure that the effort you put into your Instagram marketing pays off. At a high level, Alex's content strategy is threefold. It includes your caption, your imagery, and your frequency.
When done correctly, your caption shows off your expertise and authority and builds the know, like, and trust factor. Your imagery prompts people to stop scrolling and pay attention to you. Your frequency is a schedule your audience can count on and that the algorithm loves.
Writing Instagram Captions
Your Instagram caption helps sell whatever it is you're promoting—whether it's a product or a personal blog you want to grow an audience for. Your caption is what makes people feel connected to you; it gives them a reason to follow you, come back to your feed, and invest in what you're offering.
There are two main types of captions Alex suggests you write for best results which are either conversion- or conversation-focused captions.
Conversion-focused captions capitalize on providing value through education which helps viewers and potential customers decide to buy from you or take the next logical step in your funnel.
A conversation-focused caption capitalizes on storytelling which evokes emotion in the viewer, leading them to either relate to what you're saying, reply to you, or reshare your post with other people.
The ratio of conversion-focused versus conversation-focused captions depends on your niche; there's no hard and fast rule. You can use one type but mixing the two types is better. That said, Alex doesn't advocate being on Instagram all day long, nor spending hours and hours each week to work on your content strategy. If one type of caption is easier for you to create, choose that one.
Begin With a Strong Headline
Because the caption preview is about 1.5 lines (including the Read More button), the first part of the caption should be a strong opening headline that encourages people to click the Read More button.
Alex likes to start with a question, a bold statement, or a cliffhanger.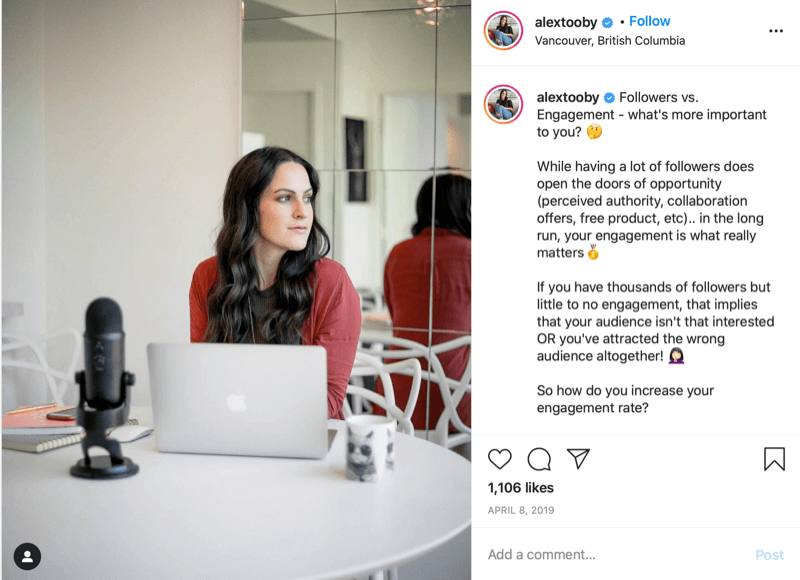 An example of a cliffhanger is, "Last year, I made 250K doing this one simple thing…" Alternatively, if you're a brand selling a product, you might say, "The one ingredient that makes our product better than the rest is…" This will make people curious. To draw even more attention, Alex might do the caption in all caps or use emojis.
Instagram has always made it really difficult to use proper paragraph spacing in captions but it's extremely important. Most people won't be interested in reading a big block of text. Paragraph spacing can be applied in the app but Alex uses Later to achieve the same thing with her scheduled posts. Another alternative is to paste an invisible character between your paragraphs.
Deliver on Value With the Main Caption Copy
Next, use the meat of your caption to deliver on the statement you made in your headline. What you write here should connect with your audience through either storytelling or education. You want them to relate, reply, and reshare.
Treat this part of your caption like a micro-blog structured with a beginning, a middle, and an end. Use proper grammar and spacing so it's easy to read and provides value quickly.
If you're telling a story, succinctly share the journey so people will read to the end.
If you're educating, this part of your caption shouldn't be super-salesy. It can be as simple as, "Hey, these are the benefits of my product…" or "This is what we put in our product, which makes it superior." Alex typically uses a bulleted list of tips, tricks, facts, or benefits in these types of captions. Following on the cliffhanger example from above, her post might look like:
Last year, I made 250K doing this one simple thing.
Then her intro would say:
Last year, I was struggling to pay my bills but then I started focusing on myself. I set up a routine that I do every single day. Now I'm making way more money in my business and here's what it is.
The meat of her caption would be a bulleted list that delivers the value her headline alluded to:
Every morning, I wake up at 6:00 AM.
I spend time doing my skincare and my hygiene to focus on myself.
Then I schedule out using a Pomodoro method.
In a conversation-focused caption, she would ditch the bullets and tell a story to share the journey. How she felt bad, what sparked the change, and how focusing on herself has helped her business.
Close Your Caption With a Call to Action
The most important part of your caption is the end, in which your call to action will encourage your viewer to take the next logical step. If you want them to reply with a comment, tell them to comment below or let you know what they think. If you want them to share it, say, "Tag a friend who needs to see this."
If you want them to click the link in your bio, use proper grammar and sentence structure. "I want you to click the link in my bio to go to my website and view my new course that teaches you exactly how to do this step by step." Or, "I want you to click the link in my bio to explore our product and all of the unique ingredients that make it special."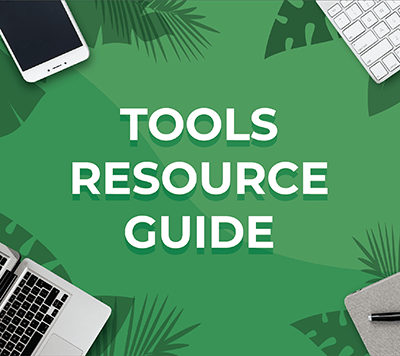 Looking for something to make your life easier?
Discover the tools we recommend to drive engagement, save you time, and boost sales across your entire marketing funnel or business.
Whether you need help planning content, organizing social posts, or developing your strategy, you'll find something for every situation.
FIND YOUR NEXT FAVORITE TOOL
Choosing Instagram Imagery
Alex doesn't believe your Instagram photo has to communicate exactly what you've said in your caption so she's always written her captions first. That makes it easier for her to find a photo.
With regard to the content of the image itself, she suggests images that feature a person—whether it's a picture of you, an employee, or customers—perform best on Instagram.
You could use a video, a graphic, or a stock photo image, whatever's easiest based on your current abilities and resources. When she started on Instagram, Alex didn't know how to take photos and she didn't have any photos of herself so she used a lot of stock photography. She recommends Unsplash and Pexels.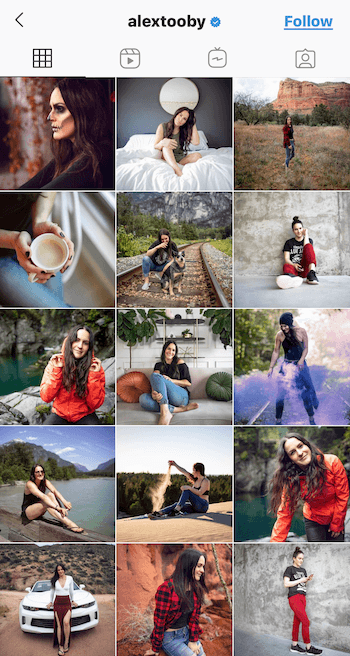 Going back to the earlier example of the caption, Alex would pair that with an image of herself laughing or in her office, maybe even a screenshot of her bank account.
What you choose depends on how much impact you want to have and what you've posted on your feed before the new post. To visualize this, if you've never posted a graphic before, posting one out of the blue might look a little off.
What's most important is the quality of the imagery you post. It should be crisp, clear, and properly exposed.
Additionally, whenever possible, you should choose portrait format imagery (1920 x 1080 pixels) because it takes up more space in the feed and on-screen.
If you do use portrait format imagery, remember that even though the image isn't cropped in the feed, it will be cropped on your account page. Be sure to use an app such as Preview or Unum to plan your account feed. This will let you see if your photos aren't complementing each other, if your head is cropped out, or if something just stands out negatively.
If you find that the automatic cropping isn't ideal and your photos are on your mobile device, you can custom-crop them so your face or eyeline is just above the center line of the image.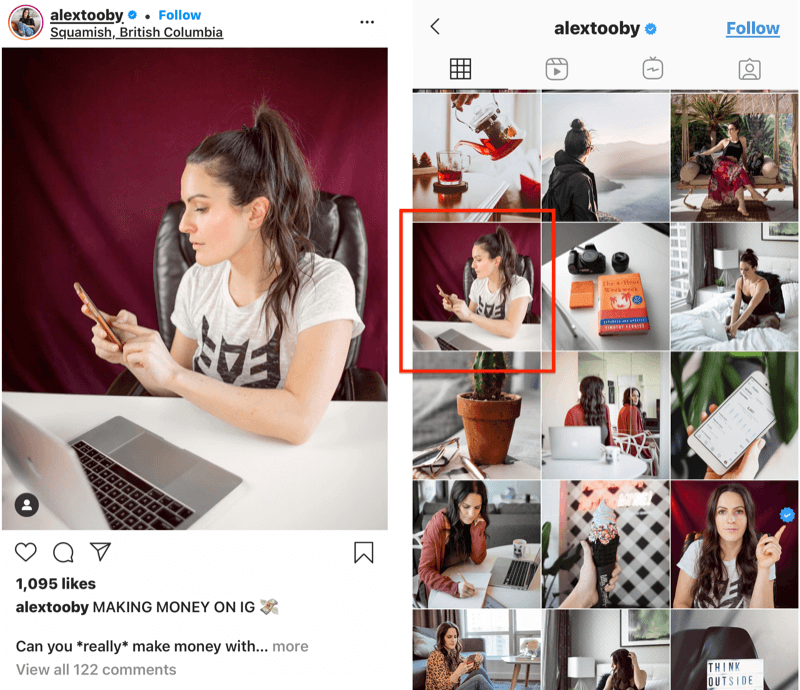 There's a lot of different imagery you can use depending on your niche. You just have to get creative.
A clothing brand could do close-up shots of their products to show off the materials, the workmanship, or the details.
A coffee brand or a coffee shop could post a video of their beans being roasted to give their audience an inside look at how the product is made.
A coach or service provider could use Canva or Photoshop to create a graphic that features a quote from a testimonial.
Establishing Instagram Frequency
In her experience, posting more doesn't actually equal a better outcome.
The Instagram algorithm favors new content. Every time you publish a new post, the Instagram algorithm thinks your old content isn't relevant anymore. If you post at 8 AM and post again in 12 hours, the lifespan of your first post is now cut to 12 hours because the new post takes precedence over the old post.
By putting at least 48 hours between your posts, you give them a much better chance of generating more engagement and impressions over that time span. Rather than posting every single day, Alex recommends posting two or three pieces of quality content per week.
Then, based on your target market, choose the best days of the week. You want to think about when your audience will be online and when they'll have time to read your post. If your ideal customer is a mom with young kids, she's likely taking them to the park or swimming lessons on the weekends so she might not actually be on social media then. You'd be better off to post on a weekday.
There are apps such as Later that give you a suggestion for the best time to post. However, they typically use data gathered from when you've posted before. If you've never posted on a Saturday, they won't tell you it's a good idea to post on a Saturday. Alex says the best course of action is to test everything for yourself.
Whatever frequency and days you settle on, be consistent as you move forward. To help you remain consistent, you can use Facebook Creator Studio for free to schedule your Instagram posts.
Instagram Engagement Tips
You want to make sure your posts get as much engagement as possible in the first 24 hours of their lifespan so Instagram will show them to more people.
One way to do that is to focus on hashtags.
First, use 30 hashtags on every post. The more hashtags you use, the more reach you can generate.
Second, put your hashtags in your comments. If you put hashtags in your caption, you're basically giving your audience 30 reasons to click and leave your post.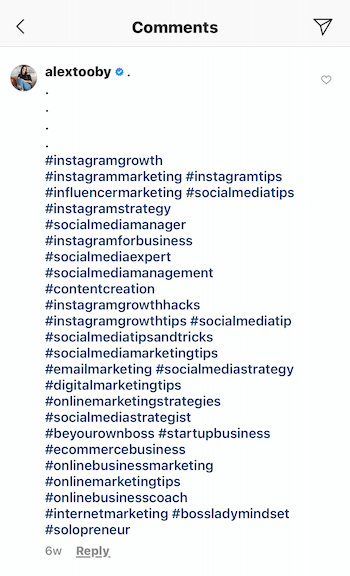 Third, don't choose a hashtag that has more than one million posts associated with it because the chance of your post staying at the top of those posts isn't likely. It's more likely that your post is there for a fraction of a second and then is pushed down.
Another tip for engagement is to use cross-promotion. Once you've posted to your feed, share that post to your Instagram story, on your Facebook page, in a public Facebook group, or on Twitter or Pinterest. The goal is to get more eyes on that piece of content so that all the hard work you put into writing the caption is worthwhile.
Finally, every day you need to spend time engaging with your target market. Reply to comments and make an effort to engage with other people's posts.
To illustrate, when you like three of someone's posts, those actions will take up three notifications on their phone. And when someone gets a notification that says, "X just liked your posts," that's very hard to ignore. That person is very likely to come over to your feed where they'll see and engage with your most recent post.
Key Takeaways From This Episode
What do you think? What are your thoughts on creating conversion-focused content for Instagram? Please share your comments below.
Get Your FREE Course: Web3 for Beginners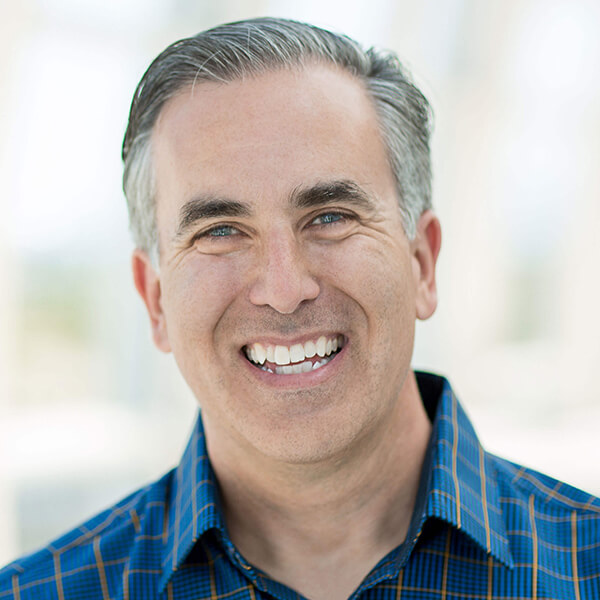 Curious about Web3, but don't know where to start or who to trust?

Introducing Web3 for Beginners, a course taught by Michael Stelzner, the founder of Social Media Examiner.

Learn the basics of Web3 and apply it to your business with this FREE comprehensive course.
CLICK HERE TO GET FREE ACCESS